Much like Logo Design Can Boost the Business Game of SMBs on Halloween, Thanksgiving is another festive holiday that lends itself well to creative advertising opportunities. With Thanksgiving around the corner, brands are jumping on the bandwagon to work the spirit of the holiday into their products and inspire their customers to rush headlong into a shopping spree. With brands gobbling up the opportunity to sweep up the customers into their shopping frenzy, here are 7 brands that went absolutely crazy with their Thanksgiving branding and added their own twists to the Thanksgiving traditions we hold dear! These creative ideas are something all SMBs should be thankful for!
1. Piggy Back A Turkey On Instagram
It's not always obligatory for brands aspiring to portray their generosity at Thanksgiving to organize charity collections. Sometimes offering an uber-generous giveaway to your followers is all that is needed to make them fall head over heels for you; after all, thanksgiving is all about giving back. So much the better if you can somehow work in a turkey- the Thanksgiving staple- into the equation. A dash of humor is that all remains to lend charms to this instance. This is what the brand 'Stella & Dot' has come up with on Instagram to revel in the festive spirit of the occasion:
In essence, this appears to be an early Christmas campaign masquerading as a Thanksgiving one. Thanksgiving brings family together, so why not give your loved ones a wish list, while Stella & Dot will provide you with a special order form to run rampant on the shopping spree. Not to mention the enticing discounts you will get off your purchase. The $500 minimum purchase requirement guarantees that it's a premium order.
Bonus: With such an exciting campaign flaunting your brand logo, your mark becomes hard to forget!
2. Jetblue: How To Be A Thankful Traveler
Everybody knows Airliner JetBlue for their punny marketing emails, and their Thanksgiving promotional email didn't fail to honor their legacy. The Email kicked off with a clickable, sassy subject line that went like this: "Family, friends, food & flying – all of our favorite F words!" Once inside the Email, the readers are regaled with 12 puns seamlessly incorporated into one heartwarming message. Try to spot them all! By leveraging every Thanksgiving staple, the brand seems to embody the very essence of the occasion. This Email resonates close to home and reminds their customers of what they would be missing if they don't fly out to meet their loved ones on Thanksgiving. Such emotion inducing branding gimmicks make brands seem amiable and caring to customers and instill a sense of belonging in them. One word: Adorable!
3. Introduce Festive Promo Codes
While it seems a no-brainer that Thanksgiving and discount extravaganzas walk hand-in-hand, some brands manage to put their own creative spin to this Thanksgiving tradition that has become somewhat synonymous with the occasion in the previous decades. While 'Macy's' is going with the flow this year and making waves with its enticing discounts and offers, it is offering an additional generous 20% off on purchases when users input the promo code "Feast". The euphemistic code makes sure that customer know that the discounts are available only for the occasion to add to their merriment.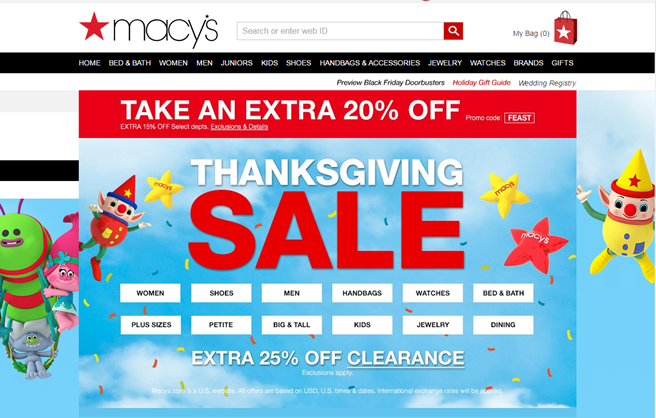 4. Thanksgivukah By Manischewitz
Why celebrate one holiday when you can delve in two! The kosher food store, Manischewitz, merged Thanksgiving with Hanukkah to create a SUPER holiday back in 2013. This once-in-a-lifetime accidental convergence was super special since it probably won't happen for another whopping 72 thousand years! A whole website was created, dedicated to promoting the festivities of the rare holiday.
The website contained Ecards, contests, and even recipes for the readers. The brand went the extra mile to ensure that Thanksgivukah hits the ground running; and it indeed did! All of this funny, funky, and cool information was then relayed across Twitter and Facebook to boost customer engagement with the brand.
Manischewitz couldn't have done better! Within a few hours, people were replying and responding to their posts, and sharing their content wildly. All this added to the gravitas of Thanksgivukah. When you combine two awesome holidays together and double the gaiety, no one and nothing gets left behind. Manischewitz's innovative campaign is a viable branding lesson for small businesses and teaches them how capturing the right moments can work wonders for your brand.
5. Pardoning The Thanksgiving Turkey By AT&T
Have you ever wondered how the pardoned Turkeys feel? AT&T knows! The telecom did a great job of spoofing the President's annual pardoning of the Thanksgiving turkey with an adorable Vine. While proving the merits of their ubiquitous and unfailing service, the brand has creatively blended their branding efforts with the joy of the season. However instead of sticking with customary greetings, tear-jerking family adverts, or any other run-of-the-mill Thanksgiving traditions, the brand gave a funny twist to the day. The campaign gained much traction and people went crazy over the hilarious tweet. If anything, the pardoned Turkey found much to be thankful for!
Gearing up for #TurkeyDay, but we need a turkey! http://t.co/SMFOHVHGw2 #Thanksgiving

— AT&T (@ATT) November 25, 2013
6. Sending Personalized Thank You Cards
While your Email folders must be bursting with electronic correspondence, are you getting enough handwritten notes? After all, handwritten notes let people know that somebody cares enough to spare the time and efforts in crafting the message. NYC-based creative agency called Suka was so thankful for the business of their clients that they indeed took the time to inscribe personalized notes for them. A thank you card can go a long way in cementing relations with your clients. Especially physical cards are more effective at grabbing your customer's attention, since they are already overwhelmed by digital these days. The irresistible card designs of this creative agency have been making waves and garnering the attention of even those who didn't get them.
If you are short on time and resources, a creative online card can also do the trick. Something is always better than nothing. Brands like Thread flip have been incorporating thoughtfully designed cards in their Thanksgiving E-mail campaigns to the joy of their clients. Imagine how stumbling upon one of these cards can brighten your day!
7. #Betterholidays Brings Pizza And Thanksgiving Together
While plenty of brands find a way to factor in their products to the holiday spirit, Papa John's brought their #BetterHolidays Pinterest Board to the table to fuel some interesting and new Thanksgiving ideas! Check out the board to be mesmerized by these creative Thanksgiving hacks that will teach you how to use their signature garlic sauce and breadsticks in your Thanksgiving Turkey and stuffing. The great thing is that these are not your every-year traditional thanksgiving recipes. These super fun and easy recipes are perfect for the college student in all of us, which is exactly why their patrons rushed to get their fill of garlic breads and sauces before Thanksgiving!
Papa's #Thanksgiving recipes: Garlic Sauce Turkey, Garlic Knots Stuffing, and PumpKookie Pie. #BetterHolidays 😋 https://t.co/kiAOJYRwRU

— Papa John's Pizza (@PapaJohns) November 23, 2015
Have you come up with a creative branding idea for Thanksgiving tomorrow? Do regale us in the comments below!