With algorithms providing a turbo boost to the traditional design workflow, what with the rise of generative design processes like genetic algorithms, the role of designers is taking on a more systematic approach instead of the customary, top down approach of rendering ideas on paper. While designers are used to sketching and developing ideas intuitively, rather than fantasizing a viable design solution, a genetic algorithm can allow them to establish a fitness criteria and trick the algorithm into creating a final design.
In a previous article we discussed how artificial intelligence is molding the future of design, here we are with a few fascinating real world examples of Algorithm based designs which prove that artificial intelligence is indeed the future of design.
---
MIT Lab's new Logo With 40,000 Permutations
Nutella's One of a Kind Patterned Jars
Creating Typography in Real Time
The Future of Generative Design
---
MIT Lab's New Logo With 40,000 Permutations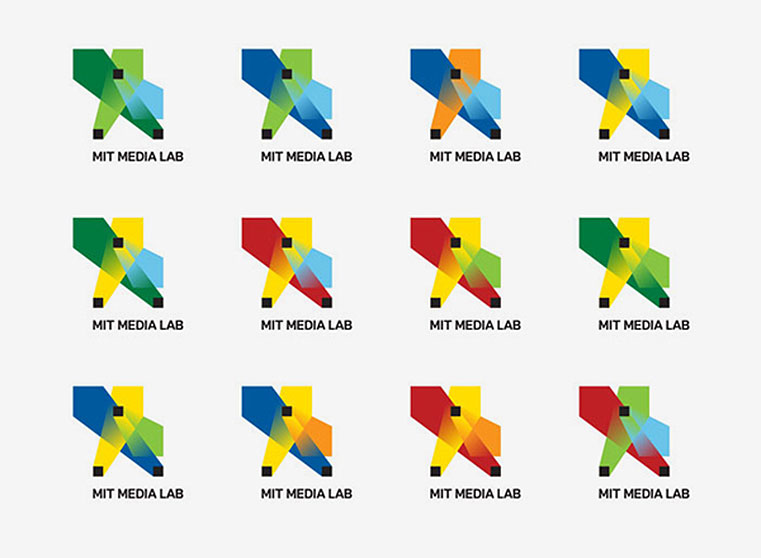 As an ode to 25 years of backseat touchscreen-keyboard-3D-display hybrids, vision-scanning iPhones, and driving robots, Brooklyn-based designers came up with an ingenious algorithmic logo for the MIT Media Lab that generates a unique logo iteration for each of the Lab's unparalleled brains. The algorithm can tweak the three customary overlapping spotlights of the logo using 12 different color combinations to create 40,000 distinctive logo shapes and designs, offering Media Lab personnel a whopping 25 years' worth of tailored business cards.
This one of a kind algorithmic design is Media Lab's first attempt at a coherent identity and represents the organization's efforts to up their branding game in light of the transformation of the lab from a shabby operation touting its claims to enhance the "digital evolution", into a full-scale brand synonymous with big-time math geeks, collaboration, and experiments. It was high time the brand had a graphic design to parallel its success.
Nutella's One Of A Kind Patterned Jars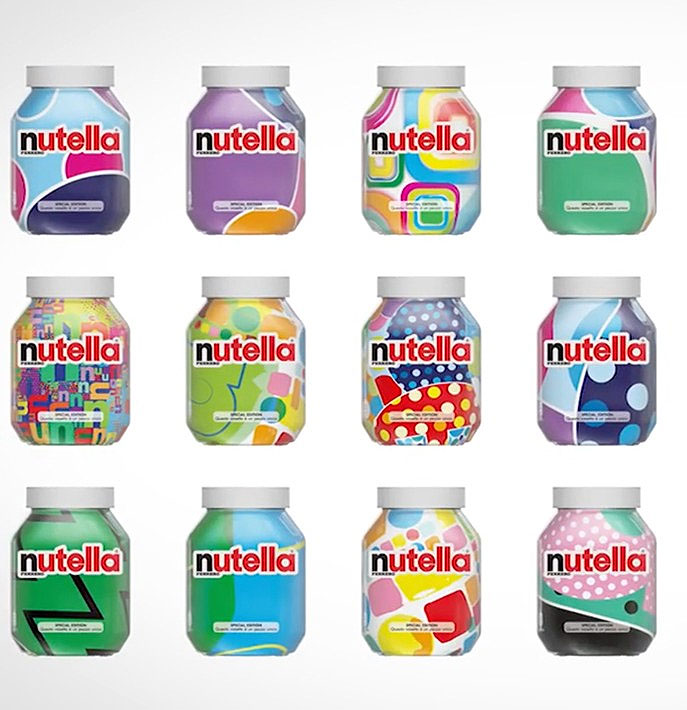 After four years of capitalizing on words alone to personalize its jars, Nutella has decided to travel down an unprecedented, yet not entirely untapped, road; Leveraging distinctive design to make each packaging unique and stunning in turn. In collaboration with the advertising agency Ogilvy & Mather Italy, Nutella created first limited-edition seven million jars, each adorned with a distinctive, one-of-a-kind label design.
The packaging designs for these jars in the 'Nutella Unica' series were created employing an algorithm that blended together myriad patterns and colors to give birth to millions of disparate arrangements. Each one of the combinations was given a unique ID code to authenticate it as a unique jar and customize it, and then printed on a label. The agency likens these unique Nutella jars to pieces of art, each distinguished with its own code so that collectors can authenticate it. This creative strategy makes Nutella as expressive and special as every one of its followers. One special algorithm, thousands of colour combinations, and dozens of different patterns later, Nutella has become somewhat of a collector's item!
Typography Using Algorithms
Copper plate engraving and moveable printing presses may have paved way for modern design software, but regardless of the shift in the methods of designing type, fonts continue to be created by hand at large. When you add this to the fact that most global fonts constitute up to 600 characters in multiple languages, each typeface with myriad styles and weights can take more than a year to design.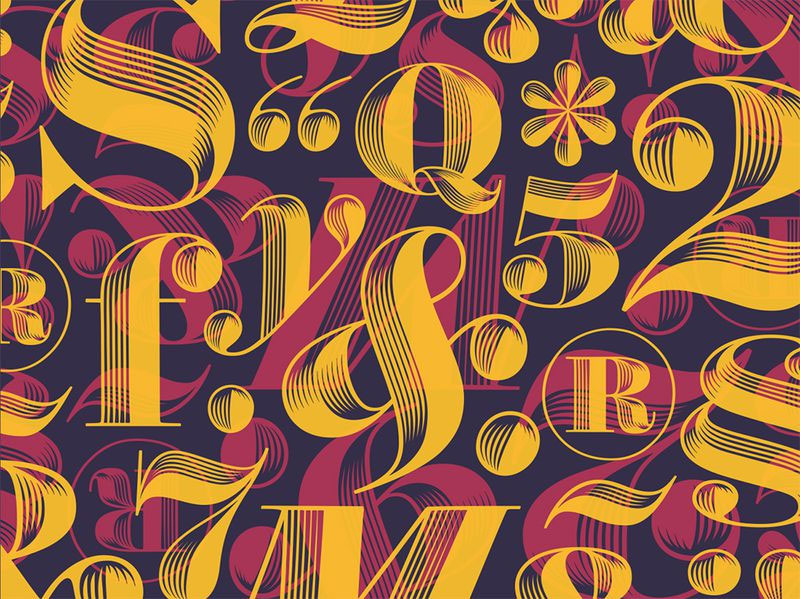 However, the design company Hoefler & Co., after having catered to fortune 500 clients such as Barack Obama, Starbucks, and Nike, has unearthed the use of algorithms to expedite the process. Company founder and senior designer assert that algorithms can take tedious tasks that previously fell to designers and automate them for maximum efficiency. This holds true, especially for embellished, ornamental fonts. Their vectors must contend with determining the lighting and dimensions of the letters, in addition to their curves.
Obsidian is the first algorithm-based font to receive this treatment. The three-dimensional, decorative font, rooted in the ornamental look and feel of old maps, is built over the preexisting structure of a popular type called Surveyor. To lend a contemporary feel to the font, an algorithm was designed which had the ability to light the 3D typeface rapidly and show dimension by creating the necessary shadows. Since the typeface was designed in a virtual environment where light can be simulated on any letter, it alleviated the designers from getting their hands stuck with the painstaking task of manually drawing shadows on each character.
Creating Typography In Real Time
Typography designer Kyuha Shim worked with MIT's SENSEable City Lab's team on data visualization, where he stumbled upon the realization that the parametric design principles employed in designing jewelry and buildings could be tweaked to apply to graphic design field as well. More than being interested in pure representation of data, Kyuha Shim rather had an eye for how practitioners can leverage data to make better decisions about the production process in design.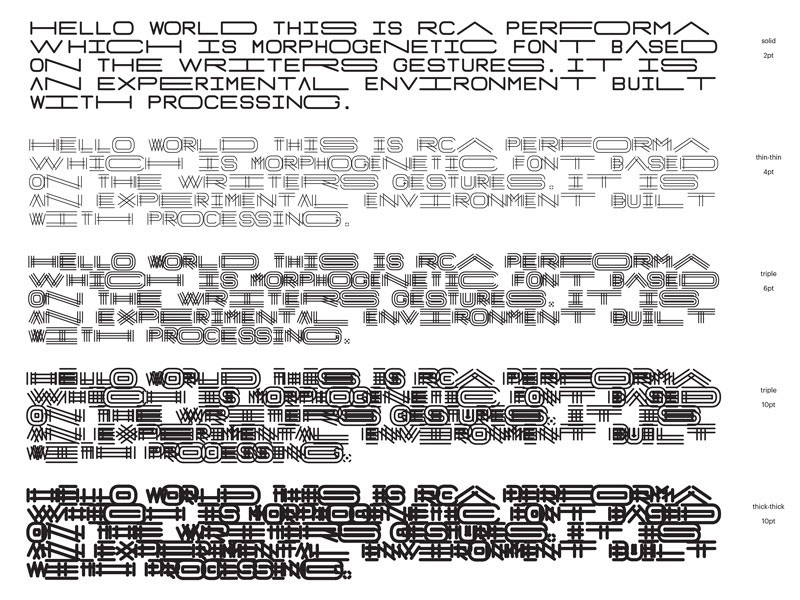 Algorithms have plenty of top-notch practical applications, such as boosting efficiency by taking menial, repetitive details off the hands of designers and automating them. Algorithms can also help graphic design elements respond to motion, sound, and other external inputs. Every element of a layout can be impacted by tweaking a single parameter, rendering the process much less labor intensive.
For his project "Performa", he designed an algorithm that created shape-shifting typography in real time by using typing-input data. Upon pressing a key, the corresponding character will elongate, thicken, or stretch until the finger is removed. The more extended you want the letters to become, the longer you press the key. Similarly, the thicker you want the stroke width, the harder you push the key.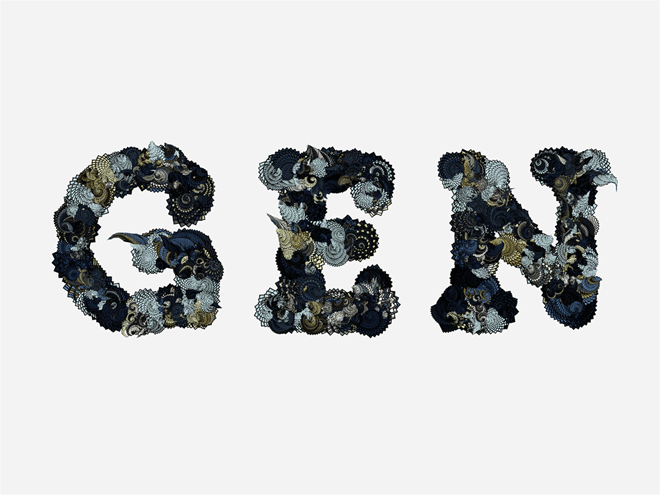 In his project GEM, Shim Kyuha delves in to determining the complexity of code-driven typography. The morphing image above is a product of randomly automated crops of images and a "turbulence noise algorithm". The density of image particles outlining the texts is controlled by the user, while the system is responsible for choosing certain other perimeters, such as the position, size, and decay of fragments from the image, that dictate the appearances of the rendered text.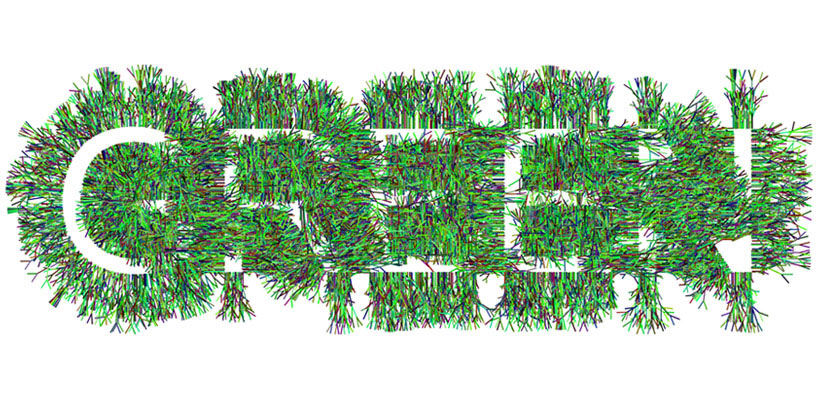 Similarly, Yeohyun Ahn's work borders right on incredulously bizarre, as it is the epitome of what the art form can accomplish. Yeohyun generates ornamental letterforms from scratch with the help of a code library, including letters that are reminiscent of tree branches, letters evoking explosions of reproductive organs, and letters that are actually made of bubbles. Geomerative is a code library that allows designers to design innovative letterforms by forming geometric equations and then transforming them into SVG and TrueType fonts. Geomerative is a famous algorithm which is also creatively leveraged by the designer Caligraft to craft letterforms emulating fireworks, sketch lines, and smoke. Similarly Germany's Generative Typografie created letters composed of an endless array of stringy grids using Geomerative.
The Future Of Generative Design
Over the last couple of years, Generative design has been ruffling a lot of feathers among insiders at conferences and media art festivals. Through the interplay of programming and graphic design with intricate information, fascinating and breathtaking visual worlds are emerging, where correlations are made visible with the help of coincidental. Individuals in a plethora of industries are starting to realize the full potential of algorithms on the design world. Generative design patterns are fast jumping off the computer screen into the practices of fine art, graphic design, architecture, and interior design.
Generative design allows designers to start with a set of objectives- for instance the amount of sunlight ideal for a room or the desired energy consumption of a machine- and then let algorithms take over the drafting solutions. This could be an enormous breakthrough for designers, since when they build something, be it a trash can or a sky scraper, their preconceived notion of how it should look and act can hinder their creativity.
On the other hand, a tool like Autodesk software is an unbiased tool, whose only goal is to optimize the criteria set forward by the designer. Unfettered by prejudices and preconceptions, a generative algorithm can allow its creativity and ideas to run amok, chucking out bucket-loads of possible solutions, digitally accessing the performance of each after the fact.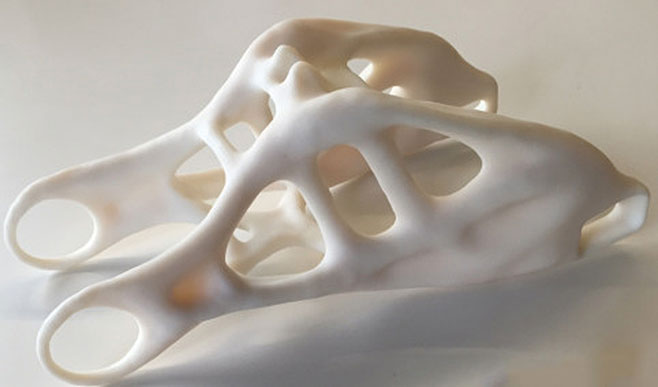 The best part about generative design is that it spits out enthralling objects that appear incredulously organic, just as if the earth had sprouted them itself, rather than being borne of a string of code. For instance, consider the prototype pictured above. It was created for a San Carlos based electric motorcycle company called Lightning, by Autodesk. The company is renowned for designing the fastest production bikes available anywhere in the market. Lightning wishes to outfit its vehicles with the most durable and lightest parts possible. This is where Autodesk comes into play; with its Dreamcatcher software, it crafted a swing arm for the design- the piece holding the rear wheel attached to the frame of the bike- by beginning with strength and weight as the basic design elements, instead of the customary shape of metal. Once the Dreamcatcher received these set of constraints, the software starts churning out all the viable design solutions.
Here Are A Few Awe-Inspiring Instances Of Generative Design:
Megan Chesterton employs a system for generative design to craft a series of album covers, where patterns are created based on the genre of music, the album title, and the artists name. The corresponding patterns, shapes, and colors are generated as a result. This breakthrough is revolutionizing the art of album cover design.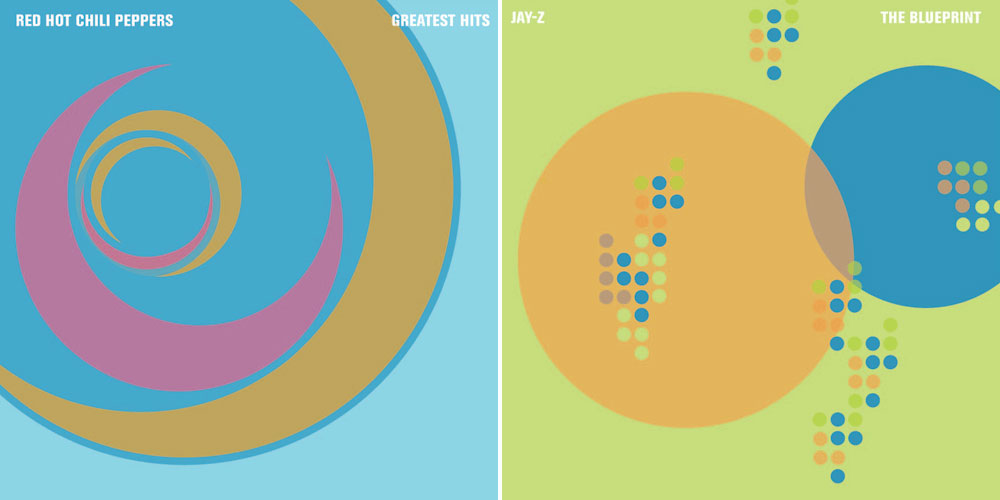 Eno Henze created this mesmerizing drawing based on the signatures left by subatomic particles in detectors. These signatures are used and stripped of their function by these topic accelerators as scientific evidence. The impermeable thicket of signs hint at an attempt to leverage scientific reasoning in explaining the world. The artist estimated the real signatures through a drawing machine of his own creation and his frame-based algorithm.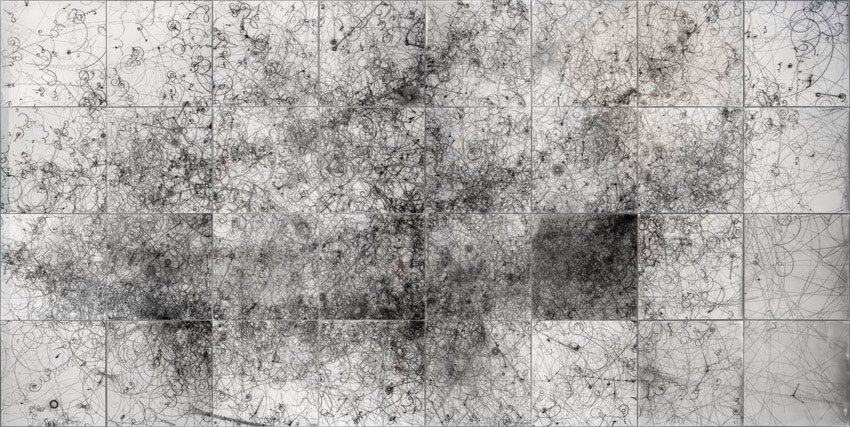 Artist Theo Kontaxis has designed a series of mesmerizing generative portraits, such as a classic take on bob Marley and Barack Obama. His portraits depict his great skills in leveraging algorithms to his liking and the fun he has had with algorithms.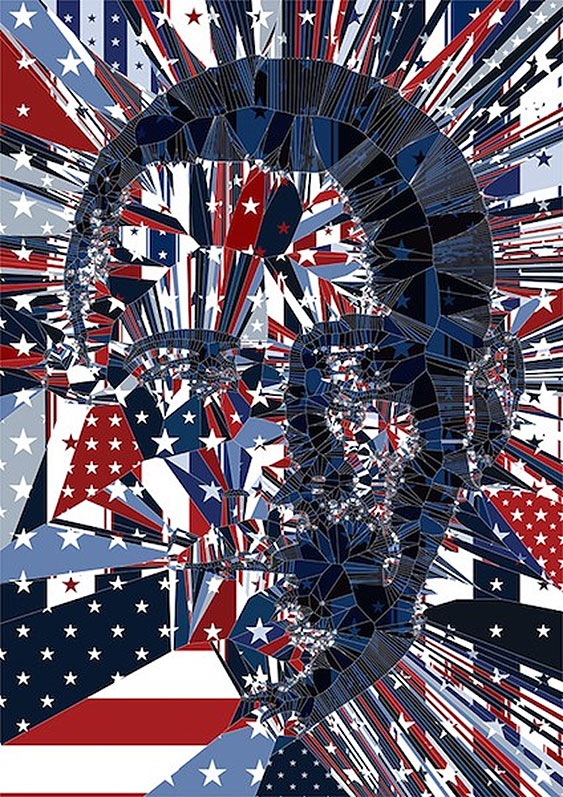 These rich and varied examples portray the visually exciting forms that can now be realized as a result of wildly complex concepts. Since traditional design workflow is receiving a major boost from algorithm based designs, the traditional role of designers is taking a more systematic approach, as opposed to the top down approach of designing on paper, helping designers express their creativity more freely and without hesitation of repercussions. How do you think this fast approaching era of automation is going to fare for designers? Do share your opinion in the comments below!