Hey guys, fall is here and even before you blink your eyes, it is going to be a little cold as Fall marks the transition from summer to winter with temperatures cooling down considerably. For all the lovey-dovey souls out there, here is a piece of advice. Get married before it is too late or otherwise don't blame the cold weather.
As the point of discussion is ideas for a Fall Wedding, let's get on a snap ride for some season inspired creative wedding ideas you will want to steal to plan your big day in a cheerful way. From save-the-date cards to thank you cards, we have it all set for you to start with and ending the biggest event of your life on a happy note.
Planning A Fall Wedding
Let's admit the fact that we all want our Big Day to be one of the most memorable days of our lives. In most cases, people go extra miles by hiring wedding planners to plan their big event and spend lavishly sometimes to compete with others.
Though there are various factors involved in planning a happy wedding, we give you some ideas on how to be creative with your wedding stationery.
Fall Wedding Stationery Checklist
If you are planning to get married in Fall season, keep in mind the colors and décor elements that the season offers as they all set the tone for the event. Invest in decent wedding stationery!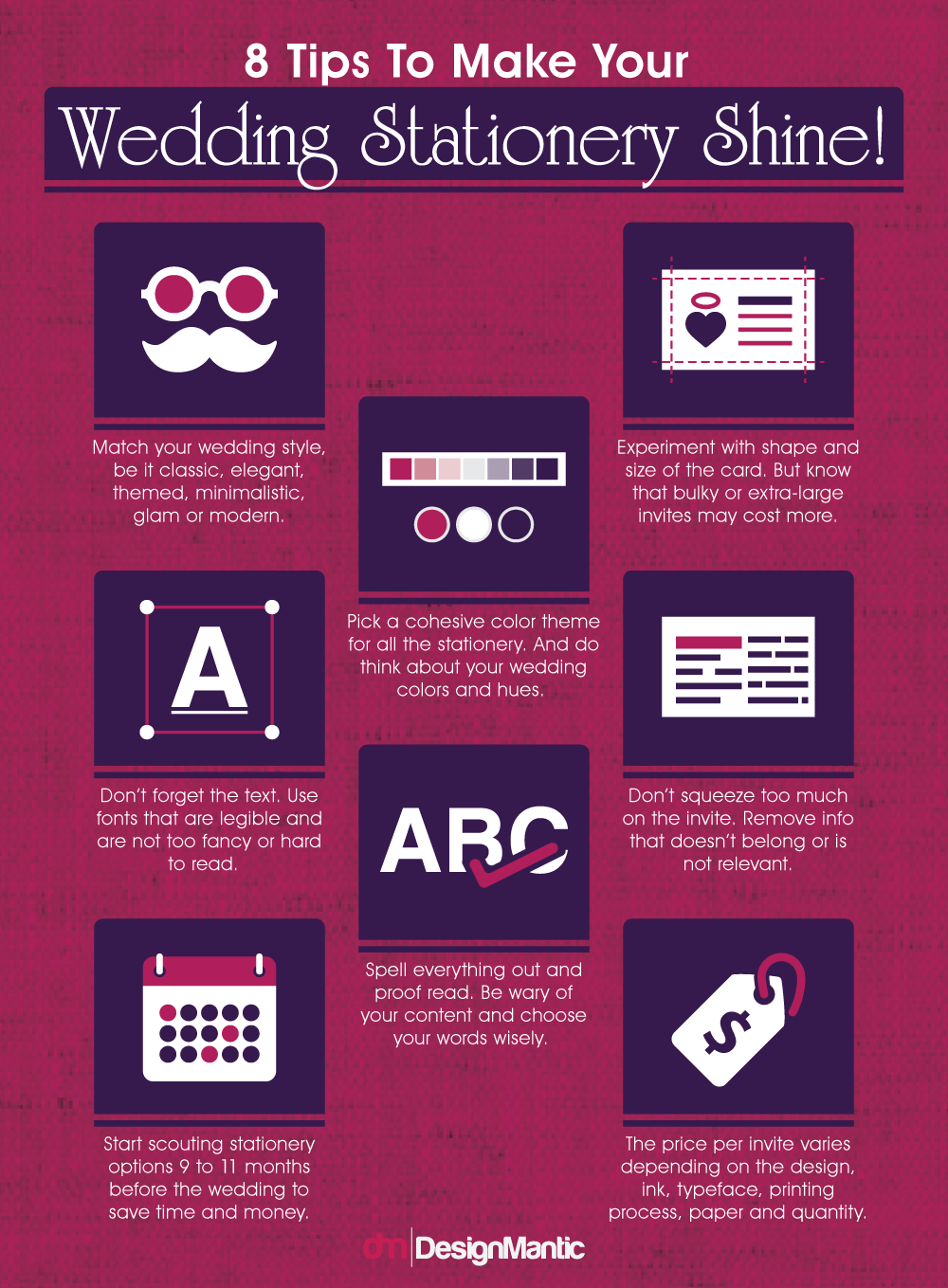 Icons: Flaticon
There is more to wedding stationery than just invitations. You will need RSVP cards, table plans, menus and place cards to start with. In terms of wedding stationery, here is a complete list of what is in for soon to be wed.
We tell you what you need to know before choosing your wedding stationery.
1. Save The Date Cards And Wedding Invitations
These are useful when you are planning your wedding out of the town or inviting guests from abroad. A Save the Date card tells the holder that they are invited as guests to attend the event and 'save the date. These are appropriate for couples who inform their guests of the wedding beforehand.
How To Be Creative:
We recommend a customized card with a modern twist. Like how about a picture of both of you with a hint of maple leaves here and there and a pinecone motif. A simple card in rustic tones will also do good to the purpose and seasonal theme as well.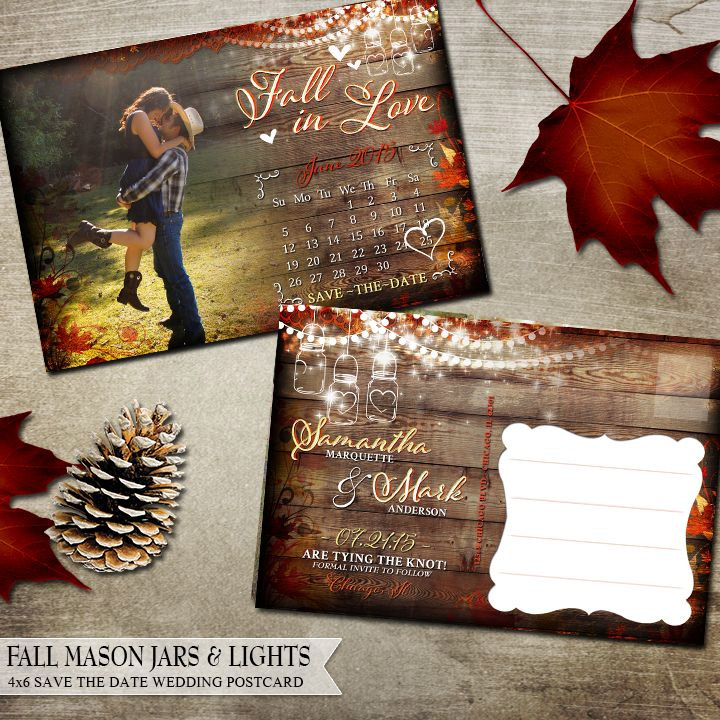 Image: Card Collection
Wedding Invitations
You either make it or break it with your wedding invitations. Such is the importance of an invite and you have to be a little more cautious and careful both when getting it done. Be clear about you as a couple and it should be designed keeping in view the wedding theme. If you're hosting a fall wedding, then you'll want invites that speak the woodsy charm and botanical accents that rustic invitations often have to offer.
How To Be Creative:
If you're a creative person, you can DIY your wedding invitations. There are lots of sites that teach you how to create your own wedding invitation in 5 minutes and there are certain how-to guidelines for doing it all on your own.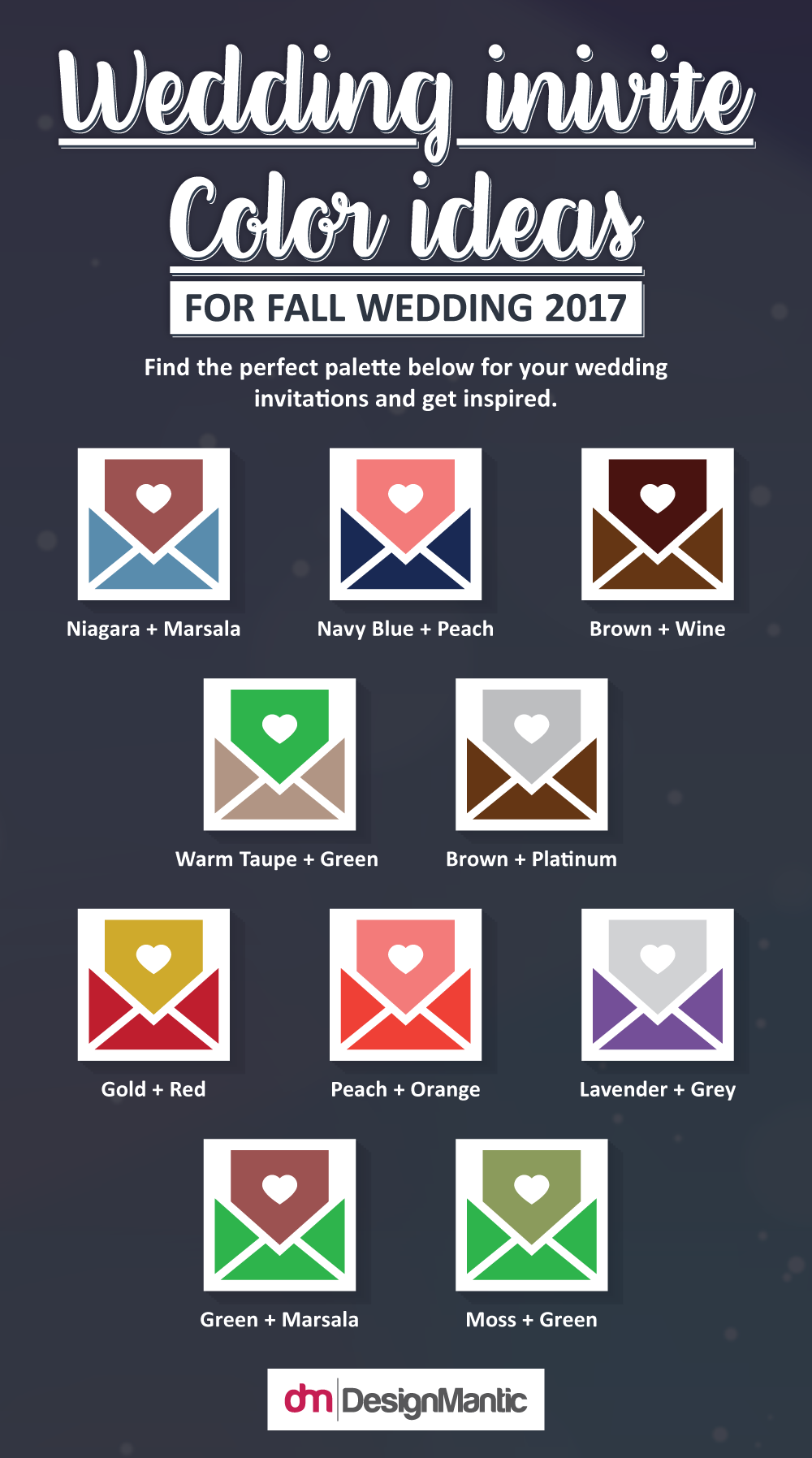 On some of the websites, they step you through the entire process and have a lot of materials, colors and font styles to compliment your type as well as tutorials on how to do it all. You can tailor your invitations so that they give off a rustic vibe. If not one of them, you can also DIY your wedding invitation using logo maker websites.
Ribbon Card
You can also festoon your invitation card with lavender twigs and a purple ribbon.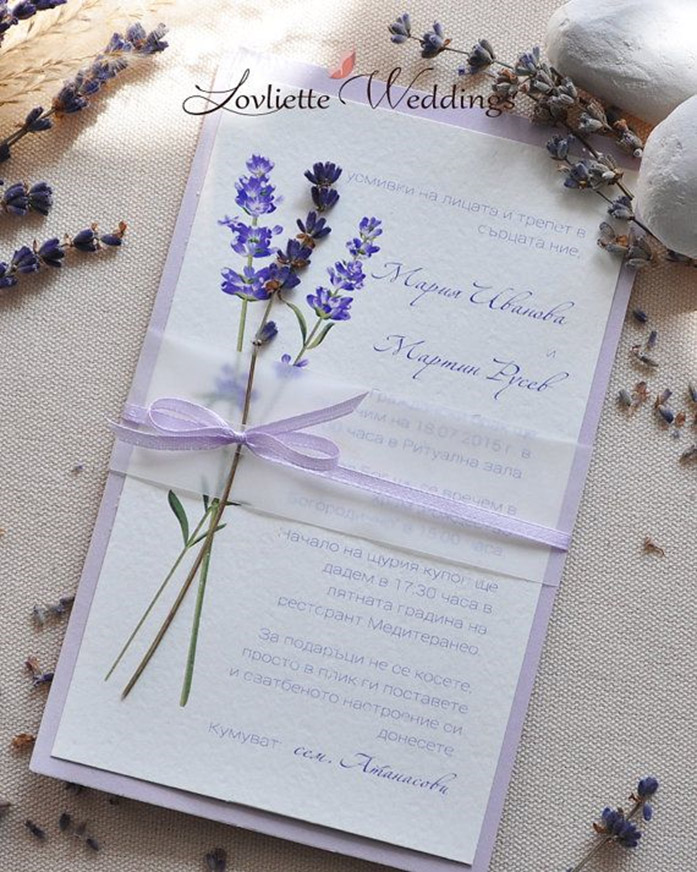 Image: InovaMarketing.co
Laser-Cut Wood Stationery
A bride who happened to be a graphic designer, created the letterpressed invitation herself, and incorporated rustic twine, laser-cut wood accents, and other Maine-inspired details.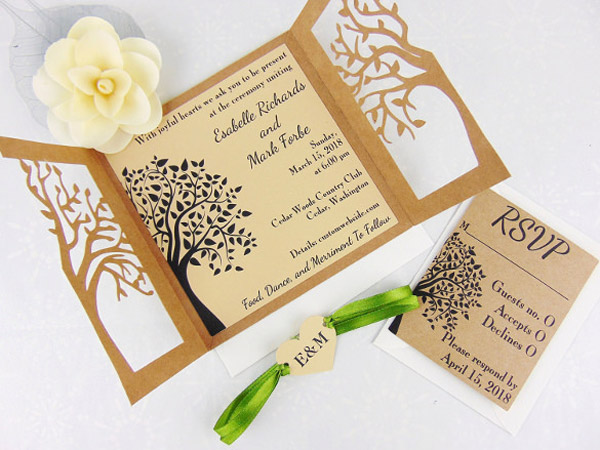 Image: Template.Net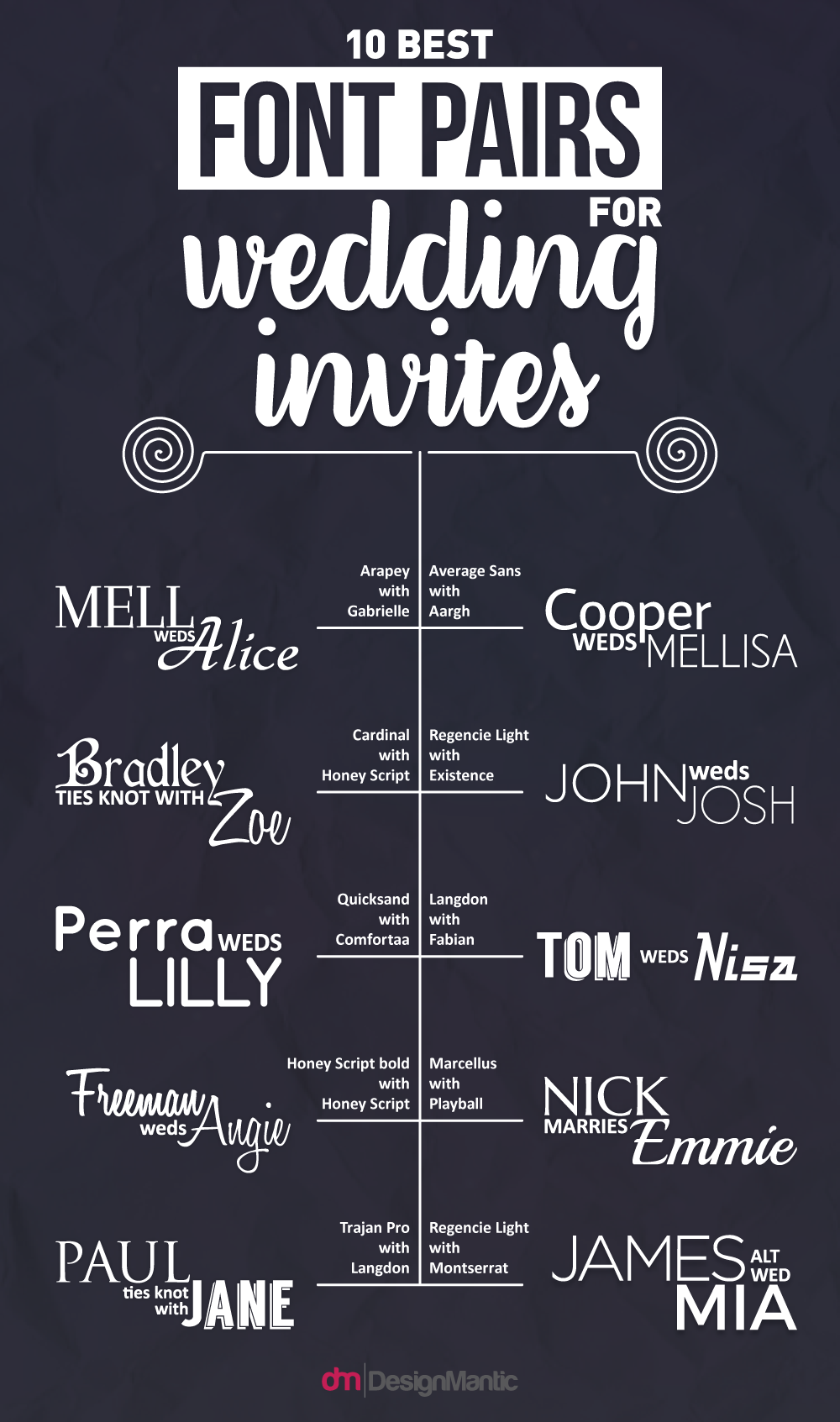 2. Ceremony Program
Guests are informed about what will occur during the program such as meals, speeches, the first dance and cake cutting. This is especially helpful to those who have plenty things to do or have a venue that has lots of rooms.
How To Be Creative
How about some hand-stitched program cards or some jute bags to put your cards in? These will definitely set the mood of your guests for a rustic Fall wedding.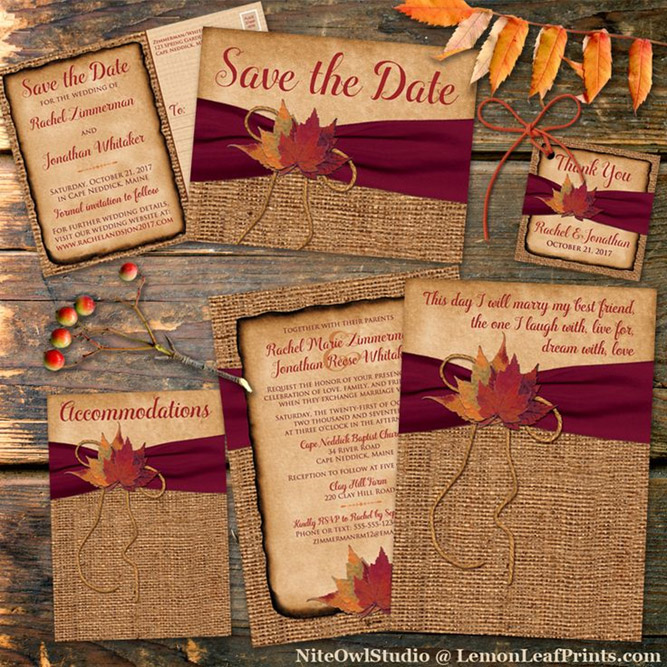 Image: LemonLeafPrints.com
Stitched Ceremony Programs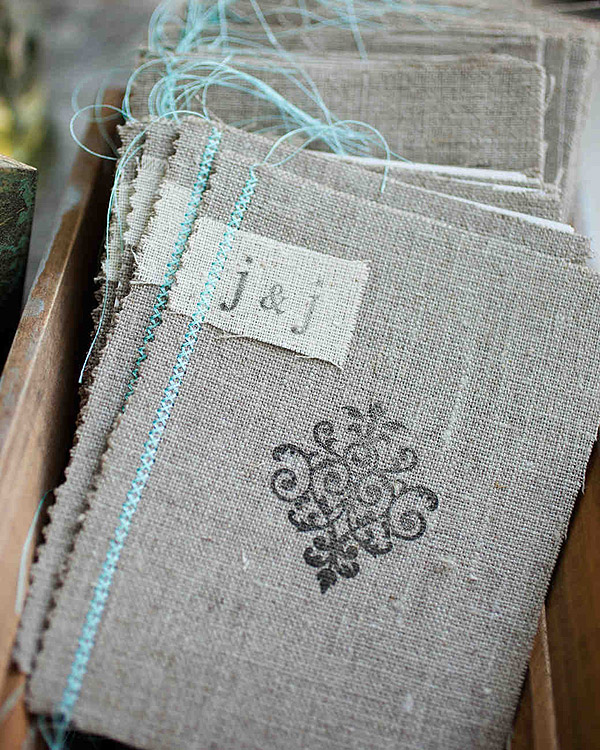 Image: MarthaStewartWeddings
A Personalized Monogram
The easiest step to DIY is to log on to logo makers or websites that offer instant solutions to your DIY needs. With your mind already occupied with day-to-day activities, it is advised to take help from certain logo makers that are up-to-date with easy to-do guides for your wedding monogram and add personality to your wedding.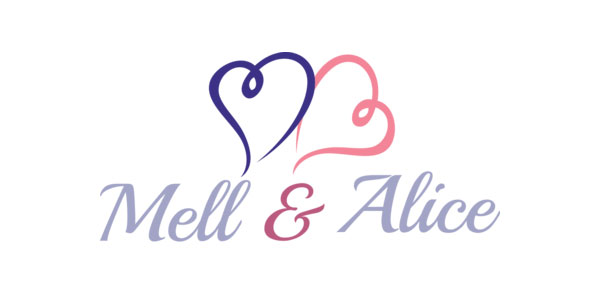 3. Seating Card Display
Displayed at the reception area's entrance, seating plans show all the guests where they can find their seats with a table layout plan. This works just as well with place or escort cards and table numbers.
How To Be Creative:
Try some gold sprayed tree branches and hang them with wide ochre ribbons that hold calligraphed seating cards in place. For a lasting touch, add some glittering millinery flowers.

Image: WeddingOmania
4. Escort Cards (Optional)
Escort cards are a regular thing in the US and are more creative than placecards and are being seen more at weddings from all over the globe. With these, each guest has their own seat assigned to them at the wedding reception.
How To Be Creative:
For a fall wedding there is nothing better than pinecones to relate to the theme. How about separating the rows of place cards with the columns of pinecones?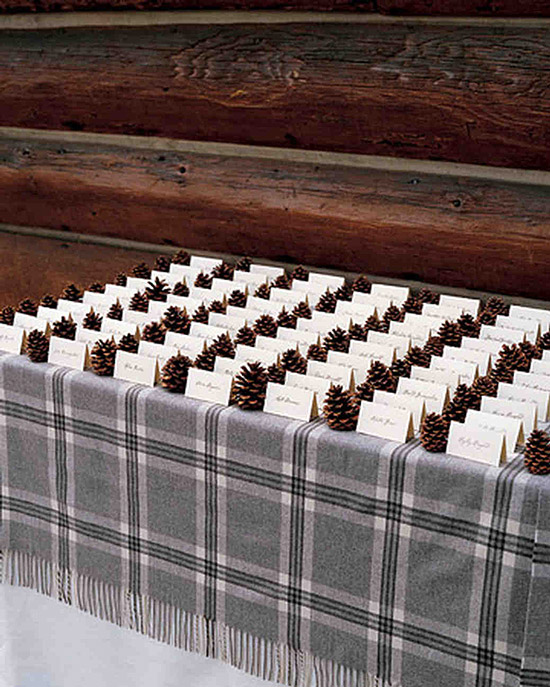 Image: MarthaStewartWeddings
Wreath Escort-Card Display
Choose an array of golden autumn hues for the leaves of a wreath to create an undeniably fall display.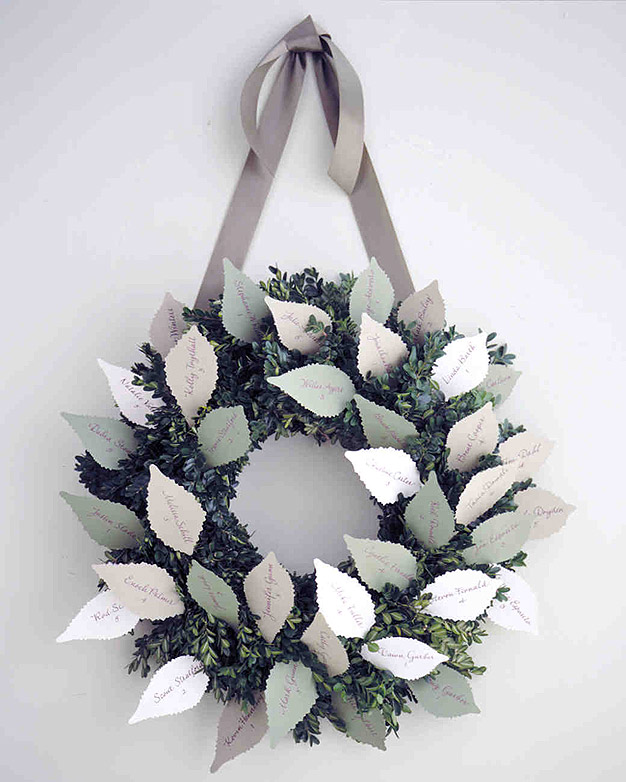 Image: MarthaStewartWeddings
5. Place Cards
Placed at the seat of each guest, place cards inform them where to sit. These can form part of a favor left for each guest.
How To Be Creative:
How about the placecards that were made from paper-thin wood veneer? These sheets can easily be folded and cut into simple shapes. What a creative idea to use craft punches to be able to make birch and maple leaves.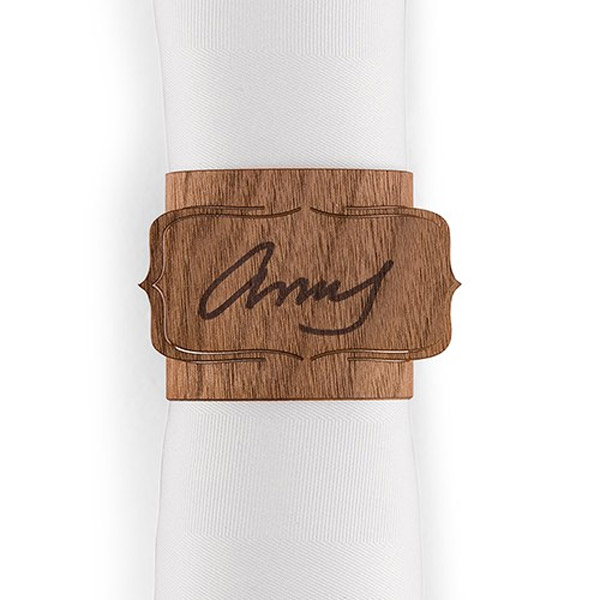 Image: decorationsdemariage.fr

Candied Apple Placecards For Kids
Veneer tags attached to red-hot candied apples served as placecards for the kids.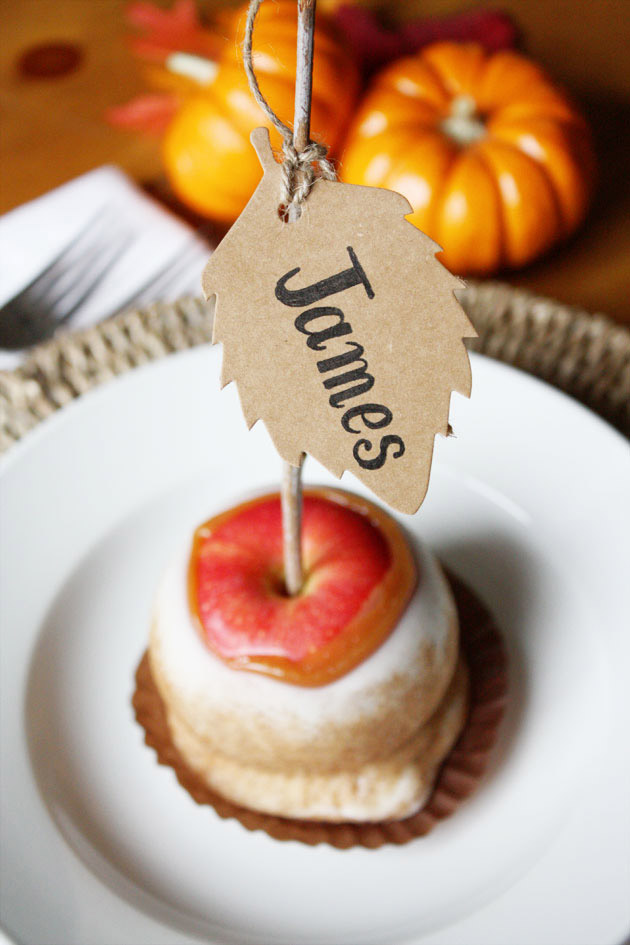 Image: Brit.co
6. Menu Cards
Though not essential for a buffet or a small short wedding reception, the menu card informs the guests of the meal ahead. It can contain the food options or the set menu and choices for those with dietary restrictions.
How To Be Creative:
Design your menu card with maple leaves. Wanna go extra miles? Let's place a pomegranate or two at the bottom of each menu card or pin your menu card atop a fresh pomegranate.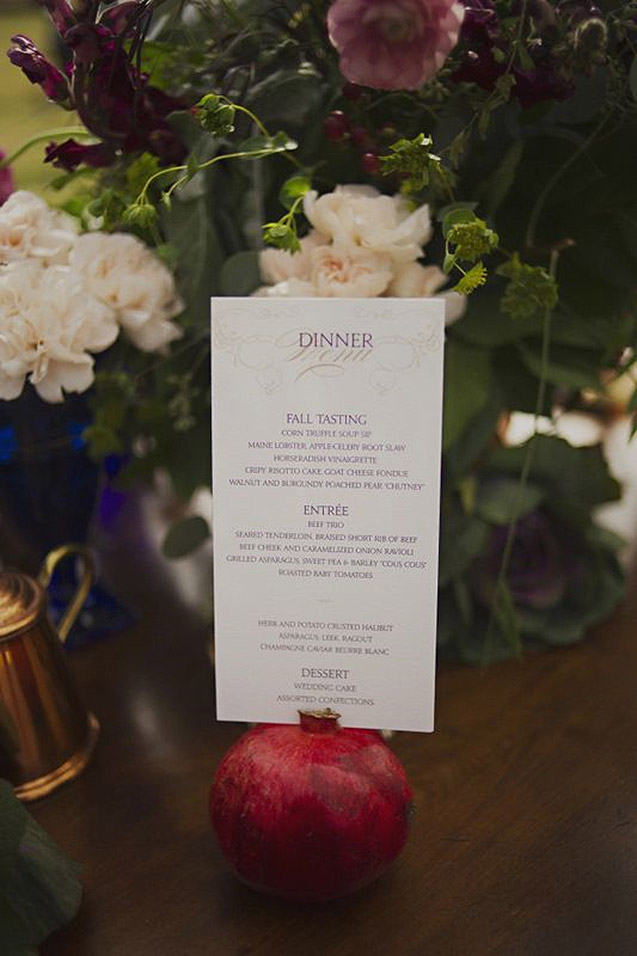 Image: CapitolRomance.com
7. Wedding Guest Book
After your wedding and honeymoon is over, you get to pour over wedding pictures and read the thoughtful notes in your guest book. Unfortunately, not much is written in this book as the guests are little or not interested in this part of the wedding.
How To Be Creative
Finding it difficult to get well-wishers as guests? Go for a dramatic display like a verdant wreath that is adorned with chartreuse santini mums and tiny bows. Do not forget to keep colorful pencils nearby in a cup.

Image: MarthaStewartWeddings
8. Thank You Cards
These cards are distributed to guests a little bit after the wedding, which thanks them for attending the wedding as well as their gifts. The they also thank the flowergirls, bridesmaids, as well as the party host party.
How To Be Creative:
Infuse some real elements of pinecone and maple leaves to give your guests a sense of belonging to you even after your big day.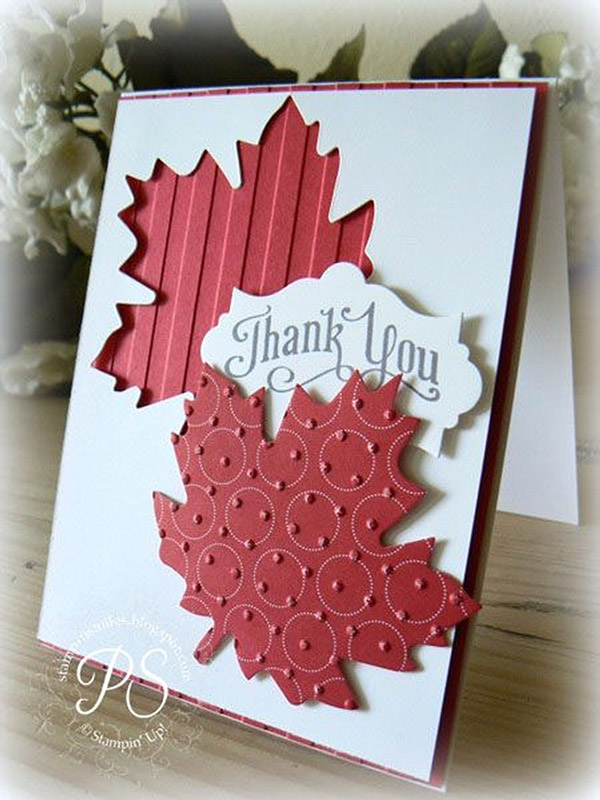 Image: liveinternet.ru