Iconography is a fascinating branch of art and design. Through these small and distinct depictions of images, designers and audiences can share a mutual understanding of the context. In business identity design, logo icons serve this same purpose.
As precise visual markers, they symbolize particular meanings for businesses and brands. In transport logo design, these symbolic meanings usually represent the reliability, speed, trustworthiness, globalization, and similar business aspirations. Usually, icons in transport logos consist of variations of vehicles.
You will often see cars, bikes, wheels, ships, airplanes, and such depicted on transport logo images. These icons provide a direct connection between the image and the business it is supposed to represent. However, transport business logos can also come in abstract designs.
Road icons, road strips, wings, flames, bubbles, and similar images often accompany transport logos for more subtle and artistic representations of their brand identities. Designers also use geometric shapes, patterns, and 3D art to design icons for transport logos.
While you'll see this wide variety of icons in transport logo templates, there is a common thread binding them all. Whether a transport logo is using an image that conveys its meaning directly or going subtle with an abstract design, the purpose is to convey the transportation of things from one place to another.
Each of the transport logo icons you will come across serves a unique purpose. As a business owner/designer, it is up to you to make sure that the logo icon you choose corresponds naturally to your business. For example, if you run a B2B delivery company, the most suitable logo icon choices for you are abstract shapes, location pin images, package carts, or boxes. Similarly, if you are a transport company that delivers goods from one place to another, a truck logo may suit you more.
So, choose icons that can immediately convey to the user what kind of business you run. It will save your audience precious time and will also make your design more streamlined and focused.
Below we are going to share with you ten of our most popular transport logo icon examples. Let's take a look at each and see which business type they suit the most.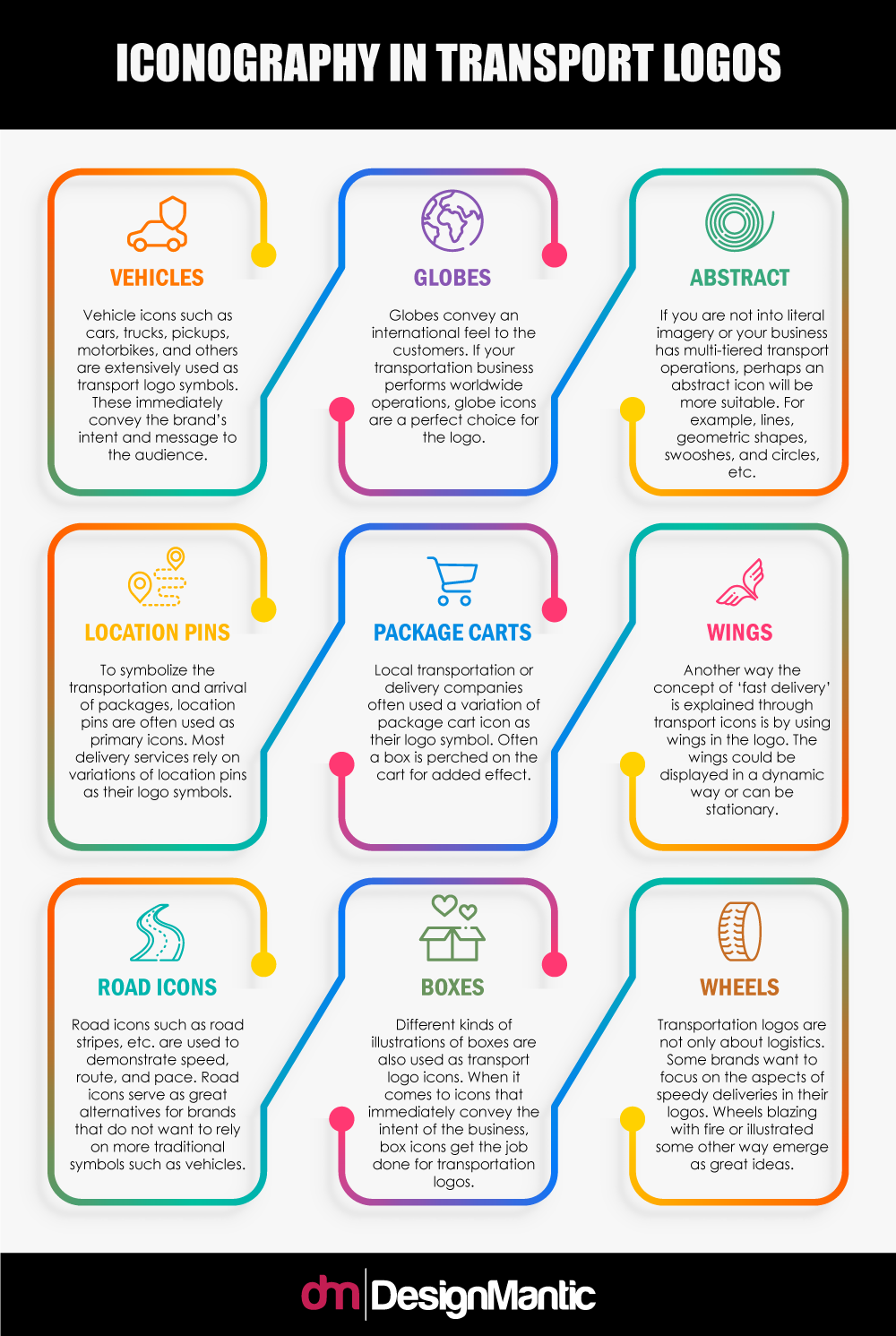 Embed in your site:
Try Our Personalized Logo Maker Tool:
Free Logo Templates For Automobile
Design Transport Logos With Wheels
Create Logo Designs For Cab Services
Generate Automotive Logo Designs