"Something old, something new,
Something borrowed, something blue,
And a silver sixpence in her shoe."
For those who are not familiar with English folklore, the above rhyme refers to the ancient custom that narrates what a bride should wear at her wedding for good luck. The interesting part of the verse is the peculiar use of the color 'blue'.
The question raised here is, why blue and not any other color? Branding is important and we all know color is a vital element of brand development; it helps build a positioning and perception for product in consumer's mind. To understand this, we need to be acquainted with the psychology of colors, i.e. how they influence the way we behave.
The human mind reacts to colors in a remarkable fashion. Each color has a unique influence on our moods, feelings and emotions. For instance, yellow color is mostly associated with hunger and excitement. Likewise, blue color has the ability to emit a sense of calmness, security, honesty and trust. In the aforementioned verse, the 'something blue' also denotes loyalty and faithfulness.
Why Social Media Logos employ 'Blue'?
Did you know that blue is the most popular color in the world? According to a survey performed by Dulux Paints involving respondents from 30 countries, 42% males and 30% females labeled blue as their favorite color.
Moreover, blue is associated with feelings of trustworthiness, strength and dependability. All these factors are highly critical to a social media website. According to various researches, blue color helps in improving flow of communication which is important for all social media platforms.
Let us see how some of the most famous social media and social networking sites use the color blue in their visual identity.
1. Facebook:

The world's largest social networking site, Facebook was launched about a decade ago as a platform allowing people to connect and interact with their friends and family. Now in order to sell this to the users, any website needs to build trust and dependability in the minds of the customers. Since users share their personal photos, videos and conversations with their closed ones, the blue color in its logo serves this purpose quite fittingly.
2. Twitter:

The second most popular social networking platform Twitter also exploits the blue color in its logo. Similar to other social media sites, Twitter also allows its users to share instant updates in the form of 'tweets'. This demands privacy of personal data which can only be guaranteed by building up trust of the customers. The blue color in its logo as well as the entire theme gives a sense of security and safety to the users.
3. LinkedIn:
This is another famous example of why social media logos employ blue color. Since its inception in 2002, LinkedIn has established its reputation as the most popular social networking site for professionals. It serves as a platform where professionals of all occupations can meet, connect and interact for mutual benefit. A site like this need to exhibit strong characteristics like dependability, professionalism and trust to its users. The blue color is an ideal means to communicate these qualities.
4. Instagram:
One might assume that the recent transformation of Instagram logo from black to blue was due to its takeover by Facebook. However, it isn't the case since there is a clear distinction between the color tones of both logos. The change is more towards exploiting the calming and pleasant effect of blue color on users. A photo-sharing social networking site like Instagram also needs to communicate a sense of trustworthiness, security and credibility which will be aided by the adoption of blue in the logo.
5. VKontakte
Even social networks based in other regions of the world follow similar suit of using blue in their logo. Case in point is Russian based site VKontakte (VK) which is the largest European social network after Facebook. It also employs a similar color theme for its visual identity as well as the site layout thereby establishing a sign of friendliness, reliance and security.
'Wave of Blue' in Social Media Blogs:
The concept of employing blue in logos isn't restricted to the social networks. It is also being more and more adopted by social media blogs as well. Two of the biggest examples include social media news site Mashable and SEO blogging community Moz (previously SEOMoz). Both use blue to provide a feeling easiness, openness and dependability of their services to users.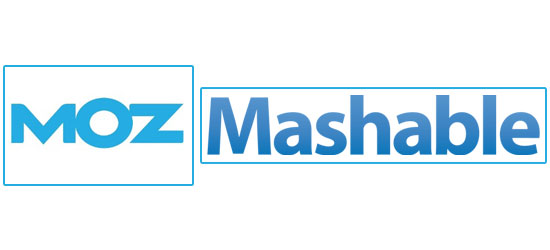 Are You Feeling the Blue(s)?
While there is an evident wave of blue across the social media platforms, there are no hard and fast rules on employing blue as your flagship color. What effect does blue color in logos have on you? Does it impact the way you interact on social media sites?