As an individual travel agent or the owner of a reputable travel business, your job is to garner the most viable deals for your clients for the destination of their dreams. Be it corporate or leisure tours, vacations are more prized than ever and travelers are forever scouting out travel agents to help them transform their hard-earned holidays into a vacation of a lifetime. However, with the proliferation of travel agents swarming the market, the key to success is to communicate your dedication to fulfilling that goal and letting your clients know you have their best interests at heart. This is where effective branding comes into play.
The fast paced nature of the travel industry entails bringing new concepts to the table and encourages innovation to survive. You want to be the travel agency that springs instantly to the minds of the customers when they are thinking about booking their vacations, and for that, a lot of elements go into designing the perfect lure. Be it designing professional travel logos, business cards, letterheads, or running social media campaigns, here are all the juicy secrets of developing a winning brand image so that you can incite a spirit of wanderlust in your clients, and help them delve in to the fullest.
Create A Lasting Impact With Professional Business Cards
Despite being a seemingly small tool in your travel business's marketing arsenal, even in the digital era business cards still have a huge impact on the success of your business and the impression you leave on the minds of your customers. While many professionals in the travel business overlook the utter indispensability of having a viable business card that reflects the image of their travel brand, this small piece of paper can work wonders as part of your collateral package. It's your first opportunity to imprint a positive, strong impression on your prospects, and often the first handshake they receive from you.
Business cards put a face to your travel business. When you meet up with a prospective client, handing over your business card will imprint your business in the backs of their minds. While they may not be scouting out travel packages right now, but someday when wanderlust calls, they would simply pull out your business card and find a way to contact you, instead of exasperatingly trying to reminiscence that "travel agent they met at a conference!"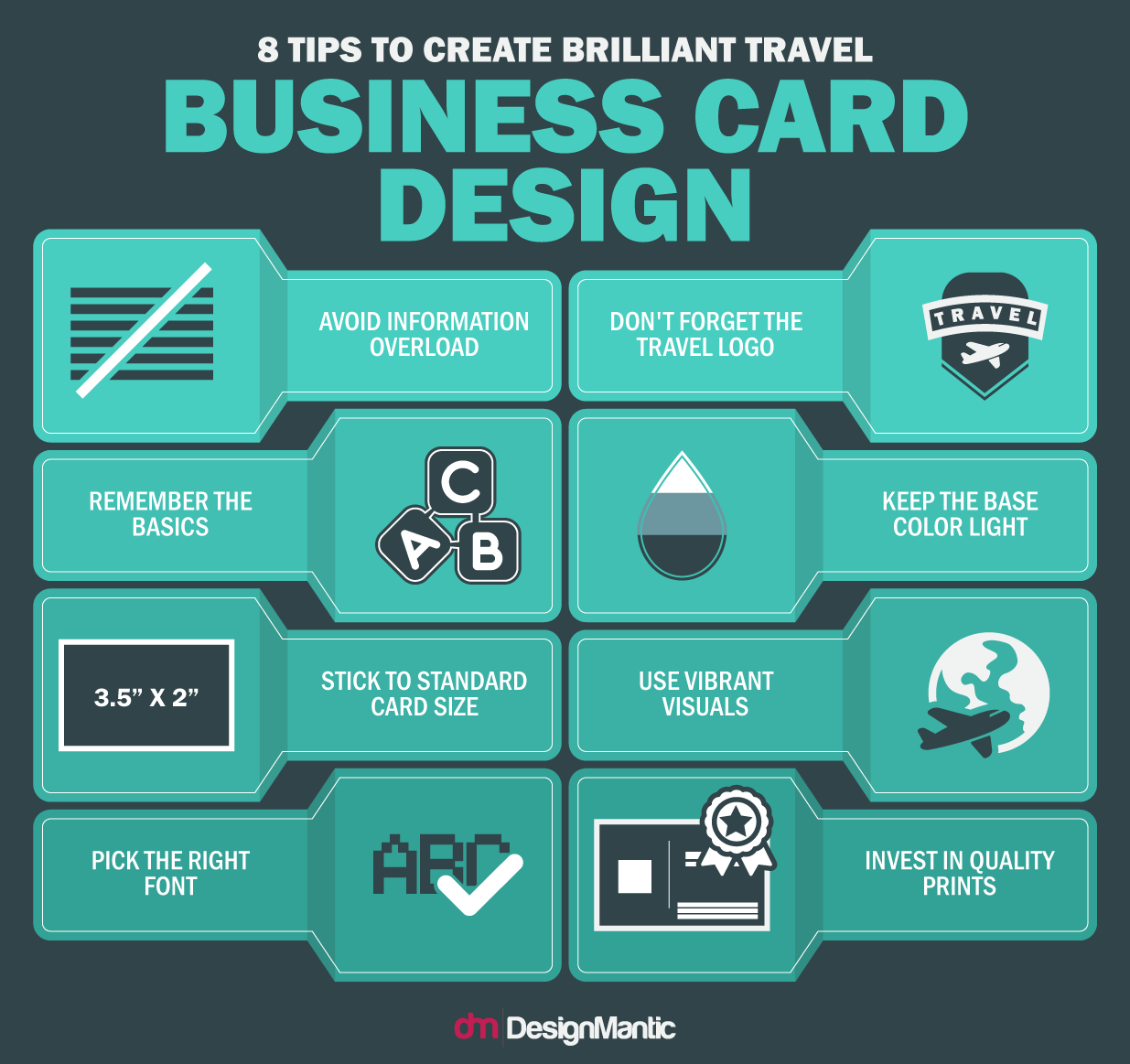 Here's why a reliable travel brand should always have a business card:
• Business Cards Provide Legitimacy And Credibility To Small Travel Businesses
Whether you are a solopreneur or working for a travel agency, people won't be inclined to book their well-deserved vacations with you until they feel they can trust you in ensuring the best deals for their excursions. Most clients are wary of chartering in unknown territories! When they come across travel agents that don't carry well-known names or a long-established reputation, they are prone to judging them on appearance and recommendations alone. Having diligently designed business cards lets your patrons know that they would be prudent to partner with you, and puts their minds at ease by assuring them of the reliability and trustworthiness of your business. Even with a website, Twitter, Google+, Facebook, and LinkedIn, people expect you to have a business card, since it portrays professionalism and serves to demonstrate that you care about your clients.
• Business Cards Are An Effective Direct Marketing Tool
While paid media, search engine optimization, and Email marketing are all effective in capturing prospects and leads, they come no-where close to an in-person meeting sealed with a stolid handshake, compounded by an exchange of business cards. You could run into a potential patron at the most unexpected of places, and equipping yourself with business cards at all times makes sure that you never skimp on a chance to make a valuable business connection. Since business cards are easy to give away, portable, and cheap, there's no excuse not to have one. Business cards are a way for you to say, "I know what I am doing, I belong here, and you should consider me a factor."
• Creative Business Cards Get Shared
Creative and intriguing business cards are like Tweets; they are constantly re-shared (or passed around by hand in this case). When you leave the encounter with a potential client with a business card, incorporating all the relevant contact information, your travel brand stays with them even after you leave. Furthermore, if you hand over a one-of-a-kind, super-creative business card with a prospect, they are highly likely to parade it around and show it to other people, thus inadvertently pushing your brand to the front.
One way to make your travel business card unique is to capitalize on laser cutouts or employ unusual cuts and shapes; perhaps cards that can be folded over to turn into campers, cards shaped like airplanes or briefcases, or cards that steer away from the customary rectangular outlines towards more creative shapes. Another idea is to use business cards that double as useful paraphernalia; perhaps a business card printed on an actual keychain that people can use, or anything else that might help them on their vacations!

• Building Your Travel Brand
Business cards are effective at helping you establish your brand, so that your agency can be more easily identifiable. By incorporating your advertising slogan and your official logo on your business card, you actively reinforce your brand with every person who views your card. Always choose a card design that effectively incorporates the company's brand, from the logo, color palette, and the font, to the overall look and feel. This unifies your business card with your overall branding effort and help people recognize you easily.
• No Downtime Attached
This is perhaps the biggest benefit of business cards. Technology may be ubiquitous in this era, but it is by no means infallible. Business cards are always physically available, even in places prone to internet outages and dead zones. No matter where you are located, no matter if your prospect doesn't have access to gadgets, your business card is always working for you!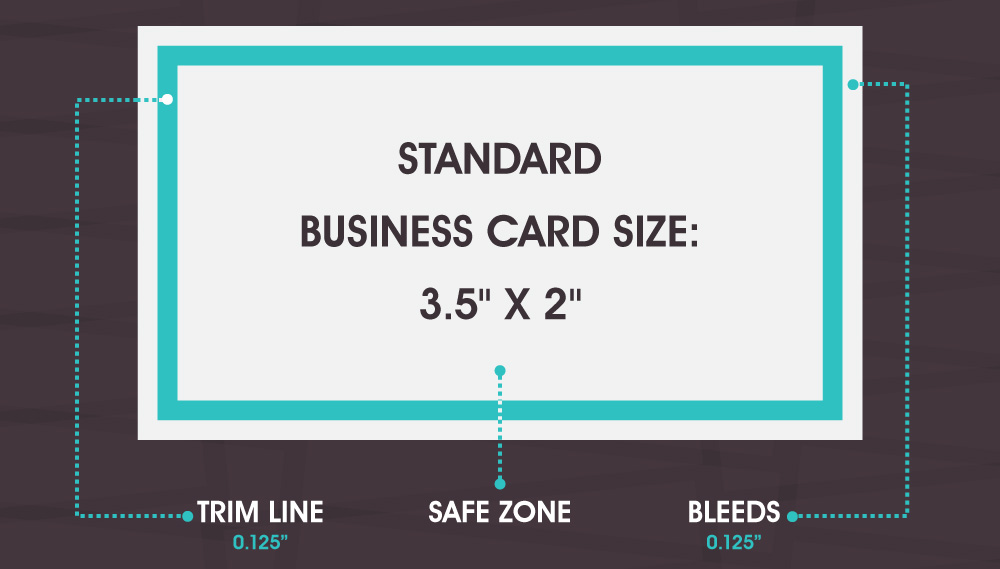 Formally Introduce Your Travel Business With Letterheads
As couldn't be stressed enough, sounding professional and reliable can make or break a travel business. One of the most imperative printing collaterals in your travel business is a well-designed letterhead. More than just a means of correspondence, it is the only true physical representation of your business. Not only is it an essential part of your business's marketing and sales communication strategy, it also says a great deal about your brand image. Furthermore, a viable letterhead design is a great means of depicting professionalism and lends credibility to you as an agent. Here's why you need a well-designed letterhead for your travel business:
• Flaunts Your Company Logo
The logo of your travel brand exists for a reason. Not only does it help your customers recognize you, but also defines your travel brand and the exclusive services it promises. A letterhead allows you to flaunt your travel logo and what it stands for, helping you create a greater brand awareness in the industry and among your customers.
• Backs Up Your Brand Identity
As part of the tourism industry, your primary task is to transport your patrons from one exotic destination to the next, and assist them with their travel plans, such as sightseeing and excursions. However, you might have specialized in certain specific holiday types, such as a historical city break, beach holidays, or wildlife safaris. Don't you want your patrons to know that you offer the best services and the promise of the vacation of a lifetime in the most viable travel packages?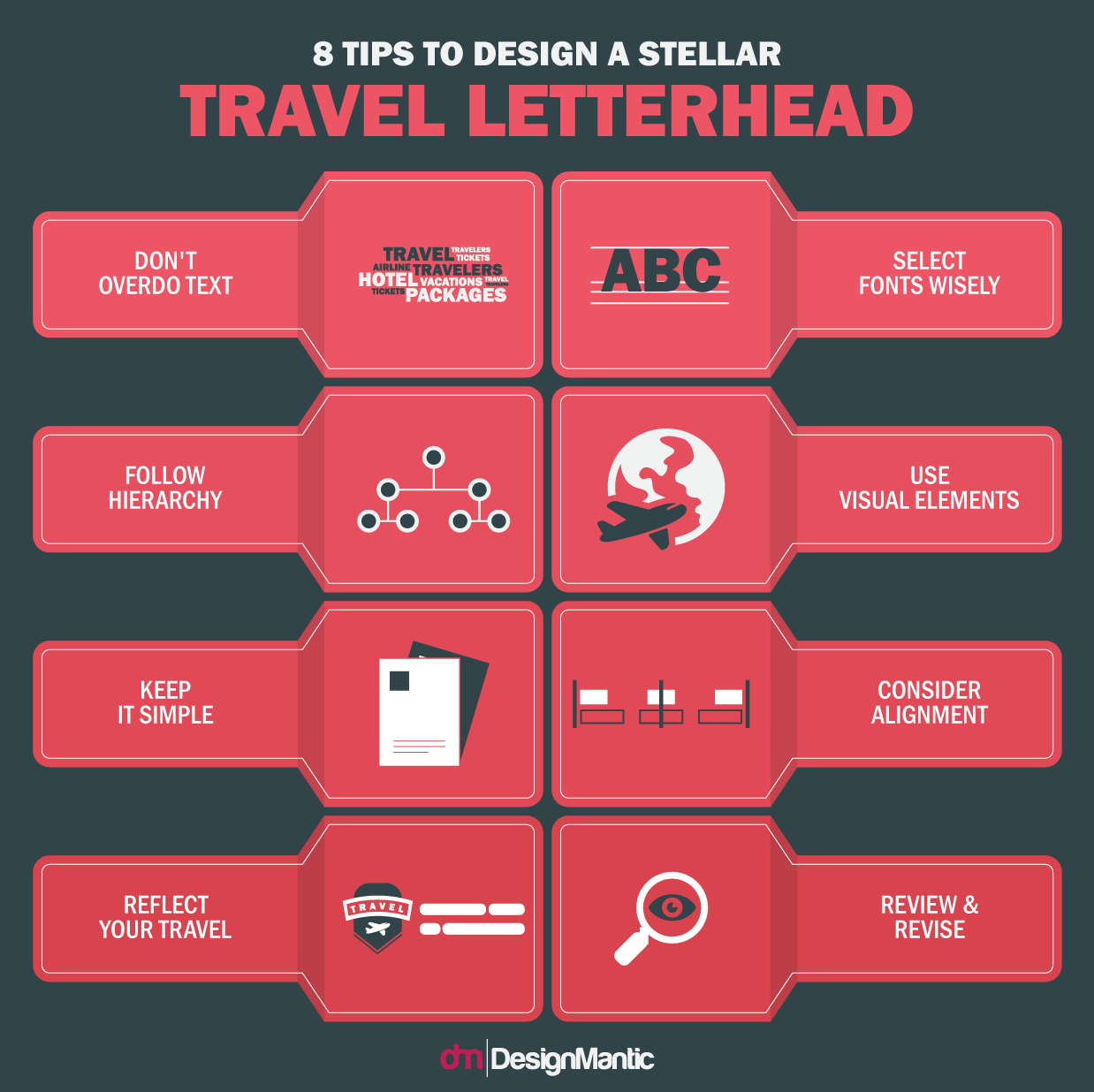 If so, your letterhead can go a long way in reinforcing your brand message. If your travel packages are centered on a particular destination or your brand concentrates on offering unique values to your patrons, your letterhead could be used to reflect that; whether that is with an interesting typography or colors, or a sleek design. Once you've earmarked the particulars, use them coherently across all other aspects of your business's communication as well.
• Shows Authority And Legality
Your travel business letterhead helps to identify your brand and shows your prospects who you really are. Thus it should be used for all official documentation. When you render your services, packages, deals, contracts, offers, and letters on a well-designed letterhead instead of scribbling it on a plain parchment, it gives the remainder of the letter credibility and reinforces your brand's authority. A clear and laconic message, in conjunction with a top-notch logo instills a sense of trust and promise of delivery in your associates. Anything that separates you from the barrage of other travel agencies should be leveraged as a customer magnet.
• Appearance
A letterhead should appear highly professional if it is to make an impact. This ensures your prospects willing to book with you that your brand means business and that you take yourself seriously. However, apart from exuding professionalism, your letterhead is a canvas of sorts that you can leverage to convey the underlying message of your brand. Your creativity, depth of perception and ingenuity dictates how you can effectively communicate the idea and vision of an enthralling desert tour, a nostalgic walk in to history, or a mesmerizing beach holiday to your customers.
• Direct Mail Works
If you don't consider your business letterhead as a marketing tool then you are probably not thinking out of the box to unearth creative ways of gleaning more out of your marketing budget. Not only does it broadcast your travel brand, it informs customers how to contact you and serves as a reminder of why they chose to avail your services in the first place. Your travel business letterhead is a great vehicle for special offers, coupons, sales letters, and other incentives that you put forward to motivate customers into taking action. However, your business letterhead should never appear to be an overt advertisement. While the prevalent part of your business letterhead should still serve its purpose as a branding and communication device, you can take a panel along the bottom or a side, or the backside of your letterhead and turn it into an advertisement, featuring enticing travel deals and offers.
Up Your Travel Business With Social Media Covers
Due to the proliferation of information and increasingly shorter attention spans, when potential clients visit your page, you only get a few seconds to capture their interest and engage them. According to some studies, visitors judge your page within four seconds of landing, and of those, more than 75% visitors judge your travel brand solely by the look and feel of your social media accounts. On Google+, LinkedIn, Twitter, and Facebook, they serve as the focal points of attention when visitors land on one of these channels. Since your travel business pages are a direct extension of your website, a well-executed web presence represents your brand more than anything.
Since your cover photo is the most conspicuous part of your pages and is the first thing people see about your travel business page, it is imperative to design stellar cover images that have the capability to mesmerize your visitors and impinge some message on their minds even if the only thing they see about your page is the cover image. Which is why, it is imperative to represent your brand through your cover images effectively, when setting up social media channels for your business. Since your cover photo is the first thing your users see on your page, it can be leveraged to create a lasting impression!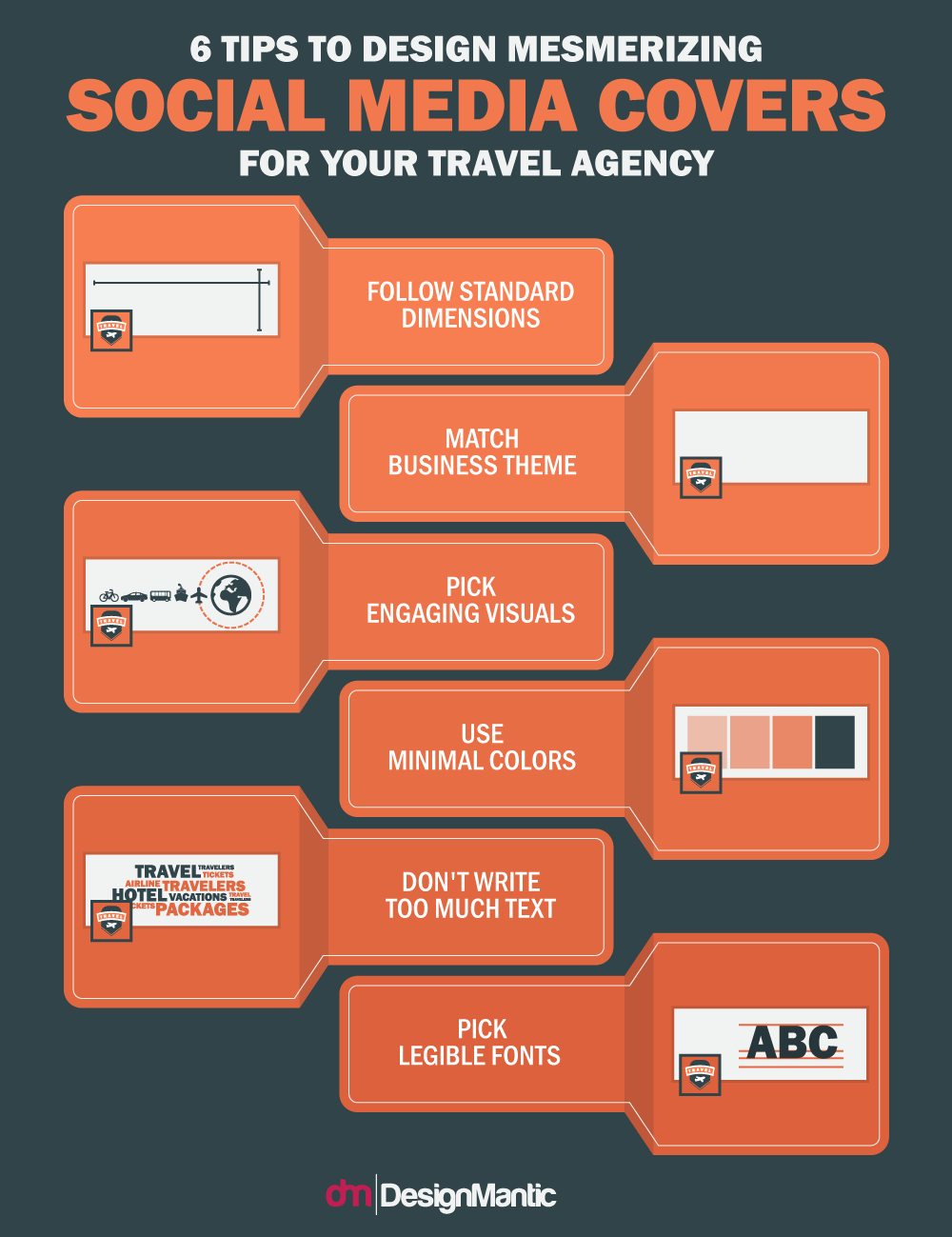 Your social media headers are not just images that are there to make your profile look pretty; they have the potential to do so much more. What most people in the travel business are oblivious to is the fact that cover images can be leveraged to fortify the essence of your brand and imprint your message on the minds of the visitors! While you manage that by keeping up a constant stream of engaging images, feed, and tweets, your cover image is the first, and sometimes the only, image your visitors see before they leave your page. Make sure it sticks in the minds and says the right things. Here are a few ideas on choosing images that resonate with your business.
• Turn Your Social Media Cover Into A Personal Billboard
Advertising on your social media headers is one of the most prudent ways of letting your brand stand out without splurging a dime, since your social media headers are the most conspicuous part of your social media pages. Your social media headers can be construed as your personal billboards. If you have an imminent give-away, an upcoming event, promotional travel and tourism offers, discounts on hotels and excursion activities, or a new venture that you want your audience to know about, change your cover photos frequently across different channels to reflect your latest offerings.
• Compel People To Action With Your Social Media Headers

Your social media covers are the perfect way to goad your visitors into taking action, and realizing their travel aspirations. For instance, the cover photo of the travel company "Travelocity", uses inspiring travel photos, along with a plethora of CTAs. Notice the URL of their campaign's website "gnomenabbed.com" embedded flawlessly into the design and "Get a daily clue on our Let's Roam app" text incorporated at the bottom right of the image, calling out to the visitors and inciting action.
Give A Sneak-Peak Of The Destination To Prospects
As scrumptious food photography can make a person drool, enticing images of far-away destinations and exotic reprieves can incite a sense of wanderlust in your prospects. A single striking, mesmerizing photograph is what tons of travel brands are capitalizing on to leave a lasting impression. All that matters is that the cover image embodies to perfection the message that you are trying to convey across to your audience; whether that message is of marketing, awe, or desire.
• Make It Personal
Nothing serves to establish your authenticity and credibility as a personalized message inscribed on your cover photo, speaking directly to your prospects and acting like your surrogate voice. Let your customers know that you are a travel brand that truly cares about providing a great vacation to your customers and would go to any length to give them a vacation of a lifetime.
• Make A Collage
If your travel company offers excursions to more than one country or destination, it would serve you better to design a photo collage incorporating enticing images from those places.
DesignMantic To The Rescue
As any Branding guide for Travel agencies would have you know, competition in the travel industry has come to the fore in the recent years, entailing travel businesses to up their branding game. When it comes to the most important branding elements for your business, DesignMantic offers a complete branding package that allows travel agents and firms to define their entire marketing strategy using viable tools available at affordable costs. Be it Travel logo design, letterheads, business cards, social media covers, and business envelopes, DesignMantic tools takes all apprehensions off your hands. Since you are designing all your branding elements on the same platform, you can rest assured that consistency and integrity will receive a paramount position, which is what the travel industry stands for.