Back in March when almost the whole world went into an unprecedented lockdown, businesses, economies, and livelihoods were disrupted on a global scale. Millions of Americans filed for unemployment and this trend was echoed world-over. While this wave of the disaster was raging, we witnessed consumer behaviors shifting overnight and industries responding to these shifts in real-time.
These consumer behavior shifts have given birth to trends in businesses that will survive post-Covid-19. As the world gets ready to receive its first dose of Covid vaccine, it is a great time to look at what is going to be our new-normal in a post-Pandemic world.
1. E-Commerce Has Accelerated
Ecommerce was always on an upward trajectory worldwide, but the lockdown and self-isolation have accelerated its growth in an unparalleled way. The closing of stores, restaurants, malls, and concerns for personal safety meant that people shifted to online buying through e-commerce websites in a big way.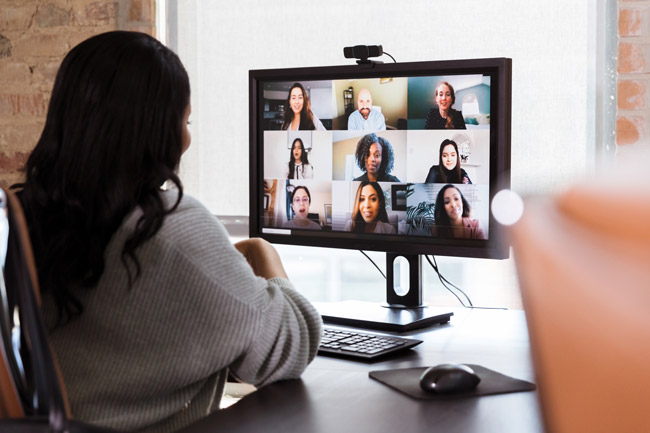 Image Source: iStock/SDI Productions
But this acceleration has been apparent in some categories more than others. Work from home tools and social distancing measures have moved our focus from clothing to other things. Alcohol sales increased because, apparently, Zoom and wine is a thing. A small café and bookstore in Philadelphia, Uncle Bobbie's went online and that, in combination with Black Lives Matter movement, made people start supporting it more. People flocked to ordering its books digitally and showed massive interest in its virtual events discussing books and social change topics. People also started cooking more at home, hence a rise in grocery sales too. And let's not forget all those home improvement projects that dominated our social media feeds this summer. It spiked growth in home improvement materials by 14%.
The data is enough to speculate that the eCommerce acceleration may not only continue but may be favorable for some industries more than others. According to the report by IBM, people are turning to online shopping during this time less for luxury goods (e.g.: clothes) and more for everyday necessities (e.g.: groceries).
This trend has also made waves in part because local businesses have moved to online sales to recuperate losses and to remain in the market. As more time passes, we'll see online sales being offered as a regular part of the buying experience.
2. Increase In Local Buying
Continuing to talk about local businesses, it is heartening to see that communities are coming together to support local economies.
According to a report by ZypMedia, "53% of consumers are more likely to buy from a local business instead of a national retailer during the Covid-19 crisis". What's more, 68% of consumers who are more likely to buy local also stated that they will continue to do so even after the pandemic is over.
For these loyal local consumers, price points are not an issue, neither the variety of the products. The factors that have kept these consumers loyal to their small local shops are the novel ways in which these businesses have approached this crisis. Businesses that have supported shelter-in-place restrictions have offered unique delivery options, too such as curb-side delivery as well as free delivery. These businesses have enjoyed enthusiastic support by their communities.
Digitization of local businesses has also helped matters.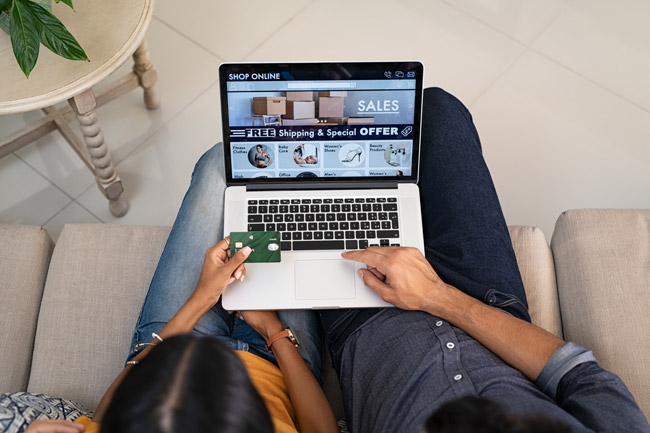 Image Source: iStock/Ridofranz
Moriarty's Gem Art, a local and family-owned jewelery business in Crown Point, Indiana had to shut its doors during the lockdown. But instead of sitting quietly, the business started doing livestreams, talking about gems, the exotic locations they are sourced from, and the intricate process that goes into cutting and polishing them. The local community responded enthusiastically and their show is now watched by more than a 1,000 people every other Wednesday. The business has been raking in thousands now, from the shows alone.
Other local shops and stores that have gone online or that have started marketing their business digitally, either on social media or through PPC, have also seen a confidence-boosting increase in their sales. If you are also running a local business, consider investing in digital and social media marketing, because your community is ready and willing to support you.
3. More Delivery Options
Personal safety and the safety of those who we love has become center stage as we navigate even the mundane daily decisions of grocery shopping. Businesses, such as Sichuan Impression in West Los Angeles, California, that have stepped up and offered safe and convenient solutions to these unique problems have seen their customers respond to them encouragingly.
One of these important decisions has been about online deliveries. Almost immediately, we saw businesses started offering in-store pickups. But that wasn't good enough. You're still running the risk of exposing yourself to foreign environments where you cannot control the sanitation protocols.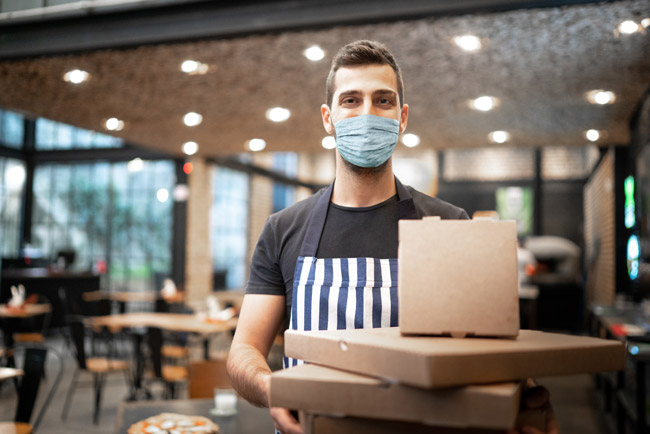 Image Source: iStock/FG Trade
That's when contactless deliveries and curbside pickups eased safety concerns. New York City and Los Angeles popularized this trend. Contactless deliveries not only offer convenience but tick the box of safety, too. With curbside pickup, you follow social-distancing guidelines while still having a small form of human interaction. A win for mental health, too.
4. Video Conferencing & Virtual Events
Shelter-at-home, work-from-home, and social distancing protocols ensured very early on during the pandemic that physical human contact will remain at a minimum for foreseeable future. While the world did slow down as it tried to deal with this crisis, it didn't halt all the work. Neither could it. Cue, virtual-everything.
Video conferencing eliminated the need for physical presence, and meetings that could not be held-off any longer were finally made possible. It also allowed the continuity of education with Zoom classes. Businesses started hosting virtual events to draw in customers. Well + Good, a wellness publication in New York, partnered with wellness author and doula, Latham Thomas to host a virtual Q&A series to address issues and changes around the wellness industry.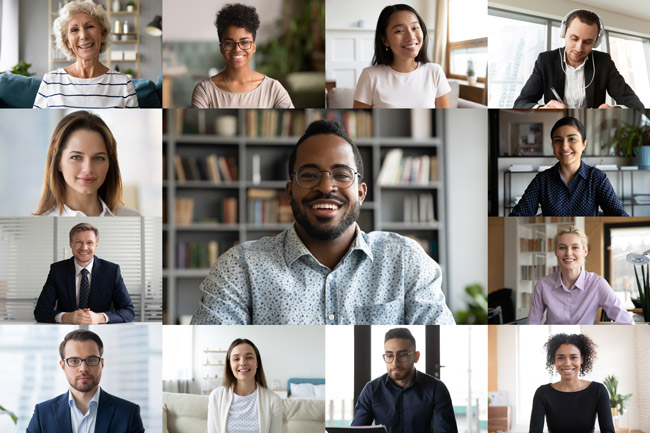 Image Source: iStock/fizkes
Even the entertainment industry started conducting its events virtually, in audience-free environments. In September this year, Hollywood held its very first virtual Emmy awards, complete with facemasks, champagne, and an audience-free celebration.
The ability to hold these events online, to conduct virtual classes, and to do video conferencing has helped keep a lot of businesses and economies afloat. Social media tools also helped the small businesses stay afloat. Zoom, the video conferencing app, was the site of more than 300 million online meetings daily, back in April, alone. This ensured that decisions that needed collaboration were not delayed, that responses that need quick feedback were given in-time, and that those entire workforces were able to work-from-home.
5. Remote Work
Perhaps the business trend that has made the most impact during the Covid-19 crisis is work-from-home. Not that it happened, but that it could happen and function so smoothly at such a large scale.
SquareFoot, a commercial real estate company in New York shifted all its workers to remote work mode back in early March. The company had to adapt really fast to the new normal as it mostly employs brokers – people who tour properties with clients. While the company struggled initially, it soon found its footing. Recently, as the restrictions have eased down, SquareFoot has resumed in-person office space touring.
Adapting to a remote work lifestyle comes with its own list of good and bad. While it certainly adds flexibility and more family time into the mix, it can also induce cabin fever, especially in those who've never worked from home, and especially during shelter-at-home restrictions. However, the pros of remote work have seemed to outweigh the cons.
According to a report by BCC, work-from-home arrangements have not only presented the potential to create hybrid-work environments (mixing remote work with a bit of office-presence) but it can also aid gender-equal and diverse workforces. Working from home can help people manage their work-life balances in a way that women feel more encouraged and have more opportunities to contribute fully to the paid workforce and reap its benefits.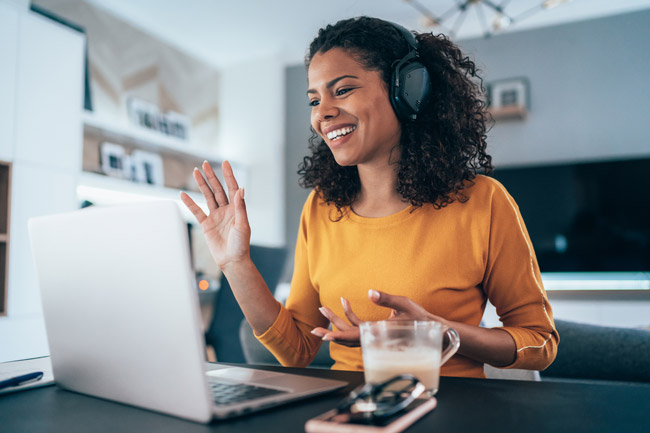 Image Source: iStock/filadendron
Remote work is also enabling companies to become more open and encouraging of flexible work conditions. The CEO of Twitter said, back in May, that its employees are allowed to work from home forever if they choose. The policy, in modified forms, has been echoed around the tech world by companies such as Google, PayPal, and Facebook. Looks like a lot of us will continue to work in our PJs for many months to come.
6. Robotics & Drones
The robotic industry was already experiencing a higher level of interest from investors for some time now, but the pandemic has revved up this interest. Social distancing protocols and other measures to prevent the spread of germ through human contact has left the field wide open for robots to make their mark.
Phantom Auto, a startup that helps companies control robots and other autonomous vehicles has seen a surge in its operations and clients-base during the pandemic. Fact is, robotics have emerged as the next best thing where the human contact has not been possible. They are being used to deliver food and medicine to quarantined patients in Singapore. They are also checking potential patients for suspected cases, greeting new arrivals, and even acting as stand-in audience in the absence of people. All the medically-hazardous situations where human beings run the risk of being infected or being carriers of infection have found robots as highly useful substitutes.
In China, it has taken a whole new meaning with drones delivering necessary medication to quarantined patients. Drones are also being used by authorities in China to air spray and disinfect the area, to transport Covid-19 test samples, and even to deliver food items to people who are observing social distancing measures.
Looks like robots were always serious about taking away our jobs. We just didn't know it'll go in our favor, right?
7. Self-Care And Mental Health
Being shut up in our homes for months on end was probably the push we needed to talk about mental health and self-care in an open and unashamed way. An article in NEJM reported that people who have been in any form of self-confinement, be it shelter-at-home, self-isolation, or quarantine, have reported suffering from a myriad of psychological issues.

Image Source: iStock/Hung_Chung_Chih
These include stress, depression, anxiety, insomnia, fear, frustration, boredom, and many others. The effects of the pandemic on our collective and individual psyche need to be discussed and analyzed way past Covid-19. In such a situation, businesses that provide mental health services and other self-care measures are going to see a continued surge in their incoming clients.
Devils Backbone Brewing Company, a local business in Roseland, Virginia is an example of one such business. Very early in the pandemic, it rolled out a policy of self-managed leave to introduce support and flexibility in the employees' time-off. It continues to invite ideas and conduct events to address employees' mental health issues.
Even low-key self-care activities like home-spa routines will drive traffic of relevant materials and equipment. As people learn to deal with the aftereffects of Covid-19, mental health professionals will see a demand for their services.
8. Safety & Convenience
Personal safety is going to be paramount as people learn to adapt to a post-Covid-19 world. Yes, the vaccine will be here and a lot of us will become immune to the virus, but how many of us will still be ready to go back to life as it once was? Will we readily accept large gatherings of people without flinching away in horror as we don't see a lot of them wearing a mask? Only time will tell.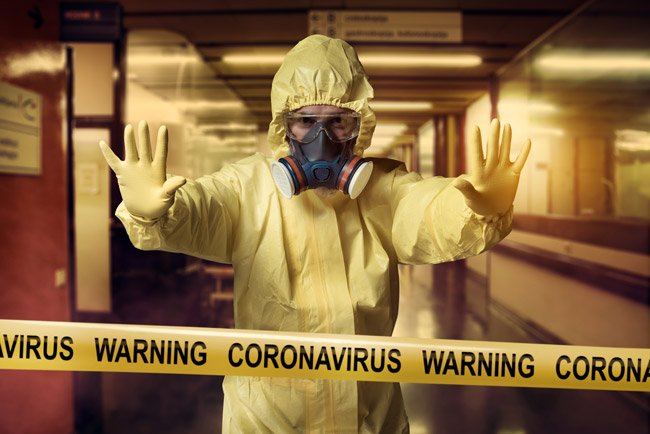 Image Source: iStock/D-Keine
The only thing that is certain for now is businesses that offer convenience plus safety will triumph over those that will try to pretend nothing ever happened. If you want your business to flourish and thrive after this pandemic is over, the best thing will be to continue offering people safe options too: cashless transactions, contactless deliveries, and an offer to pick it up from the store.
A Parting Thought
The pandemic is coming to an end, as we knew it would. However, it is a long road ahead. Enough of us need to become immune in order to not become unsuspecting carriers. Till that time comes, caution and restriction will keep us safe. Therefore, include these two factors in your agenda as you sit down to discuss your business' post-pandemic strategy with your team over your next Zoom meeting. Only the businesses that are willing to provide their consumers with a buffet table full of options are going to be able to ride it out.