It's 2018 and plenty of things can unfold for us. We can be the president of the world or we could end up going poor. But that's the thing about a new day – you never know what awaits us. That is why it is always important to do a bit of brainstorming about what we want to do with our lives in the foreseeable future, which is the core of a New Year's Resolution.
Almost everyone from around the world strive to make a change for the better in the brand new year but seldom fully commit to it for barely even month. But those who do are quite rare and are usually the ones who display their will and passion to change solely in their actions. Even if we didn't do everything in our New Year Resolution checklist, the least we can do is make the effort.
Graphic designers are among some of the most hardworking members of the creative industry who too desire to change themselves for the better. If you're an aspiring or a seasoned graphic designer yourself, then continue reading on.
We have decorated this article with some of the most insightful resolutions for graphic designers to make 2018 the most productive and enjoyable one in your career.
1. Learn A New Skill
There are a variety of things that you can try your hand at. If you're a novice, then try perfecting your graphic designing skills to the point where it is as easy as blinking. If you've mostly been designing logos, then why not try other aspects such as web design, infographics, brochures or flyers among others? You can also search up some of the hottest logo design trends as of lately online.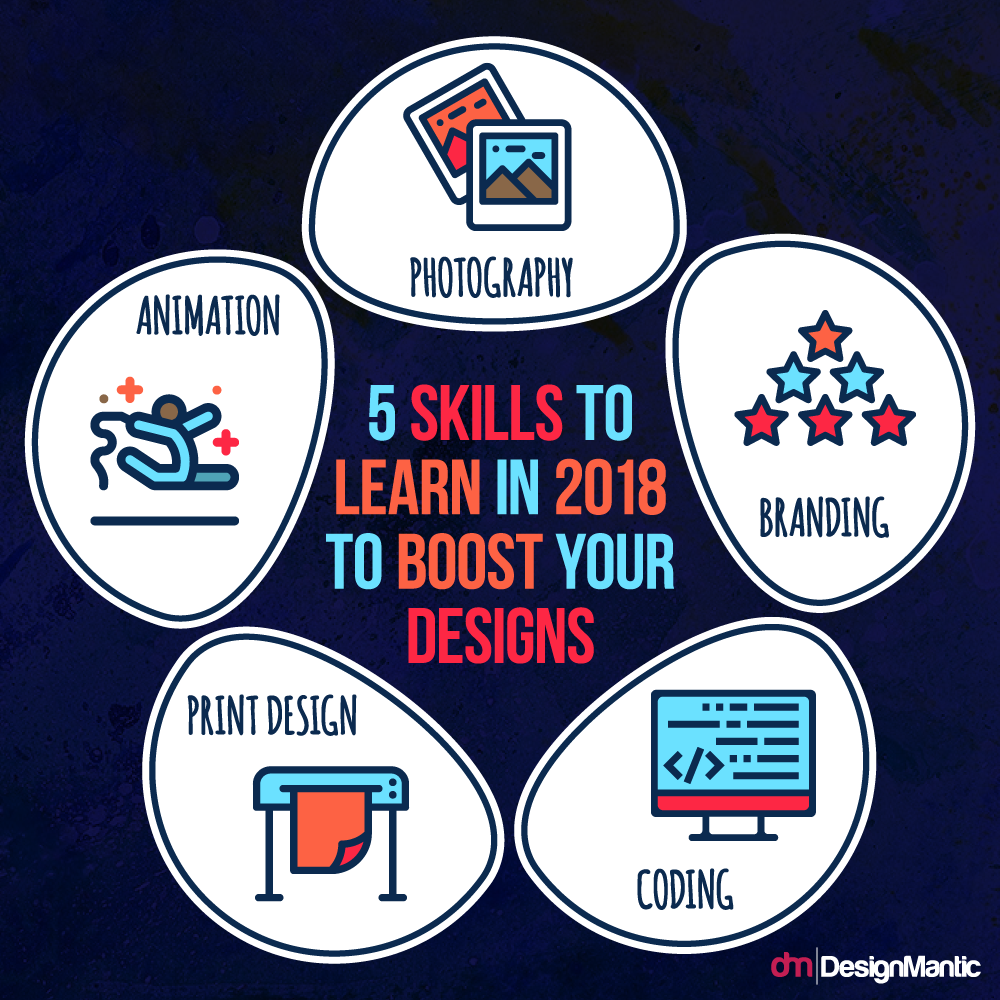 But just because you are a graphic designer inside and out, doesn't mean you should limit yourself to just that. If cooking is one of your hobbies, then try preparing a new recipe you recently grew a liking to. If animation is in your blood, then there shouldn't be anyone to tell you never to give it a go.
2. Pick Up A New Software
Why restrict yourself to the software you're presently using when there are loads of others that you might possibly find better? With a plethora of design platforms, software and apps that are available today, there is no telling what may pique your creative interest. Even if you end up discarding some of them after a year, month or a day, it's always good to know what else is out there for you.
3. Update Your Portfolio
Rookie graphic designers should take up a variety of different projects over the course of a year. The reason behind this is so that they can update their portfolios in order to attract quality clients and also reflect on their past accomplishments to take their brand to the next level.
Don't just say that you don't have the time because you're busy, even if your work is demanding. Try to make the time as better opportunities await you somewhere out there.
4. Go To A Design Conference
Attending a design conference is one of the most important journeys for a developing graphic designer or designer in general. During these conferences, you'll be able to make contact with other established designers in your field, get inspiration for your work, get feedback and eventually put some of your work up for display.
With all the aforementioned benefits that await you, it would be a great mistake if you missed out on going to a design conference. If you are unable to convince your boss to get you to attend a conference, then we would suggest that you save up for one when the time is right.
5. Strive For A Work-Life Balance
You don't need rocket science to tell you how demanding the design industry is. Just because one wishes to be productive, doesn't mean that everything in their life has to be about work. As the infamous saying goes, "All work and no play makes Jack a dull boy." Put simply, it means if one makes work their 24/7 priority, they will likely burn out or get bored over time.
That's why it is crucial that you strive to find the right balance between work and life. What we're trying to imply is that you should make time to do other things that give your mind and body a good deal of respite and fit it into your busy schedule. We understand that it can be hard considering your job, but it isn't impossible if you put your mind into it.
6. Fight For A Noble Cause
You can use your graphic designing skills for something other than just trying to appease your clients. To be frank, you can make use of your talents to fight for the greater good of humanity. For instance, you can create websites, infographics and logos that instill a sense of awareness in the audience such as cleaning up polluted oceans, donating blood or eliminating racial or religious discrimination.
Altruistic activities aren't monetarily rewarding, but then again, they doesn't have to be. This is because in the end, giving hope to the sad and needy is a bigger and better reward for your heart and soul.
7. Taking Up Blogging
While blogging isn't necessarily for everyone, it certainly does give you a great deal of visibility when used right. This is a form of an outlet that would help you express your love for design in the form of writing informative and instructional blog posts.
Moreover, apart from improving your eloquence, you will also be able to reach out to a vast community of graphic designers. You can teach both new and long-time designers about what you know and be open to suggestions to improve your craft.
8. Try Some New Colors
Understand that no design, apart from a few like Coca-Cola and McDonald's, ever stays the same forever. Even if we have been using the colors that we grew up with, it is always a good thing to go for those we're not usually accustomed to. It is essential to fiddle around with new colors as you can broaden your senses as a graphic designer so that you know what melds with your clients and what doesn't.
Who knows? Perhaps given the time, you might even come to appreciate the colors you detest. But you won't really know that until you get out of your comfort zone and give new things a chance.
9. Get Subscribed To A Great Youtube Channel
YouTube has come a long way over the last 12 years or so and today, it is one of the best places to obtain valuable information. In fact, you will find that there are hundreds, if not thousands of amateur and professional designers from around the globe who are more than happy to impart their knowledge and expertise onto others.

Subscribe to our YouTube Channel
Go ahead and browse around for design tutorials with the most views, least dislikes and of high video quality, preferably 720p at least. And when you do come across such videos that are especially helpful, then hit the red subscribe button that is located below the video you're watching as well as the bell logo so that you are notified every time a new video is uploaded.
10. Connect With Other Designers
We did mention earlier how you can go to conferences to try and mingle with other designers, but don't let that be your only means of connecting with them. Thanks to the inception of social media, we have dozens of platforms including Facebook, Twitter and Instagram that enable us to get in touch with anyone from any part of the world.
Therefore, you should take this opportunity to follow the social profiles of some of the most renowned designers online so you can connect and engage with them to boost your design repertoire. Also go to design forums where there is a large community of both new and established designers that are willing to help you out with anything you're lacking in.
Conclusion
Even though many of us might backtrack on most of our resolutions before the end of January, try to be as committed to your goals for 2018 as possible. We don't expect you to check off everything on the list – just doing one or two of them would be fine. If there are other design resolutions that we haven't listed, please feel free to let us know in the comments below.