What doesn't kill you only makes you stronger. We believed it last time at the revival of Pokémon go, and again when Nokia finally succumbed to the popular demand and resurrected the legendary Nokia 3310 with a 2MP camera, those nostalgic ringtones of yesteryear, the classic Snake game, and a great battery life! The phone's practical design and near-indestructible build (recall the memes!) made it a worldwide smash hit when it launched all the way back in 2000, and now it's back with a bunch of whole new and enhanced features, clad in a glossy ensemble.
You asked for it… we brought it back. The Nokia 3310 is reborn. #MWC17 pic.twitter.com/UZfHMHIZid

— Nokia Mobile (@nokiamobile) February 26, 2017
Anticipation of the phone, that doesn't even have 3G, has been running rampant since rumors of its release leaked earlier this year. Launched at this week's Mobile World Congress in Barcelona, the legendary product's reincarnation is undertaken by the new mobile firm HMD Global, which licensed the Nokia brand last year. HMD is teeming with a plethora of ex-Nokia employees, who banded together to ensure that the phone lost none of the identity and charms of its 17-year old predecessor.
According to Florian Seiche, president of HMD,
"This is what consumers have been asking us for, and so we decided that we'd just do it and have some fun with it. That's the unique opportunity we have here at HMD with the Nokia brand."
3310 Charm Back With Winning Specification Upgrades
The revamped Nokia 3310 comes in four vibrant and exciting colors; Yellow and warm red, both with a gloss finish, and Grey and Dark blue with a matte finish. The phone will be available globally, along with its matching accessories, in the second quarter of 2017. Boasting a 2.4-inch QVGA display, the upcoming phone is more of a "feature phone" rather than a smartphone, since it only offers limited internet facilities, with Opera Mini bundled in for basic web surfing. It also has a surprising 2MP camera on the back with LED flash for simple snaps, which is a luxury the original didn't possess.
The phone features a removable battery and back cover, and runs an updated version of the original's S30 software. The software takes after the original so much so that you might think you were caught inside a time loop. The new Nokia rendition is about half the thickness of the original, with a dimension of 115.6 x 51 x 12.8 mm, and flaunts 10 times the talk time- a whopping 22 hours- and double the standby time- one month: an unparalleled and unprecedented duration for the newer generation. Costing a mere €50, the phone is almost an impulse buy for people looking for a basic, second phone.
The best part; the classic Snake game, albeit a completely new iteration, can now be played in bold colors to make it more fun than we remember.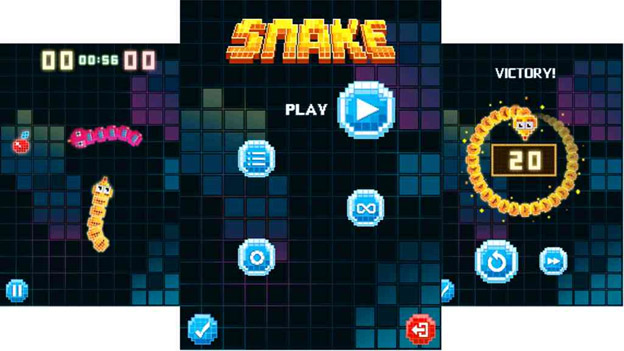 Image Source: Nokia.com
Since a microUSB is used to charge the phone, it alleviates users of the need to carry the pin Nokia charger of old. It features an in-built MP3 player, FM support, and a 3.5 mm audio connector slot at the bottom. Other specifications of the new Nokia 3310 include a microSD card slot with support for up to 32 GB, to complement a 16 MB total memory space. The bands supports are GSM 900/1800 MHz and the phone supports 2G. The phone will be available in both dual-SIM and single SIM.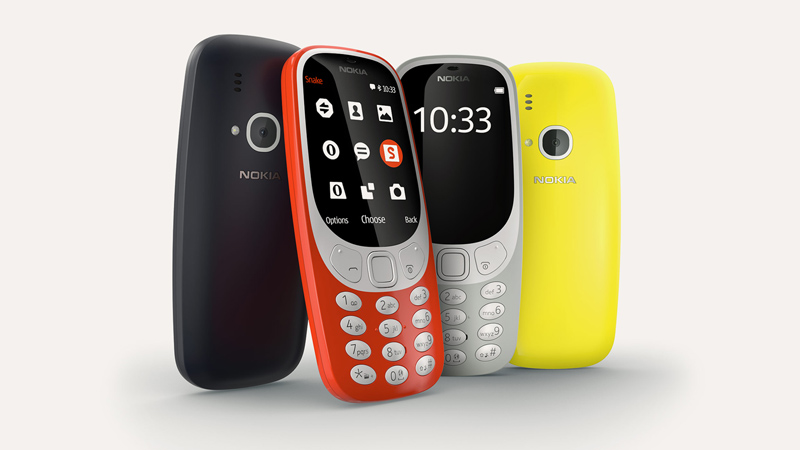 Image Source: Nokia.com
Analysts are looking optimistic about the launch, while Cynics might only see the new 3310 foray as merely a marketing exercise. CCS Insight's Ben Wood reports that 1m phones out of the approximately 20m phones sold in the UK each year, are feature phones such as the 3310.
According to Juho Sarvikas, Chief Product Officer of HMD Global,
"Our new portfolio combines these classic Nokia hallmarks with a best-in-class Android performance and a new level of craftsmanship. For the Nokia 3310 we just couldn't resist. We wanted to reward loyal Nokia phone fans and make a statement that rich heritage, innovation, and modern design can go hand-in-hand. Fundamentally, it is about making sure that right across our portfolio we are delivering this pure Nokia experience."
Ever since whispers of its launch reached the internet users, netizens have gone berserk. This is what the Twitterati had to say about the nostalgic resurgence:
I think launching of #Nokia3310 is the perfect #mondaymotivation pic.twitter.com/K9NL15DLQC

— mynameis (@premzaaat) February 27, 2017
#Nostalgia 😄 Can't wait to get this phone for the heck of it. #MWC2017 https://t.co/O356zaK34v

— Victor Rivas (@ZEO5520) February 27, 2017
#Nokia3310 I'll definitely get my future kids one of these instead of a tab .They need to start from the bottom like I did .

— ♥👑Queen Rosey💮🌠💊 (@IssaRosey) February 26, 2017
Son standing next to the Father. #Nokia3310 pic.twitter.com/xtzJcE6Cjd

— Abdulkarim Ali (@Abdulkarim86) February 27, 2017
#Nokia3310 is back after 17 years. I simply loved it for the awesome ultra user-friendly keys panel and the SNAKE game!

— Nandita Bayan (@bnandita) February 27, 2017
Dad knows Nokia 3310 can't be broken#Nokia3310 #Nokia pic.twitter.com/xHsTNVI4XG

— Anjan Cr7 (@anjan_cr7) February 26, 2017
Hard to believe the biggest crowd here at #mwc17 is at the Nokia booth to go hands-on with the Nokia 3310 pic.twitter.com/9wQcxLG0hV

— Mike Yawney (@Gadget_Guy) February 27, 2017
The Nokia 3310 is making a comeback after 17 years! It still has 30% battery left pic.twitter.com/TwvdeDpnaB

— Tony Shepherd (@tonysheps) February 15, 2017
While the Twitterati has already passed their verdict, let's see what out panelists for today predict about the probable fate of the 3310:
Ian Fogg, Head of Mobile at IHS Markit
Andrew Griffin, Technology Editor at Independent
Stipe, Senior Author and Editor at Nokiamob

Rendezvous With The Past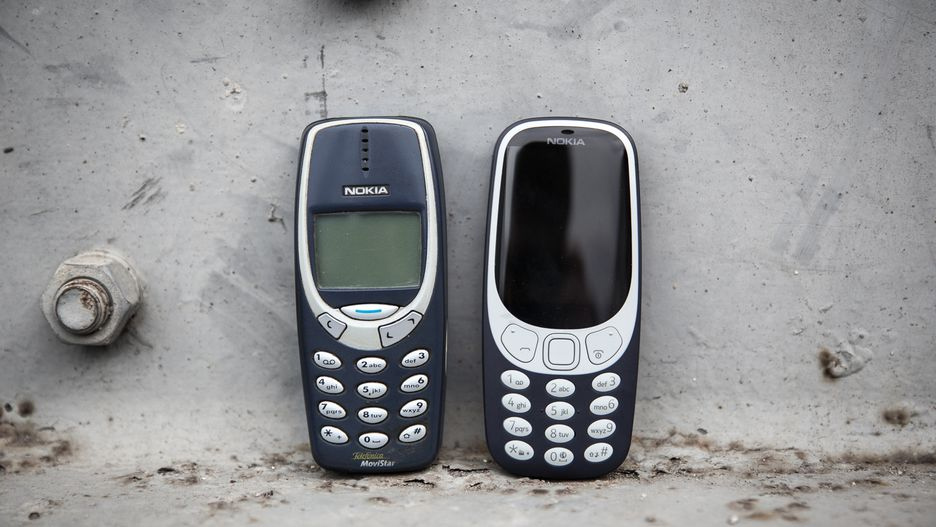 Image Source: Andrew Hoyle/CNET
Launched in the September of 2000, the Nokia 3310 was one of the sturdiest phones we have ever seen with a battery life that could extend for over a week if you got lucky. At a time when cell-phone adoption was still in its infancy, it sold startlingly well — 126 million total units worldwide- meaning it was the first cell phone for millions of people. Not to mention, it was absurdly, notoriously tough; as legend has it, it's been run over by a tank, blown up, shot, and turned into a meme. In addition, its unique 13-note ringtone is Proust's madeleine for the early aughts: simply listening to the harmonious chords transport you to the era of T-9 texting and playing snake.
However, while the retro comeback might incite feelings of nostalgia among older users, HMD is hopeful that it has the potential to carve out a strong presence among younger consumers as well. Having already released the N6 smartphone in China, a former dominant market of Nokia, HMD discovered that 74% of the people who purchased the new phone were youngsters.
Releasing nostalgic products, such as the 3310, is indubitably a strategy to breathe life into the emotions and feelings associated with Nokia as a brand. Other revived products, such as the launched Mini car and Adidas 'original' shoes, have also proved popular with the young. Nokia is trading on that nostalgia as it aspires to haul its phones into the future at the same time.
While Nokia's original 3310 was a worldwide phenomenon, analysts have warned HMD to position its brand as the pioneer of new innovative products, instead of simply capitalizing on "dumb phone" nostalgia. According to Ian Fogg, head of mobile at IHS Markit,
"New Nokia must manage a brand balancing act between appealing to those with fond memories for old Nokia handsets of the early 2000s, and at the same time positioning Nokia as an innovative and forward looking brand. By launching a new version of popular Nokia phone from years ago, the company risks appearing as a nostalgia brand, rather than the innovative start-up it needs to be to gain significant mobile market share."

Back From The Dead… With A Catch
The €49 retro reimagining of the modern classic could act as the "workhorse" for people in emerging markets, in addition to catching the fancy of the consumers in more mature markets who at times aspire for a phone that just works for a musical festival or a vacation, or more precisely a "digital detox"! There is a huge segment of the population that just wants a basic phone; from the backup phone to the stereotype of builder that just wants to text and call, and if it gets broken or flushed down the toilet, it doesn't cost a few paychecks to replace.
In fact, according to Thomas Husson, a mobile analyst at Forrester, "Today dumb phones are niche markets, either for those looking for vintage or for those who are anti-mobile internet or old people." However, unfortunately the Nokia 3310 may not be a practical reality everywhere, and for everyone!
Time for the bad news! According to an article in the Independent, Nokia 3310 might not operate in many countries, including Canada and the United States, since it runs on a 2G network. According to tech writer Andrew Griffin,
"The phone only supports GSM 900 MHz and 1800 MHz, which are the primary bands used in most parts of the world like Africa, Europe, the Middle East, and Asia. But networks in North, Central, and South America primarily use 850 MHz and 1900 MHz — frequencies that the 3310 won't be able to connect to, and so won't be able to receive any information from."
The retro reboot is typically aimed at emerging markets where basic cell phones haven't gone obsolete yet. Furthermore, its merits as a great travel phone are frequently touted, since it makes you less reachable (Your boss would have to work sorcery to email you on the Nokia 3310 when you're on vacation backpacking through Asia). Nokia 3310 may not work at all, depending on where you travel. It's a pretty decent deal if your goal is to be unreachable. You won't be lying when you say, "No, I didn't get your Email, text, or call."

BA Splendid Marketing Gimmick?
In the month preceding the launch of the reboot, a global spontaneous marketing campaign for the 3310, HMD, and Nokia in general was taking place in full fervor. In the last 7 days, "Nokia 3310" was more searched than the rumored iPhone 8, anticipated Samsung Galaxy S8, LG G6, Xbox One, and PlayStation 4, according to reports by Google Trends Analytics.
If the return of the 3310 is successfully executed by HMD, Nokia would benefit from a mammoth free promotion of the device across the world; from local news to giant corporations like Al-Jazeera, RT, or CNN. Such promotion had a positive effect on the Nokia brand and its worth definitely outshined the half a billion euro 3-year marketing budget of HMD. Not to mention, such a popularity deluge gave a head start to the brand and the smartphones HMD launched alongside 3310. In addition to the staggering marketing benefit, 3310 could turn tables on the negative trend of deteriorating feature phone sales since 2007.
According to Stipe,
"If the information about 3310's comeback is true, it's primarily a marketing move to put HMD Global and the Nokia brand at least for a moment, in the center of the world. Moreover, this will raise awareness for other Nokia-branded devices from HMD, and will help promote Nokia's own devices like OZO, Health/fitness equipment from Withings etc."
Are We Ready For A Walk Down The Memory Lane?
The launch of the revamped 3310 is poised to be the biggest and the hottest story of Mobile World Congress this year. In an era where phones have artificial intelligence in them, cameras that are more powerful than we've ever thought possible, 4K screens that most people can't even get their hands on for their TV at home, and at a time where we're literally floating over a sea of the most contemporary and cutting edge technology available on the globe, we're actually worked up about a 17-year-old feature phone making a comeback with a few tweaks that are still a decade obsolete. That could make it more than just an ironic purchase!
However, if you require a long-lasting device for emergencies, or a phone that is safe and tough enough for a child to use without parents fretting over them going crazy with game purchases or app store downloads- then the new Nokia 3310 could hold a lot of appeal. Then again, those of us who reminisce the pre-smartphone days with some degree of bitter-sweet, wistful pleasure might be interested too!
Are you thinking about getting your hands on a set, perhaps just to get another go at Snake? Do let us know in the comments below!