So much rides on getting your logo design right. Are you an innovative brand, what unique offering do you have for your customers, how are you different from your competitors, are you serious, casual, or funny? What is your communication style?
All this and more is announced through your brand logo design. An aptly designed computer logo can instantly tell your audience if you are a software company, a tech repair shop, or a computer science learning center. An original computer logo not only serves as your unique brand identity but launches you as a serious business in the market. The more well-designed your logo is, the more weight will people assign to your expertise and your vision as a business.
And with so much at stake, it becomes critical to figure out a design strategy early on. Depending on your budget, skill set, and a few other factors, there are three common ways to go about it. You can hire a design team that will take care of your design tasks, you can DIY the whole thing if you possess a certain level of design skills and expertise, or you can use professional logo design company templates to create an original design.
Let's discuss the pros and cons of each approach and figure out which makes the most sense to you.
1. Hire A Designer/Design Team
Hiring a design agency to take care of your design needs is not for the faint of heart (or budget). However, it is one of the surest ways to get an authentic design and a strong design strategy in place. If you have started a computer business and want a custom design that is unique and unmatched, a freelance graphic designer or a design agency can help you achieve that. These professionals are trained designers and masters of their craft. They charge accordingly too. Therefore, this may not be the best option for businesses that are tight on the budget.
Another consideration is time. If you do not have a lot of time to spend on designing the perfect computer logo, this approach may not work for you. A professional designer may sometimes need days or even weeks to come up with a strong idea and a great execution. A lot of back-and-forth communications and emailing may also be included.
However, if you can manage the time or budget, we say hire a graphic designer and let them work their magic on your computer logo design brief.
Pros:
Custom, unique, and original designs every time.
A dedicated design person/team working on your project.
Collaboration leading to better designs.
Design revisions included.
Cons:

Image Source: Behance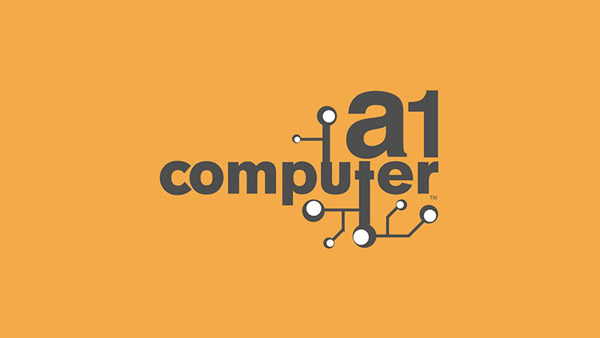 Image Source: Behance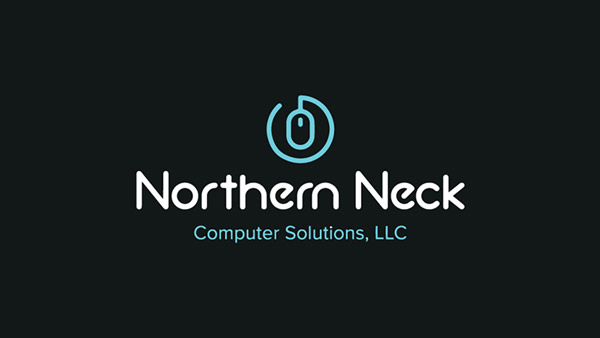 Image Source: Behance
2. Design-It-Yourself
This approach is for those entrepreneurs that possess some graphic design skills, experience, or expertise. While this DIY approach does not require that you be a design-whiz, it does require a certain level of knowledge and understanding about fonts, color combinations, some photo editing skills, and an acute sense of design aesthetics plus marketing.
If you think that's a tall order, understand that creating a computer business logo design is not just creating a beautiful graphic; it must communicate the sense of your business, use colors and fonts that match your brand character and create layouts that present the whole thing nicely.
Related: 8 Steps To Do It Yourself – Design Like A Pro!
Stock photography sites such as unspalsh.com, pexels.com, pixabay.com, and such are great avenues to find free original photography that you can then manipulate into unique computer brand logos for your business.
Pros:
Low to no cost.
Ability to make as many changes as you want.
A quicker process.
Almost unlimited variety of available pictures.
Cons:
Some basic graphic design expertise is a must.
Stock pictures may not be exactly suitable for logo designs.
Not practical for all.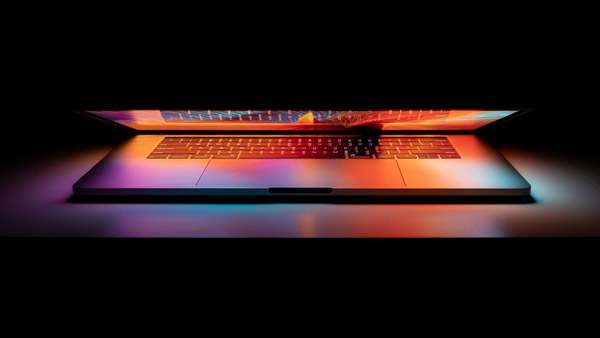 Image Source: Unsplash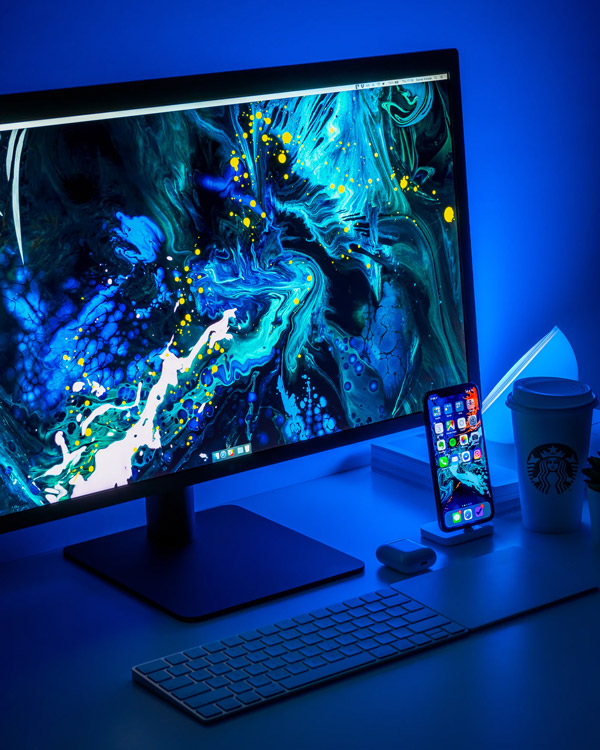 Image Source: Unsplash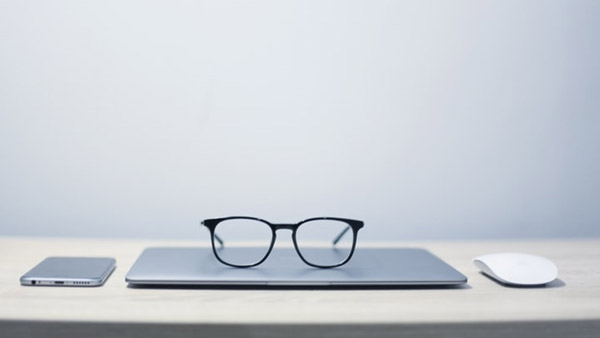 Image Source: Unsplash
3. Professional Computer Logo Templates
This is the most popular design option for those who are on a small startup budget and may not possess the design skills needed to turn a simple computer photograph into a creative computer logo design concept.
The computer logo templates offered by logo design companies such as DesignMantic are premade logo designs created by skilled graphic designers. These templates come in an extensive variety of designs, colors, layouts, and ideas. Since these templates are created by professional designers, you can rest assured with the knowledge that intelligent human thought and smart design concepts have been used to create these designs.
Each of these computer logo images come with a host of editing and customization options that allow you to make a wide range of changes to each template. These changes include color changes, layout changes, font changes, design changes, and others.
Such a variety of customization ensures that no matter how many times a template may be used, the unique mix of design editing will render a new look to each design every time.
Pros:
Budget-friendly.
Time-efficient.
Professionally-created designs
Loads of editing and customization available.
Cons:
May not be exclusive designs.
Rights to the image remain with the company.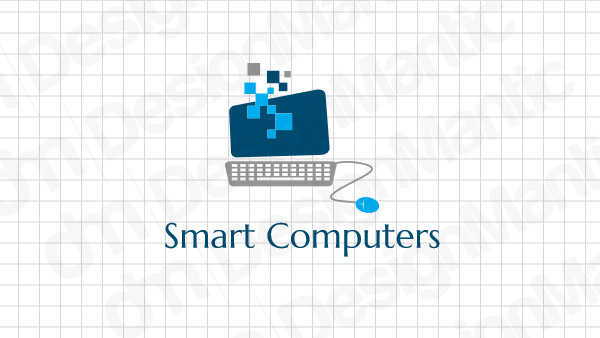 Monitor and keyboard in a pixel logo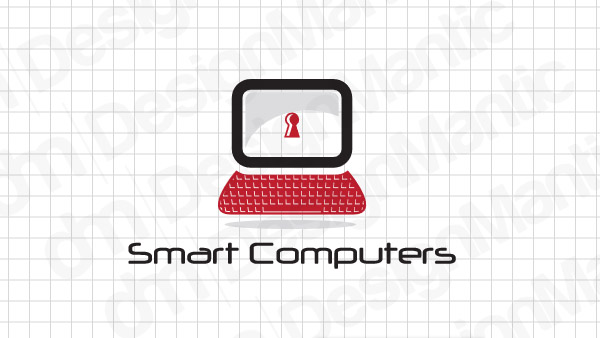 Computer security logo with a keyhole on screen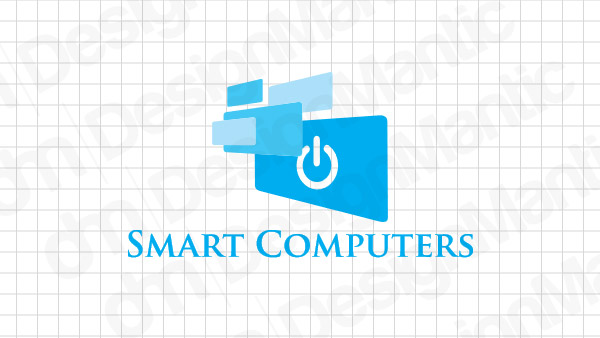 Blue screen logo with shut on/off icon
Conclusion
Designing a business logo, such as a computer accessories logo or similar, demands your complete consideration. It also includes choosing the best process to create the design.
The three ways we have discussed in this article are the most popular and commonly used methods to create business logo designs, and each has its pros and cons. Hopefully, our discussion here has helped you understand each process in some detail, and you now feel better equipped with the information to choose the best course of action for you.
Check Out More Of Our Designs: