Every St. Patrick's Day, our senses are bombarded by the color Green, but have you ever stopped to think about why individuals are comparatively much relaxed in green rooms? Why nature has its own color i.e. green? And why people tend to think more rationally when surrounded by green color? The answer is simple, colors affect individuals. This is the reason why, you should choose colors wisely for your business. From emotions to performances, colors have great impact on human beings. Following are peculiar and interesting traits of color green.
You Think Colors Don't Affect You? Think Again
Here's Why Green Designs Are Healthy Designs:
Green Conveys Prosperity & Growth
Green Is Good-Luck Charm
Green Is Eco-Friendly
Green Is The Color Of Health
Green is the Color Of Nature
Green Helps In Relaxing & Refreshing
All the pointers mentioned above are described with examples below:
Green Conveys Prosperity & Growth:
Many companies use "green" in their logos to represent "Growth-oriented mindset". This gives a clear depiction that green is closely related to the growth of business, idea, and individual etc. Many designers and illustrators have also showcased their artwork in color green, when they are asked to present a growth oriented scheme and design. Similarly, Vic Bell (from Durham, UK) has illustrated a design focusing on the growth of data analysis. The color is brilliantly selected and expressed.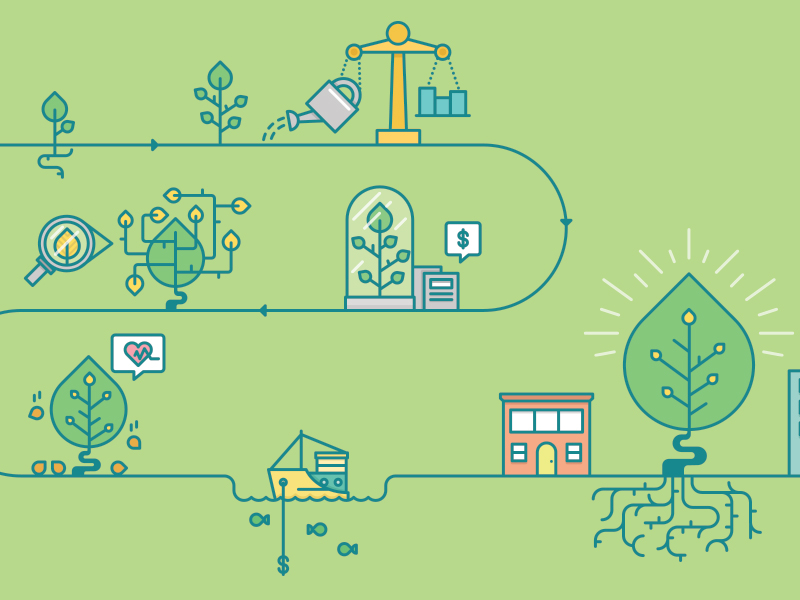 Image: Dribbble/Vic
Green Is Good-Luck Charm:
Green is also associated with luck and this means that people associate this color with good luck charm as well. Many designers have come out with designs which are based on good luck and good luck charm associated with color green, here are a few mentioned.
Jared Jacob is a graphic designer based in Colorado. He created an interesting design based on green color and depicting the "Good Luck" with its association. A very stylish artwork, indeed.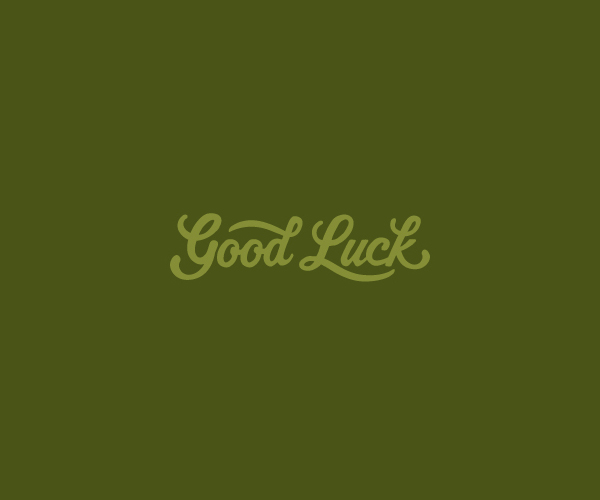 Image: Dribbble/Jared Jacob
Dmitry Stolz is a logo maker and illustrator. His work is based on inspirations from everyday life experiences. He greatly used the color green with dice to show the connection between the color and good luck charm.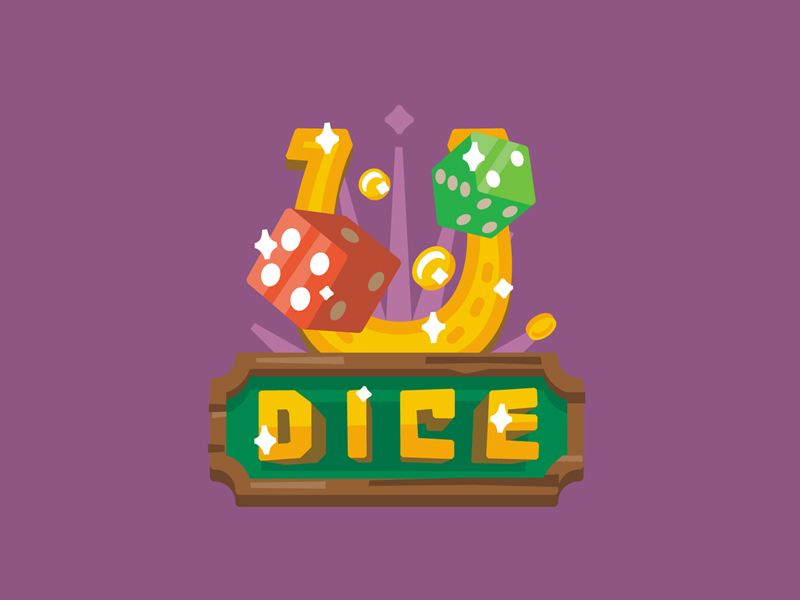 Image: Dribbble/Dmitry Stolz
Green Is Eco-Friendly:
Green is the color which depicts environment and eco-friendliness. This is the reason why most designers use this very color for representing and showcasing eco-friendly designs. It can be easily witnessed that designers incorporate green color to share nature, prosperity and eco-friendly elements in their designs. Following are some examples to describe it.
Eight Hour Day is a graphic design and illustration studio based in USA, the following set of designs shares the importance and significance of eco-friendly practices, and these designs are based on the color green.

Image: Dribbble/Eight Hour Day
Matt Lehman is a graphic designer and he beautifully expresses the connection between eco-friendly design and green color with this following design: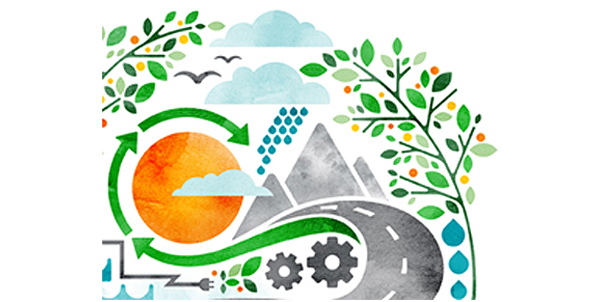 Image: Dribbble/Matt Lehman
Daniel Marina is a freelance designer with keen inclination towards graphic designing and brand identity for logos. She also did some amazing work on "Green Light" which is again eco-friendly.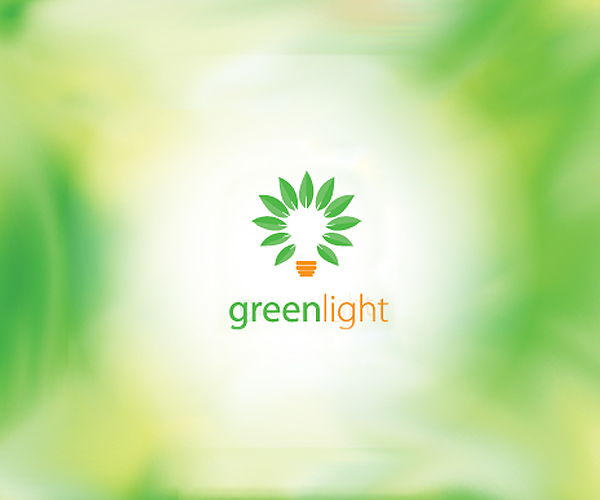 Image: Dribbble/Daniel Marina
Green Is The Color Of Health:
Green is the color of health, nutrition and fitness. For a better lifestyle, everyone suggest to "go green" which significantly means to eat healthy food that is fresh veggies. The green colored veggies are good for a person's health and these veggies provide essential vitamins and nutrition to consumers. Many websites and designs which are targeted towards health and nutrition are green in color. Max Rudberg is a product designer from Stockholm who mainly designs and crafts cooking apps. Following is an example of Max's Veggie Meal's icon, which represents healthiness and nutritional benefits.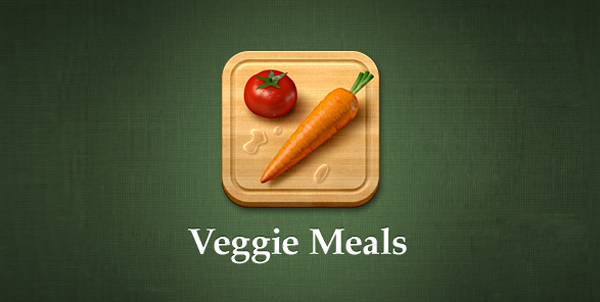 Image: Dribbble/Max Rudberg
Green Is The Color Of Nature!
Green is the color or nature. Trees, plants, grass and countless other forms of nature are green in color. It is essential to understand why green is the color of nature. The main element behind it is that green adds tranquility and harmony to visuals. Following is a design by "Muti Studio", highlighting the tropical and natural elements in color green. The dominance of the color "Green" is visible and describes the strength of the color as a whole.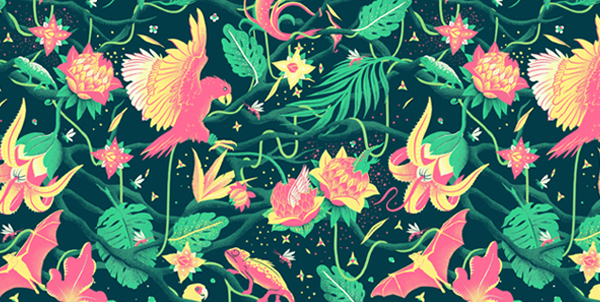 Image: Dribbble/MUTI
Green Helps In Relaxing & Refreshing:
On Mondays what you need most at the work? Coffee, right? Well, coffee helps people to relax and refresh. Many memes and visual arts are posted on social media for the same. Here's a great example of how the web designer associated coffee, freshness and color green together.
Common Green Symbols & What They Depict In A Design:
Green is the color of youth, happiness, good luck and nature. These are basic elements which are enough to make one smile and feel happy. This is one of the reasons why designers add green color in logos and web designs where they want to represent happiness and joyfulness. Whether you pick a logo or a web design, you will witness that the color "green" will give you a softer mood and you will definitely feel happy after viewing the design. Green is the color of eternal life. Logo and web designers usually integrate this very color beautifully in their designs. Following are some symbolic designs which are created by designers and companies to integrate happiness, prosperity and nature with the color green.
For a better environment which also boosts business opportunities, Sustainable Forestry Initiative Certification symbol is shared below. It is green in color and it is also self-explanatory.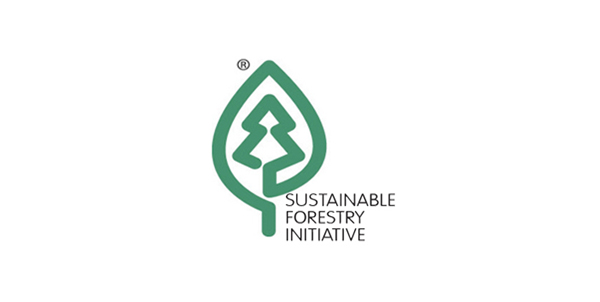 Image: SFI Program Logo
For recycling, the most easily spotted symbol is also based on green color. Here it is shared: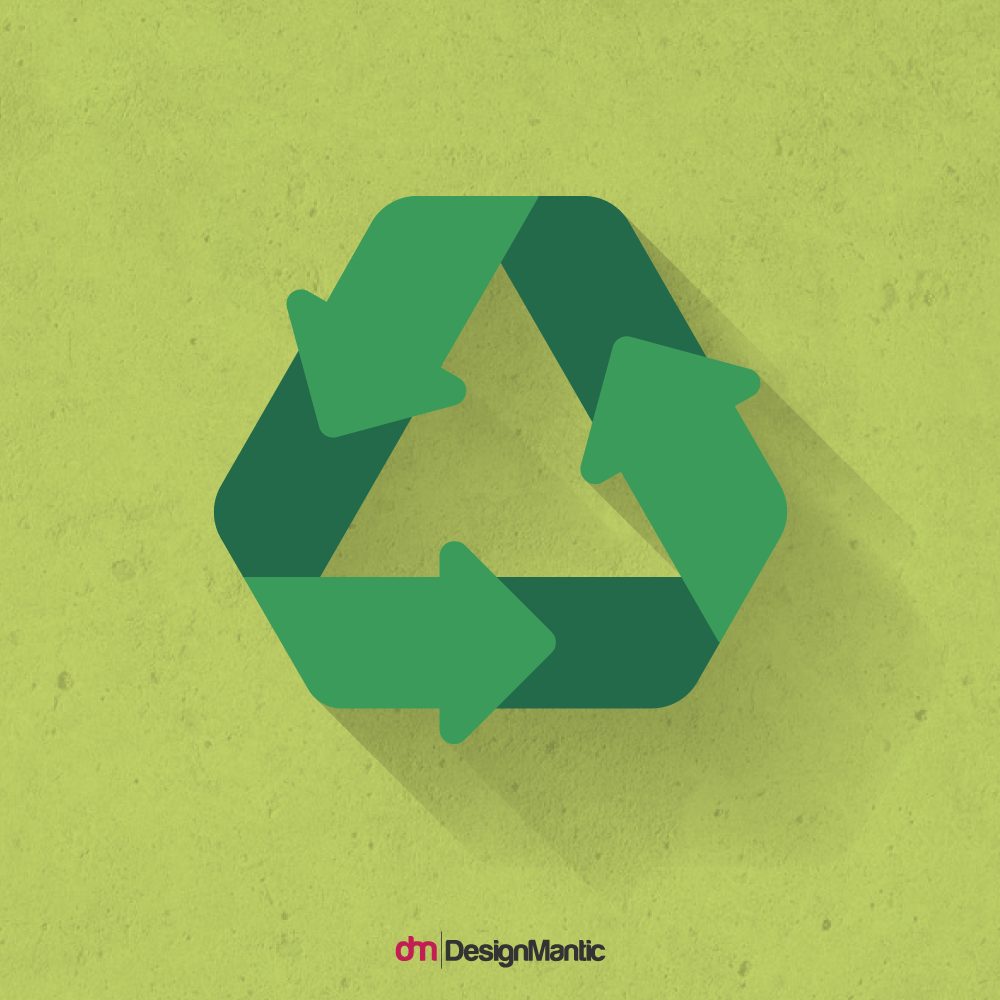 Green also represents healthiness and medical niche.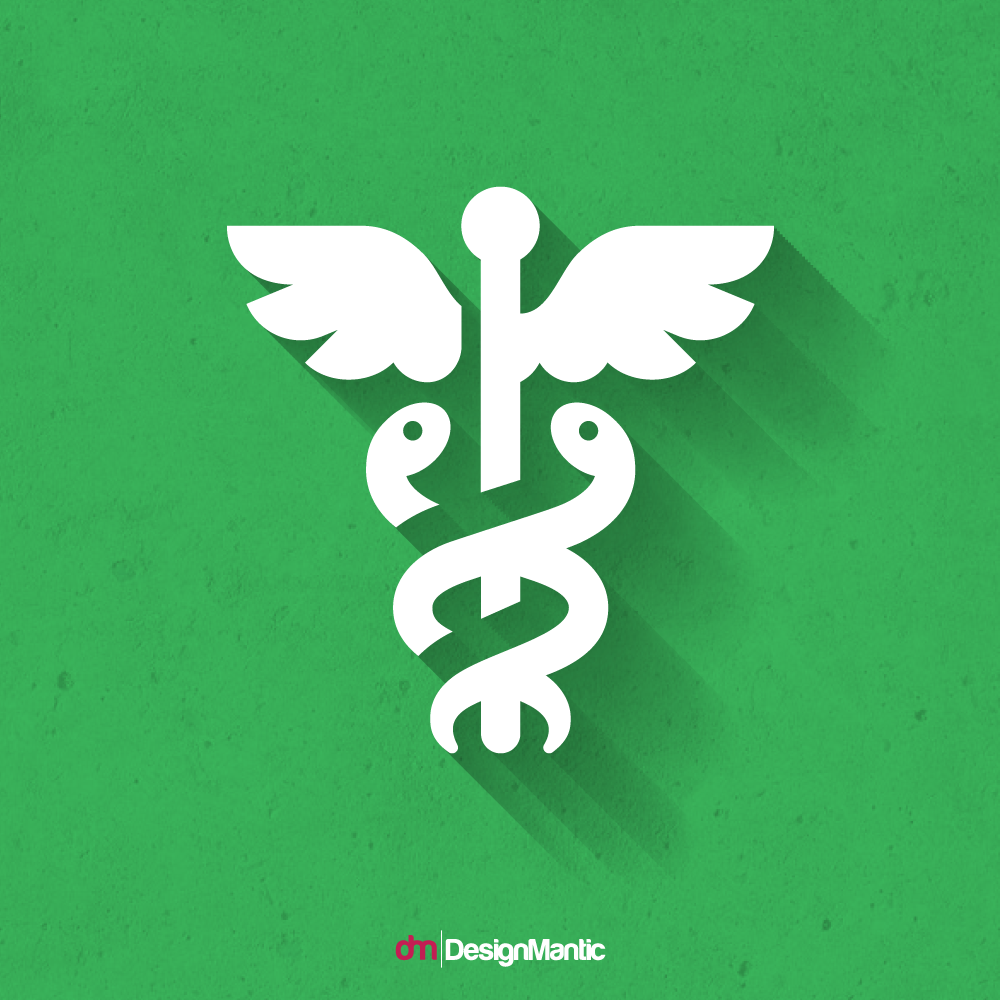 Source: ipharmd.net
Brandberry is a Russia based digital branding company which connected brain with tree for growth of happiness and peach.

Image: Dribbble/Wharf Design Co.
Alex Tass a logo and identity designer. He shares one of his Happy Holidays designs with color green as major theme. This is a nice way to express happiness in the symbolic design.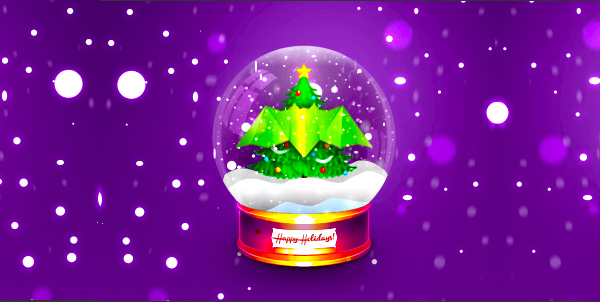 Source: Dribbble/Alex Tass
At another instance, happiness is denoted with green color by a New York based designer, George Bokhua.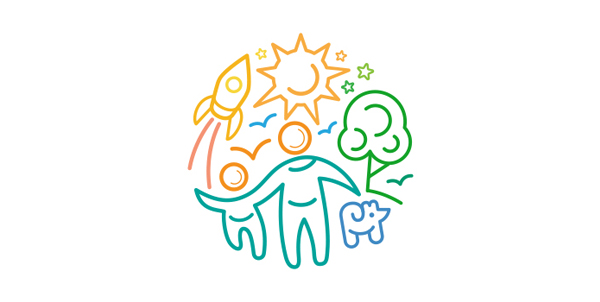 Image: Dribbble/George Bokhua
Why St. Patrick's Day Is Green?
St. Patrick's Day is celebrated on 17th March. The celebrations are based on the arrival of Christianity in Ireland, celebration of culture and heritage of Irish along with the traditional death of Saint Patrick, the primary patron saint of Ireland. People are dressed in green colored attire and celebrate. The association of green color with St. Patrick's Day has different versions and reasons. According to myth and folklore, 3-leaves shamrock was used by Saint Patrick to elucidate Holy Trinity to Irish pagans. Initially the color, "blue" was associated with this day, but later when shamrock was used, Irish patriots accepted the color green. Green supports Irish patriotism and nationalism.
Association Of Green Color With St. Patrick's Day By Designers Today:
Many designers have created interesting artworks based on Saint Patrick's Day. Most of them are based on green theme. Following are a few designs and artworks which showcase the significance and importance of green color on Saint Patrick's Day.
Rob McClurkan is an author and illustrator for children. Here he represents "Happy St. Patrick's Day" as following. The color green is nicely used in the artwork.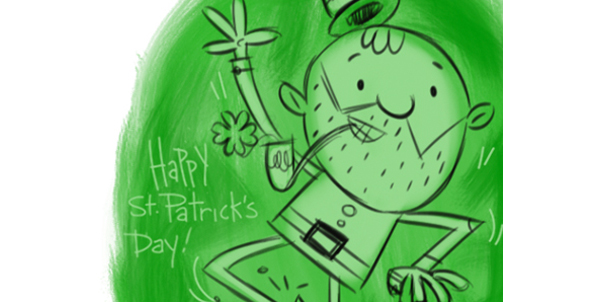 Image: Dribbble/Rob McClurkan
Joseph Alessio shares a design based on luck and St. Patrick's Day, with the color green as follows,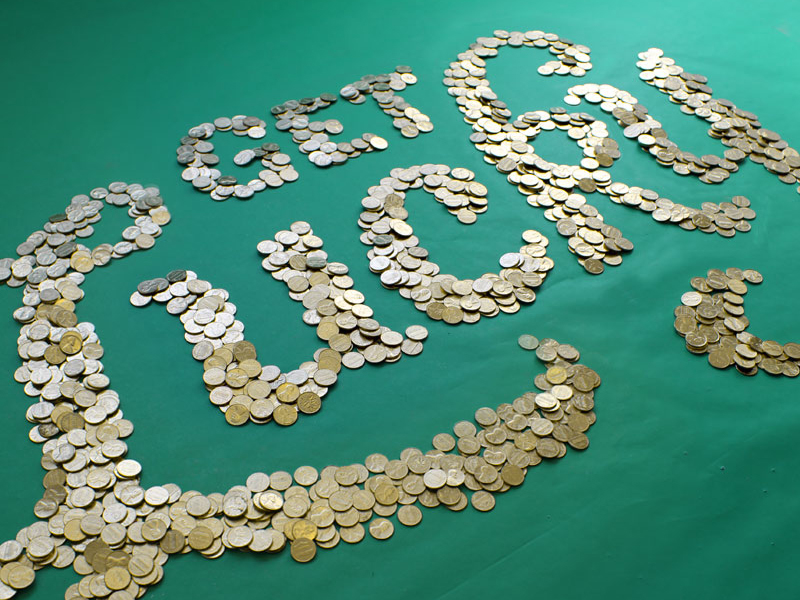 Image: Dribbble/Joseph Alessio
Steve Simpson, an illustrative designer from Dublin, Ireland, shares a design of stamp post. This stamp post is featuring the celebration of St. Patrick's Day.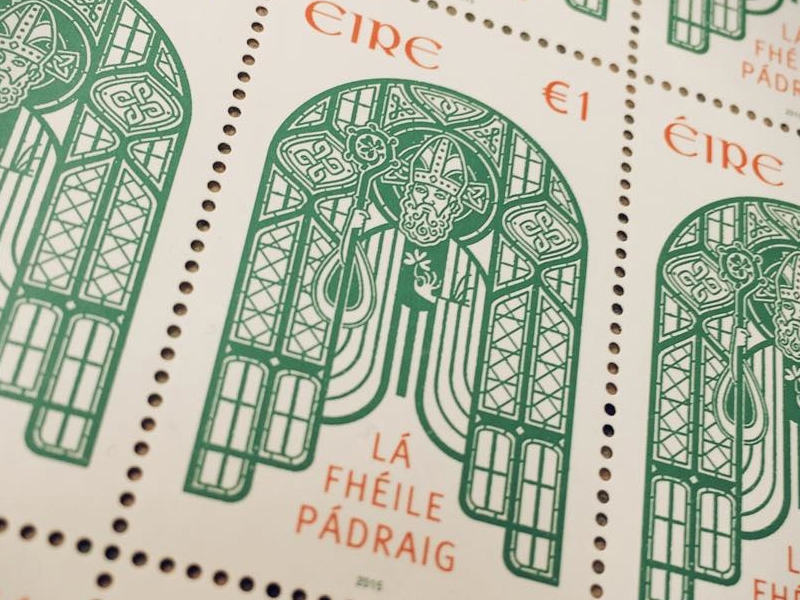 Image: Dribbble/Steve Simpson
Try Our Personalized Logo Maker Tool For:
Make Your Own Logo With Tree In It
Design Your Own Professional Environment Logo
Make A Free Eco friendly Logo Online
Amazing Organic Logo Designs For Free