As it turns out, Snapchat isn't only expanding its horizons beyond the dimensions of the ephemeral video messaging app, but also planning a major brand overhaul to go along with the unveiling of its reticent venture into hardware. With the launch of the state-of-the-art, spectacular, and simply sexy camera-equipped 'Spectacles', the company has satiated all speculations of them venturing into the hardware realm. The retro glasses are all set to fly off this fall at an agreeable price tag of $129.99. To pull off a double whammy, Snapchat is rebranding itself to Snap Inc.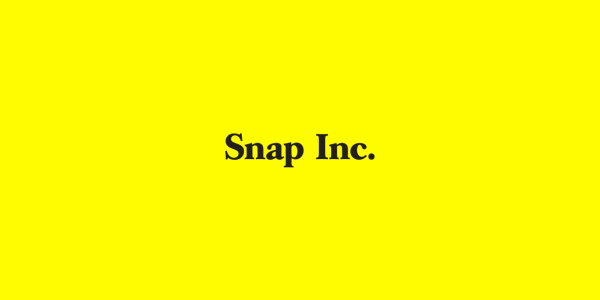 Image Source: Snap Inc.
According to Evan Spiegel, the co-founder and CEO of Snapchat,
"When we were just getting started, it made sense to name our company Snapchat Inc., because Snapchat was our only product! Now that we are developing other products, like Spectacles, we need a name that goes beyond just one product – but doesn't lose the fun and familiarity of our brand and team. We decided to drop the "chat" and go with Snap Inc.!"
Much like the subtle branding tactics of Pokémon Go, Snapchat has much up its sleeves that we are going to see. Prior to the declaration of Snap Inc. and the launch of spectacles, Snapchat populated the billboards of myriad cities and proliferated the boards with the Snapchat ghost; only with goofy eyes this time. The new eyes seamlessly match the logo shown at the end of the leaked Spectacles promotion video, and have worked towards gradually easing an avalanche of avid followers in to the grand change.
Just noticed a @spectacles sighting IRL pic.twitter.com/H5RZhvq5ws

— Evan (@coffeeplusvinyl) September 24, 2016
Snapchat Billboard Ad 👻 pic.twitter.com/q2Layj1sVz

— Justin Wu (@hackapreneur) September 22, 2016
@bizcarson @zkahn94 just spotted on 8th and mission 👀 pic.twitter.com/FN0XOnmW46

— Sam Evans (@samueljevans) September 24, 2016
"Spectacles"; A Turn Of The Century Spectacle
The company's foray into hardware kicked off with a pair of remarkable glasses, equipped with a 115-degree camera lens on the sides, to allow you to record 10-seconds, first person videos, giving you a more tangible sense of the world around you. The spectacles will be available in three colors-coral, teal, and black- and in one fit-all size only.
As for the unusual shape of the glasses, Spiegel argues that rectangles are mere redundant bastions of printing photos on paper sheets. With spectacles, your hands are free to flail around at a concert, hug babies, and pet your dog as you record. Instead of holding your phone up, "like a wall in front of your face" according to Spiegel, you can reach your arms out to people and objects you are filming.
"Imagine one of your favorite memories. What if you could go back and see that memory the way you experienced it? That's why we built Spectacles,"
Spiegel writes on the company website.
All you need to do is to press a button on the side of the glasses to start recording. As soon as the wearer turns their Spectacles on to record, the tiny lights around the lens will light up to let the subject know they're on candid camera. The recorded video will then sync wirelessly with your phone automatically and be uploaded to your 'Snap Story' promptly. This is the closest to 'reliving your memories through your own eyes' that we have come so far.
Now, Snap Inc. It Is!!
Here comes the second part of the surprise! To accompany the release of its first ever hardware product, Snapchat is taking the (in) famous rebranding route for the first time since its fortuitous inception. We think Snapchat is following in the footsteps of Apple, when the corporate giant ditched the 'computer' from its name following its venture into the realm of iPhones, music players, and now a circumstantial array of other products.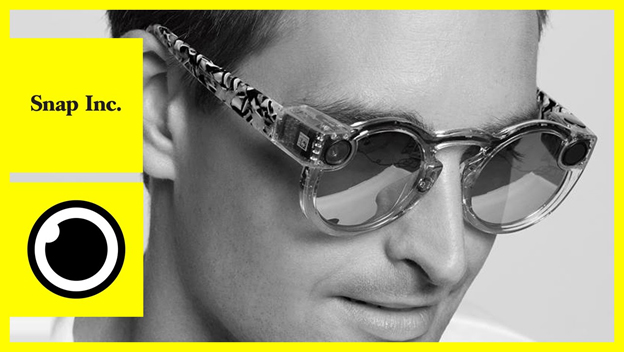 Image Source: Medium
By dropping 'chat' from its name, Snapchat has christened itself as 'Snap Inc.'. A pretty neat move given the circumstances! For those mulling over the refurbished company name, since Snapchat is no longer just a messaging application and is offering products way beyond that scope, it only makes sense to revamp the company to accommodate future innovations.
However, the app name 'Snapchat' still survives unchanged, since the actual chat app remains the same in essence and killing the brand name of the most beloved teen app would have been akin to brutal suicide by the brand. The new 'Spectacle' glasses and the application will now be clubbed together under Snap Inc.; the umbrella company launched to oversee the myriad properties of this flourishing media platform. In addition, the company has registered Spectacle.com and Snap.com to add to their carousel of websites pertaining to the upcoming product release and rebranding.
Spiegel seems to believe that the new identity of the brand will benefit customers, in addition to the potential investors. He says,
"When you search for our products, it will be easier to find relevant product information rather than boring company information or financial analysis. You can search Snapchat or Spectacles for the fun stuff and leave Snap Inc. for the Wall Street crowd."
While the company is choosing to stick with 'Snap' and part with 'chat, it could also potentially unveil a new logo as part of the change. Take these rumors with a grain of salt, but we have cause to believe that the company is brewing more interesting concoctions on the branding front. The mounted hoardings with the Snapchat ghost touting crazy eyes is only a prequel to what is about to come. The company might be predisposed towards going with the 'camera shutter' logo (the eyes of the Snapchat ghost) as the new identity for the umbrella organization and not just the spectacles.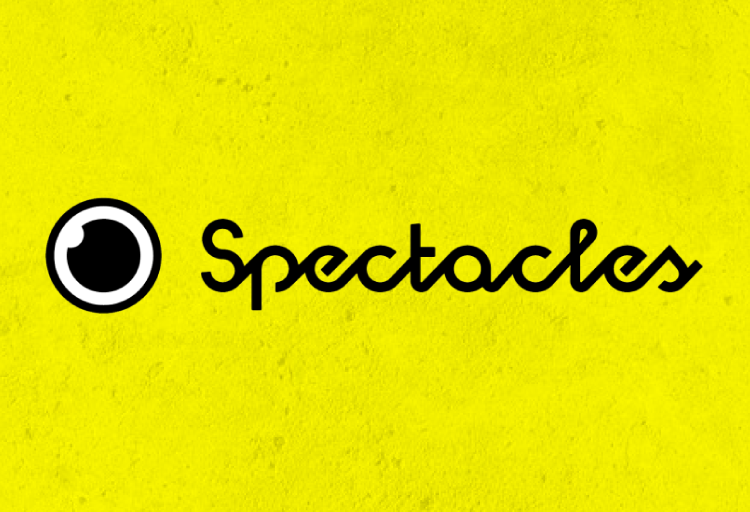 To reflect their branding endeavor, Snap Inc. has started introducing the new face of the brand on social media networks and to the web. Here is the snapshot of the new Snapchat's Twitter account that goes under the name Snap.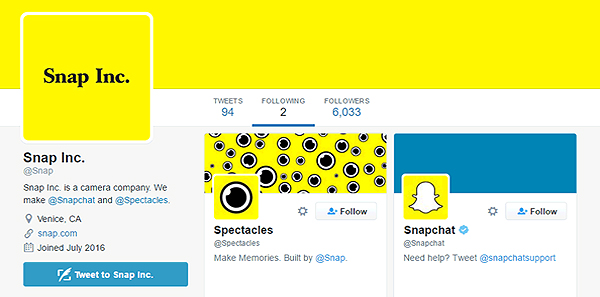 Image Source: Snap Inc. Twitter Account
As always, the Twitterati have mixed feelings about the branding overhaul. Here are some of the tweets we stumbled upon recently #snapchatspectacles:
omg I'm in love – need immediately #SnapchatSpectacles https://t.co/huSsKA7syA

— Kat Ely (@Kat__Ely) September 24, 2016
No, no, no, NO! Why rebrand when you don't have to? #Snapchat #SnapchatSpectacles https://t.co/8ZviKqTnwT

— Marisa Ballard (@_marisaballard) September 24, 2016
2/Brilliant part of #SnapchatSpectacles is that they explicitly let people know they are recording with LEDs –something Google Glass didn't

— jason (@Jason) September 24, 2016
Nicely done @evanspiegel! #WearableTech #SnapchatSpectacles https://t.co/VagKh2oZJR

— Andrew Spoeth (@andrewspoeth) September 24, 2016
Snap Spectacles: "An Aspirational Device" https://t.co/ww1xDxpukr @TechCrunch @Snapchat #tech #SnapChat #SnapchatSpectacles pic.twitter.com/3tycWxkM2K

— Weston Betts (@westonbetts) September 26, 2016
@SladeSizelove Maybe i'm too old but i am still struggling to think of a meaningful real-world application for the #SnapchatSpectacles

— Geoff Cutmore (@GeoffCutmore) September 27, 2016
Snapchat just solved the portrait vs landscape video argument forever pic.twitter.com/iOsKeaeXkb

— Owen Williams⚡️ (@ow) September 24, 2016
Snapchat Spectacles going straight into the garbage receptacles #snapchatspectacles

— John Elder (@johnSelder) September 24, 2016
Smile! You are on Candid Camera 😉 #SnapchatSpectacles @Snapchat

via @BBCWorld https://t.co/3PICTAyhcG

— Valentinos ORPHANOS (@vip_cyp) September 24, 2016
Circular video plays full screen on any device, in any orientation, and captures the human perspective with a 115 degree field of view.

— Ernest Ojeh (@namzo) September 24, 2016
Shoutout to @Snapchat. I got pair of glasses w/ a camera when they first became a thing & they were so ugly and obvious. These are adorable. pic.twitter.com/pcBl2cFzU5

— 🕸👻 juan 👻🕸 (@jariahsgone) September 25, 2016
While the Twitterati has already passed their verdicts, our panelists for today discuss how adapting a new name for their brand identity is going to fare for Snapchat:
George Carey Simos, Media Communications Professional
Seth Stevenson, Slate Contributor
Austin Fisher, UX Designer and Digital Artist

One-Hit-Wonder Or A Bourgeoning Success?
The very existence of spectacles is ruffling feathers and raising some important questions; is Snap Inc. venturing a foot in to VR? Will the company potentially add AR capabilities to the next renditions of Spectacles? While these questions are logical, they are also premature at the time. All that the company is focusing on at the moment is to give its users a new hardware "toy" to allow them to express themselves in a better way on its platform.
However, in addition to facing possible privacy issues and software glitches, Snapchat needs to address the cost and ways for distribution, marketing, and mass manufacturing. Not to mention, meeting deadlines for hardware demand is a tough nut to crack, more than pushing updates for software. History is replete with software-oriented companies that failed to carve a niche in the hardware industry, since it is saturated by global giants with strong foundations that are hard to uproot.
According to George Carey Simos,
"Spectacles have just been launched – albeit as a limited release – yet Snapchat is not promising that they are a long-term strategy. Spiegel says that the company won't be relied upon for significant immediate revenue. We have also heard Spiegel say that they are going to take a slow approach to rolling them out. It's about them figuring out if it fits into people's lives and seeing how they like it. So don't go getting used to them just yet. If you can get your hands on a pair, that is."

Google Glass; A Precedent Or An Inspiration?
If you are wondering why anybody would use a pair of funky video sunglasses over holding up their smartphones whenever they needed to snap a video, the images that result from spectacle are essentially different, according to Spiegel. Since the camera integrated in Spectacles employs a 115-degree-angle lens, much closer to the eyes' natural field of view and wider than a typical smartphone's lens, the recorded video is circular in nature, mimicking human vision.
The glasses bear a sharp resemblance to their former contemporary, the Google Glass, with a similar touch interface and a camera on the side of the glasses, albeit at a mere percentage of the price tag of the former. However, like the fast burning flame of Google Glass, we can only wonder if the spectacles will lose their burgeoning charm in the long-run and end up a one-hit wonder only, or are they here as a niche!
According to Seth Stevenson,
"The glasses are the culmination of a years-long development process described by Spiegel as "Measure a thousand times, cut once." They have thrust his company, suddenly, into the teeming retail gadget marketplace. And they risk provoking, as anyone who recalls the saga of Google Glass knows, a fair amount of ridicule the moment they begin to appear on the pimpled faces of America's teens."

Big, Bold, And Retro; Spectacles As A Marketing Tool
Stripped of its super-wacky façade, Snapchat is purely software in essence, and the only way for someone to notice the app is to see it load up on another person's smart phone. Spectacles have given a new name to Snapchat, designed to pique the interest of people with or without the app, encouraging them to do a double-take on the street when they stumble across someone wearing the glasses, and think "What was that?"
Spectacles will boost the credibility of its social media app and legitimize the service, especially since Snapchat is still viewed by the older folks as a place for "naughty behavior". The app is easy, fun, and relatively simple, whereas the Spectacles are bold, thrilling, and the epitome of good UI. The boldness lends an air of seriousness to the company, especially with them rebranding as Snap Inc. The shift goes on to prove that Snapchat isn't some viral app anymore, but has transcended its boundaries with a viable means of income, a product line, and they are here to stay.
Through the release of Spectacles, throngs have started perceiving Snapchat in an almost introspective way. Where before, Snapchat was used to depict the day-to-day, simple life of users, now users can record their own experience and re-live it for themselves. The glasses gave an expanded audience, a unique perspective, a new lens, and a new purpose to Snapchat.
According to Austin Fisher,
"Snapchat formed its own unique brand of social media, where the phone is used as a brief little diary of a user's life. The personal phone became the personal lens into a personal perspective of a life that doesn't get shown anywhere else. Despite having little competition in this field, Spectacles upped their own game by giving people a new, even more intimate and personal lens to look through. They essentially disrupted their own industry."
What's It Going To Be For Snapchat?
Indubitably, Spectacles will be one of the hottest selling gadgets on release, and the momentum might be enough to keep users loyal to Snapchat, and away from drifting off to Instagram Stories. The platform's innate understanding of user experience and the interest of their audience has always been the greatest strength of Snapchat, and this has promoted them to continually release innovative and novelty features, designed to keep their followers riveted.
Just when it was being projected that Instagram might stunt the app's momentum sometime in the near future, Snapchat might have found a way through the release of spectacles and the hype around the rebrand to keep their foot on the gas. When you factor in the additional filters and lenses that might be available to users to enhance their Spectacles videos, and the quality and styles of the videos themselves, you will surely appreciate the genius behind the brainchild.
While we can't tell you much until we get our hands on them (hopefully soon), but they look great and the presentation pitch rightly resonates with the Snapchat's audience. All in all, we are loving the blast of innovation and can't wait to see how it is going to fare for the company in the long run. Fingers crossed.
P.S: While jumping on the bandwagon we will definitely get our hands on a pair, on a scale of 1-10 how wacky will a street-load of people, decked out in bizarre glasses, look like? Do let us know in the comments below and if you are buying one soon, do show us a snap and watch us turn green with envy!