Has anyone noticed lately how several brands and corporations are literally stripping down their logos? or how most of the social media icons are all blue? Are we are heading back to the basics in logo designing? Or are the companies taking a defensive approach to branding? Whatever the case may be, 2013 has surely been the year of peeling off logos.Whatever the case may be, 2013 has surely been the year of peeling off logos.
Why Companies 'Peel Off' Logos?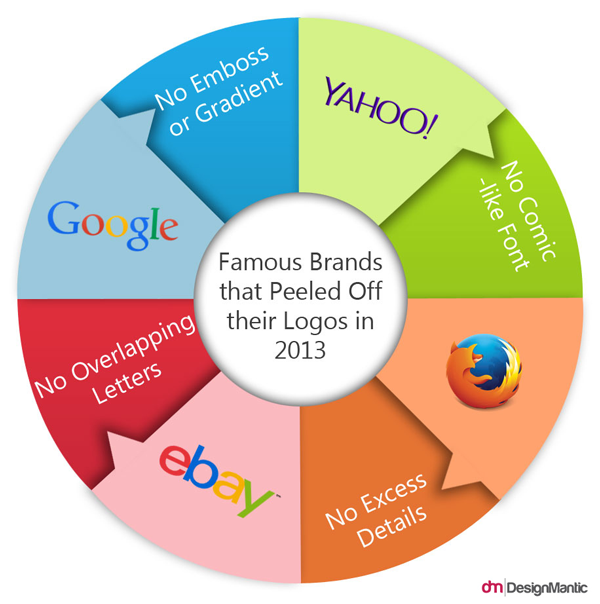 There are several reasons why companies may want to simplify or 'peel off' their logos. Some of these include:
When a company is looking for a fresh look but doesn't want to risk with major changes.
When a brand wants to make its identity simpler for customers to understand and remember.
As newer marketing mediums (digital media in particular) evolve, corporations want a logo that is compatible and scalable across all platforms.
Brands that 'Stripped Down' in 2013:
Among the top brands that followed the 'peeling off' trend in 2013 are Firefox, eBay, Yellow Pages, Google and even its rival Yahoo. Let us discuss each of them in detail.
1. Google: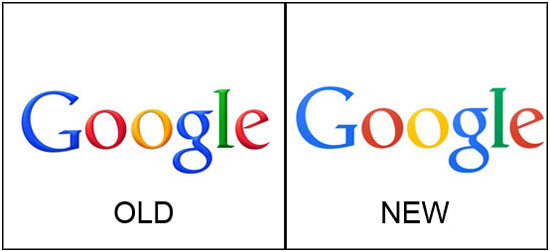 Let's start off with the biggest of them all…Google. The world's second most valuable brand in the world (second to Apple) came up with a flatter version of their logo after dropping some superfluous design elements. Instead of playing around with the iconic identity, they simply toned down the color palette and tweaked the lettering a little. As a result, the 'emboss' and 'gradient' effect have also vanished leaving a completely flat logo. But does the plain logo depict the real image of Google?
2. Yahoo: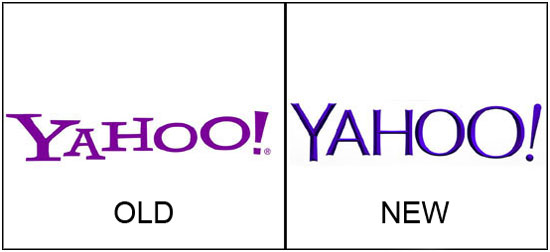 Next up is rival brand Yahoo! that also followed suit by rolling out an abridged logo. Much similar to Google, Yahoo! also adopted for a 'simpler is better' approach and ended up with a stripped down version of its old logo. After decades of legacy, the tech corporation finally gave up its comic-like font for a much simpler and unexciting one. To me, Yahoo! lost its exclamatory feeling by peeling off its logo.
3. Firefox:
How many of you actually knew that the Firefox logo was revamped? Not many I guess since the change was so subtle that you won't even notice it until observed closely. Some of the design elements that were peeled off include excess details on the fox's fur and toned down gradient on the globe. One of the main reasons given by Firefox for the change was scalability so that the logo looks great at any size or platform.
4. Yellow pages:
Renowned search directory Yellow Pages also decided on stripping down its logo to the bare essentials this year. This is the most drastic examples of a logo being peeled off to its roots. The new design completely did away with the square shape used in its previous identity leaving only the letters 'Y' and 'P' with a yellow underline. What the redesign does is removes the 'app icon' feeling to the logo. But was simply writing two letters the right way to do that?
5. Ebay:
The year 2013 also witnessed another minimalist logo change in the form of eBay. The ecommerce giant, after keeping the same logo for around two decades, finally decided to tweak it a bit. But the change also exhibited signs of low creative risk-taking as the changes were minimalist. The logo was stripped off its transparency effect that was long associated with the site. Also the overlapping of letters was also disposed of and a flatter color scheme was adopted much like the Google makeover.
Is 'Peeling-Off' Logos a Successful Trend?
To cut a long story short, brands are finally realizing the value of uncomplicated visual identities. With the world fast shifting towards newer digital mediums, responsive design is the need of the hour. The demand for providing optimal viewing experience across all marketing platforms is compelling organizations to simplify their logos. Instead of waiting for consumers to adjust to the logo, brands are realigning their visual identities to adjust to consumer needs because they understand the importance of brands in lifting their companies.
However, that doesn't necessarily mean that every brand can succeed in doing so. Which of the aforementioned brands do you think really justify their logo redesign? Do you have any other brands in mind that decided to peel off their logo this year?