Today, the entire world is connected in one way or the other. The credit for such a merge goes to social networking sites and online marketing practices. Something happening in Canada can be easily witnessed in UK, just because of the fact that electronically everyone is always connected through their gadgets and devices. Colors have different meanings in different countries and cultures. For instance, for brides white is the color which they prefer to wear on their wedding day, and black is the mourning color. This is totally opposite to what brides in India follow. Brighter shades, specifically red and green, are the colors for brides and white is the mourning color for brides there. Different cultures have different stories associated with colors.
For designers, it is very significant to understand what colors signify. The orientation of color philosophy in web design and graphic design help designers to create better designs. This can actually help them in creating artworks and designs which share relevant message to the viewers and target audience.
How Colors Play A Significant Part In Different Cultural Events
Colors speak more than words can. Colors are associated with different myths, tales, symbols and cultural depiction. Multiple culture treat same color with different meanings. In order to understand the meaning of colors, designers need to study about the culture of different countries. This can help them in creating designs with apt and suitable colors for the festivals and occasions.
– Red Is About Power And Religion Too
Color "Red" depicts power, authority, danger and love in North America, whereas same color when used with white represents religious significance in Latin America. Red when used with green color represent Christmas in America.
– Blue Is All About Growth But Gender As Well
Blue is the color of calmness and growth. In Middle East, Blue color is associated with religiousness and immortality. The interesting fact is, in America blue is associated with men as masculine color, whereas in China it is associated with women as feminine color. In Indian, Blue represents strengths of God, so it is more of religious color for them.
– Yellow Being The Color Of Loss And Friendliness
Yellow is the color of friendliness in most parts of America but in Latin America the same color is associated with loss and mourning.
– Orange Depicts Grief And Royalty As Well
Orange is the color of grief in Middle Eastern countries whereas it is considered sacred and religious in India. Plus, in The Netherlands orange color depicts royalty. Orange also represent Thanksgiving and Halloween in US.
Similarly, there are many other colors which represent one thing in once culture and other things in different cultures and countries. It is of great importance to take notice of these colors for designers. After all, with designs a message is communicated. One should be very careful about selecting right colors.
Easter Is All About Colors
Easter is a festive day when followers of Christ and humanity remember and honor the revival of Christ, 3 days after his execution. Easter has religious significance associated with it. For many others, Easter is also about celebrating the end of icy winter. Seasonal change which comes with birds' singing, flowery attractiveness, vivacious shades and clear bright skies, are all the reasons to celebrate. This is the reason why Easter is all about colors and joyfulness. People are wearing brighter shades and lively colors. Whether it is green, red, silver, purple, royal blue, aqua or olive; you name the color and it's seen on Easter.
Easter and colors are synchronized to each other. Here's our collection of Easter-themed color palettes to yield a rainbow of opportunities with your next design project.
Easter colors depict strong meaning to different colors. Following are some colors which share definite meanings in contrast with Easter.
Pink is the color of newness. It is associated with new beginning.
Royal Blue color signifies the birth of Jesus. This is why this color is mostly seen in churches.
Red is the color of love and passion. But it is also associated with the blood shed by Jesus Christ to save humanity and mankind.
Yellow represents brightness. It is taken from Sun and there's nothing brighter than Sun.
White is the spotless color, and it represents cleanliness, purity and elegance.
Green is the color of healthiness and nature. Green brings hope in a person's life.
Gold is the color of most valuable commodity. It is very exquisite and on Easter, Gold is associated with treasured happiness.
Silver and Gray are the colors of purity and religious associations. On Easter these colors are largely seen.
What Designers Can Learn From Easter Designs By Other Countries And Cultures
In order to understand the importance of colors in different cultures and countries, here we are going to discuss and mention Easter designs and artworks from different parts of the world. Designers with different backgrounds and cultures are listed below, along with their designs which are created for the Easter. For individuals, who are interested in pursuing their career in designing this is really noteworthy to understand the color combinations used in these designs. After all, no one wants to send a deflecting message through their designs… right?
There are different colors which are used in Easter designs in US, UK and Germany. Do you want to know which colors are mostly used in mentioned countries along with Canada, Romania and others? Following are Easter designs and artworks from multiple designers based in different parts of the world. All you need to do is focus on their designs based on their region and culture.
1 – United States Of America
Ben Stafford is a designer and illustrator from Columbus who shares the 3 scenes focusing on Jesus Christ's last evening before being detained, his death and revival from the tomb.
The colors used in this artwork are orange, yellow, white and blue along with gray and green. In American culture, red and green when used together depict religious aspects.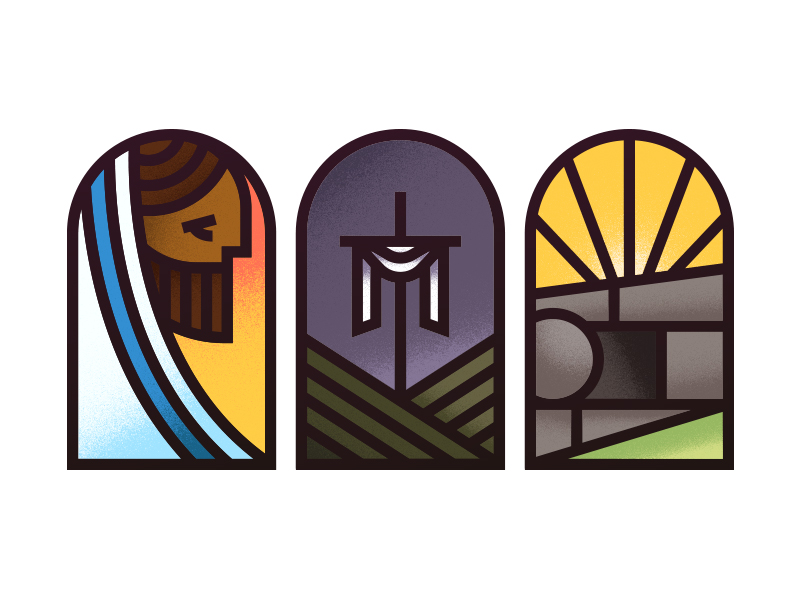 Source: Dribbble/Ben Stafford
Javier Garcia is San Francisco based illustrator and designer. In the following design on Easter, color red is used with white and black to represent sacrifice, love, humanity and purity, as per American culture.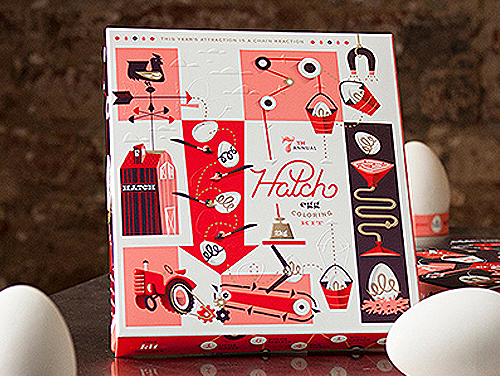 Source: Dribbble/Javier Garcia
In America, after closely focusing on the designs above, it can be stated that Red, White and darker shades are associated with Easter. Whereas in other countries, different set of colors and tones are used for the same festival.
2 – United Kingdom
Cuberto is a design and development firm based in London, UK. The following design on Easter beautifully highlights the colors like brown, yellow, white and aqua.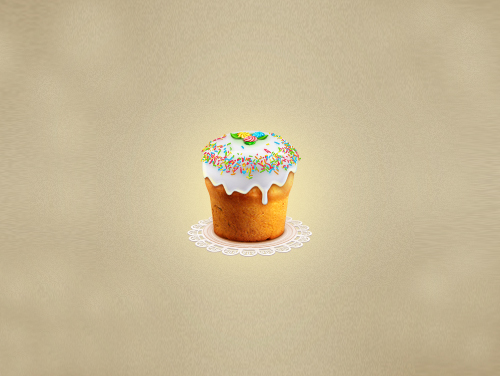 Source: Dribbble/cuberto
Sam Dunn is a London based freelance illustrator. In his following design titled "Good Egg" multiple colors (green, red, pink, yellow, black etc.) are sprinkled all over the design to perfectly fit the cultural values and association of Easter in UK.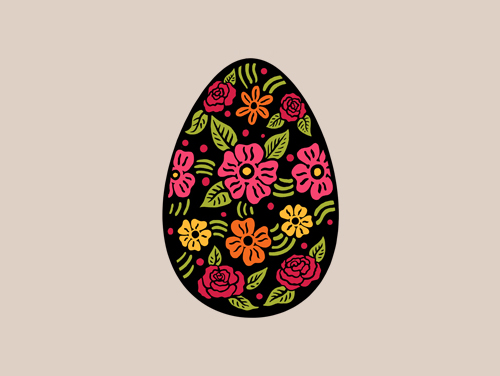 Source:Dribbble/cuberto
In UK, on lighter shade of background, prominent and vibrant colors are used to associate with Easter, just like the way shown in the above mentioned designs. Yellow and green prominently stand out, in this matter.
3 – Germany
Timothy Achumba is a Germany based designer and photographer. In the following design he has used colors like Yellow, green and aqua to highlight the significance of all these colors keeping Easter in mind.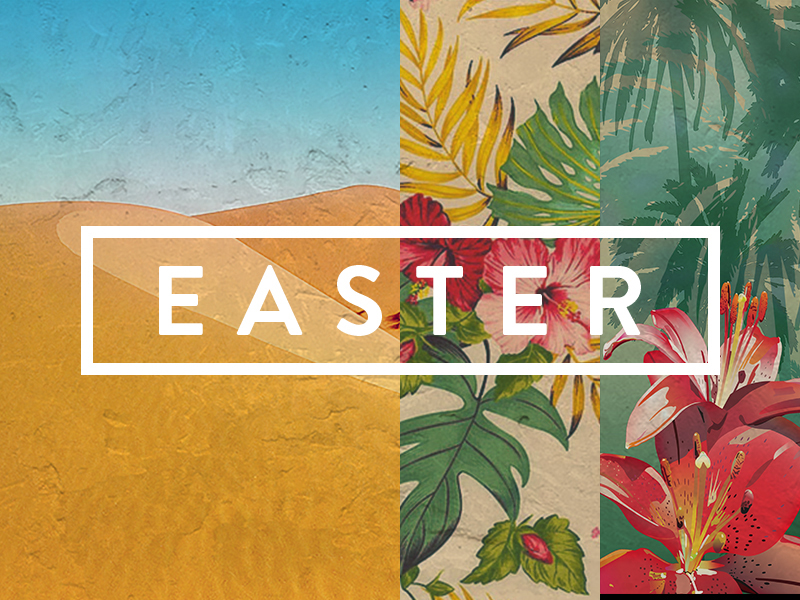 Source:Dribbble/Timothy Achumba
Axel Herrmann is a Germany based illustrator. The following design depicts bunnies to celebrate Easter. The colors used in this design are as per the cultural values of Germany.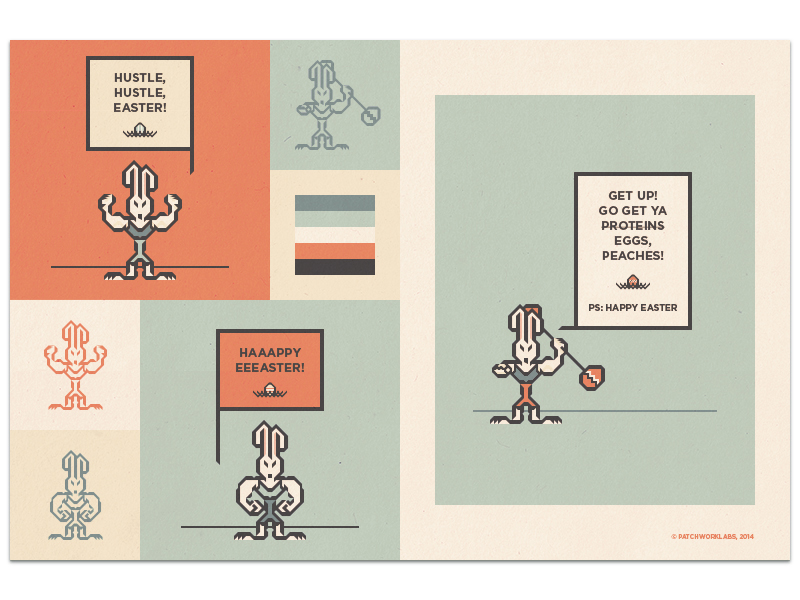 Source: Dribbble/Axel Herrmann
In Germany, it is more likely to see shades from the family of blue, red and green for Easter festival. This is a cultural way of selecting colors to suit the audiences' preferences.
4 – Russia
Sergey Ershov is a designer from Russia. The following set of Easter icons is an artwork to express the love for Jesus Christ. The artwork is available in black and white and colored versions, to suit the requirement of the users.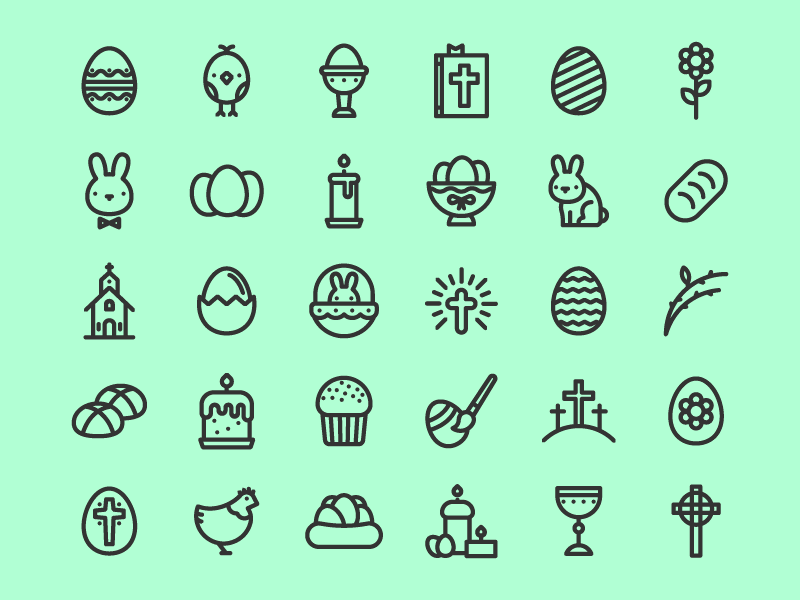 Source: Dribbble/Axel Herrmann
Yuriy Nako is Russian vector designer. Following is a simple but very meaningful design in black and white highlighting the significance of Happy Easter.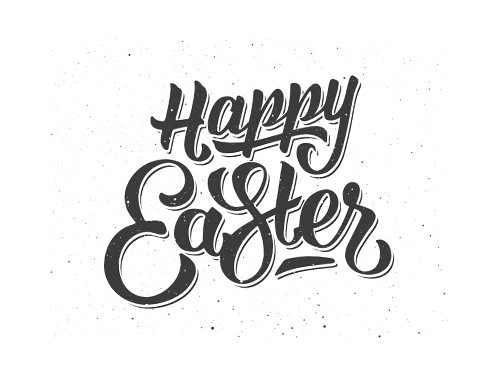 Source: Dribbble/Yurlick
In Russia, black and white themed designs are mostly seen for Easter. This makes these colors easily associated with the festival.
5 – Austria
Arno Kathollnig is an Austria based typographic enthusiast. The following design on Happy Easter Eggs best describes the power of light toned colors, in association with the Easter.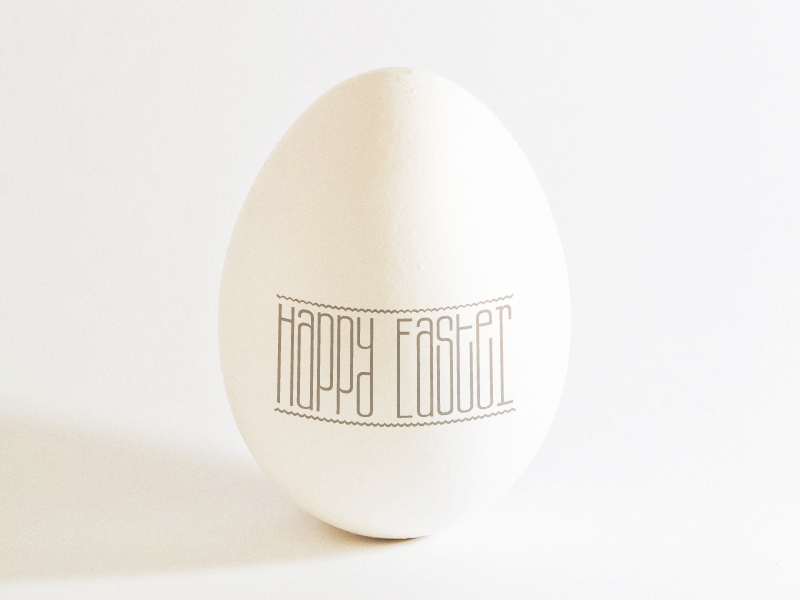 Source: Dribbble/Arno Kathollnig
In Austria, light toned and colored designs with symbol of eggs are easily associated with Easter to suit the cultural association with Easter.
6 – Poland
Arkadiusz Płatek is a graphic designer, based in Poland. In following design for Easter, he has utilized all the relevant colors like orange, yellow, blue and white to add cultural aspect to the design.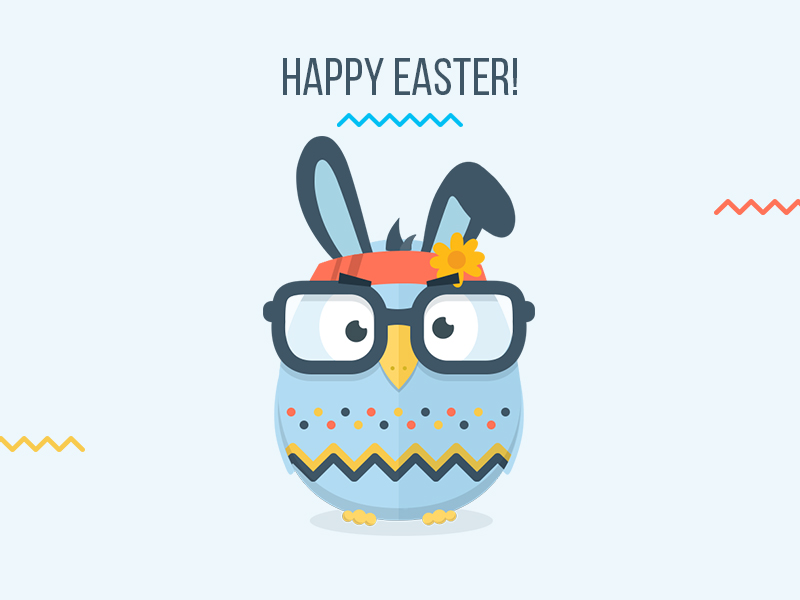 Source: Dribbble/Arkadiusz Płatek
Yuliia Shchetinina is an interface and graphic designer living in Poland. She shares a set of Easter icons with all the colors which are best associated with Easter in Poland.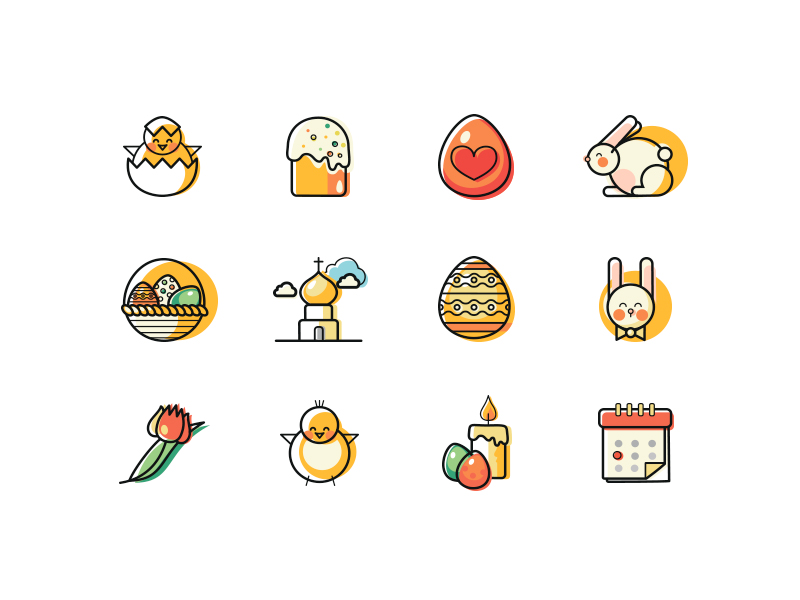 Source: Dribbble/Yuliia Shchetinina
In Poland, aqua, shades of blue and white are largely used to represent Easter. These designs however show shades of red as well. This means that Easter's main color in Poland are the same.
7 – Italy
Mark van Leeuwen an illustrator and designer based in Italy. He wishes everyone Happy Easter with the following design. He has used simple colors of black and white with yellow and brown colors to add cultural aspects in the design.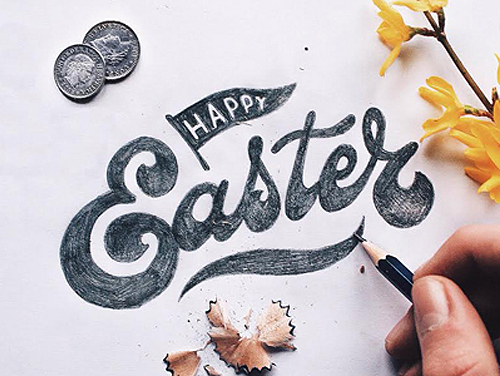 Source: Dribbble/Mark van Leeuwen
Gaia Bordicchia is an Italy based illustrator. She depicts in her design a bird and a rabbit. With bright and happy colors she best portrays the Easter.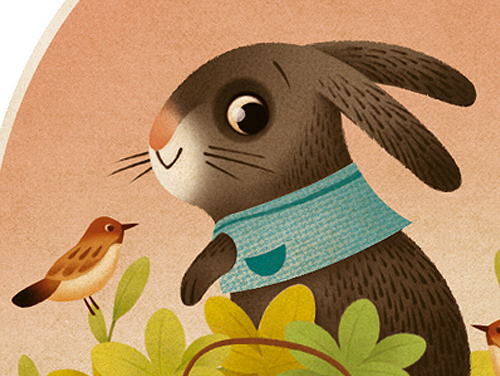 Source: Dribbble/Gaia Bordicchia
From both the designs it is evident that shades of yellow and brown are used to depict Easter. Along with the black is also among the main colors, unlike in any other country.
8 – The Netherlands
Tom Loots is an illustrator and graphic designer from The Netherlands. He uses strong sets of colors in this design which highlights the Happy Easter. These strong colors are very closely associated with Easter.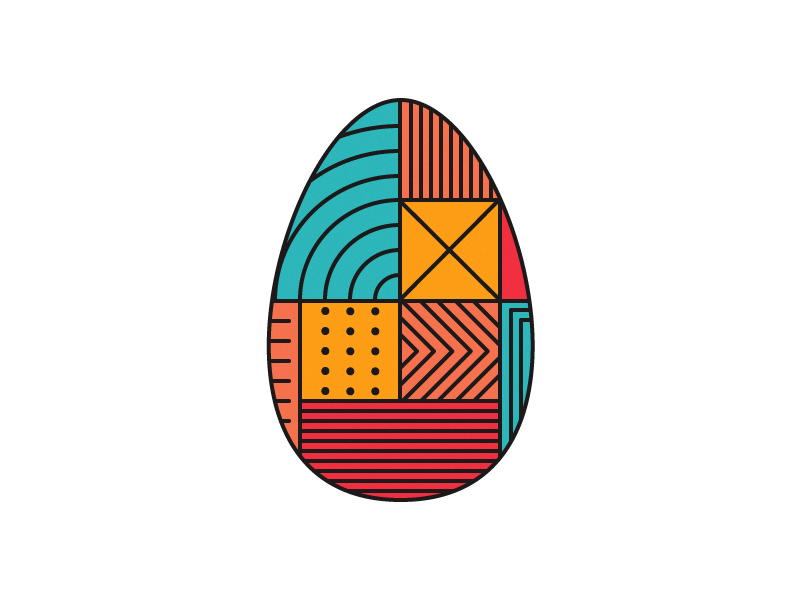 Source: Dribbble/Tom Loots
Lienke Raben is a designer who shares Happy Easter design in simple black and white colors. The Grayish shades represent the purity and religiousness.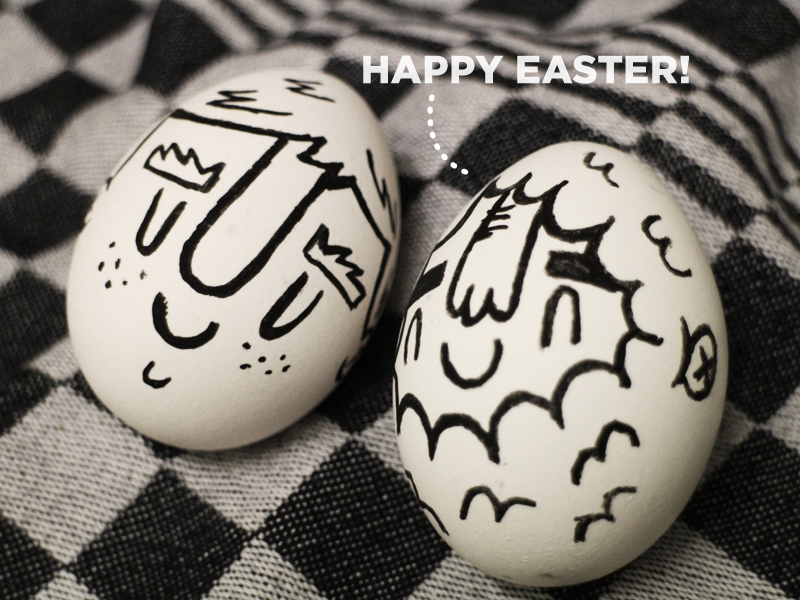 Source: Dribbble/Lienke Raben
In The Netherlands, Easter is represented by designers largely by Eggs. The Easter egg is a great way to display design highlighting Easter.
9 – Serbia
Following is the design by Jovan Petrić which comprises of 3 basic colors i.e. Yellow, Black and White. The colors used are very strong and depict the cultural association of Easter as well.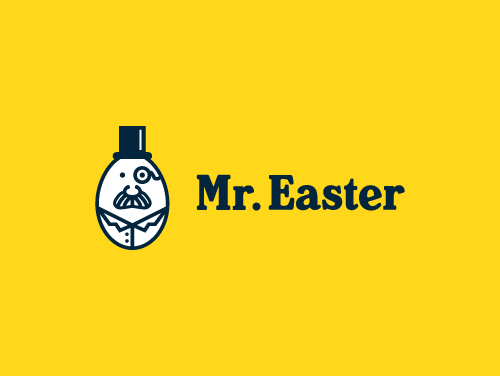 Source: Dribbble/Jovan Petrić
Aleksandar Savic is a graphic designer from Serbia and in the following design he depicts the Easter Island. This is a good and simple design which largely comprises of two base colors, black and white, with grayer shades. Very religious in terms of association with Easter.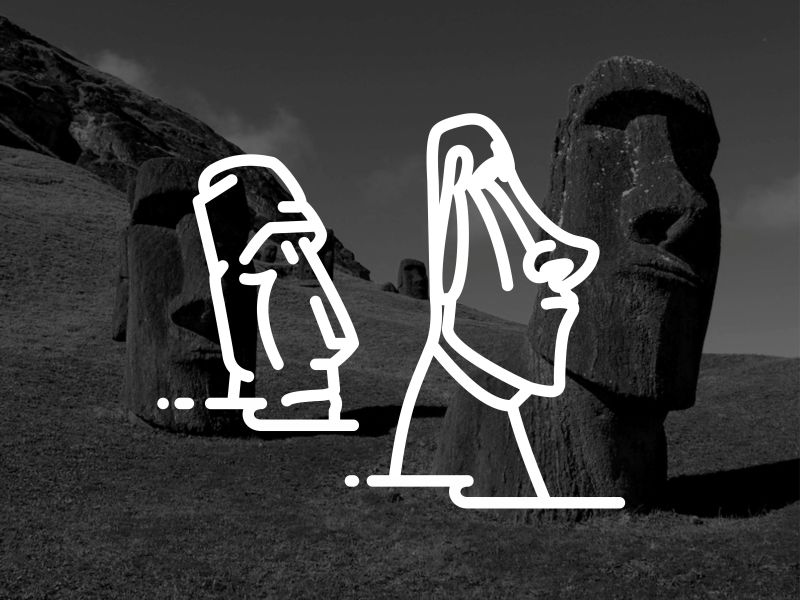 Source: Dribbble/Aleksandar Savic
In Serbia, for Easter's designs black and white are two significant colors. Designers use these colors with bright and graying backgrounds to suit the cultural requirement.
10 – Cape Town, South Africa
Regina Casaleggio is a freelance user interface designer from Cape Town. In the following design she tried to use the Easter Egg. This is a very basic concept but turned really nice.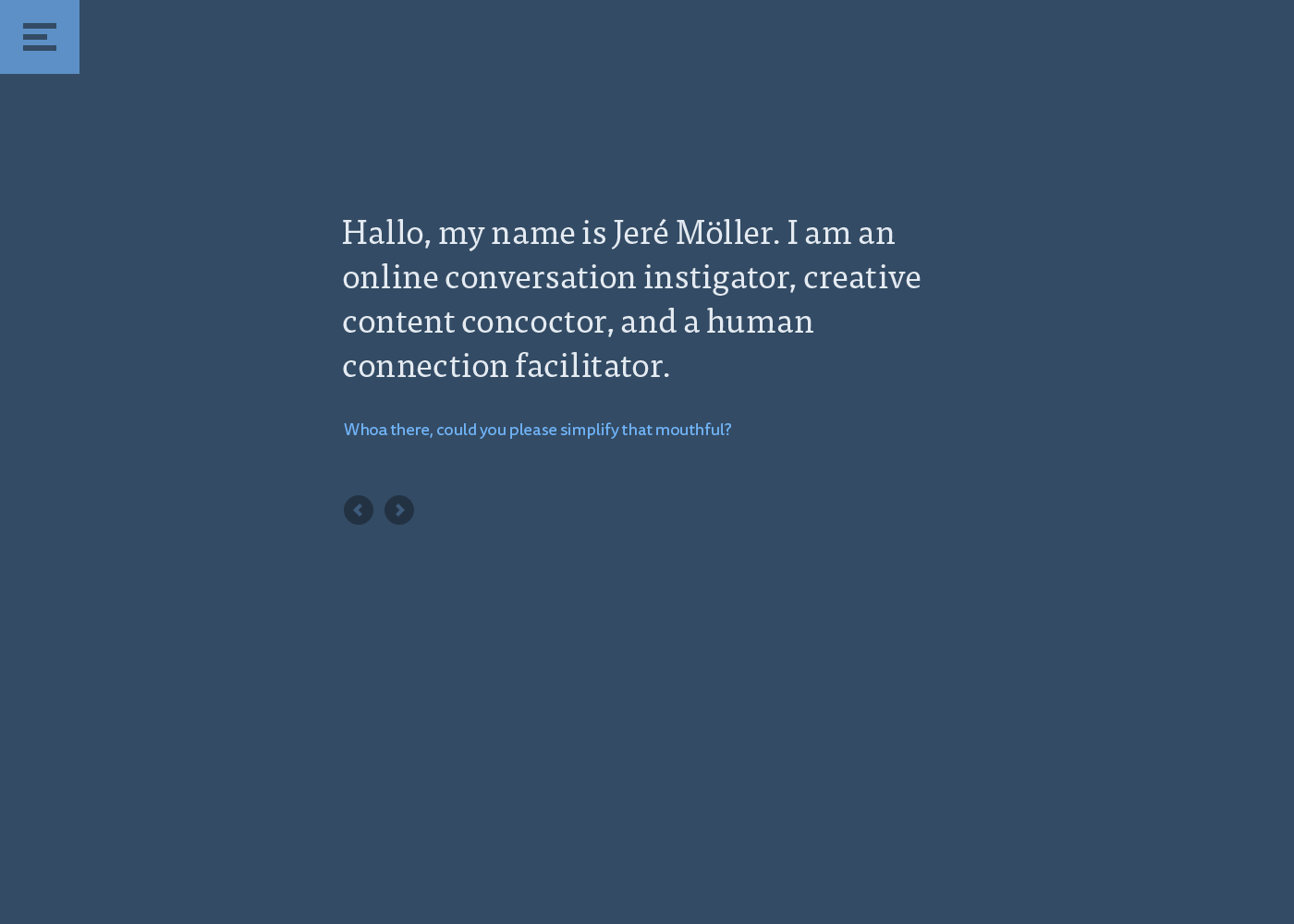 Source: Dribbble/Regina Casaleggio
Makers Company is a design studio in Cape Town. The following design highlighting the bunny and some relevant colors from the same culture from where this art belong is a good example of sending right message to the viewers.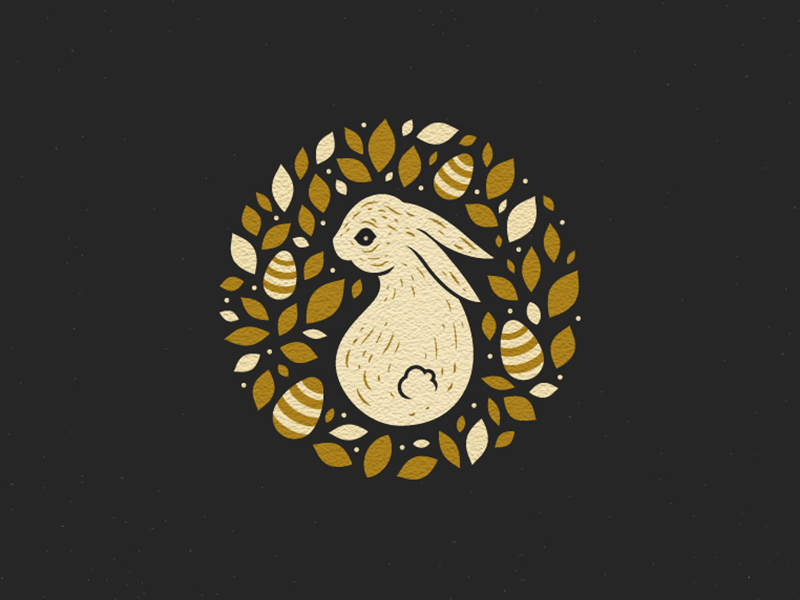 Source: Dribbble/Makers Company
With close focus on both the designs listed above, the association of darker shades along with Easter egg can be interlinked for Easter designs.
11 – Canada
Matty Morgs is a creative director from Canada. The following design is a blend of lighter shades like white, hazel and black. This combination of colors is apt for the Canadian culture, when talking about Easter. A good example to learn from.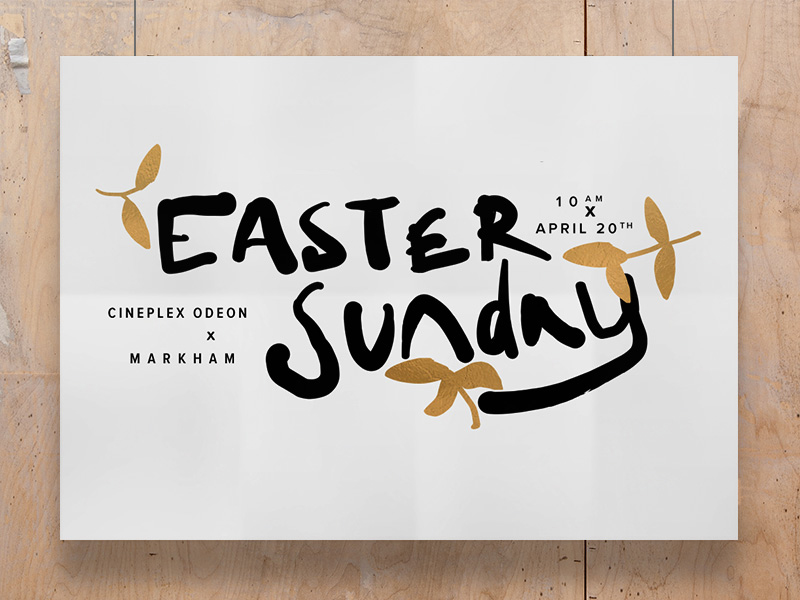 Source: Dribbble/Matty Morgs
Justyna Stasik is an illustrator based in Canada. In her following design on Easter the brighter shade of yellow, black and white can be seen. This is what as per the cultural values of Canada. An apt design to connect with the audience.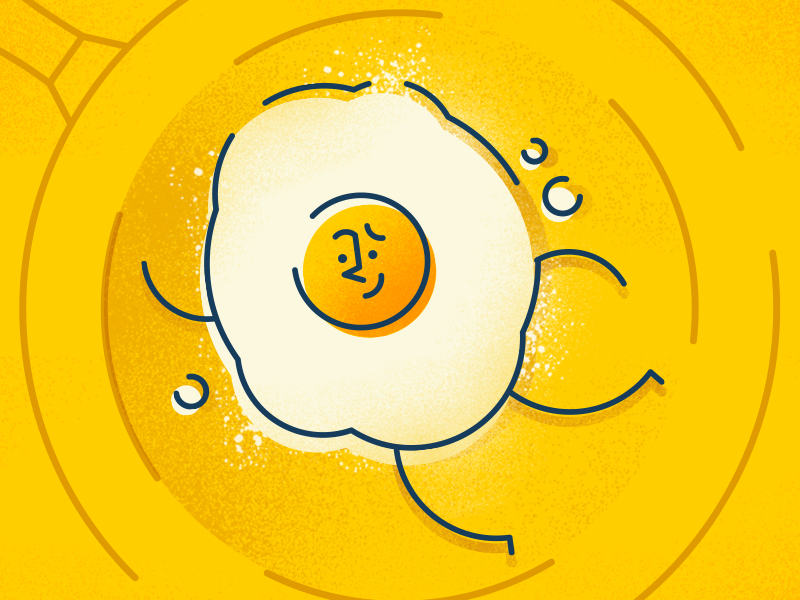 Source: Dribbble/justyna stasik
In Canada, Yellow and White are mostly used to interpret the significance of Easter. It is obvious from the designs showcased above.
12 – Bulgaria
Zhivko Terziivanov is a freelance 3D artist and illustrator from Bulgaria. The following design titled Egg Fighter is associated with Easter. The colors which the designer has used in this design are interesting and relevant as well.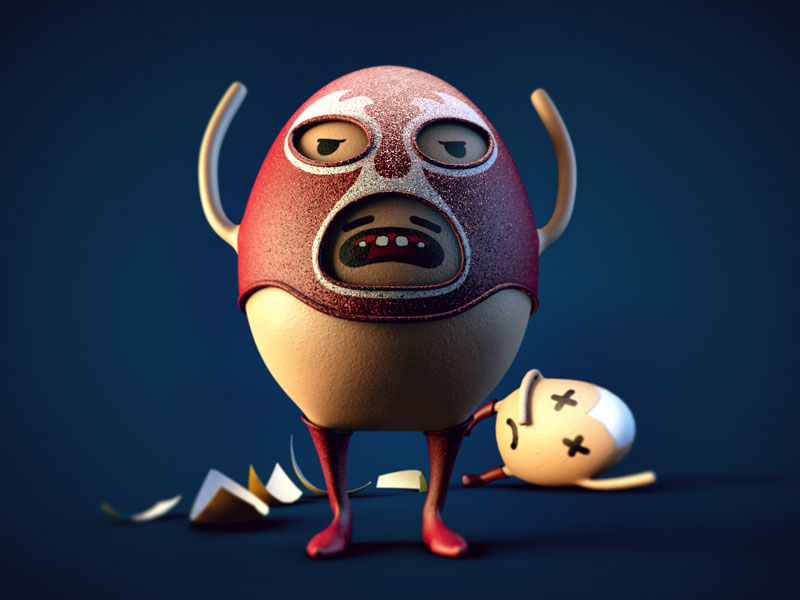 Source: Dribbble/Zhivko Terziivanov
Alexander Tsanev is a freelance graphic designer from Bulgaria. The following design is based on the idea of Easter and features a bunny. This is a very interesting concept that is beautifully presented and designed.
Rabbits and eggs depict Easter in Bulgaria, with contrasting colors.
13 – France
Sylvie Tunez is a web and graphic designer from France. Following is the origami rabbit that is designed for Easter. The colors green and white are smartly used to depict religious aspect of the festival.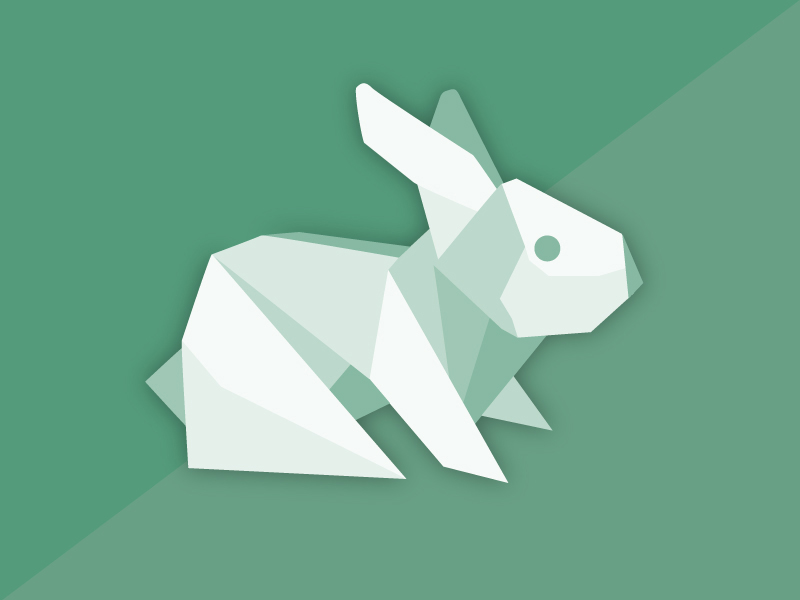 Source: Dribbble/Sylvie Tunez
Kevin Granger is a France based U/X designer. Following design is a strong concept for Easter with some relevant colors used in it. Red and White are stronger colors for depicting Easter in most parts of the world.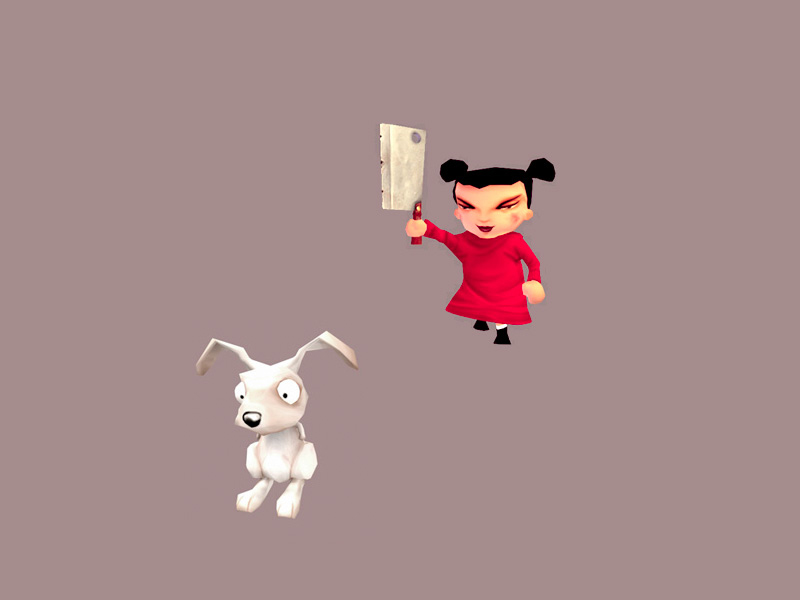 Source: Dribbble/Kevin Granger
Both designs display rabbits and white color in the artworks associated with Easter. In France, green and white are associated with religious colors, this is why in these artworks these colors are used. 
14 – Romania
Pixaroma is a site run by a husband and wife based in Romania and the site is all about icons and designs. The following Easter design is an amazing example of combining Red and Golden color together to highlight Easter. Very nicely and beautifully designed concept.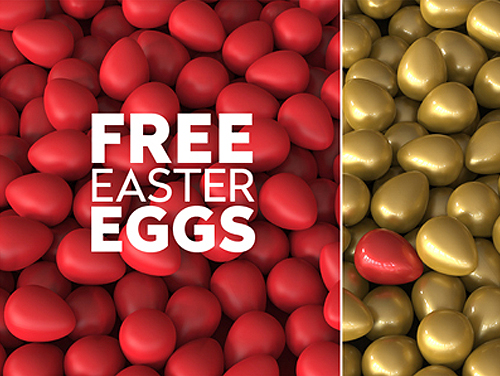 Source: Dribbble/pixaroma
Vede Emanuel is a logo and graphic designer from Romania. The bunny is represented in the design and the artwork is titled as Easter Hunt. The colors used in this artwork are simply awesome and as per the norms of the culture.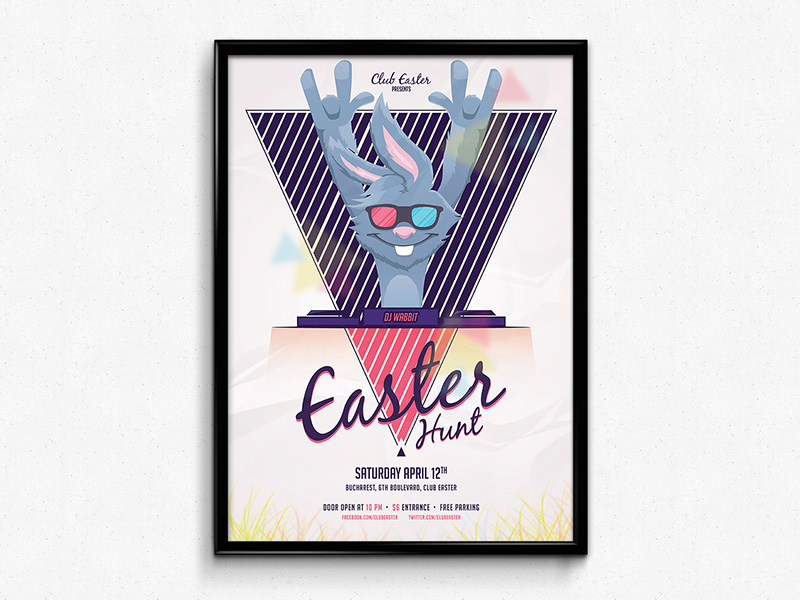 Source: Dribbble/Emanuel Vede
Red and White are the colors of Easter in Romania. Even at places Gold is the most dominant color in the same regard.