The queer aesthetic is a multi-faceted, vibrant, and provocative concept encompassing a range of artistic expressions and cultural movements within LGBTQ+ communities. It is a visual and cultural language that explores and celebrates non-normative identities, experiences, and desires.
At its core, queer aesthetic challenges traditional societal norms, binary constructs, and heteronormative standards, allowing for a more inclusive and diverse representation of gender, sexuality, and identity.
Instagram, being a colorful world of unrestrained self-expression and art, has become a haven and a place of refuge for LGBTQ+ artists and voices. It's a platform that queer artists use to showcase their incredible talents, amplify their voices, and find their communities.
In this article, we are presenting a curated list of LGBTQ+ artists that are pushing the boundaries, challenging norms, and disrupting the social order. Join us as we experience the bold, vibrant, and unapologetic aesthetic of queer expression in the diverse world of Instagram.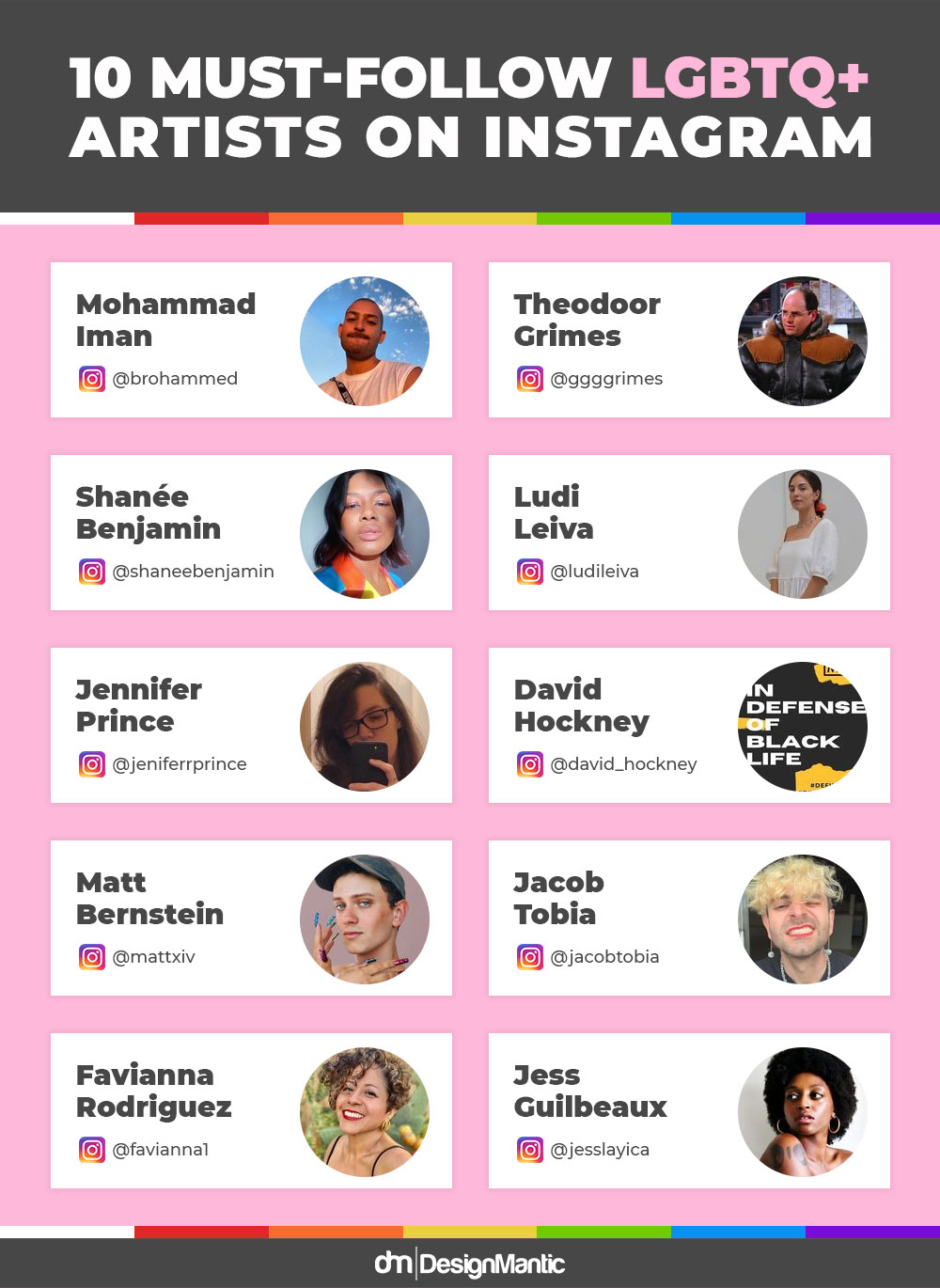 Bio: "artist + illustrator 🏀 bebecita at @papijuicebk"
Followers: 16.2K
Mohammad is an illustrator and a queer artist who draws queer people of color. He lives at the intersection of being a queer Muslim of Indian-Afghan descent, born, raised, and living in the US. He co-runs the art collective Papi Juice that 'celebrates the lives of queer & trans people of color'.
His work is a warm-toned celebration of queer affection. There's a sense of community there, an alliance, and lots of beautiful grins.
Follow him to see how he's uplifting other queer artists of diverse backgrounds and what his art collective Papi Juice is all about.
Pronouns: They/He
Bio: "28 yr old trans boi in da Bx. I draw trans PoC"
Followers: 92.5K
For some of the most flamboyant queer art expression on Instagram, we present Thedoor Grimes. A self-taught Black artist celebrating quiet and joyous moments of everyday domestic existence of queer love and expression.
His artwork is lush, alive, and pulsing with energy. It's some of the most beautiful things you'll ever see on your social feed and would love to hang it on your walls. The strokes are confident and the colors bold. Each design carries a hoard of emotion and meaning. Characters are decidedly non-white and deliciously non-binary.
Bio: "Brooklyn raised Illustrator in NYC/UK/EU 🌈"
Followers: 44.3K
Shanée is one of the most prolific artists on this list. So, if you are looking to experience some high-quality, professional-grade art exploration, Shanée is the one to follow.
She is an extremely talented artist with a coveted list of clients that include Instagram, Mastercard, Google, Netflix, The Academy, and more. Her art is hundreds of different shades of pink, promoting a joyous and optimistic present and future for her queer community.
Pulsating with a verve of Black joy, her designs are equal parts understated and electrifying.
Pronouns: She/They
Bio: "roots in guatemala & slovakia"
Followers: 9,281
The queer aesthetic is usually loud, proud, and visceral, but if you like your art to be calm, tranquil, and pastel, you're going to love Ludi's account.
She's a queer, mixed-race Latina illustrator and artist. Her clients include the LA Times, Vogue, Guardian, Apple, and more.
Her artwork expressing queer life is very romantic and earthy. Lots of organic shades and shapes that make you think of crisp mornings, tangy fruits, and comfy nights. But this peace comes from a journey of healing and awareness of generational trauma. Ludi addresses themes of immigration, exiles, and forced migrations in her work.
Bio: "brazilian artist & illustrator 🏳️‍🌈 lesbian/sapphic storytelling and intimacy in a vintage inspired aesthetic"
Followers: 326K
Everyone has fallen in love with vintage and retro designs again! Grace your social media feed with some lesbian love expressions shared in beautiful vintage themes by following Jennifer's page on Instagram.
The sheer beauty of Jennifer's work is the carefree and abundant way she illustrates lesbian intimacy. There's no rush, no challenges, and no confrontation. In fact, the very normalcy of the life depicted in her drawings is enough disruption on its own.
And clearly, we're not the only ones that think so. Her follower count on Instagram is in three digits and her imagination is thrilling.
Followers: 67.2K
He's an iconic British artist and one of the most influential of the 20th century. One of the leading figures of the Pop Art movement, he's best known for his painting series depicting Southern California swimming pools and lifestyle.
But he also draws queer art and has been doing it since the '70s. His specialty is painting domestic scenes of queer partners just lounging around the house and indulging in the absolute bliss of doing nothing.
Though he isn't really active on Instagram, following his profile will give you an incredible insight into his artistry and versatility.
7. Matt Bernstein @mattxiv
Pronouns: He/They
Bio: "friendly queer jew with very long nails"
Followers: 1.4M
Matt is a makeup artist who teaches common folk about feminism, freedom, LGBTQ+ landscape, human rights, antisemitism, and so much more through his signature collages on Instagram.
Over the years he has amassed a huge following, thanks to his eloquence and unique perspectives. He is confident, very well-spoken, and you really cannot ruffle his feathers.
For some of the most assertive, thoughtful, and intelligent commentary regarding the LGBTQ+ community, Matt is the guy to follow.
Pronouns: They
Bio: "actor + author of 'Sissy: A Coming-of-Gender Story' + co-star of VALENTINE"
Followers: 108K
So there are people who are gender non-conforming, and then there's Jacob who likes to call themselves 'gender-chill'. And I don't know about you, but that's certainly a title that we can get behind.
To live in a world where gender is a playful, fun thing and not something that people feel afraid to talk about is truly a wonderful dream.
So join Jacob on their journey of creating a gender-chill future where there's lots of laughter, fun, and color. And also, do yourselves a favor and read their book, Sissy. It's wholesome, heartwarming, and filled with hilarity and laughter.
9. Favianna Rodriguez @favianna1
Pronouns: She/Her
Bio: "Artist & Activist // My work is about radical joy, nature, racial justice, sexual freedom & climate justice. QWOC."
Followers: 52.3K
Rodriguez calls herself "an artist engaged in social change." And her art reflects that description. Her work often makes statements about immigration, climate change, queer rights, and feminism.
She has self-identified as queer. Her clients include some of the biggest names in the corporate and cultural landscape including Ben and Jerry's, Spotify, Old Navy, Playboy Magazine, and many others.
She has created and co-founded several art and activism organizations that work towards sexual liberation, climate justice, immigration, queer rights, and more.
Pronouns: She/Her
Bio: "speaker, model, future tech genius 🤓, a strong, Black lesbian🌈 S3 E5 of Queer Eye on @netflix"
Followers: 128K
Jess is a model and a speaker focused on LGBTQ+ topics and living the Black lesbian life. She is an activist who uses her platforms to talk about mental health, acceptance, vulnerability, and self-compassion.
Her Instagram feed is a celebration of her journey from trying to 'fit in' to stepping outside of the societal norms and standing beautifully in her true self. She documents her daily life at home, at work, and at school and features her girlfriend prominently in all her posts.
Weighing heavily on her experience as a queer Black person, Jess talks about the LGBTQ+ community from a place of love, reflection, and healing.
If you are looking for queer content online with a lighthearted and calm voice, follow Jess as she shares her favorite coffee recipes, black girl hair stories, and her Queer Eye experience.
Conclusion
Whether you identify as a queer person or an ally, these wonderful artists deserve your attention and support as they continue to push boundaries, claim their spaces, and find ways to empower themselves economically, socially, and emotionally.
So, join these incredible talents as they redefine the artistic landscape in truly inspiring ways.