Ever wonder what you can do with your free time? How you can make your everyday life so much more creative, nifty and appealing? You can turn your life around, start afresh, explore new horizons, and draw creative inspiration, just by looking over the work of these amazing DIY artists on Instagram.
Okay maybe not just by looking over their work, but by channeling what you see into inspiration to fuel your own creativity. You can do this in three easy steps…
See to get inspired
Narrow down (or choose) what you like
Reinvent it into something new (or completely different)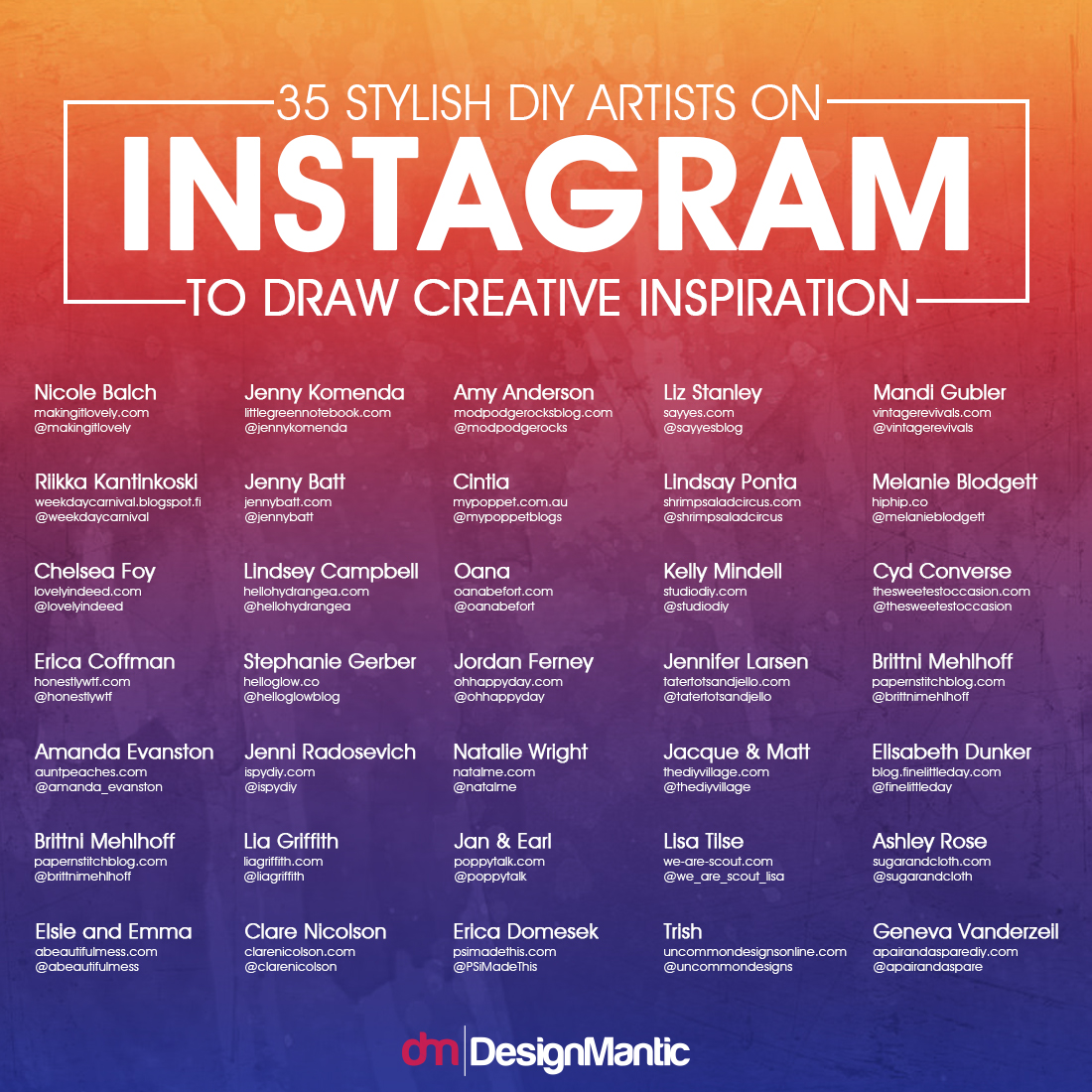 Without further ado, let's get down to our list of nifty DIY Instagram artists.
1. Nicole Balch
An inspiration for many, Nicole is a wife, mother of three, blogger, and amateur designer. Possessing handyman skills, an eye for aesthetics, a thirst for interior design, web design skills and experience in running an online store, she singlehandedly established a DIY design and décor blog that soon started bringing in money. Her venture more than just paid off (literally); her work was featured in The Chicago Tribune, Ladies' Home Journal, HGTV, Time Out Chicago, Better Homes & Gardens, Time Out Chicago, ReadyMade, Everyday with Rachael Ray and many other publications. Furthermore, Nicole's blog, Making It Lovely, was listed amongst the top 50 World's Best Design Blogs by the London Times Online, in the top 26 Design Blogs by Domino, and twice amongst the Top 50 Design Blogs for Moms by Babble.
2. Riikka Kantinkoski
Riikki is a Finnish blogger, photographer, stylist, and artist; her blog WeekdayCarnival takes on light subjects, scenes and objects from everyday life, and channels them into work that provides an escape from reality.
3. Chelsea Foy
Founder of Lovely Indeed, Chelsea is creative person with an even more creative imagination. Her lifestyle blog focuses on DIY, family, travel, and style, and has started providing other services including brand ambassadorship, creative workshops, speaking engagements, book crafting and consulting.
Her great work has been featured in many print and media outlets including Huffinton Post, HGTV and Better Homes and Gardens, and Apartment Therapy. Also, it has opened doors for collaboration on content creation with brands like Target, HP, West Elm, Old Navy and Munchkin.
4. Erica Chan Coffman
Erica is travel enthusiast, who is addicted to many things including jewelry, lace and boots. She has a passion for sharing her life, travel adventures and DIY projects. The DIY section of her blog Honestly WTF, showcases various techniques of how she can beautify everything around her including her attire, accessories and home.
5. Amanda Evanston
Amanda is the face behind the blog Aunt Peaches; she is a cat lover, creator, artist and sequin enthusiast, who is hired by people to aesthetically enhance their products.
She has a wide array of clients including magazines, celebrities, retailers and even network television.
6. Brittni Mehlhoff
Founding, editor, art director and stylist of Paper & Stitch, Brittni is creative gnius who draws inspiration for her projects from her personal life. Previously a high-school art teacher with a background in fine art, she uses her painting and drawing to generate new DIY ideas and designs. Majority of her content consists of DIY home decor, fashion and styling. However, she also shares intriguing travel guides, simple recipes and more.
7. Elsie Larson and Emma Chapman
The creative and ambitious doer duo Elsie Larson and Emma Chapman together founded the women's lifestyle company/blog, A Beautiful Mess. The blog shows how everyday things can be made so much more joyful home through DIY crafts, decor projects and recipes.
They also founded a tech firm, A Color Story, which has created four best-selling apps along with some desktop actions and presets. The talented sisters also teach online courses (for DIYers) on blogging, handling social media, and on running a small business.
Furthermore, they have released three books up till now, including A Beautiful Mess Photo Idea Book, A Beautiful Mess Happy Handmade Home and a cookbook titled Weekday Weekend.
The current year also witnessed an expansion in their online retail brand, Oui Fresh that sells natural beauty products, women's clothing and accessories.
8. Jenny Komenda
Jenny is a Phoenix-based interior designer who is currently serving a contributing editor for Domino Magazine. She has previously written for Better Homes and Gardens, Babble and of course her own blog. She also runs a design business called Juniper Studio, where she transform residential and commercial spaces in and around Phoenix with the help of her team.
She launched her blog Little Green Notebook back in 2007, which basically gives her ideas, projects and products a platform. This venture also garnered success, and her blog received the title of both Best DIY Blog and Best Interior Design Blog by the Apartment Therapy Homies Awards.
Not only that, but Jenny's work has been featured in various publications and on numerous websites including HGTV, Vogue, House Beautiful and the Wall Street Journal. Furthermore, she was named the 'reigning queen of DIY' by Better Homes and Gardens and the 'Designer to Watch' by Elle Décor.
9. Jenny Batt
Living by the motto "get the most out of life and make it good" Jenny believes she has the 'taste of a crazy old lady living in Palm Beach'. She is obsessed with stripes, making garlands, the Hollywood Regency style, searching for vintage items (like jewelry and brass parrots), and filling notebooks with home decorating ideas and party plans. She is what we call the perfect mix between a good shy southern girl and a bold modern mama.
Her mother's words, "keep it cheap and peppy" are the inspiration for all her designs and projects, which are a blend of her own personality — a combination of minimalist and maximalist sides.
She illustrates everyday things that catch her eye and created printables, garlands and party ideas for clients like Minted, Better Homes & Gardens Oh Happy Day, Design*Sponge and Martha Stewart.
Jenny Batt previously owned a party craft blog called Hank & Hunt, which she closed down to focus more on illustrating, painting and remodeling her own home.
10. Lindsey Coulson Campbell
The face behind Hello Hydrangea, Lindsey is a fiber artist and expert weaver, who works on custom projects for her clients. And she also provides weaving classes through online videos on her blog.
She has worked in collaboration with clothing retailer Anthropologie, and her products have been featured on DesignSponge.
11. Stephanie Gerber
Stephanie is a fighter who refused to be molded into the stereotypical minivan driving soccer mom avatar. By day she fulfils her duties as a mother and at night lives life for herself; she is a writer and home remedies and DIY expert.
She is on a mission to help women find/preserve their glow; by bringing the latest natural beauty, style and wellness resources, ideas, tips, tools, recipes, DIY projects, product reviews, and more though her blog Hello Glow, so they can live a beautiful and healthy life.
12. Jenni Radosevich
Jenni's DIY journey began at a very young age when she started saving expensive designs from fashion magazines and recreating them for herself at affordable prices. The earlier creations were flawed but with time she learned tricks of the trade and started recreating any clothes and accessories she liked.
Eventually this hobby tuned into a career when her editors at InStyle saw her work and offered her a 'Personalize Your Clothing' piece. The amazing response this story got, resulted in Jenni writing a monthly DIY fashion column in InStyle magazine. This also gave her the push she needed to start her own website.
The I SPY DIY website covers DIY projects about recreating fashion and home décor trends. It also paved the way for the book I Spy DIY Style which is a guide for girls on a tight budget who want a particular designer look. The success of the book got Jenni a warehouse space that functions as a creative studio and a hosting space for DIY events, on-air segments, promotional events and teaching craft classes.
13. Lia Griffith
An internationally renowned DIY designer, crafter, stylist and photographer, Lia Griffith launched her lifestyle blog in 2013. Her blog showcases amazing DIY projects, tutorials, printables and inspiration.
Her work has been featured in over 50 publications, sveral blogs and websites, and TV channels including Better Homes & Gardens, Papercrafter Magazine, Design Sponge, Where Women Create BUSINESS, Apartment Therapy, Made in Paper, Hallmark Home & Family, The Knot, Real Simple, Country Living, Good Housekeeping, House Beautiful and The Today Show.
However, this is not all, her resume boasts many other things which you'll see from her story.
14. Clare Nicolson
Clare Nicolson launched her line of graphic and digital prints in 2004. Her initial products included digitally printed cushions but operations soon expanded to accommodate more items like wall art, stationery, throws and home accessories.
2014 saw the dawn of a new collection featuring graphic prints, which was also a success.
All her designs draw inspiration from her surroundings and travels, like walks surrounded by wildflowers, a desert trip, birds chirping in the trees, a sports track, etc. And they flaunt many bold colors.
15. Amy Anderson
Amy Anderson is a skilled DIY crafter with over 20 years of experience in knitting and sewing. She runs Mod Podge – a blog that brings a lot of creative ideas and inspiration together under one roof. Amy loves blue color, dogs, cold weather, being outdoor, buttons, sock monkeys, garden gnomes – and everything that stirs her creative spirit.
16. Cintia
Cintia Gonzalez is the editor and creative mind behind the unusual My Poppet Makes – an art and craft blog dedicated to art lovers and fans of design. She started her blog in 2007 and since, she has taken it to new level with her startling color choices, impeccable design talent and all-round creative DIY projects.
17. Oana
Oana (pronounced "Wanna") is a Romanian born freelance graphic artist, visual communication designer and illustrator resided in the Midwest, U.S. Her work, on her namesake blog, speaks of her artisan in design. And her colorful Instagram profile is a true inspiration for anyone who has a passion for art and design.
18. Jordan Ferney
Jordan Ferney is a professional Event planner, based in San Francisco, CA. She started her Oh Happy Day blog in 2006 which has now grown into one of the best party craft and design resources on the internet. Jordan shares practical party guides, DIY projects, creative inspiration, and trendsetting photography on her blog and Instagram to treat her followers.
19. Natalie Wright
Natalie Wright was born with a gift of creative mind. Her father was a home builder, and her mother a crafter and event planner, so she obviously loves creating things. Her DIY lifestyle blog features a variety of creative projects, tips and tricks, party ideas and more.
20. Jan Halvarson and Earl Einarson
Jan Halvarson and Earl Einarson are the life and soul behind the creative studio and blog based in British Columbia, Poppytalk. Both Jan and Earl are art enthusiasts with a background in communication and media design, therefore, the Poppytalk blog (with a reach of over 9 Million readers) brings a perfect mix of creative inspiration and reflection on potential trends and ideas to help people DIY and craft smarter.
21. Erica Domesek
Erica Domesek is the Creative Founder of DIY lifestyle blog P.S. – I made this. She is a style diva and it is her mission to help others to brandify and prettify their lives through DIY craft. She has appeared on shows like The Today Show, The Martha Stewart Show, E! News, Fox Business News, etc.
22. Liz Stanley
Liz Stanley is a DIY artist, stylist, crafter, and a mother of three. She founded popular lifestyle blog Say Yes in 2006 to celebrate family life with everyday hands-on home care tips, design and crafting ideas, DIY projects and quality content and to inspire women to be creative in their own way.
23. Lindsay Ponta
Lindsay Ponta, as her blog describes her, is a creative spirit with a taste for making something from nothing. She is known for her DIY projects but she is also skilled in hand-lettering, cooking and baking, and photography. Her blog, Shrimp Salad Circus, is the perfect place to hangout for creative souls to get their thoughts stirred.
24. Kelly Mindell
Kelly Mindell is an Entrepreneur (since age fifteen) and the Creative Head at Studio DIY – a resourceful lifestyle business based in Los Angeles. Studio DIY is the culmination of colors, party ideas, bold DIY projects, art tips and tricks, craft designs and everything fun.
25. Jennifer Hadfield Larsen
Jennifer Larsen is a creative Editor and Founder of Tatertots and Jello. She has an eye for design and she love remaking things into something prettier and improved. She started her blog to showcase her ideas to the world and encourage people to embrace their creative side. Her instagram feed features a mix of fun crafting concepts, DIY décor, travel recipes and colorful home ideas.
26. Jacque & Matt
Jacque and Matt are the husband-wife duo behind The DIY Village blog. What started as a log of Jacque and Matt's frequent DIY projects for their friends and family, before long, it became a creative destination for DIYers and makers around the world – inspiring them to create a better living for themselves and people around them.
27. Lisa Tilse
Lisa Tilse is the Founder and Editor of creative lifestyle blog, We Are Scout – an ode to fresh trends and Lisa's find in art, craft, handmade and interior design world. As a designer, she excels in design-led contemporary craft and DIY projects and her blog features expert tips and skilled craft tutorials for newbies.
28. Trish
Before becoming a DIY superstar and a stay-at-home mom for her two girls, Trish worked in the insurance sector. She started Uncommon Design Online to celebrate her passion for party planning and creating a beautiful life. From heart-touching home renovation ideas to sweet handmade gifts, Trish share her best tips, tutorials and ideas on her blog.
29. Mandi Gubler
Mandi Gubler aka Fearless DIYer, is the creative Editor behind the Vintage Revivals blog. She styles spaces and transform ordinary rooms and homes into living spaces with her immaculate design sense, fearless painting skills and DIY décor ideas.
30. Melanie Blodgett
Melanie Blodgett started her DIY journey with You Are My Fave – a blog dedicated to party ideas, DIY projects, fun crafting, and Melanie's favorite finds on the Web. The blog soon became a DIY party sensation with features on the finest lifestyle blogs such as Martha Stewart, Design Sponge, Etsy, Fossil and more.  However, Melaine bid adieu to You are Fave in 2016 and she is currently running a party goods and crafts blog at Hip! Hip!
31. Cyd Converse
Cyd Converse is the Founder and Editor of a first of its kind entertaining-centric lifestyle blog, The Sweetest Occasion, showcasing a colossal collection of engaging design tips, party ideas, recipes, DIY craft, home inspiration, crazy cocktails and more. Her blog serves as a go-to resource for party lovers and all those who believe every day is worth celebrating.
32. Brittni Mehlhoff
Brittni Mehlhoff is the founding Editor, Art Director and Stylist of Paper & Stitch blog.  Brittni shares lots of cool DIY content on her blog related to home décor, interior design, fashion, creative experimentation, painting, and interesting travel guides.
33. Elisabeth Dunker
Elisabeth Dunker, an artist and photographer, started her blog Fine Little Day in 2007. The blog, featured in publications such as Vogue Living, Lucky Magazine and The New York Times, is loved by the DIY artists worldwide for the simplicity of Elisabeth's work and her expression of adoring craftsmanship.
34. Ashley Rose
Ashley Rose is a DIY crafter, dessert lover, and Founder/Editor of Sugar and Cloth – an award winning DIY lifestyle blog. She works with her better half and resident photographer, Jared, to bring her followers everything they need for inspired DIY living!
35. Geneva Vanderzeil
Geneva is an Australian designer and craft lover. She started her blog A Pair & A Spare as a journal for her DIY projects but it has now grown into a creative haven for hundreds and thousands of people who wish to be creative with their life.