Like design, cinema is a visual form of art. In fact, it is more immersive and engaging than design. Still, it does not get the overwhelming amount of creative credit that the design industry enjoys. Yet, cinema keeps churning creative productions every day. In today's post, our focus is on 8 beautiful movies that talk of art, design, and creativity.
Graphic design in movies is not only used to make stunning posters, or the setting pretty and realistic, it is used to tell a story through design. For example, the way a signboard on a shop is created, the lettering on traffic signals, the ads on a moving bus, all of it are designed in a way that immediately tells the audience where (location) the story is taking place and when (the time period).
As we go through this article, you can start to understand how film can affect your understanding of design and can inspire you to create great work.
Be Inspired:
These movies are extravagant, honest, raw, and emotional in their expression of creativity and everything that accompanies it. Watch these movies to understand how creative expression affects people, how others deal with it, and be inspired by other people's genius.
1. The Grand Budapest Hotel
Best for: Graphic designers who want to work in the movie industry. It can teach them how painstaking this work can be. This movie is also a great resource to just feel inspired by the brilliant graphic design shown in this movie.
This 1994 movie will be going down in cinematic history as a treasure trove of graphic design perfection on celluloid. Though the director of the movie is famous (read 'notorious') for his insistence on perfection in each shot – and that includes perishable graphic design props, too – in this movie, we can see Wes Anderson achieving immortality through his meticulous work.
The lead graphic designer on this movie, Annie Atkins, was responsible for creating the immaculate design for this movie. From newspaper clippings to keychain designs, from patterns on the carpet to patterns on the wallpaper, and from maps to signboards, all of it (and more) was imagined and created by Atkins. The movie received critical acclaim for its flawless art of graphic design and is hailed as a 'typographical treat' by reviewers, to date.
As an aspiring graphic designer, this movie will help you understand how design can impact storytelling and what role it plays as a plot-device. You'll also be able to enhance the quality of your design work through understanding the attention-to-detail displayed in this film.
2. Paterson
Best for: Understanding the importance of little things in life and using that as a reference to hone your attention to even the smallest details on your design work.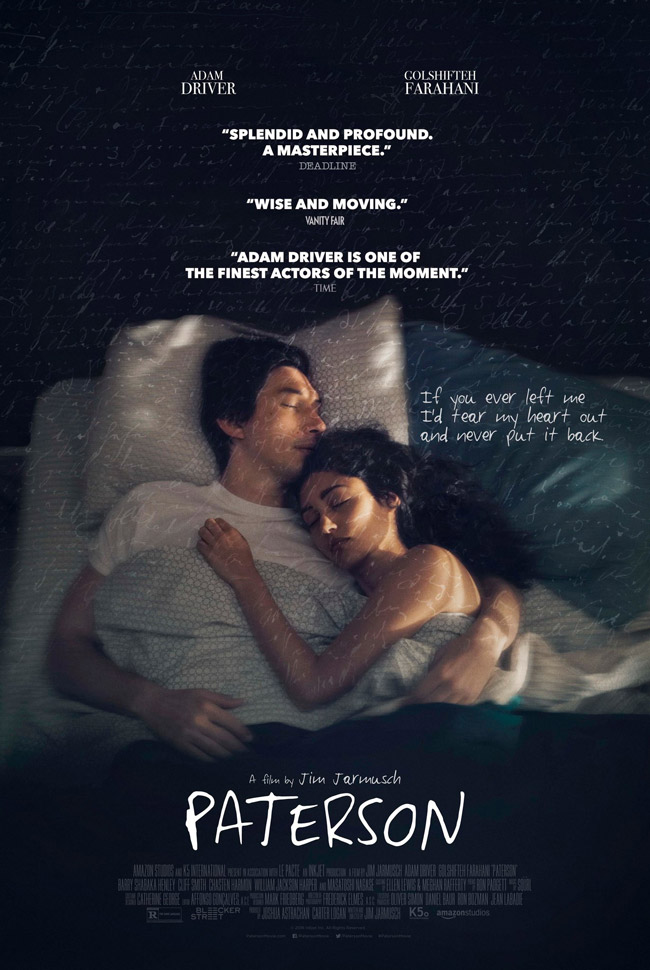 Source: IMDb
Creativity is a singularly solitary process. Sitting alone in your creative space, trying to imagine something out of nothing can become overwhelming; the thoughts running in your head can get quite loud. In such moments, take a break from this noise and find your creative flow again with the help of Paterson.
This movie examines life in all its mundane glory. The simple moments and the small details that narrate the triumphs and defeats of the everyday. Seen through the eyes of a quiet but observant bus driver, who is also a poet, this movie is wise but not heavy. Watch it when you're struggling to find inspiration in your day-to-day life.
As this movie tells its story through seemingly disjointed but really interconnected situations and characters, so can you learn to create design by looking at individual elements and exploring the various ways you can bring them together to create unifying graphic designs.
3. Synecdoche, New York
Best for: Appreciating the effects of what your creative genius can do to you. You can learn to incorporate themes of real-life and its real emotions into your work.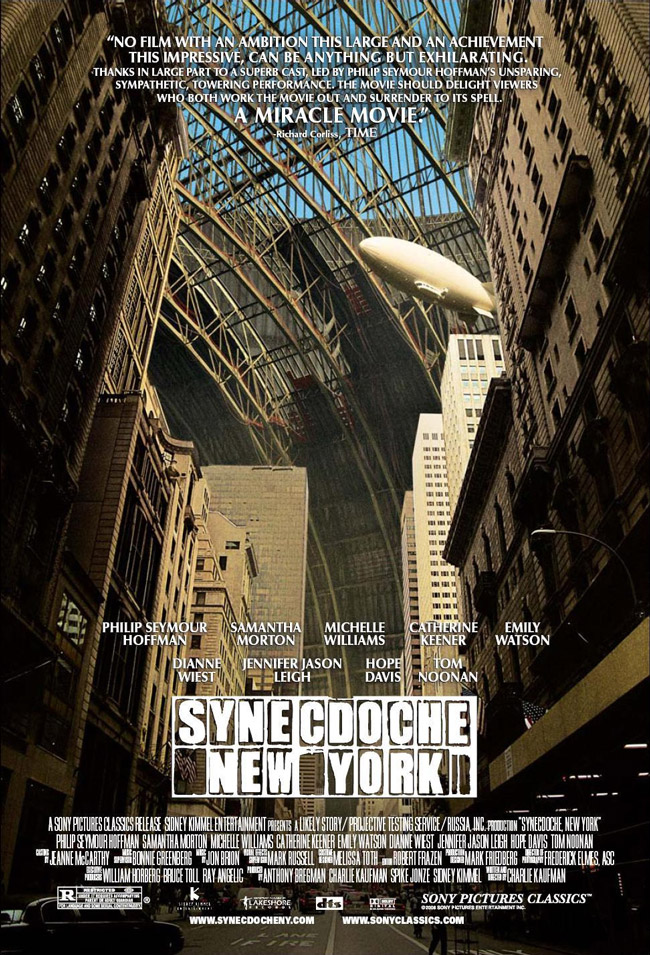 Source: IMDb
Art imitates life in its grandest scope in this film. Synecdoche, New York follows a successful theater director who wants to stage a Broadway play by creating a life-sized replica of New York City in a warehouse. He encourages his actors to live their lives as his characters with as much authenticity as possible inside the warehouse-city.
This soon turns into a life of extreme hilarity, utter grief, and profound surrealism. The movie is a celebration of art, life, death, love, illness, identity, and futility of it all. For graphic designers who want to create more substance than just design, and who want their work to be based on real-life and all that it entails, this movie is unmissable.
4. Julie And Julia
Best for: Learning the art of finding inspiration, motivation, and consistency to continue on your journey. If you struggle with motivation as a designer, this movie can help you navigate that.
Motivation and consistency are integral to creative success – no matter if you are a graphic designer, a chef, or a writer. You have to tell yourself to get up, find inspiration when there's none to be found, and create something new. Julie and Julia is a movie that talks about the struggle to find motivation and consistency. It tells the story of dealing with frustration, self-doubt, inner conviction, and soldering on when there isn't a whole lot of light at the end of the tunnel.
At first glance, you may not link Julie and Julia – a story of a chef and a blogger – as your own (a graphic designer). But both these roles are a labor of creativity.
The movie depicts the life of Julie Powell, an American blogger who vows to create the popular chef, Julia Child's 526 recipes in 365 days. As you can imagine, this is no easy feat. And so starts an epic journey of motivation, conviction, inspiration, and strength.
If, at any point in your creative journey, you find yourself struggling to find inspiration or motivation, looking back at these two stories of two incredible women may give you the push you need.
Learn:
Technical knowledge and training are as important to creativity as free-thinking itself. The will to create alone is not enough. Through this brief list of movies and documentaries, we hope to share with you practical resources to get the technical information you need to build your graphic design career on sound grounds. These movies show real graphic designers during the process of creating art. These movies and documentaries record interviews of graphic designers, chronicle their journey, and explore their creative process.
1. Helvetica
Best for: Typography enthusiasts and graphic designers who want to learn a bit of history behind this iconic font style. Great as an inspiration to create your custom work, too.
Typography is an important part of graphic design. Except for strictly pictorial graphics, all else requires lettering and typefaces. And in modern times, there is no other typeface that has gained more popularity, widespread usage, and overall love other than Helvetica.
In this documentary, you will see master crafters of graphic design tell the story of typefaces, the essential role typography plays in design, and how it helps bring designs to life. The documentary is not only informative but highly engaging, too. For budding graphic designers, it is a treat to watch the popular names of the industry talk about typeface and narrate its role within the graphic design realm.
You'll get to see and hear prominent graphic design artists such as Massimo Vignelli, Matthew Carter, Michael Beirut, Danny van den Dungen, and more talk about Helvetica and typography in general. This is not a movie to be missed.
2. Abstract: The Art Of Design
Best for: Understanding the place of abstract expression within the field of design. You can learn how to use it to create corporate design pieces that are more substance than surface.
Abstract expression in art and design is all about the soul of the piece. It is about making the audience 'feel' a certain way. What that certain way is, depends on the individual. The responsibility of the design piece is only to evoke something. In this documentary, you will see some of the most imaginative and creative thinkers of our time talk passionately about their work.
You will meet world-famous designers, photographers, architects, illustrators, and many others through this movie. Whether you are a design student or a design expert, this movie is a joy to watch. Not only it is informational, it is highly inspirational as well as thought-provoking. Do not give it a miss.
3. Art And Copy
Best for: Graphic designers who want to know more about the ad world and how it works. You can peak behind the curtains and see how some of the best-known ad campaigns of our time got made. And learn why they affect consumers the way they do.
The graphic design and advertisement market are closely related. Advertising experts find creative ways to cultivate business identities and design helps bring those ideas to life. In this 2009 documentary film, we follow the career of eminent advertisers and look at their work through their lens.
The film is highly educational and engaging for designers who belong to the ad industry. However, it is equally interesting even if you are not a designer. The movie includes interviews of designers and creative artists behind iconic ad campaigns such as Nike's 'Just Do It' and Apple's 'Think Different, among others.
If you are interested in joining the ad industry, this movie does a great job of describing how that market works and what your job as a graphic designer working for an ad firm would entail. Art and Copy is considered a research study in the field of design, business, and consumer psychology.
4. A128
Best for: Gaining an introduction to the art of illustrations, to get an insight into its creative process, and to figure out if it's something that you might like as a career.
This is a documentary that records the art exhibition put up by Sheridan College seniors as part of their grad show process. The documentary shows the exhibition from start to finish and helps you understand and appreciate what goes into the creativity behind producing an illustrative work.
The film's title, A128, is a reference to one of the working rooms where illustrators at the college got together to work. The film chronicles not only the finest illustrations by design students but also explores how the art binds us together, the relationships it forges, and how we form our individual connections with it.
If you are an illustrator or want to become one, watch this movie to some great collective work taking place right before our eyes and learn what the life of an illustrator is all about.
Conclusion
Cinema and design are interrelated. As visual art mediums, both avenues inspire each other. Every movie we watch contains extensive graphic design props that add value to the scenes, dialogues, and situations. Similarly, design takes inspiration and teachings from movies and media to further its work.
And this is what we hope to achieve from this article. That you can watch these movies and learn and be inspired. This list, by no means, is complete or even enough. So, treat it as a foundation in your new journey and leave no stone unturned to enhance your creative design intelligence.