The role of branding and designing in the non-profit sector is on the rise. The indispensability of sourcing stunning, professional images for fundraising can never be overlooked. While it is the message of your organization and the cause you are passionate about that drives people, aesthetic design helps imprint your goals in their minds and makes you come off as reliable and professional. While the merits of original photography and high-quality design can never be understated, it falls way out of the budget radius of some nonprofits.
Not to mention, the tools to modify images or create original graphics from scratch, such as InDesign and Photoshop, need professional knowhow and can take years to master if you are planning to embark on a DIY design mission to spruce up your organization design. Luckily, there are a plethora of tools that can be used, with little technical knowledge, to create beautiful graphics, design free logo for non-profits and obtain photos to move people and encourage them to become a part of your community.
Since the International day of charity is just around the corner, we thought to provide non-profits with some amazing free tools that can up their visual game and help them make a lasting impression. Here are some of our favorites: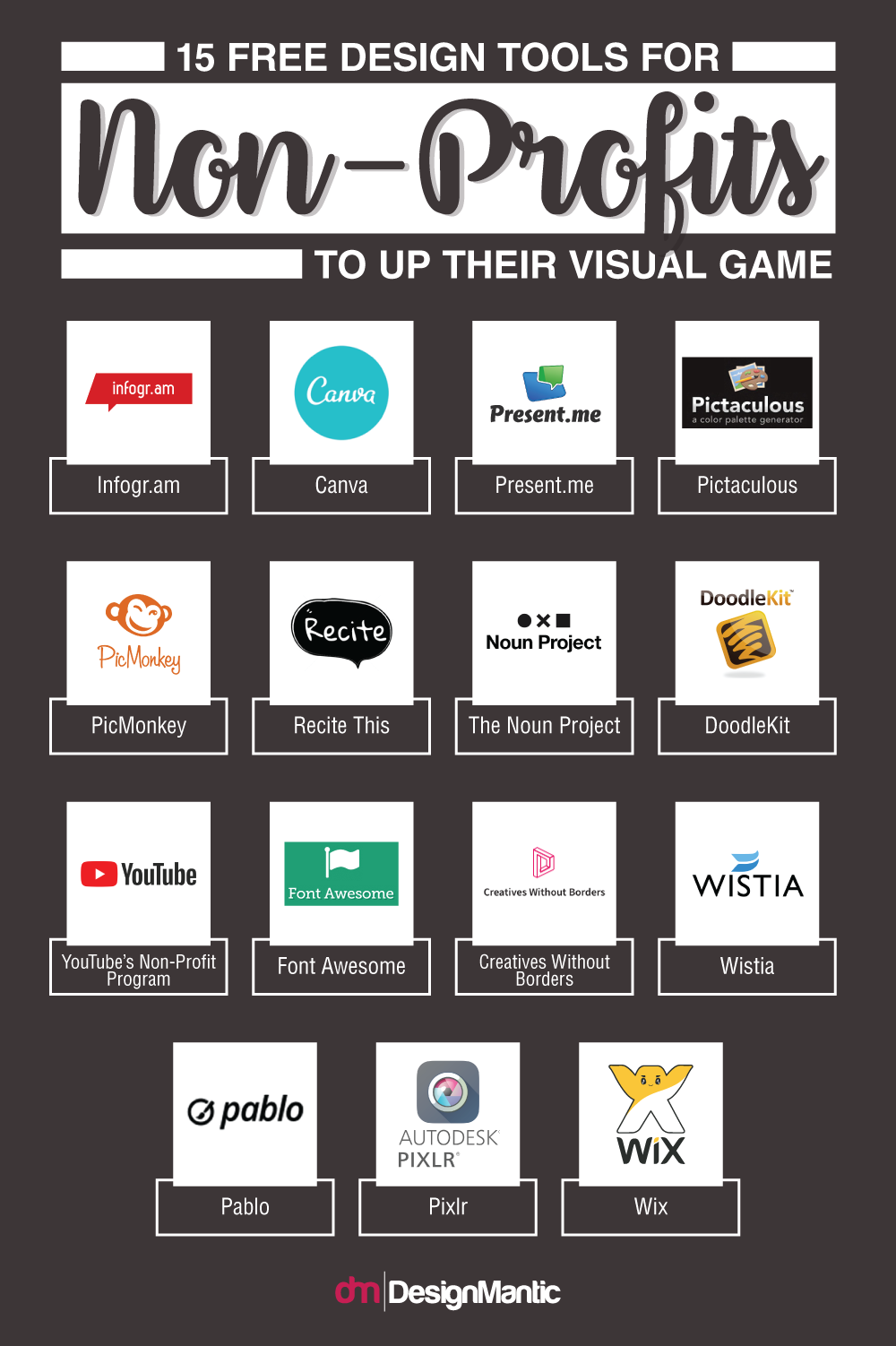 1. Infogr.am
Non-Profit organizations often need to incorporate viable infographics as part of their visuals to impart important statistics and figures to their audience. Infogr.am is an amazing tool that allows them to create stunning IGs out of raw data in an Excel style spreadsheet for free of charge. As soon as changes are made to the data, the software automatically alters the Infographic to accommodate the changes accordingly and represent your data in the best possible light. This tool offers you the opportunity to upload your own videos and pictures, as well as allow you to glean access to a wide array of maps, charts, and graphs. Once you have created a perfect IG, you can share it via social media or embed it in to your website.
2. Canva
Canva for Non-profits aims to bring the vision of not-for-profit organizations to life by inspiring their target community to action with a suite of beautifully crafted content. The simple drag and drop functionality of Canva makes it easy for any non-designer to create professional graphics that articulate the mission and message of your organization clearly. Canva grants access to a library of over a million top-notch images, beautifully transforming your fundraising collateral into stunning creations that serve to educate and move your supporters. Touting features like team templates and brand kits, reinforce your brand and lend a voice to your mission across social media and the web. More than 4,500 nonprofit organizations have used Canva. The free web design tool offers easy-to-customize, professional templates for any design need that you have, be it Ebooks, Email headers, presentations, Infographics, business card, or posters.
3. Wix
Indubitably touting the most massive collection of website templates, customized for social, environmental, and non-profit websites, Wix is the top-most preference of webmasters working for not-for-profit organizations. These professionally-designed templates successfully give a credible, contemporary, and reliable face to your brand. Since all templates are mobile-responsive, your web content can be accessed from any device, irrespective of screen types. In addition to just touting a pool of awesome templates, this website building interface offers drag and drop website editing, making it extremely easy to use for non-designers. In addition, you can use the pre-populated and one-page templates that help you design and finalize your website in no time. The viable SEO focusing features of WIX enables it to help non-profit websites rank higher on the best search engines.
4. Present.me
Present.me. allows users to blend together video, slideshows, and PowerPoint to design more visually compelling and aesthetically pleasing presentations. Present.me could help Nonprofits design creative reporting and storytelling, volunteer and staff training, and awareness campaigns.
5. DesignMantic
DesignMantic believes in giving back to the community they serve, because everybody deserves the best in life. Understanding the role your non-profit organizations and/or educational institutions have to play in improving our community's lifestyle, you need a viable identity to go by, in order to successfully achieve your goals effectively.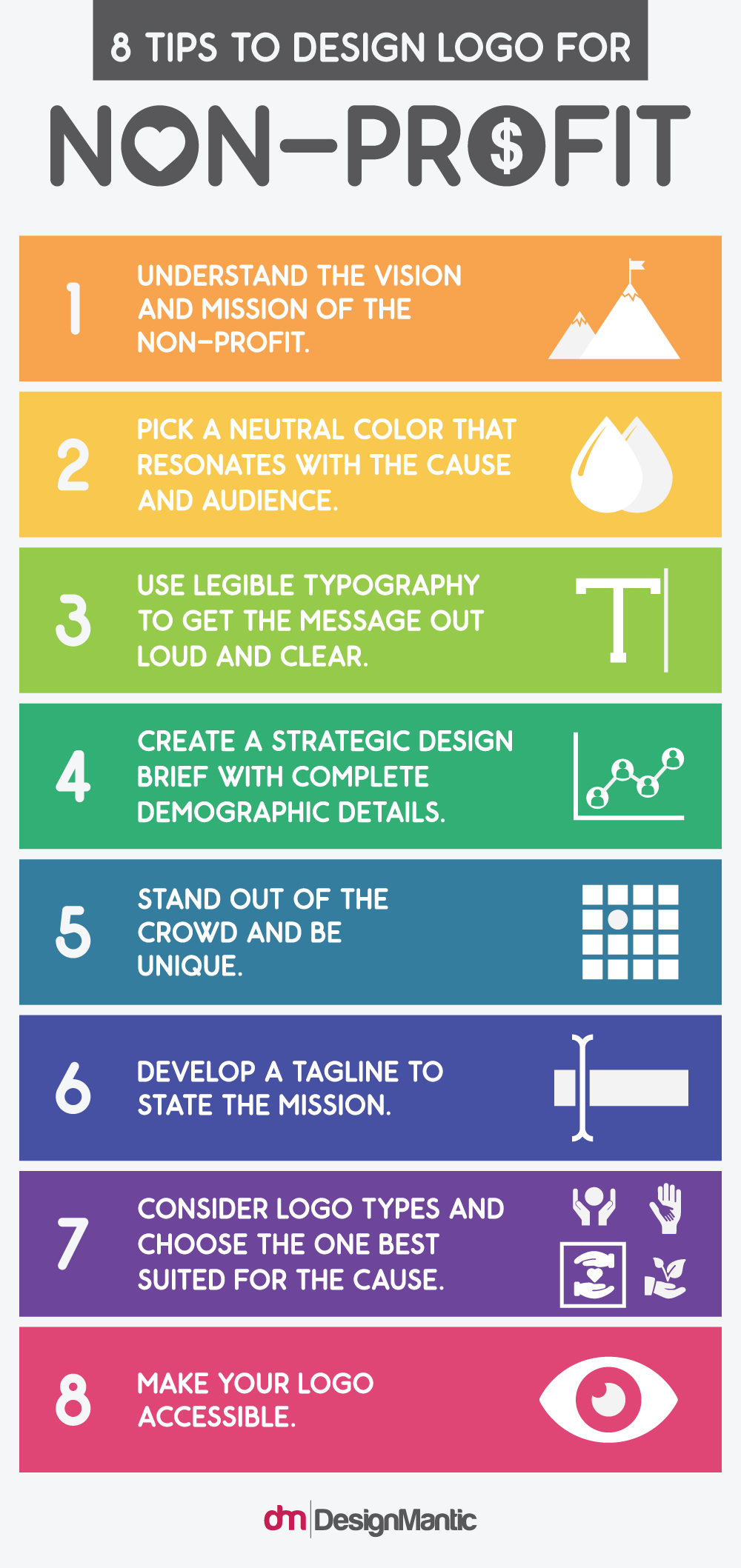 DesignMantic wants to celebrate your tireless efforts by offering you with a free logo design, since a viable logo is the key to making your organization stand out and appeal to the masses. The built In template library of DesignMantic is replete with unique and memorable logo designs that you can edit to your heart's desire and augment the recognition of your non-profit.
6. Pictaculous
Your color palette holds utmost importance when it comes to your web design, since you want to ascertain that your font colors, graphics, and images drive conversions or convey your message. However, how often can non-designers easily find that exact shade of green that they have seen in a picture and wish to use? This is where Pictaculous comes in. The free of cost tool allows you to upload a photo and offers recommendations for colors to use, in addition to their HEX codes. This tool makes sure that your color palettes are never uncoordinated.
7. PicMonkey
What can non-profit organizations do when they feel restrained by the visual editing capabilities of PowerPoint and don't have enough budget for Photoshop? If you aspire to spruce up your images – insert graphics, add text, add borders, or re-color them, check out PicMonkey and do it all with ease without having to download another program to your computer. The intuitive photo editing process ensures that the precious working hours of organizations are spent on optimizing their blog posts, rather than laboring on tweaking its associated featured image.
8. Recite This
Recite This is one of the best tools for designing stylish quote images that non-profits would do well to share on their blogs, across social media posts, and on their website to incite people to action or appeal to their sympathies and humanity. It is fascinatingly quick and easy to use for non-designers. All you have to do is paste your quote into any desired template available on the tool. You can change the quote template anytime you want as well.
9. The Noun Project
If you want to breathe life into your text in a cost-effective way, Icons are the most viable option available. Vector icons can be downloaded free of cost on the Noun Project. However, the tool demands that you credit the creator every time you use a Creative Commons icon.
10. DoodleKit
Non-profit organizations need not look farther than the best website building solution, which is fine-tuned with tailor made features to accommodate the needs of such establishments. For organizations restricted by a shoe string budget that doesn't allow space for accommodating designers and coding experts, DoodleKit essentially designs a free website for your non-profit organization. Not to mention, the free hosting service provided by DoodleKit renders the whole website building affair a rather pocket friendly one. In addition to offering a host of well-designed templates for non-profit ventures, the template building wizard helps you create a unique and viable website design template.
11. YouTube's Non-Profit Program
YouTube has also jumped on the bandwagon to help nonprofits reach unprecedented heights. YouTube's special program allows non-profits to incorporate pop-up "donation cards" throughout their videos so that the persistent call to action incites people to action. This facilitates your donors to donate money while continuing to watch the video. In addition, you can use "link anywhere cards" if you wish to redirect users to a particular landing page. All your organization needs is a YouTube channel, and apply to "Google for Nonprofits."
12. Font Awesome
Font Awesome falls nothing short of being absolutely awesome. While it entails a little understanding before it can be operated, the tool is the perfect choice for nonprofits working at web design without a webmaster or a graphic designer on the team. Font Awesome boasts one of the most comprehensive collection of font vectors on the web, and these vectors are employed by non-profits to create icons for print, presentation, and web.
13. Wistia
Wistia is a great analytics and video hosting platform that seeks to help non-profit organizations share, host, and upload their videos quickly, with no third party related videos or unnecessary ads. Think of it as a private channel, as organizations can integrate in-depth analytics, a call to action, or request for a person's email address before allowing them to continue viewing the video. All these features lead to a great lead-generating platform for organizations operating on a restrained budget.
14. Creatives Without Borders
This innovative platform brings together nonprofits looking for web design and graphic skills with Creatives over the world who aspire to work pro-bono for increased exposure and a good cause. CreativesWithoutBorders is the answered prayer of all non-profits with design needs.
15. Pablo
One of our all-time favorite content curation and social media scheduling tools, Buffer, has recently launched Pablo, a social media specific graphic design tool that can up the social media game of non-profits. Organizations can choose from a plethora of pre-uploaded photos and superimpose them with text to create eye-grabbing images that will lend charms to their tweets and Facebook posts. Keep an eye on this one!
16. Pixlr
If a non-profit organization is seeking photo-editing with a more professional and high-end look, Pixlr is the tool to go. It will add adjustments, more layer options, and filters (the likes of Adobe) to your photo-editing arsenal.