If you own a business – that has an unlimited potential but is limited in certain aspects – you can still reach out to your target audience without even stepping out of your business zone.
And all you need is a website!
But if you're holding back just in case it costs much or isn't that rewarding, you might want to give it a second thought and view your business from a different perspective.
No matter how small your business is, you got to get ahead of your game and astound your audience with the power of internet, a suitable business logo design and your customer service. The website can be pricey to no-cost at all, depending on how you want it.
With the competition growing tougher every moment, you possibly can't miss out the opportunity that has dragged thousands into the cyberspace. The digital marketing edge keeps growing and almost every business out there is aware of the competition that's stiffening the market.
That's why you need to read the reasons why your small business direly needs a website embedded with a unique logo design, compelling content, and a friendly user interface design.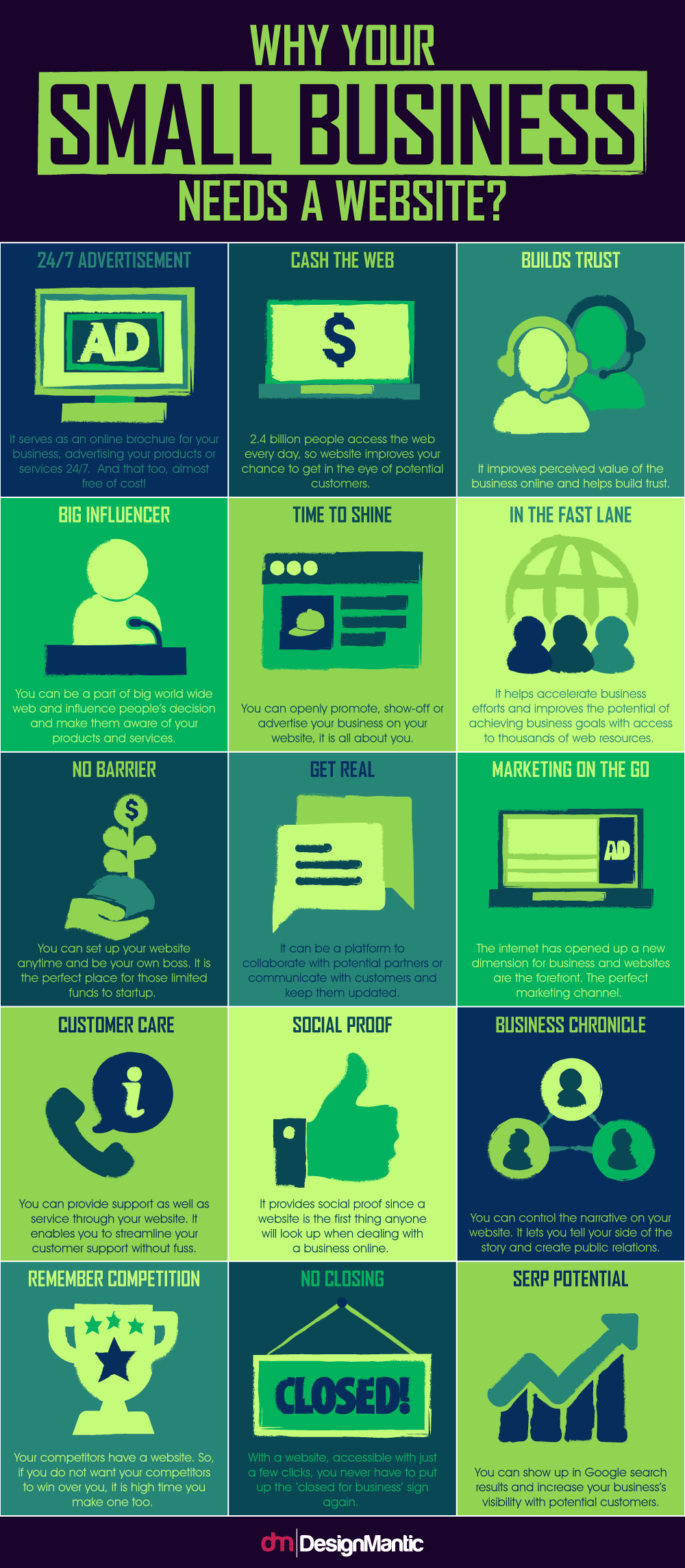 1. 24/7 Advertisement
With a complete range of your products on your website and an identity to promote your business, you can market your business without even investing a lump sum in it. Your customers can find you online anytime they want!
2. Cash The Web
Getting noticed has never been this simple! The day you decide to get a nice website, up with an elegant logo design attracting visuals and informative content – you improve your chances for getting known and attracting potential audience.
3. Builds Trust
When you shift your business online, you start to develop a personal connection aka trust with your customers and build bridges for stable relationships.
4. Big Influencer
Yes, you can be the boss now. When you establish a firm basis for your business and are aware of your target audience, you can influence the shopping decisions of people and keep them updated with your offerings.
5. Time To Shine
Give your audience what you've got and give them what they want. Promote, advertise, and even show-off your business because it depends entirely on how you want it.
6. In The Fast Lane
When you're competing online, your website strategizes to amplify your business efforts through creative visuals, holistic logo template and insightful content. Plus, you can achieve your business goals sooner than later when you can access thousands of resources online.
7. No Barrier
It's amazing and is entirely a state of bliss when you know your business isn't bound to just a piece of land or to only a few, limited customers. You can set up your website anytime and be your own boss if you want to hop over any barrier that hinders your way.
8. Get Real
Establishing an online business platform braces you with an incentive to interact and collaborate with potential partners. It creates an environment where you can connect and communicate with your audience, customers or consumers, to keep them informed. The customized business platform, fixed with business networking logo, invites trust and human feel.
9. Marketing On The Go
Of all the things the internet has to offer, the best one is the shift of business to a new and improved platform. No one would've even thought about marketing trending to an extraordinarily new level.
10. Customer Care
Customers feel great when they receive care and support from their favorite business. Not only can you reach the potential ones online, you can also deliver fuss-free support and customer service via your website to sustain your relationship with your customers.
11. Social Proof
Your business website is a proof of your sociability. It comes in handy when customers are searching for businesses online. Also, a social media logo helps build recognition for the brand and increases awareness about the business.
12. Business Chronicle
Your website is the way of how you'd like your message to be communicated. You can tell your side of the story and can establish 'that' state of connectedness with your customers.
13. Remember Competition
Your rivals are entering the network of world web and in the heat of the moment, you should do the same. You can gain competitive advantage over them unless you want to lag behind!
14. No Closing
You can throw away that 'closed for now' sign and grab the new one saying 'open all the time'. With just a few clicks, your business website can be accessed anywhere, at any time! Making your business accessible to the potential audience 24/7. However, make sure to put your best foot forward and customize your website with the relevant content, sparkly images, and engaging logo to secure business opportunities.
15. SERP Potential
Once you plant the foundations of your business with a website, you can rank higher in the Google search results if you manage to grab the attention of some potential and loyal clients. To enhance your online presence further, you may consider using a local rank checker to monitor your website's performance in localized search results.
Embed in your site:
Try Our Personalized Logo Maker Tool:
Create Business Transfer Agents Logo
Commercial and Business Finance Logo Maker
Computer Services Logo Generator
Logo Ideas For Coworkers
Design Logos For Internet Consultants
Logo Maker For Local Government
Management Consultancy Logo IdeasDesign Office Support Logo
DIY Onsite and Remote Support Logos
Project Management Services Logo Creator