The beauty industry is booming more than ever today thanks to the ubiquitous powers of the internet including YouTube. Because of this, talented and aspiring beauticians with little or no income and travel restrictions can obtain the visibility they need to construct and grow their own profitable beauty brand. And this can all be accomplished right from the comforts of their own home.
Why Work From Home?
It turns out that there are a number of perks that home-based businesses have to offer than the 9-5ers.
1. Various Costs Eliminated
Working from home can cut down a number of costs that one would accrue from a usual work environment; overheads, commuting, the wear and tear of your car, fuel, parking and road taxes.
2. Fewer Distractions
In regular offices, employees are constantly in the mix of other coworkers' banters, unimportant meetings and a slew of other interruptions. At home, you won't be bothered by such things as it provides solace and peace as well as help you focus solely on work.
3. Excellent Flexibility
When you're at home, you are own boss. This means that you get to decide on how many hours you wish to devote on your work, as well as the overall office setting, the temperature, lighting and the mood. All in all, being flexible allows you to be happy and productive all at once.
4. Close to Family
Knowing that you get to be with your family is truly satisfying. This especially applies to parents who get to care for their children and in some cases care for their decrepit elderly.
Overall, working from home enables you to give a better balance to work and life. Without having to struggle with daily commuting, office distractions and a number of costs, home is indeed the place to earn a great living.
Here are some home-based beauty business ideas for women who wish to work from home: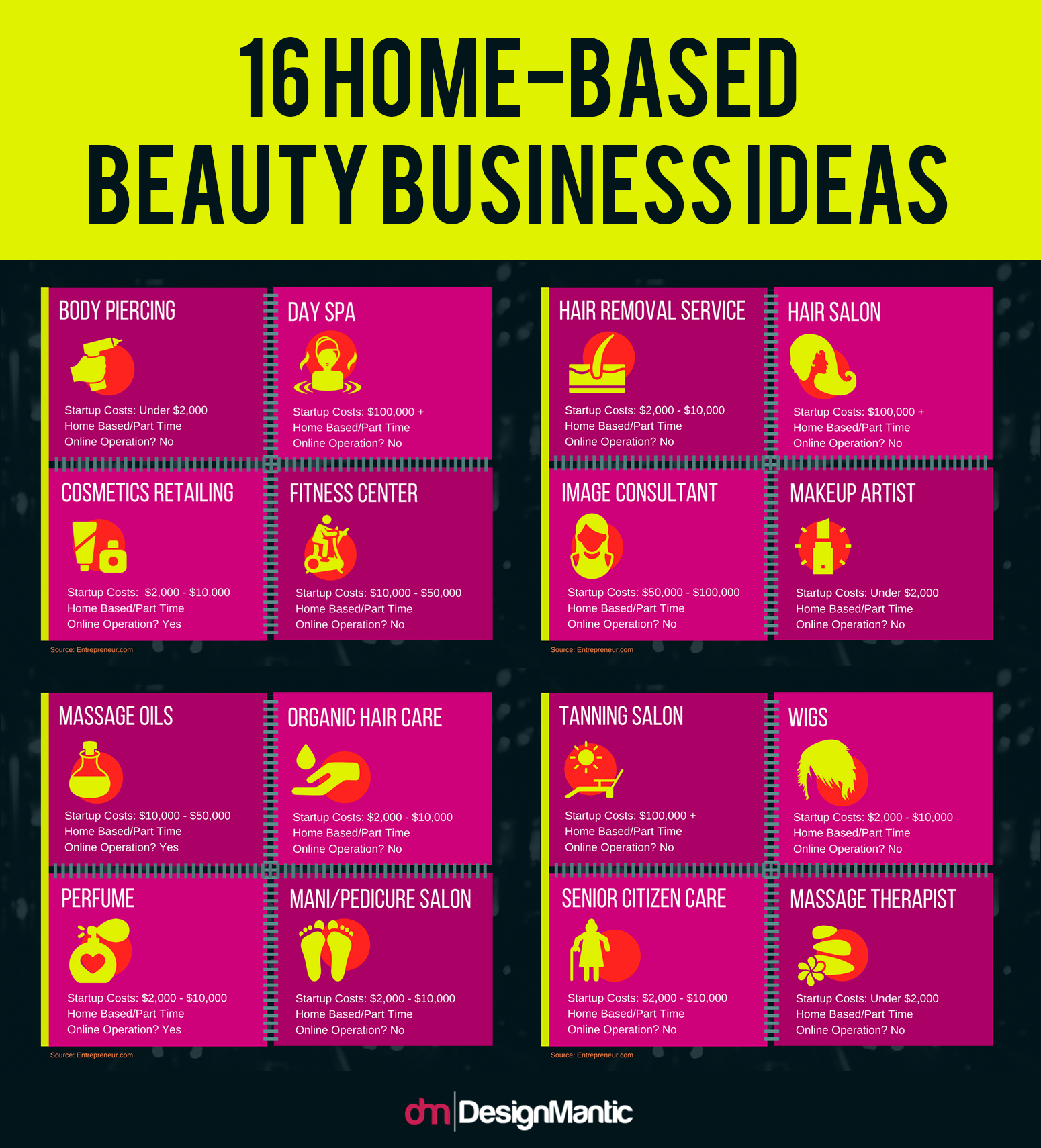 Before you can start your home-based beauty business, there are a number of prerequisites that you have to take care of first such as setting up your home for business, crafting an attractive beauty logo, connections with wholesalers, setting a data driven sales plan, advertisement and marketing strategies, equipment sourcing and more. Fortunately, we have taken the liberty of preparing this PowerPoint presentation that concisely tells you on what you need to do.