It is true that the beauty of typography lies in its endless options, convenient variations and its colossal nature and that typography knows no boundaries and it's like yet another galaxy out there waiting to be explored and known. Even though typography is open ended with a lot of creativity to it, there are some deadly sins of typography that every designer should avoid. Hence, it is always good to know the tips to design cool logos, web interface or packaging, in order to save yourself from the trouble of experimenting too many fonts on your design.
Now, we shall explore the much interesting topic of typography in the field of communication design.
Combining and choosing fonts is an art. Fonts do not come easy, but once you pull off the right typeface, it can make your graphics stand out and, who knows, that type may even come out as the most powerful element in your design! The infographic below illustrates the, "10 Commandments of Typography" that could be followed as quite the basics when it comes to selecting fonts. Even though typography is an art and art is supposed to be subjective with minimal parameters, these rules can still be applied in order to save time and too much experimentation! Consider the following 10 statements as the best practices of typography: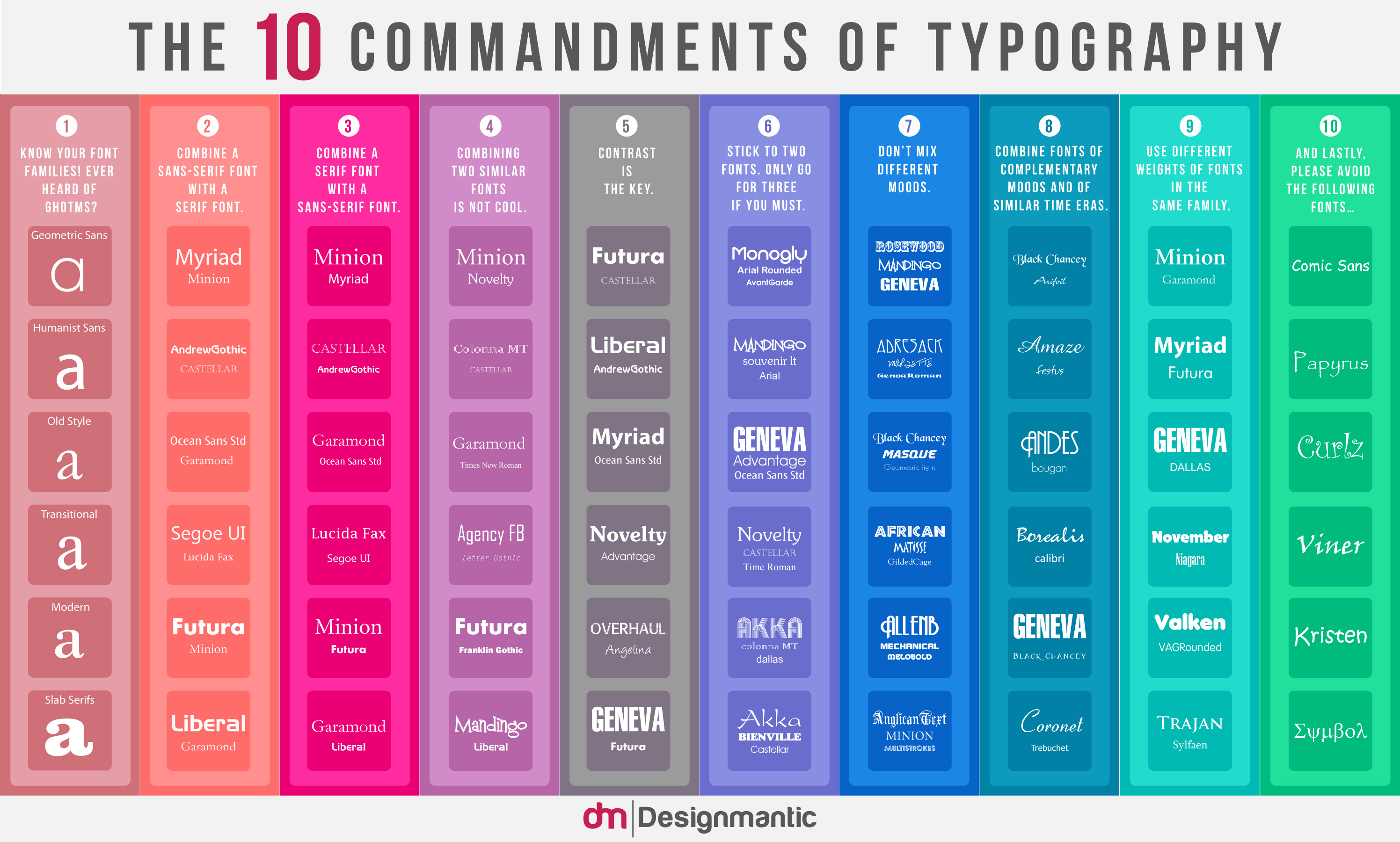 Embed in your site:
• Update – The Spanish Version:
[Infografia] Los 10 Mandamientos De La Tipografia
Recognizing the interest of diverse communities in our Infographic, we have created a Spanish version of the '10 commandments of Typography'. Checkout and let us know what you think in the comments below. [Note: Thank you Ana, Franrome, C. Sandes, Santiago, Marcos and all those who contributed for your invaluable feedback, you guys are awesome!]
Embed in your site:
Brands can use fonts and typography to gain competitive edge over their competitors. It can be a great tool to add depth and character to the message. In our latest video, we have covered hows of building a great typography system for brands to stand out and shine. Check out!