Have you ever thought about declaring your undying love for fried chicken with your phone? Well, neither have we but as the rumor on the block has it, Huawei and KFC recently launched the fiery red Huawei Enjoy 7 Plus with Colonel Sanders emblazoned on the back. Talk about taking creepy fandom a whole notch up! We surely haven't been this surprised since Snapchat decided to venture into hardware!!
Over the years, we have seen our fair share of incredulous special edition smartphones, not all of which accomplished to be as cool and savvy as the R2-D2 Droid 2 or Samsung's superhero-themed Galaxy devices; the appallingly unpleasant Hello Kitty HTC Butterfly S was one such exception. However, the latest special edition contraption from Huawei is actually so weird it kind of comes across as the "cool new thing". Some customers even claim that it is "finger-licking good."
The KFC-branded Android smartphone was launched in china to celebrate the 30th anniversary of the chain's presence in the country. The global empire of KFC decided to expand its reach to the most populous country in the world in 1987, with a single outlet opened in Beijing. It was founded all the way back in 1930 as the Sanders Court & Café, before being franchised in 1952. Following a course of three decades, the franchise touted more than 5000 local outlets in china, taking the lion's share of fried chicken culture in the country. As it was, Huawei also launched in 1987, and has since witnessed noteworthy progress in the mobile industry, both internationally and domestically. Therefore, it seems only natural that the two ginormous companies would collaborate to commemorate "the rise of China in these 30 years".
According to Steven Li, the senior vice president of KFC marketing with Yum China,
"Both brands have witnessed the rise of China in these 30 years, and both embody the spirit of the times. Our collaboration is a homage to the era. The launch of the phone is also an important phase in the brand's effort to fully digitalize the user experience and venture into smart F&B and entertainment."
The new device was announced over Weibo by KFC. While the original post is in Chinese and keeping in mind the shaky nature of Google translate, this is what we gleaned from the broadcast:
"Kentucky China 30 years from 1987 to 2017, 30 years accompanied by the taste of the times, suck refers to the aftertaste! Kentucky together with Huawei joint cooperation, the introduction of Huawei Chang enjoy 7 Kentucky commemorative version of gorgeous struck! Commemorative Edition laser back carving, pre-installed Kentucky Super APP, with WOW member 10 thousand K gold, but also the first to experience k-music song function. Limited to 5000 will soon be on sale, waiting for you to grab!"
FYI before you start inferring the meaning of this distorted piece of translation, "Suck" refers to the brand's slogan of "finger-licking good", as translated from Chinese.
Is The KFC Edition Huawei Smartphone worth its Salt?
Watch out Apple as KFC's brand new Enjoy 7 plus Android device is going to take you up on it! Constructed in partnership with Huawei, the 5.5" smartphone is powered by a Snapdragon 425 processor with the Adreno 308 GPU, incorporating 32GB of storage and 3GB of RAM, with an optional 128GB of expandable memory. The phone comes equipped with Android 7.0, has a 3,020mAh battery, a 12MP camera, and a splendid fingerprint scanner that we hope is grease-proof to accommodate fingers that have been tucked into a bargain bucket. The phone is decked out in KFC's signature red colour, with the heart-warming illustration of Colonel Sanders etched out on the back. At a mere $160, one could say it's a fair bargain.
Unfortunately, the fast food giant has announced that it would release only 5,000 of the Android devices, but on the plus side, each arrives laden with the restaurant's personal digital currency in 100,000 K-dollars, so that the KFC aficionado owners can gorge themselves to their heart's content on the brand's scrumptious and succulent deep fried goods!
If you want one of these magnificent fried chicken smartphones, sadly you are going to have to get yourself over to China. While a few units may find themselves resold internationally, it's important to keep in mind that cellular bands might not work in certain places. Not to mention, since the phone was intended for China, it will lack Google services due to the build of Android 7.0 on the phone.
As soon as the news leaked out, Twitterati over the globe went overboard with amusement while some frowned upon the very merits of the notion. Here's what a few people have to say about the launch:
Chicken Smartphone is here 😂 #KFC #Huawei pic.twitter.com/F3mgXdzjZ5

— Comet Tech (@TechComet) July 13, 2017
KFC smartphone coming to China: https://t.co/OG4TJwhAJp pic.twitter.com/LewKFojTu4

— Kotaku (@Kotaku) July 13, 2017
Real talk, I kinda want that KFC phone

— Jaime (@atilano_jaime) July 13, 2017
They already made one pic.twitter.com/OLQYkrIK5m

— ️️️️️️ (@1kona_) July 13, 2017
Let's see what our panelists of today have to say about this finger-licking development:
Soon Chen Kang, Assistant Editor at Asia News Network
Chris Chavez, contributing Editor at Phandroid

Embracing The Wave Of Technology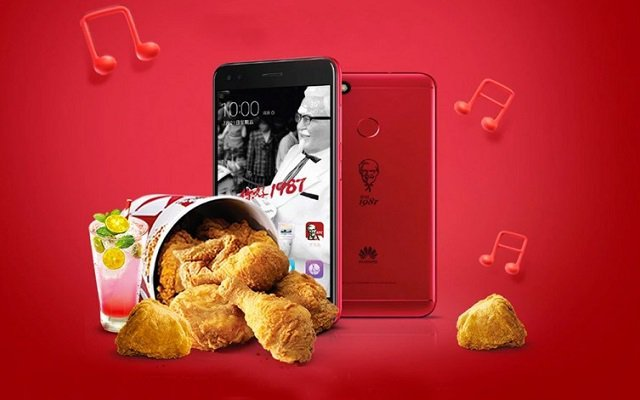 Image credit: techweez
Our beloved Colonel Sanders isn't the only good ol' branded character to have a phone dedicated to him. He has simply joined the ranks of the Disney franchise Pirates of the Caribbean which had previously made an appearance in limited editions of Samsung phones and Marvel superheroes like Batman. Concurrent with the release of the Android device, KFC has also introduced a jukebox like function called "K-music" on its mobile app. The app allows users to share music with any of the 4000 KFC outlets covering the span of the country.
According to Soon Chen Kang, assistant editor at Asia News Network,
"Unlike many young adults, KFC is embracing its 30-something status in China with much zeal through a blend of strategies to keep the brand relevant among the fickle post 90s. At the same time it's tapping into nostalgia for older consumers who have grown up with the brand. I am confident that K-music will find an audience among the pool of 83 million members that the brand currently has. Music is part of the lifestyle of young consumers and they want music to be on-demand. Word-of-mouth and initial response from consumers (for K-music) has been very positive."

Keeping Up A Fresh Face
One of the biggest Western brands to enter the Chinese mainland was the fried chicken chain KFC, and to this date it overshadows McDonald's in the orient. The brand has stepped into the realm of digital savvy in its ambition to keep up a fresh image, such as by opening a robot-staffed restaurant in Shanghai, releasing smartphone games, and accepting mobile payments. According to the brand's parent company, sales have gone up 4% in the most recent quarter as compared to a year earlier at established KFC stores.
It is not the first time that the brand has gotten around to running slightly bizarre and exuberant campaigns, however. In the May of last year, the brand introduced a range of scrumptious KFC nail polish, which as you might have guessed was chicken flavored and very edible! Talk about taking the "finger lickin' good" slogan too seriously. This somewhat whacky success was followed with the introduction of chicken-scented sunscreen. In addition, the brand has recently installed facial recognition ordering kiosks which would automatically order a meal for a customer on the basis of their facial expressions, at one of its Beijing outlets.
According to Chris Chavez, contributing Editor at Phandroid,
"Can't say we ever thought we'd see the day KFC would release an android phone but then again, we also didn't think they'd make a serving tray with built-in Bluetooth keyboard, a photo printing bucket, or a take-out box that also charges your smartphone. We hate to say it but… the phone doesn't look half bad. As strange as the entire concept is, I believe that this "Finger Lickin' Good" KFC phone would easily sell out in the U.S."
Are You Getting Swept Up In The KFC Rage?
Over the years, we have witnessed a plethora of whacky, and sometimes downright absurd, marketing gimmicks from KFCs that have made us wonder if the brand indeed wants to weave itself tighter into the lives of its aficionados. If colonel Sanders inspired exotic literature (we are still getting over that one) and chicken scented paraphernalia wasn't enough, KFC now seeks to mark itself on the one thing people cannot live without: Cell phones! While we are all for getting our hands greasy in a piping hot bucket of fried chicken, we still aren't sure if we are ready to throw away our good ol' cell phones for a fiery hot addition.
If you would like to get your hands on one, do let us know in the comments below!