Define the brand. Check. Target the audience. Check. Employ branding guidelines. Check. Design an elegant logo. Check, but wait a sec. That logo doesn't seem right, does it? Maybe it's the color, no, it's the font or maybe it's the text placement or maybe it's the whole logo itself!
Still not sure? It's the final step and IT MUST BE THE BEST AND THE IMPACTFUL. Your logo defines the contours of your brand. It highlights the features that your brand can showcase to the world. It makes your brand recognizable. When we talk about the online advertising logo design, what we mean is the use of right imagery that marks a lasting impression within a few seconds. And how are you supposed to do that?
Don't worry though. If you're a small business who's trying their luck to make themselves evident among the crowd, then look no further. You must've known that DesignMantic offers free logos, but did you know of the exciting editing options? No? With our smart logo maker tool, you can choose a logo and customize it to give it a unique look you desire. If you aren't sure of what design to select, the artistic logo gallery offers you a variety of attention-grabbing and professional logo templates to get you started. What's more, there's so much to choose from, you'll be bound to choose something that fits your business like a glove!
If you've chosen a logo for multimedia services and aren't satisfied with the design, just know that you're not restricted. You can alter the design anytime you want. It's just that easy! So let's see what editing options does DesignMantic logo maker tool has for us in store.
1. Customizing The Logo Size
Size matters – especially when it's for a logo. You can choose the logo of any kind, shape or size, but you can't just go out with a logo that's way too large or way too small for people to notice. Whether it's the graphic, text, or the placement of each, you can edit anything. You can also experiment by dragging the image to form different sizes and see what complements your business well. For example, check out the hexagon shaped logo below: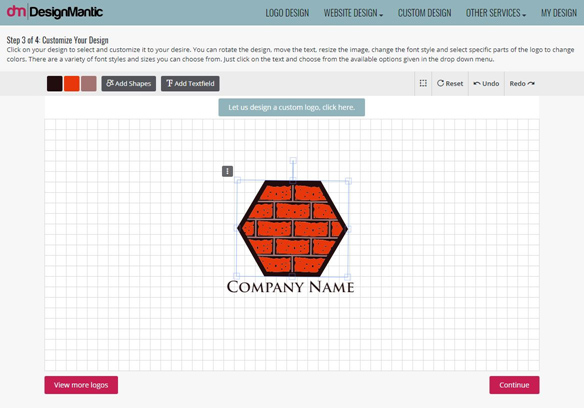 2. Adding Shapes
Of all the features, this one really brings out the best of your design. On the upper left-hand corner, you can see the option of adding shapes to your logo design. Once you click on the shapes button, you can access the category, which includes animals, basic shapes, clipart, lines, swoosh, decorative, and symbols. If you can notice, editing an image in your logo provides depth to your logo design and adds a unique edge to it. Below is an image of a tools and supplies icon added to our previously selected sample.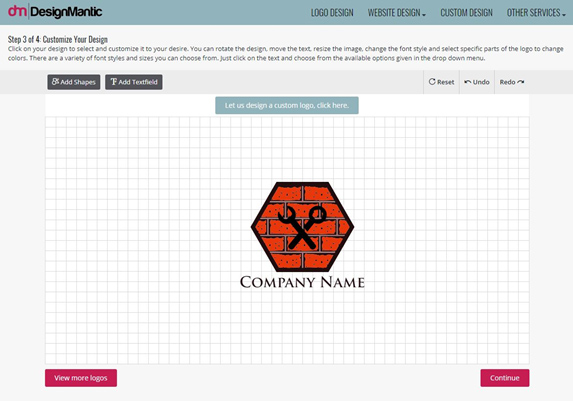 3. Customizing The Color Theme
Worrying your logo will be similar to your competitors? The editing tools here provide you an opportunity to differentiate yourself from the crowd. You can select by choosing from the color variations of the same logo or you can choose the color you like. If you click on the logo while customizing, you'll see a color theme appearing beside the shapes button. Whether you like dark colors or pastel color in your logo, you can choose them yourself. Just make sure you pick complementary colors for your logo.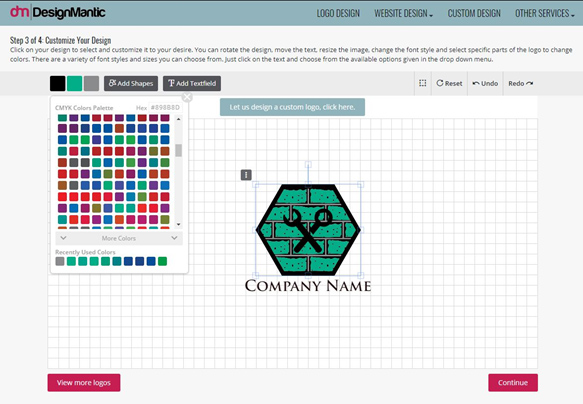 4. Editing The Font
Most logos are incomplete without a complementing typeset. Since it indicates brand message and initiates business-customer communication, DesignMantic's logo maker editing features furnish you with a wide variety of font options. Click on the text box to select your preferred typeset and its size. You can easily browse through a plethora of fonts and pick out the one that harmonizes your overall outlet logo design.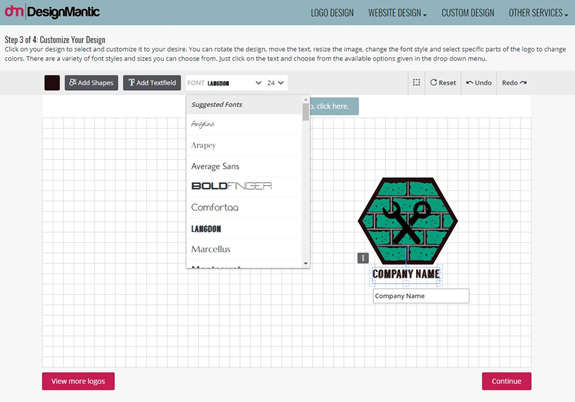 Confused About which typeface to Choose? Check Out The Principles of Typeface Classification
5. Adjusting Text Placement
Now, that you've selected the color, font, shapes, and the logo size, one main aspect that requires serious attention is the placement of text. It speaks volumes about your business centre logo design. If you haven't placed the text correctly, all you have to do is just add a textfield, place it, and adjust it to wherever suitable.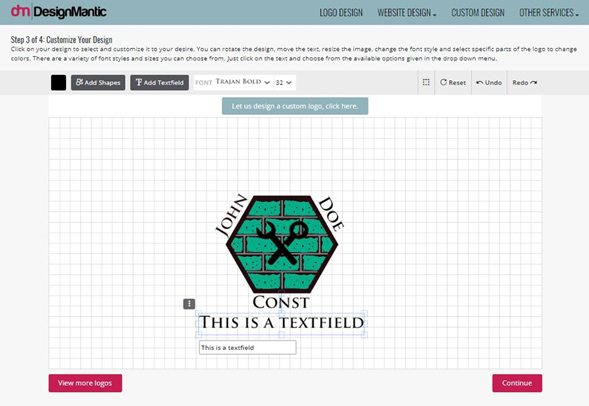 6. Reset, Undo, And Redo
When you're designing a logo, always make sure that you aren't afraid to make mistakes. And if you do commit mistakes, you can always reset the whole idea and start over. You can keep trying if you want to come up with a creative design that is a fruit of your own thinking. If you just want to see if the shape you added looks good or not, you can undo or even redo the changes you made. The Reset, Undo, and Redo options are shown in the red box in the snip below.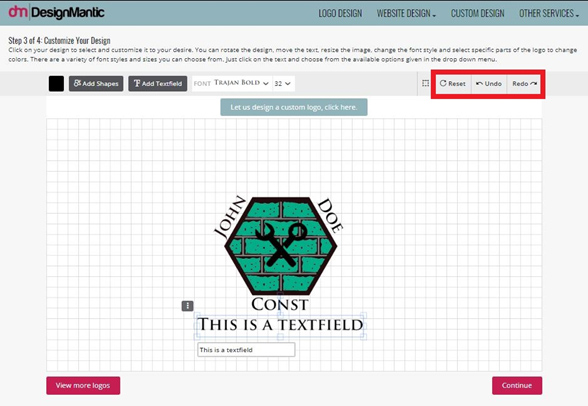 7. Setting The Overall Logo Position
All thanks to the grid present in the background in DesignMantic's logo maker tool, you can easily align your logo on a vertical or horizontal axis. If you click on the image, you can see a dotted square option, which upon clicking provides you the option of rotation, position, scale, and the image area. It's all up to you to keep the original image size or orient and position your online marketing logo image. You're the mastermind behind your logo, after all!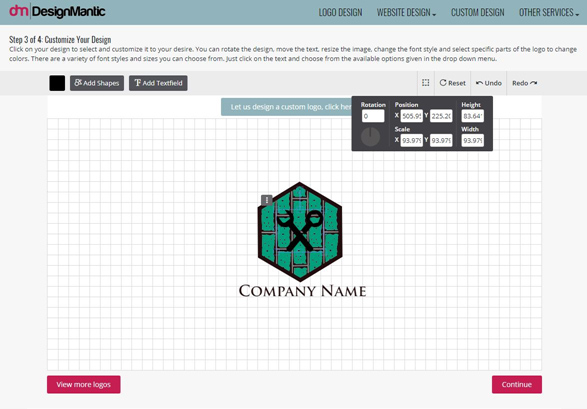 8. View More Logo Options
After all the efforts you've been putting in one logo design, what's the use if it doesn't get better? That's no problem if you ask us. You can now leave all the hassle behind and focus on discovering a whole variety of options to choose from. Once you choose the 'View more logos' option, you'll be directed to various categories of logo designs, where you can reselect and edit the way you like.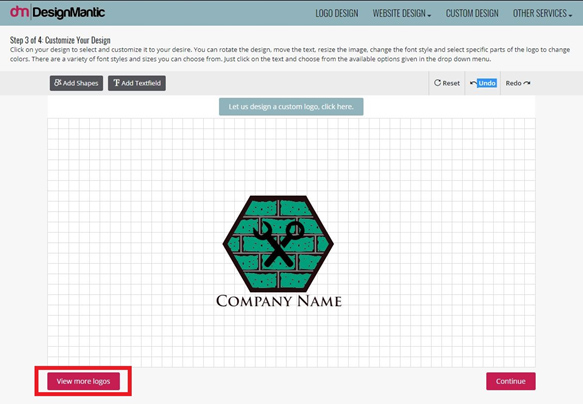 Hitting The Jackpot
After all the editing features catered by DesignMantic's logo maker, there's no way one could give it a second thought. But in case you're having other ideas, you must know that our editing tools are backed with splendid design templates for every part of your business. Once you have created a design, you can proceed to download it. Furthermore, other than the free logo editing service, DesignMantic displays your logo design on T-shirts, on your business card, on your social media banner, and on your website. Would you find an all-in-one package anywhere?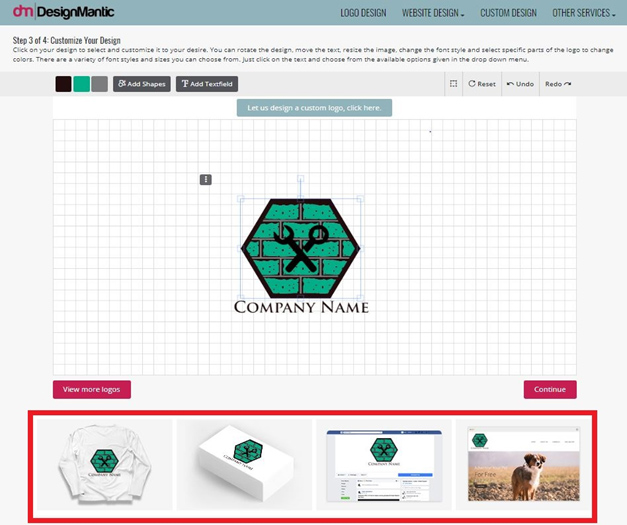 Say Logo Design, Say DesignMantic
Designing a logo is a big responsibility as it sets your business apart from your competitors. Your brand is unique and so should its logo be. The colors, the typeface, and the imagery are the most essential components of your logo design because they communicate your brand message effectively when they're in sync. With DesignMantic's logo maker, you can experiment with unlimited logo designs and explore the power of limitless choices.
Wait a minute. You say you can't get time because your hands are all tied up with the business knots. Our logo maker is just the thing you need then. It's just a click away and it's AI-driven. Just a few minutes and voila, your promotion logo design for business is ready. Holy moly! That's a double treat!
All in all, give the world a power punch with your logo design and if you get bored with it, go ahead and edit it with DesignMantic's super editing options!
Try Our Personalized Logo Maker:
Make Shopping Centres Logo
Software Development Logo Design
Online Trade Unions Logo Maker
Design Business Directory Logos
Caravan Servicing and Repairs Logo
DIY Communications Training Logo Design
Design Your Health Authorities Logo
Ecommerce Logo Ideas
Insurance Commercial Property and Liability Logo Design
Logo Design For Mobile Phones