Professional business logo makers powered by AI and machine learning are enjoying an immense wave of popularity. As more and more people see the ease and convenience with which an AI logo maker can help a cash-strapped business create an appealing logo design for its brand, the allure of AI continues to soar.
We've talked extensively about the agility and brilliance of AI logo makers in recent months, but your feedback tells us that there's still a need for more.
So here we are once again. This time with your most burning questions about online logo makers and how they can give a leg up to small businesses by providing them with professional-grade logo designs at wholly bargain prices.
So let's begin.
1. What is the best free logo maker for businesses?
You're asking a slightly biased crowd, but let's play. Without declaring ourselves as the best business logo maker out there, we are going to list a few crucial factors here that you must consider when choosing a logo maker:
Design quality and customization
Ease of use
Originality & versatility
Scalability
Affordability
When all these things combine, you get a logo maker app that offers you high-quality logos with ample customization at affordable rates. Such a tool would be easy to use and have fresh and modern design templates for you to use. It will also have vector file formats such as PDF and SVG that ensure scalability for your logo so it looks as sharp and neat on a coffee mug as it does on your website favicon.
2. What are the features of a professional business logo maker?
We have mentioned the features above: design quality and customization, ease of use, originality and versatility, scalability, and affordability.
Here is a brief description of each feature so you know what you have to look for when choosing a logo design maker for your design needs.
Design quality and customization: Logo templates must be high-quality, modern, and visually appealing. They should offer sufficient room for customization, allowing businesses to tweak colors, fonts, and other elements to suit individual business goals.
Ease of use: An intuitive and user-friendly interface that helps newbies and professionals both to use the platform without any friction.
Originality & versatility: The designs must be unique and fresh. No generic templates or overused elements. It must host a diverse range of styles that a wide variety of industries and businesses can use readily.
Scalability: Logos must be available in vector formats so the designs can be enlarged or shrunk down as per business needs.
Affordability: The logo design platform must offer affordable branding packages so small businesses and startups can also benefit from professional branding.
By following these factors, you can easily identify a logo maker program that suits your needs the best.
3. How to use a business logo maker?
To design a logo using an AI logo maker, you have to play to its strengths. Before you start the actual design work, lay down a solid foundation for your design. Understand your brand, define its values, and explore the visual elements that best align with those goals.
This step is crucial as it helps you stay focused when the business logo maker gallery starts churning out designs. If you know what you want, you can shortlist the designs with much care, and streamline the design process.
Once you have chosen your last few logos, you can start the customization process by tweaking the visual elements and finalizing the brand logo design.
4. How to create a business logo for free?
No good stuff is available for free in this world, including a fabulous logo design.
That said, there are logo maker options out there that claim to offer free logo graphics, but they come with a catch. Usually, those files are only suitable for digital use and don't give you a lot of room if you're an evolving brand. Secondly, you cannot really trust the quality of those free graphics as they may not be as sharp or clear as you'd want.
For these reasons, we always ask our clients to stick with an option that requires you to pay. You'll be guaranteed a high-quality logo that's scalable and versatile. DesignMantic's online logo maker tool is available for use with the Basic package available at only $37.
5. How to get the most out of your AI logo maker?
AI logo makers use premade logo templates. Every logo template follows the most fundamental logo design principles so you don't need to get too technical about it.
But to take a logo template from standard to spectacular, and ensure it is fit to represent your brand confidently, you do have to get the details right. Using symbolic icons over literal graphics, choosing symmetrical balance over asymmetrical or vice versa, and following proportional sizes for the icon and text are some hacks you can trust.
Similarly, choose colors and fonts with care during customization. Try to strike a balance between bold and minimal so the final logo design is neither weak nor garish.
6. Why do many business experts believe that a recognizable logo is valuable?
There is a score of compelling reasons that substantiate this belief. A recognizable logo serves as a consistent and constant reminder of the brand, its availability, and its presence in the market. In marketing, it becomes the visual anchor that supports all advertising campaigns and helps customers recall its products and services effectively.
In a competitive market, a strong logo design helps a brand differentiate itself from its competitors, protecting its unique identity, and transcending language barriers.
It also improves brand loyalty and first impression. A well-designed logo creates a sense of professionalism and credibility, familiarity, and evokes positive emotional connections.
Therefore, cash-strapped small businesses and startups stand to gain immensely from business logo makers when in need of strong visual identities.
7. How much does a business logo maker cost?
The price varies greatly as you go from one logo maker to the next. And while there are no free business logo makers online — at least any that provide well-designed graphics — business logo maker apps generally aren't very expensive.
At DesignMantic, for example, we're almost a free business logo maker. We start our logo design pricing from an extremely affordable $37. As you add more bells and whistles to it, the pricing packages also increase but they also increase in value. You get additional branding assets such as business card designs, website designs, flyer and brochure designs, t-shirt designs, and more.
But for a basic logo design that you can use on social media or on your e-commerce website, the prices are at a rate everyone can afford. This is intentional on our part because as a small business logo maker, we want to make professional graphic design accessible to a large community of founders and entrepreneurs.
8. How much does it cost to copyright an AI-generated logo?
The cost of copyrighting a logo depends on your location and the specific copyright office you're dealing with. Generally, however, it costs around $50-$150 but can be significantly more if you're going for federal trademark protection.
A quick look around the U.S. Patent and Trademark Office (USPTO) can clarify the matter further.
As far as copyrighting an AI-generated logo is concerned, the USCO (U.S. Copyright Office) doesn't offer copyright protection to images created by AI. But as a responsible logo maker for business, we offer our clients the opportunity to buy exclusive rights to the logo, ensuring your complete ownership over a particular design.
9. What makes a good logo design for a compelling brand identity?
Before you can declare a logo fit for branding, you have to ensure it fulfills three cardinal responsibilities.
Does the logo communicate your brand values, ideals, and personality?
Does it follow responsive design principles and can adapt to changing screen sizes and dimensions?
Is it made with scalable graphics to ensure comprehensive branding and marketing with no hurdles?
The first question tackles the visual elements of the logo such as color, shape, and fonts. The second deals with the adaptability of the design in changing environments and the third is concerned with design quality and integrity during various types of marketing.
The best business logo makers in the market strive to deliver on all these three objectives successfully.
10. How to change the color of a logo?
When you're using a professional logo maker for business, you have access to an extensive customization studio where you can edit and tweak your logo.
In the edit bar of the logo design maker, you can simply click on the section of the logo whose color you want to change. From the given color swatches, just click or tap on the one you like instead. Repeat the process till you have finalized a design you prefer.
When changing the colors of the logo, try to use a combination of not more than three colors. A simple color palette will help you stay focused on the brand message, and will also aid the emotional associations on the basis of colors.
11. How to choose the font for a logo?
If your logo design is a combination mark (icon + text), your font must play a complementary role in the design. For font-based logos, you can choose a wholly overpowering or dominant font, but not for icon-based logos.
For modern designs that want to appeal to a contemporary audience, sans serif fonts that look stylish, casual, and professional are a good idea. Children-focused brands can choose more fun and round-shaped logos. In your logo maker AI app, choose from a list of given free fonts.
So, use our logo maker for business today and see if you try different font pairings and design something engaging.
12. What is the most trusted shape for a logo?
It depends on a few things. The industry you belong to, the logo style you want, and the overall theme you want to portray. All the best business logo makers available in the market offer a huge selection of shapes, icons, and symbols that you can choose from.
A round shape in a logo design symbolizes stability and trust. Shapes found in nature such as animals, plants, and human silhouettes best suit childcare, organic foods, and beauty and wellness industries. Geometric shapes such as a triangle is a popular choice for dynamic and engaging logos that want to show movement and drama.
The most trusted shape you can choose for your logo must be one that people can connect with, and that naturally aligns with your brand's goals and vision.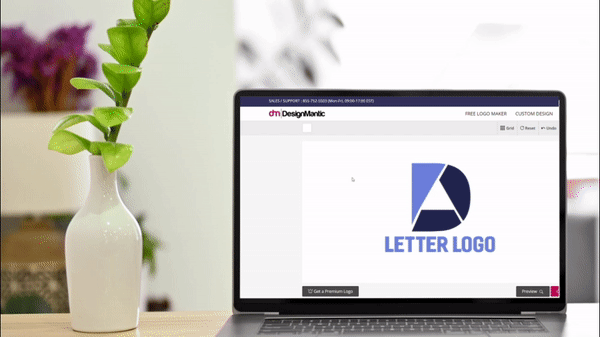 13. How do business logo makers help in branding?
The most important thing it helps you achieve is consistency. A branding package from a professional AI logo maker will give you a consistent design across all branding essentials. These include business cards, flyer designs, brochure designs, web designs, merchandise designs, and more.
Consistency protects brand integrity and improves recall for consumers. They can begin to identify the brand and differentiate it from a crowd of competitors.
Small business logo makers like ours also offer additional design services that take that consistency to the digital sphere. We offer our clients custom social media headers, email signature designs, and monogram designs, too.
14. How to come up with a logo idea?
It combines elements of brainstorming, design thinking, and understanding your brand's identity. Through research, you try to learn your industry norms and competitor practices. Gain a deeper understanding of your brand, its character, vision, and values. You identify common visual elements relevant to your industry and begin the ideation process.
Tools like Pinterest can help you create a mood board and jot down the theme of your brand. Word associations can also help here. You can explore art, culture, and nature elements that you find closest to your brand.
Settling on a color palette and typography system further streamlines the process and helps you arrive at the final result.
Logo maker AI tools like DesignMantic distill this entire elaborate process into a simple search of our logo gallery. You can save time and money by exploring our logo templates that cover a massive list of industry sectors, design styles, and logo concepts, and then shortlist what you like the best for your brand.
15. How long does it take to design a logo?
It doesn't take too long to design a logo. The entire functionality of a typical AI logo maker is available in a click-and-tap environment. From exploring the logo gallery to making elemental changes to the logo, you can do everything by just clicking on options and finalizing your design.
Depending on how complicated a design you have in mind, and how much clarity you have about your vision, a typical logo design maker would help you get a custom logo designed in under 15 minutes.
In some cases, when the design is simple and you know precisely what you're looking for, it can even be done under 5.
Conclusion
Whoa! This was a long list, right? But we realize that as the conversation around AI logo makers keeps expanding, the questions to understand it better will keep coming too.
And we're ready to answer whatever you have in mind.
So use the comment section below and blow it up with your questions! We'll use this piece as an evolving piece of content that we'll keep updating with all the latest questions and answers about AI logo makers and their impact on the future of graphic design.