ChatGPT took the world by storm when it was released over two months ago. Everyone — from writers to software developers — went into a brief existential crisis thinking their roles as expert professionals were at an end. Graphic designers were no different.
From New York Post to Medium, and everything in between, publications were rife with concerns shared by designers about what ChatGPT is going to do to their paychecks and career progressions.
As a graphic design company that relies heavily on AI capabilities, DesignMantic has a unique view in this ever-mounting debate. Since our start, AI has been a part of our journey. We use it to help our clients access professional, well-designed logos that they can use for their businesses and brand building.
So, how have we and our designers fared? How does AI help us, and where it falters? Do we see a future where human creatives and AI tools can work hand in hand for the good of graphic design?
Let's find out.
The rise of AI in logo design
When we launched DesignMantic all those years back, we were one of a handful. And the idea we had was revolutionary: making professional brand identity accessible to everyone.
By combining human and artificial intelligence, we created logo design templates that could be customized and personalized to suit a whole host of branding needs.
But now, jumping ahead more than 10 years later, there are hundreds of logo design generators in the market thanks to generative AI. And each more sophisticated than the last.
Plus, the advances made in AI capabilities have far surpassed everyone's wildest imaginations.
Platforms like Midjourney and OpenAI's Dall-E have the human-like intelligence that takes your text-based prompts and delivers you astounding graphic design creatives.
In this next section, we'll explore how AI has evolved from (what now seems like) simple logo design generation to something as near-human as what Dall-E can do.
● DesignMantic — AI at its basic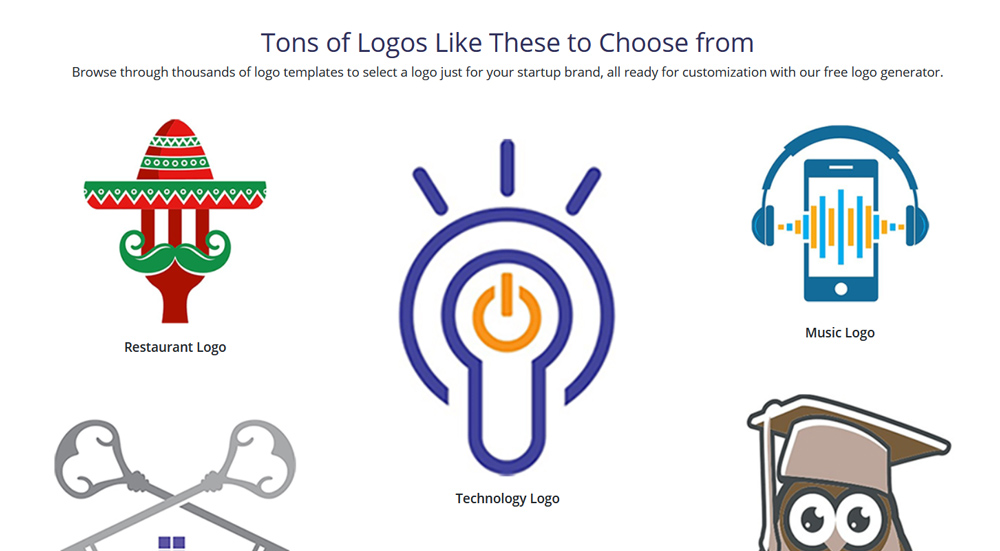 Image Source: designmantic.com
The type of artificial intelligence that powers DesignMantic seems elementary when compared to the incredible advances of recent years.
But at its most straightforward, it allows tools like DesignMantic to help businesses create logo designs for their visual identities.
The process is simple: you start by adding your brand name and choosing your industry. The tool takes you to the relevant digital library where you can choose a template that you want to work with. From there to a customization studio, where you can make changes to the template and add personal touches to bring the logo closer to what you want.
With most logo generation tools, AI's main job is to augment design work and to learn from the kind of designs you are engaging with, so it can give you more designs similar to that as you continue searching.
Edits are also possible, but with limitations. You cannot completely manipulate a logo template, but since the target market is mostly consumers who aren't designers themselves, this isn't a huge hurdle.
All in all, artificial intelligence powering these tools runs at a basic level — which works for the customers but doesn't say a lot about AI's capabilities.
Tools like Midjourney and DeepAI, however, tell a different tale.
● DeepAI — Text-to-image Prompts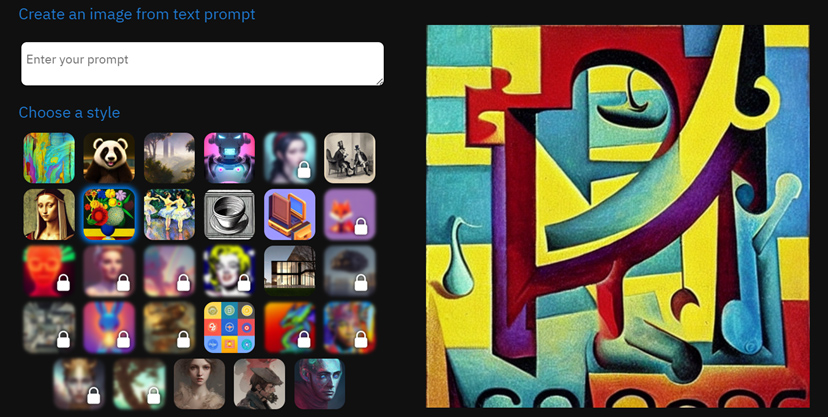 Image Source
DeepAI reveals a whole other level of AI brilliance with its text-to-image tool. As probably apparent by the name, the premise is pretty simple: you give it a command (prompt) and it'll give you an image.
Depending on the prompt you give and the style you choose, the image you receive may be exactly what you were looking for, or you may need to try again. While there is little room for manipulation in the existing image (unless you download it and work on it using a graphic design program), most of them aren't too bad.
Especially, because the AI has generated these images completely from data mining, and following text-based prompts. However, if companies have any sensitive data saved for AI, it's better to follow tokenization best practices to ensure data security.
From simple logo generation to something as complex as algorithm-based design, AI does have improved a lot. But we still have one thing pending: the best of AI's creative power as demonstrated by OpenAI's Dall-E.
● Dall-E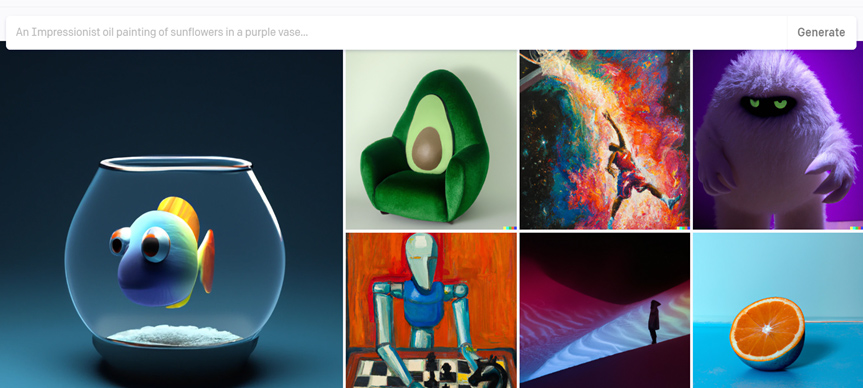 Image Source: labs.openai.com
When it comes to text-to-image prompt execution, Dall-E isn't messing around. Where DeepAI falters in edits, Dall-E gives you the entire studio plus variations generated by your prompt so you don't have to work too hard.
The designs it produces are exquisite, acutely close to what a human artist can produce. The attention to detail is amazing, and the variations truly functional. You can choose which of the 4 you'd like to go with. Then directly use the image or tinker with it a bit in the editing room before you leave.
At present, Dall-E is the pinnacle of the creative power of AI, and why not, it's a tool created by the same company that's behind the creation of ChatGPT, the newest AI on the horizon that has got everyone either in awe or in fear.
So, as we contemplate the future of logo design in an AI-heavy climate, where does ChatGPT fit into all of this?
Cutting right to the chase: can ChatGPT design logos?
No, it cannot.
ChatGPT is a natural language processing (NPL) tool that works like a chatbot. As a chatbot, it gives you answers in response to your text-based questions.


Image Source: chat.openai.com
So when you ask it to design a logo — and you are working under the impression that the result will be in the image form, you'll be disappointed.
ChatGPT does not have the functionality to create images for you. What it can do, however, is give you pointers, feedback, and helpful ideas to aid you in your creative work.
How ChatGPT augments design work
While 'technically' ChatGPT may create a logo design, actually it cannot.
But it's not a totally useless tool if you know how to get it to improve your creative process. Here are 5 things you can ask it to do when you are creating a logo.
a) Brainstorming
Designing is a pretty solitary job. You can sit facing a screen or a blank piece of paper and the ideas may refuse to roll or even crawl in.
ChatGPT can be a total darling when you are struggling with ideas.
Ask it questions to get the process started. Tell it about your brand, the competition, the target market, and brand values. Through the process of elimination or by asking more specific or pointed queries, you can use ChatGPT to filter through the ideas, choose a few that sound better, and refine them with more brainstorming with the bot.
b) Inspiration
As you develop a vague idea for your brand logo, you can ask ChatGPT to provide you with examples of logo ideas from a wide range of industries and sectors that align with your brand goals.
You can also ask it to analyze your competitors' logos and give you ideas based on what works for others like you in the industry.
You can then consider both and start creating a mood board that gives you a visual map of where things stand.
c) Research
ChatGPT is especially useful in the research phase of the process. The hours you spend on industry research can be reduced to only a few minutes it'll take ChatGPT to share what common themes, styles, and elements work in your industry.
It can tell you about things that'll resonate with your target audience, point you towards gaps that exist in the market that you can probably capitalize on, and aid you with unique insight that can set you apart from the rest.
You can also ChatGPT for your color psychology analysis and to help you establish a type system for your brand.
d) Feedback
Once that is done, and you have designed the first draft of the logo, you can turn to this benevolent chatbot and ask for feedback on your design.
To do that, you'll need to describe your logo in clear detail, including the color and type choices you have made, the layout you have chosen, and the style you have gone with.
Since ChatGPT can remember the context of the conversion, it will already have the background of your conversation and you won't have to worry about getting random answers.
ChatGPT can then give you its feedback, which you can choose to follow or not.
e) Design variations
If you have finalized your idea but want some variations to increase the design scope, ChatGPT has got your back.
Describe your final concept to it and ask it to give you more conceptual ideas similar to it. The variations could be along the lines of style, font, color, or any other element. You can even ask the chatbot if one style of design suits your particular idea better than the others.
Working with variations can help you perceive alternatives that you probably wouldn't have thought of, on your own. In essence, ChatGPt can be a singularly helpful tool to keep you focused and guided as you continue with your logo design process.
Verdict: is ChatGPT the future of logo design?
ChatGPT has a very bright future in logo design and other forms of creative pursuit.
Instead of being a threat to designers, this AI tool is closer to being a blessing. It works as a soundboard when you want feedback and second opinions; helps you filter through ideas with more speed, reduces the time you have to spend on research, and enables you to work with more focus and clarity.
So, if you are a logo designer and had qualms about ChatGPT maybe replacing you, here is a video by a logo designer just like yourself, showing you how she channeled the powers of ChatGPT to create a beautiful adventure logo design from a brief given by the bot.