Ah, Artificial Intelligence (AI)… Who would've thought that the toaster in your kitchen will have a future generation that will pose a high risk for 10 million jobs? You must have had the idea of machines taking over the world from some sci-fi movies, such as the terminator. But unlike the machine-alien apocalypse, AI is rooting for some potential grounds.
Robots don't get tired, they don't make mistakes, don't need breaks or vacations, and won't be getting paid. That is why many companies view it beneficial to replace humans with AI. Whether it's a fast food chain, an accounting firm, or a design studio, AI will rein every business domain. And now AI logo maker is a thing too!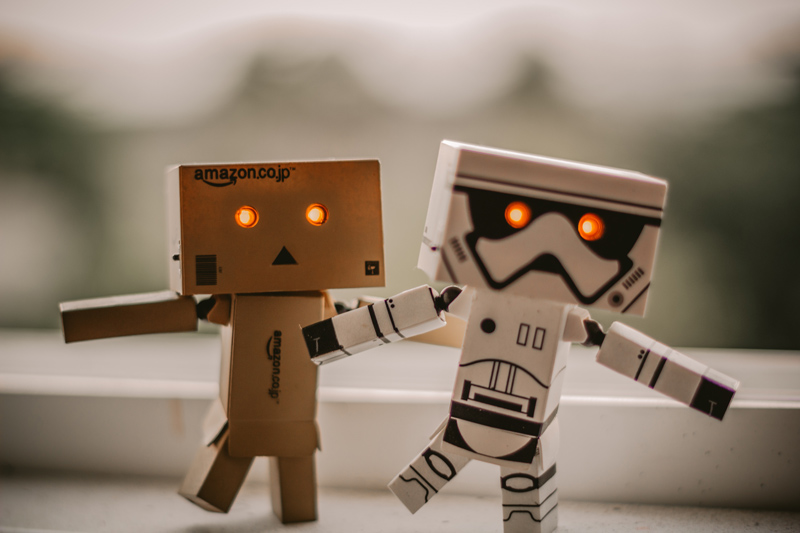 Image: Pexels/@Matan Segev
If we narrow down the AI's role, there's a favorable chance of AI integrating into the design. Logo making is already being made easy; in comparison to a human designer, AI can generate thousands of logo designs, take less time, give approximate results, and reflect the user interface well.
Moreover, AI creates a market equilibrium, the technology of which determines the competition. No matter how small a business is, AI can help it stand tall in the hall of fame. It can be integrated as a logo making tool, used to design websites, provide a creative approach, and enhance user interface and interaction.
Speaking of AI-powered logo making tool, there are many platforms you can make use of. Take DesignMantic, for example. It lets you create the best and most appropriate logo designs in just a few simple steps.
AI And The Logo Design Process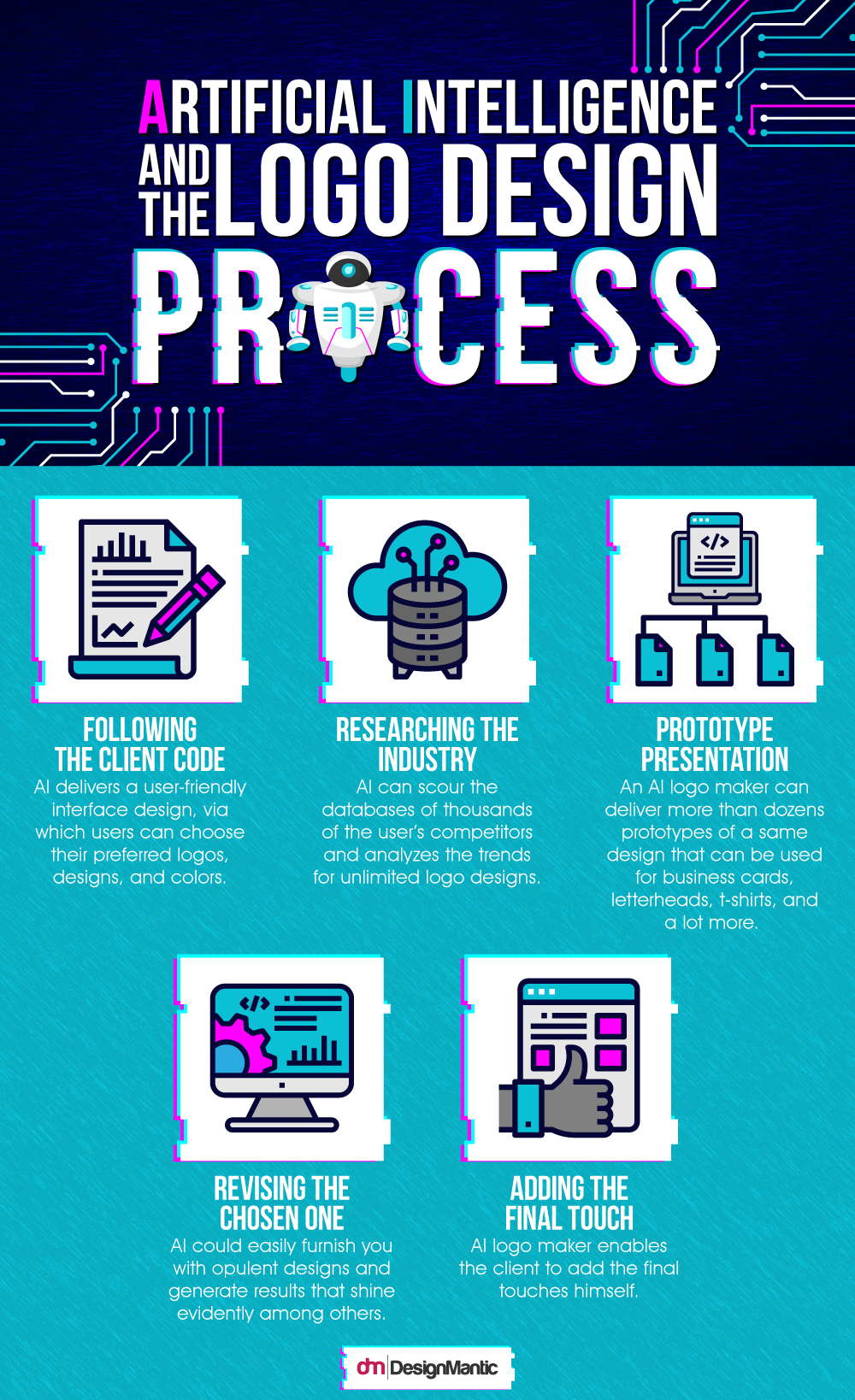 As the logo design process consists of 5 main steps, the workflow between human and AI designer vary to a great extent. Let's have a look at what AI has to offer when it comes to logo making.
Following The Client Code – Before a logo is developed, the client gives a set of guidelines for the type of logo he prefers. It might include business-related aesthetics, core values, and visual requirements. For instance, the client wants a design that looks neat and is based on a minimalistic approach.
When it comes to AI, it delivers a user-friendly interface design, via which users can choose their preferred logos, designs, and colors. Studying what the user prefers, the AI incorporates a more narrow approach and learns about user priorities.
Researching the Industry – Another important step in the professional logo design process revolves around the contemporary market and industry trends. Researching the industry helps in targeting the audience with a unique brand design.
Since it mimics the organic research style, an AI-driven logo maker offers a lot more than that of the human approach. It can scour the databases of thousands of the user's competitors and analyzes the trends for unlimited logo designs. The results contributed by the AI logo maker actually reflect the inserted user knowledge.
Prototype Presentation – this step involves the production of a logo prototypes. These ideas are based on a creative approach that is catered to respond to the client's needs and requirements.
The algorithms employed by the AI are meant to pick up various sequences. These algorithms recognize themes, fonts, colors, design, and other aspects that match well and produce the logo designs using computing in a variety of formats. While a human can generate only 4-5 mockups at a time, an AI logo maker can deliver more than dozens of ideas that can be used for business cards, letterheads, t-shirts, and a lot more.
Revising the Chosen One – In this step, the client chooses one or two designs from the mockups and asks for further revision of the chosen logos. They do it to nail down customization, actually.
If you're in a midlife-logo crisis, then the AI logo maker is your bare necessity. It could easily furnish you with opulent designs and generate results that shine evidently among others. In just a few moments, the client can request and receive the revised versions. Moreover, AI is also capable of recommending different logo design ideas, based on its algorithmic research.
Adding the Final Touch – When the revision is complete, the client can go along with the final product. It could be anything from a transparent background to a black/white version of the logo.
The best bit about AI logo maker is that the client is able to add the final touches himself. Whether he wants to change the font, color, size, style, or any other aspect, he could do so by using built-in editing tools.
Need Some Inspiration? Check Out
Transmuting Logo Design: The AI Viewpoint
Since millions of users across the globe use the AI logo maker technology without realizing it or considering it quite easy for that matter, there's a whole lot of algorithms, mathematical codes, and procedures involved in the process. The AI utilizes numerous variables and derives them to pinpoint the right impact.
Let's get down to discuss the variables employed by the artificial intelligence logo makers.
• Is It Know-It-All or Is It the Algorithms?
Connecting the trending dots has always been an issue for man, but for the machine, this has become quite easy. Using different algorithms and connecting them, AI has modified its approach in reflecting consumer choice behavior. An AI-based logo maker can make the search easier and fast by employing hundreds of variables at a time and help the visitors refine their ideas.
• The Right Word Generator
Ever wondered if artificial intelligence is going to suggest better names for your company than you can? Yes, that's already happening. Brand names and their taglines play an important role in communicating the brand message. That's why coding based logo makers facilitate your efforts in devising the perfect name and slogan for your company.
• Decorate The Logo
Since we discussed that artificial intelligence mimics the human mind, it works faster and creatively than the latter. For example, choosing the right fonts and deciding text placement can be a confusing job but AI makes things more simple and easy. It dissects the core elements of typeface, style, size and everything else related to expression. With deep research and comprehensive learning, AI can come up with unique logos that might be missed by the human eye. And no matter what aspect of the logo design it is, you can rely on AI to provide you the best results.
• Typify Transparent Communication
Symbols are a great way to represent logos and are reflective of the business aims and objectives. Thus, AI classifies each symbol according to the words or phrases used in the company's logo.
Expecting The Future – With AI
From what it seems, mankind has come to terms with AI and is implementing it in the daily life practices. Al has not only digitized the market of any niche but has also shaped the future. It keeps evolving and is being perfected to match the speed, behavior, and intellect of the human mind.
However, in the logo design industry, AI is a good news. It can crawl up the databases of your competitors and help you view the latest trends in your industry. It can lay a zillion of logo designs in front of you, with each being perfect in its own way.
Just because AI is doing so good, doesn't mean human designers are ruled out. If you're a designer reading this, don't forget that you're the role model for AI-based logo makers. You're the inspiration, after all.
Use Our DIY Logo Maker Tool:
Design Logos For Virtual Offices
Website Design Logo Maker
Information Services Logo Generator
Create Technology Logo Designs
Make Systems Logo
Computer Systems and Software Logos
Logo Creator For Software Developers
Copyright and Intellectual Property Agents Logo