"The Revenge of the Sith was released in 2005. Ten years later, the next installment in the Star Wars franchise "The Force Awakes" grosses $540 million at its opening and is now the highest grossing movie of 2015. And brands are cashing in on the promotions that follow. In fact, a post on Forbes dubs the movie the "most commercialized" ever and the franchise is focusing on promoting its brand on everything that they can get their hands on.
The branding of one of the most popular movie franchises in history goes far beyond kid-centric paraphernalia and toys. It has crossed into uncharted marketing trends in proverbial galaxies that were formerly "far far away" but hit a little closer to home nonetheless. Subway saw a chance to promote its app by asking customers to enter into a contest for a chance to win Star Wars themed merchandise. Even Covergirl got into the Star Wars band wagon by prompting consumers to "Unleash the light within or dare to discover your dark side."
Last week, we discussed how LeBron James, now a typeface, has a font that pays homage to the basketball star's fame. Today, we will discuss how the Star Wars franchise's own eminence reflects in the branding department.
Our panelists for today include –
Ed Catto, Founding partner of Bonfire Agency
Christian Beranek, Comic expert
Scott Pinsker, Media and branding expert
J. Jeffrey Inman, Albert Wesley Frey professor of marketing at University of Pittsburgh
A Big Tent Of Promotional Possibilities
One of the most fascinating appeals of the Star Wars brand is that it is big enough to incorporate any brand. Before the first movie came out in 1977 brand tie-ins were literally unheard of. That changed after Disney bought the franchise. In fact, the brand is reported to have swept record number of brand associations with Star Wars.
Some social media brands followed suit as well. Twitter teamed up with Lucasfilms and Disney to create #StarWarsEmojis –

Image: Star Wars

Ed Catto says that 'The Force Awakens' features brand partnerships that are far more than what any other movie franchise has ever accomplished. He explains why –
"I'm not sure there is another brand that has the marketing might of Disney [behind it] and the baked-in appeal of Star Wars. The fascinating thing about the Star Wars brand is that it's a big tent. A lot of people can come in and participate."
The proverbial tent, according to Catto is also big enough to incorporate a variety of brands. The products that these brands promote serve as 'touch points' that Catto says boosts anticipation whenever anyone uses them.
"Casual fans can be a part of it on their own terms. What we're seeing now is exceeding marketers' and planners' expectations. It is a very positive reaction and sets the bar really high," he says.
Certain products are a case in point –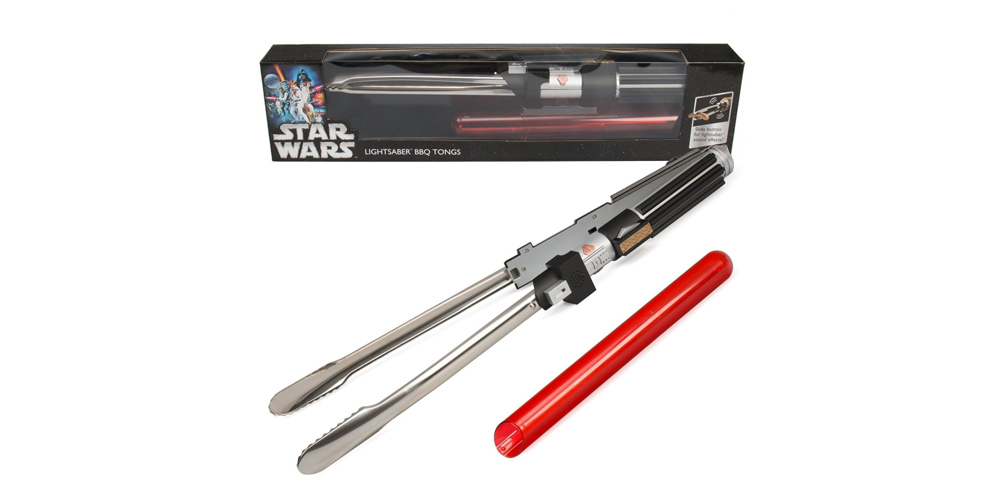 Source: ShutupAndTakeMyMoney
Would you like your Force medium, rare or well done?

It is safe to say that brands go through great lengths to cash in on the success of the movie franchise in order to promote their own products. Is the prospect shameful? Has the Force of their branding gone over to the dark side? Some critics like Christian Beraneck don't think so. Here is why –
"Lucas was savvy enough to maintain merchandising rights back in 1977, so you have to imagine he knew there was a potential upside. What we're seeing now is a continuation of that game plan. What is different now is that Disney is at the wheel and they are able to turn the key and really rev the engine up. With all of their various arms, sponsorships, ad deals. It's scary to think we're only in the early stages of their quest for total domination of this market," she says.

Before 'The Force Awakens' was released, fans were still feeling the sting of a previous installment 'The Phantom Menace' which bombed at the box office in 1999.
"So, if 'Star Wars: The Force Awakens' turns out to be a dud, all the marketing and all the product tie-ins will suffer mightily,…But if it turns out to be a triumph of film-making and a beloved addition to the 'Star Wars' franchise, the marketing juggernaut has only just begun."

The franchise is nothing less than a phenomenon in itself. From Star Wars oranges to toasters, it seems that the marketing is indeed leaning heavily on the ludicrous. In other words, as Jeffrey Inman opines, "Linking products to Star Wars is helpful in terms of leveraging public excitement and media attention about the film's release; however, it may not be the best marketing tactic for every product. When it comes to whether or not a brand image will be hurt or helped, the effect will vary based on the brand and how natural a fit a partnership with a film like Star Wars is."
Others, on the other hand report how fan branding efforts show a promising future for the franchise –
• Bulldog Reporter
#Branding Lessons from "Star Wars": 78% of Fans Covet Film's Future Tech @myDevices_IoT https://t.co/WBHGvqSHvH #PR pic.twitter.com/XXP4fDWnwA

— Bulldog Reporter (@BulldogReporter) December 29, 2015
However, some complain that certain brands have taken Star Wars promotions a little too far far away –
• Corrigan, S.
@Scorriganus incorrigible classic han

— Daryl Bartley (@hypercubexl) December 19, 2015
• Patrick Race
@alaskarobotics As it has always been, so shall it ever be. pic.twitter.com/ADk8dHNt9r

— Arlo Midgett (@rlomidgett) December 22, 2015
And some can't get enough of the branding action –
• Poppy Ingham
@Poppy_Ingham @Loreal Dat ombré is amazing.

— Thom Bartley (@ThomBartley) December 16, 2015
• Danielle J
Star Wars branding all over the place! These @Coffee_mate shrink sleeve #labels are great :-)) #packaging #branding pic.twitter.com/ZPqy5y9u8H

— Danielle J (@DanielleJersche) December 4, 2015
Does the Force Awaken in Branding?
While some fans say that brands have leaned a little too close to the ridiculous side in promoting the famous movie franchise, others welcome it. This is especially when it comes to diehard fans that can't get enough of anything that is even remotely related to Star Wars. In the end, consumer perception depends on which side of the branding force they want to be in and how big of a fan they really are.