In the most down-to-earth terms, sustainable branding is the process of cultivating a professional brand identity that conveys to its consumers what added social and environmental benefits it brings to the table. Does it treat its employees and workforce well? How damaging its production processes are for the environment? Does it invest in communities and human resources? For the 2020 consumer, these questions are important.
As per the global PR firm, Edelman, the new era is about emotional branding. It is not enough to only focus on creating high-quality products or services anymore. Consumers want more. They want their brands to 'stand for something more than just their businesses'. This something more is a cause that a brand believes in. In terms of sustainable branding, this cause can be social, environmental, economic, or an amalgamation of all three.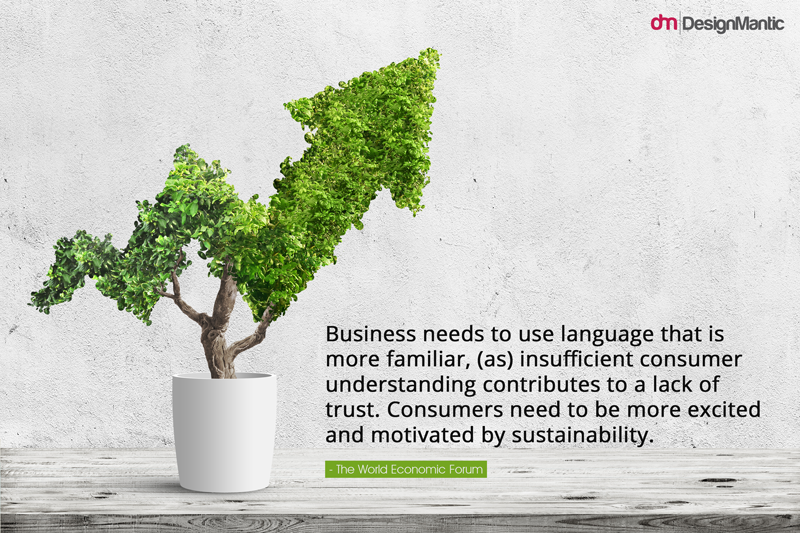 Image Source: iStock/robertsrob
Brands that project a broad sustainability branding stand to gain the most in the changing climate. It is also important, as a brand, to associate yourself with causes that feel authentic to you. If you cannot commit to zero-carbon emissions responsibly, instead of calling yourself a 'green-brand', perhaps you can gain more by investing in poverty-reduction programs or community outreach lineups.
What Does A Sustainable Brand Look Like?
A sustainable brand is in the business for the long haul. It creates enduring, long-term authentic values aligned with the well-being of all people.
It treats people as humans, not consumers and builds products and services that truly resolve problems without creating any additional ones.
It is conscious of the impact its operations and processes may be having on the planet; so it creates solutions that work towards reducing that impact.
It encourages customer participation and puts it in the driving seat of cultivating its brand values.
It understands its corporate citizenship and uses its platform to drive conversations and engagements that bring social change.
It creates the perfect balance of social change, environmental change, and economic change to further the business, the brand, and the society.
All in all, a sustainable brand is an entity that appreciates its impact on the world and makes sure that impact brings positive change in all aspects.
1. Toms
A USA-based footwear and eyewear brand, TOMS' origin story is completely accidental and that's why most inspiring. While traveling in Argentina, Blake Mycoskie, a Texas native came across children that had no shoes on. Seeing their hardships, he was inspired to create a for-profit business that would donate one pair of shoes to kids in need for every pair sold.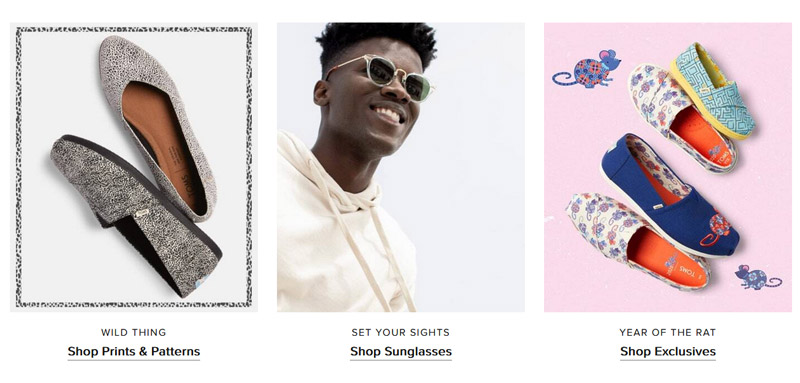 Image Source: TOMS
The business immediately took off and from footwear expanded to eyewear, coffee, and a bag collection. All four products of the business work on the 'One for One' business model and help communities in need.
TOMS Shoes provided over 86 million pair of shoes to children since 2016
TOMS Eyewear helped restore the sights of over 780,000 people
TOMS Roasting Company provided over 722,000 weeks of safe water to communities
TOMS Bag Collection has supported safe birth services for over 25,000 mothers world over.
Additionally, the company incorporates sustainability ethics in its production, employment structure, and energy consumption. Overall, the brand's sustainable practices have positively impacted 96.5 million lives in 85 countries from 2006 to 2019 – and counting.
2. Reformation
Ref – as the brand calls itself casually – is not only a sustainability leader in its industry but has an earthy, laidback vibe too which makes it even easier for its consumers to forge close connections with it. Reformation is on the driving seat of sustainable fashion change.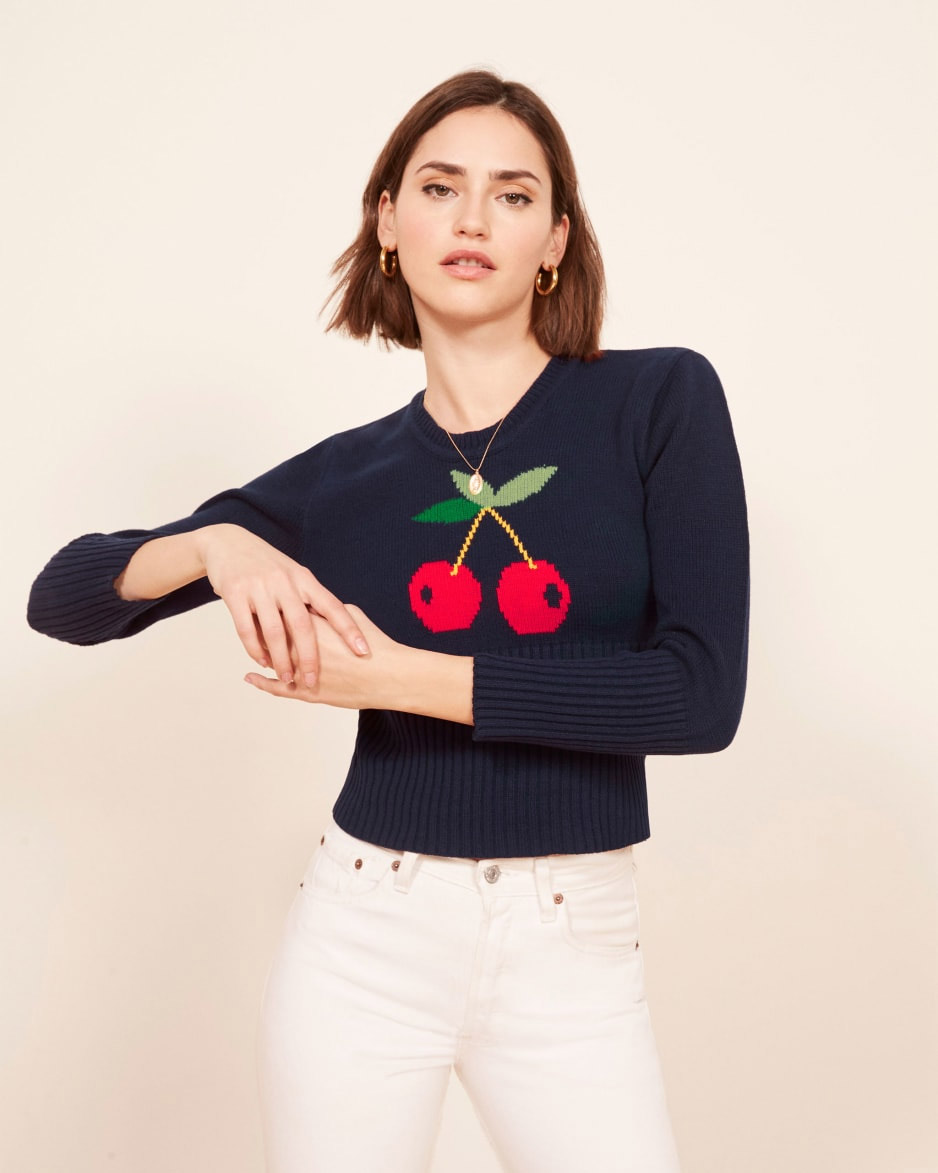 Image Source: Reformation
It employs sustainable practices throughout every stage of the clothing lifecycle from growing textile fibers to moving materials, from production to packaging, branding essentials, and shipping to clothes recycling.
The brand is also conscious of who it partners with, educating its workforce about sustainability, and even off-setting whatever resources it has consumed in the whole process. What's more, the brand is completely open and transparent about how much each of its garment impacts the environment and displays this information next to its products on the company website.
Plus, as we are a design and marketing service, it is worth mentioning the brand's tagline that is bang on the dollar about its unique brand voice: 'Being naked is the #1 most sustainable option. We're #2."
3. Everlane
Everlane is another sustainable fashion brand. They sell everything from shoes, clothes, accessories to underwear. The best thing about Everlane is their highly conscious attitude towards their factory workers. Like every other luxury retail brand, they also have overseas factories. But unlike many, they put a great deal of effort into making sure that the workers who work on their products are treated well: given excellent working conditions, fair wages, reasonable hours, and a safe working environment. With periodical checks, they strive to make sure that those factories are following the standards set by Everlane.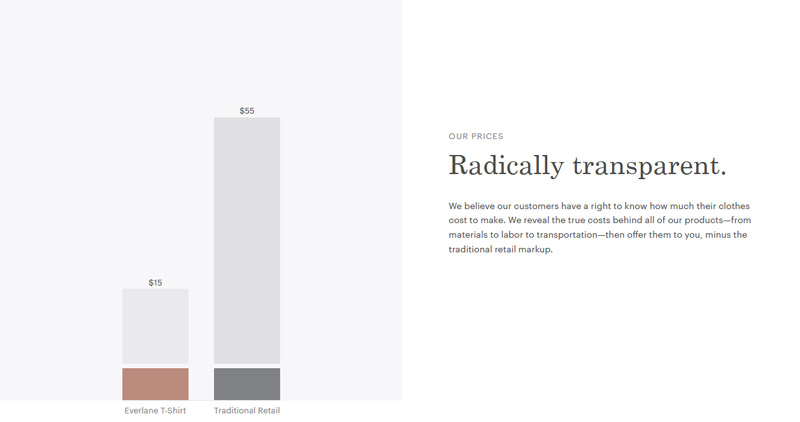 Image Source: Everlane
Another great thing about Everlane is what they call their 'radical transparency'. Their site contains a detailed breakdown of the cost of every item they sell and show plainly how much profit margin the brand keeps on every product.
With ethical factories, fabrics that are made to last (and not end up in landfills after 2-3 uses), and transparent pricing, Everlane ticks all boxes of sustainable branding.
4. Sap
As we've already demonstrated, sustainability isn't exclusively about environmental concerns – it takes into account a brand's impact on the people it does business with. A corporate tech brand that is making this work is SAP – headquartered in Germany and offices around the world.
The brand was recently ranked #1 on a Forbes list for America's Best Employers for diversity. The company beat Google, Facebook, IBM, Microsoft, and other tech giants to reach this spot. How did it do that? By using data insights to promote diversity within its workforce. Through data analysis, the brand figured out where the gaps were in making the workforce inclusive, where did the opportunities lie, how the underrepresented within the company were progressing through their careers, and 'remove human biases from the talent and recruitment process'.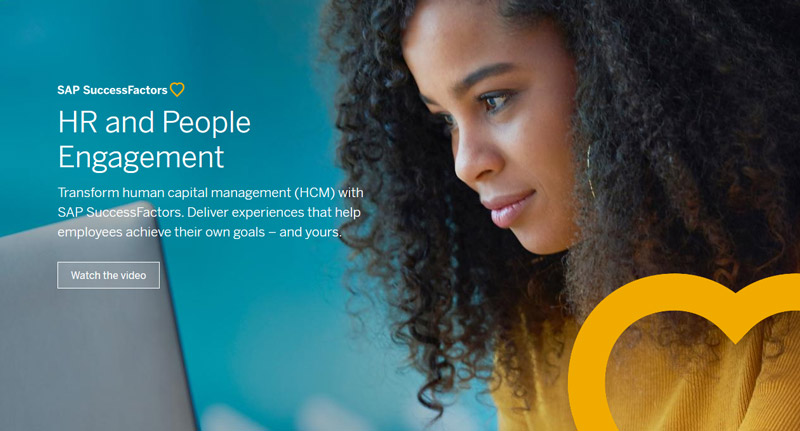 Image Source: SAP
The company not only vigorously made efforts for better representation of women on top managerial positions, but it also worked towards workforce inclusion of veterans and the disabled. SAP also runs training programs at Historically Black Colleges and Universities to make sure that when those students graduate, they are already trained and specialized to work at SAP or at any of its partner firms.
SAP is actually a quite interesting brand when you think about how it used its data insights to not just further its profits but invest in its human capital too. Recognizing that when employees and workers feel good and valued at their workplace, it directly translates into higher productivity, improved communities, and a much healthier bottom line.
5. Visa
Another corporate setup that vowed to make a difference and fulfill that promise this year was Visa. It made a global commitment in 2018 to use 100% renewable energy by 2020 and recently released a report celebrating the rewarding achievement.
Through the exclusive use of alternative energy sources of solar and wind, improving its current infrastructure of facilities, and updating its HVAC processes, the company was able to meet its sustainability goal in time. Worth noting, this goal was not location-based and transcended at all levels of the company's operations, its global offices, and all its processing centers.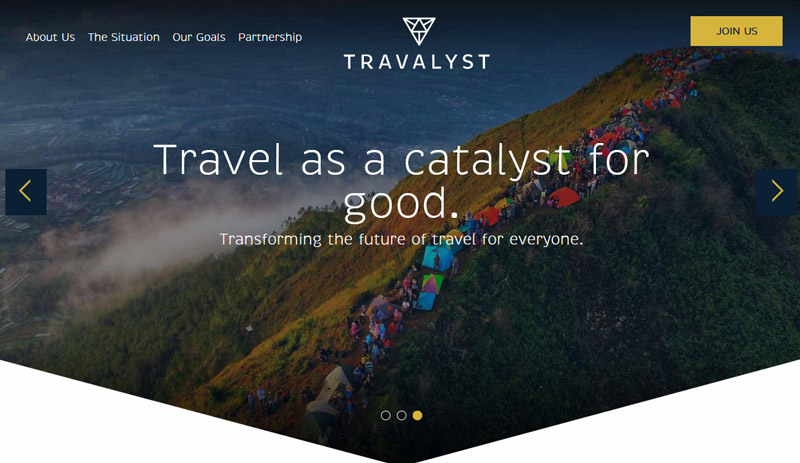 Image Source: travalyst
In addition to renewable energy, Visa has been a sustainability champion in its industry through taking part in initiatives like Travalyst, a sustainable travel and tourism brand, co-founding Brands for Good – an initiative to encourage other brands to adopt sustainable business practices as a viable and attainable goal, and partnering in global studies on healthy and sustainable living projects.
Conclusion:
In addition to these five brands, there are many others (Pepsi, General Motors, and Levis, etc.) that are doing their bit to increase sustainability in their work practices. In the long run and when done authentically, sustainability becomes a viable business option and highly rewarding and profitable. It makes brands become relevant to their communities not based on consumerism, but as a business entity that forges lasting human connections and strives for global well-being of people and the planet.
Try Our Professional Logo Maker To Design: