Even illustration artists might suffer from creative blocks at some point. So, they go to where they might get some inspiration. And where do illustration artists like to showcase their work on the web? It's Tumblr.
The microblogging platform can be a great source of inspiration for illustration artists looking for content that gives their own work a bit of an edge. However, finding original content on Tumblr is a bit of a challenge. After the first 3,000 reblogs, it is hard to know who first designed that dog on a bicycle.
In a post, we gave you the crème de la crème of illustration designers in New York. Here are others whose work is just as impressive. Whether you are a designer looking to up your illustration game or just love illustrations, these Tumblr profiles can satiate the illustration design buff in you.
Follow: @Bobsta14
A creative director by professional, Bobby Haiqalsyah showcases most of his digital creations on his Tumblr page. Known by his alter ego Bobsta14, this designer can certainly teach other illustration buffs a thing or two about digital drawings. (melbourn)
Follow: @MaxineMunroeArt
If you love illustrations from Disney, follow Maxine Munroe's profile on Tumblr. Her hand drawn sketches are impressive but her digital illustrations are nothing to scoff at either. From simple sketches of Alice from Alice in Wonderland to digital mermaid masterpieces, Maxine is definitely an illustrator worth following.
Follow: @blakekathryn
If you love modern illustrations with pastel color themes, follow Blake Kathryn's design blog on Tumblr. The illustration designer uses MakeHuman to add a playful human element to his digital creations on his Tumblr profile.
Follow: @brokenlynx21
If you are a design enthusiast who loves quirky comic illustrations and character design, Nick Swift's design blog on is for you. The character designer and storyboard artist creates some illustrations that are based on popular comic book characters while others have a storyboard like feel.
Follow: @jodypangilinan
Design enthusiasts can learn a thing or two about animation inspired illustrations from freelance designer Jody Pangilinan. Her Tumblr blog "Art by Jody" is filled with a myriad of beautiful digital art. Designers who are fans of designed that are inspired by popular movie franchise like Star Wars and Lord of the Rings should definitely follow this blog.
Follow: @Hayden_Williams
Another illustrator whose designs take cue from popular media is Hayden Williams. The fashion illustrator and designer takes inspiration for his designs from pop culture and major events. (Britain)
Like: J.N. Garrett's
Designers who are into digital sketchbook art should follow J.N. Garrett's blog. In addition to sketches, the designer's illustrations also contain a number of digital prints of fan art from popular creatures from fantasy genres.
8. Alea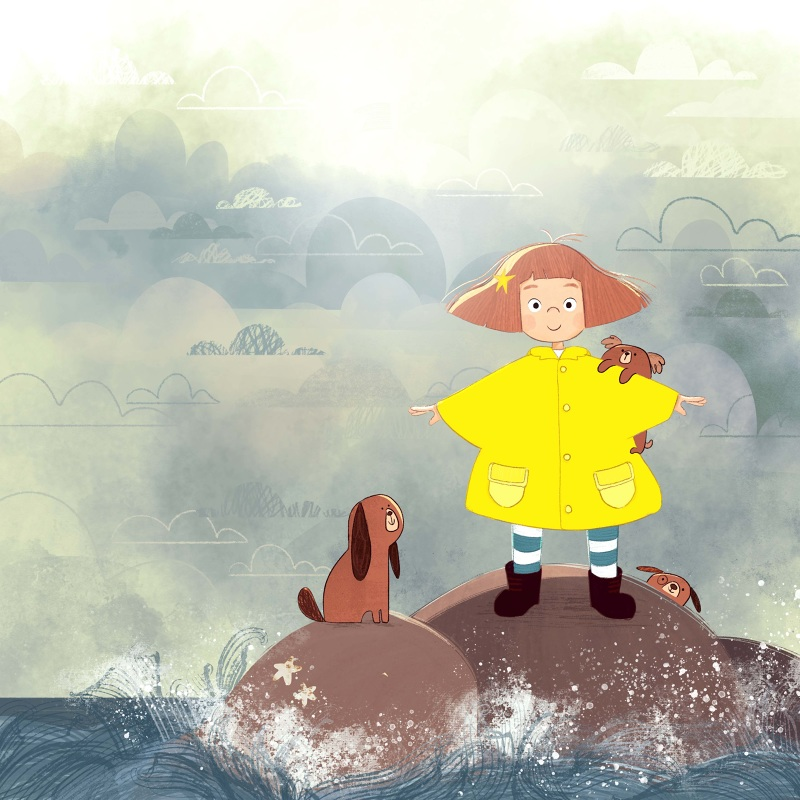 Follow: @aleazui
Geometric designs are the specialty of illustrator Alea. Most of her digital designs depict cute creatures in a range of eye popping colors from a tiny frog in the jungle to creatures that she came up by herself. (England)
Follow: @zandraartt
ZANDRAART is a Tumblr blog by animator and illustrator Alexandra K. Judging from her work, she seems to be an expert in illustrating spectacular scenic views of landscapes in digital print. A definite must-follow for design enthusiasts.
Follow: @wingsart
Any designer who wants to up their hand drawn and digital illustrations should follow Christopher King's blog on Tumblr. The illustrator and freelance designer has created some amazing illustrations of everything from designs in branding to celebrities like Audrey Hepburn.
Follow: @hajin_bae
Designers who want to learn how to add some emotion to their illustrations should follow Hajin Bae's blog on Tumblr. Hajin is a Korea based illustrator and design who has a passion for colorful designs. Most of her work contains brightly colored illustrated portraits all of which depict a series of emotions perfectly from anger to happiness.
Follow: @sirmitchell
Mike Mitchell is another illustration artist whose designs are inspired by charatcers from popular media. Amongst all of his work, his designs on Star Wars characters stand out. Designers can also find everything from cute images to graphics.
Follow: @BenIllustrator
Ben the Illustrator is a Tumblr blog by illustration artist Ben O'Brien. Ben is particularly skilled in designs that use graphic watercolors. His series of "Fluid Animals" are digital eye candy. He is also the founder of the Behance blog "The Mighty Pencil."
Follow: @johnmartz
John Martz is an illustrator, cartoonist and designer whose Tumblr profile is a must follow for every designer who is a fan of quirky art. A lot of John's illustrations are also available on his online store for purchase.
Follow: @bensears
Kentucky based illustrator Ben Sears uses his Tumblr profile to post his pencil illustrations, pop art and graphic design work. His work is inspired by comic book art and he also does freelance work. Check out his profile to see more of his work.
16. Show and Tell
Follow: @meghunt
Show and Tell is a Tumblr design blog by illustration artist Meg Hunt. Meg has a distinct style that would impress any design buff. She has also done editorial illustrations for outlets like Runner's World, Junior Scholastic and Radiolab.
Follow: @andy_helms
Oktotally is smorgasboard of impressive illustrations of gaming villains, stylized heroes and pixel art. It is ownerd by Andy Helms. Designers who want to see Andy's skill in action should look at his minimalist posters for Indiana Jones trilogy.
Like: Andre DeFreitas
Megatherium is a Tumblr blog by photographer and illustrator Andre DeFreitas. If you have a thing for dark hair beauties and gritty atmospheres, this artist is the one you should follow. The work he shares on Tumblr are hypnotic and usually follow a theme.
Who else, do you think should be included in this list? Leave your answer in the comments.