Whether you are a restaurateur trying to get inspiration for your new Italian restaurant's logo, or a designer with a very specific Italian design brief – we've compiled a list of Italian restaurant logos that are sure to stir up your appetite as well as inspiration.
As you sit down to consider the specific design for a restaurant logo, you realize it's a bit more complicated than, let's say a logo design for accounting or finance. There's a lot of detail and finesse that goes into a restaurant logo that captures the unique atmosphere, cuisine, taste, and décor of the place.
You have to get all the details absolutely right to not only attract new customers but to keep the ones that are loyal to you.
So What's The Design Brief For Such A Logo?
First of all, narrow down the design that you want. Do you want a modern logo or something more vintage? Does your menu, clientele, and décor demand for a more sophisticated design or is it a casual dining place that people can visit any time of the day. Once you have these details down to a peg, then come choices to pick the right colors that are on trend, typefaces, and how the overall design will be organized.
Below you will see that we have selected a bunch of logos categorized under the kind of restaurant you may be operating. Depending on your restaurant style, you can pick design, styles, colors, and fonts that best capture and complement your unique aesthetic and atmosphere.
1. Fine Dining/Upscale Restaurant
Principles of restaurant logo designs guide us that for a fine dining restaurant you want a cleaner and sophisticated design with lines and angles and not too much color. Keep the color palette restricted to two colors – feature and accent. If you want a more vintage design, make sure the elements are complementing each other, and the design may look flowery – perfect for a terraced eatery – it must not look shabby. Remember that people who come to an upscale restaurant are very much interested in the whole restaurant branding experience, from food to design to décor to furnishings. Make sure you get every detail right.
For logo design examples for your upscale Italian restaurant, we have brought you clean lines, acute angles, continuous strokes, impressive typography, and sophisticated colors. For the vintage in you, we've selected a couple design with flowers and cursives to give you an idea.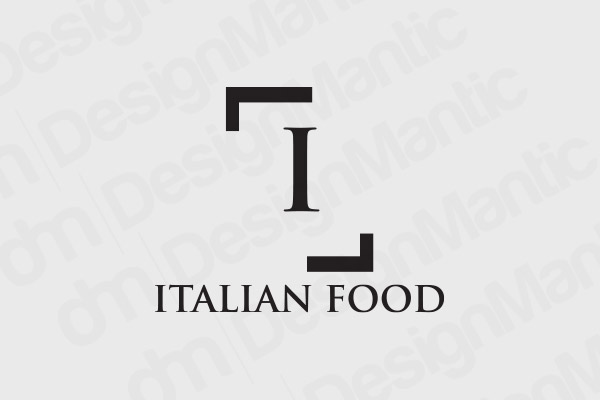 Watermark logo featuring letter I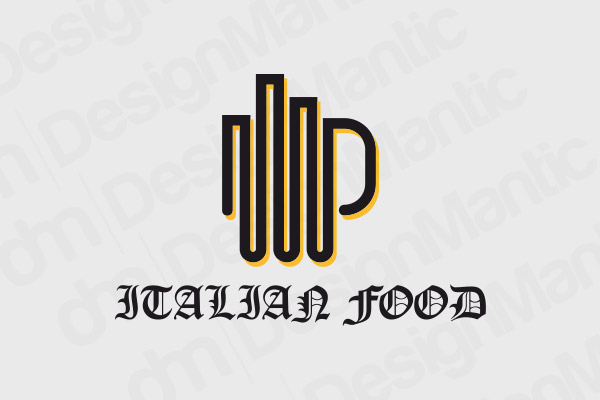 Food logo with continuous lines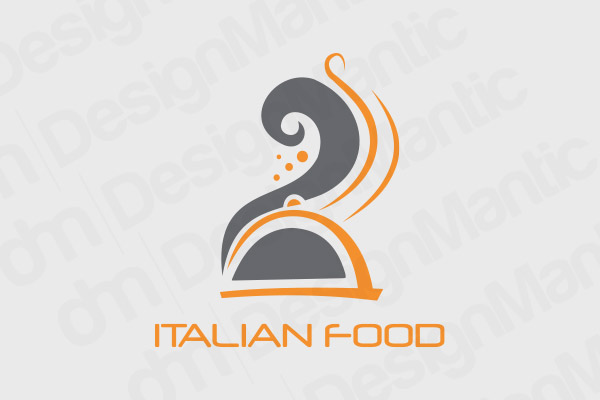 Lid logo featuring smoke and stylized typography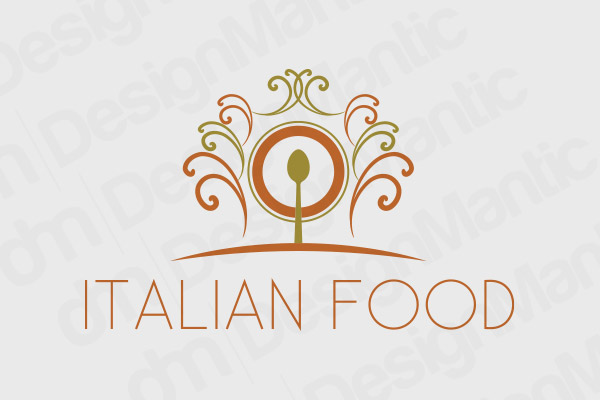 Logo design with spoon and a plate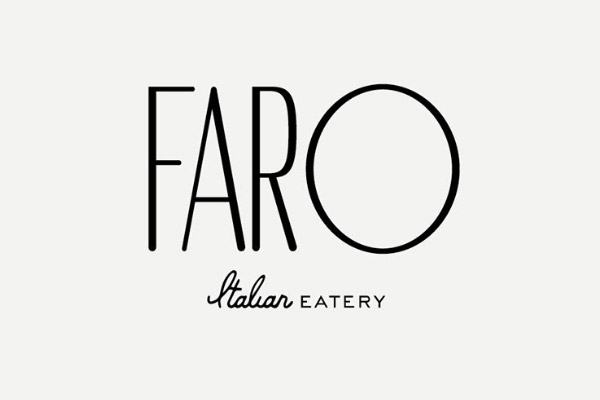 Image Source: Behance/SCHOOL STUDIO
2. Casual Dining
In America, the bulk of Italian restaurants are mostly casual dining with an exciting atmosphere, lots of spicy dishes on the menu, a family feel to the place, and lots of regular patrons helping the business. If your new Italian restaurant is also going to be a casual dining place, you have your work cut out for you. The competition demands that you serve not only the better quality food in a much more nicer way, you also make certain that your restaurant gets launched as a brand, offering a much more cohesive experience than your competitors, and that your logo, especially, is set to become the welcome sign that can instantly start attracting diners.
For your casual Italian diner, we suggest logo designs that are welcoming, cheerful, with brighter colors, and an open feel.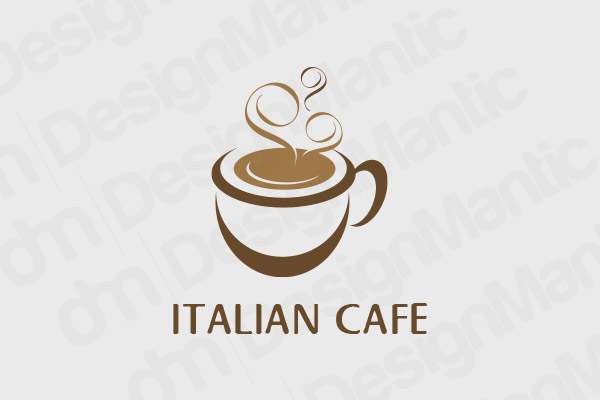 Coffee cup logo for Italian restaurant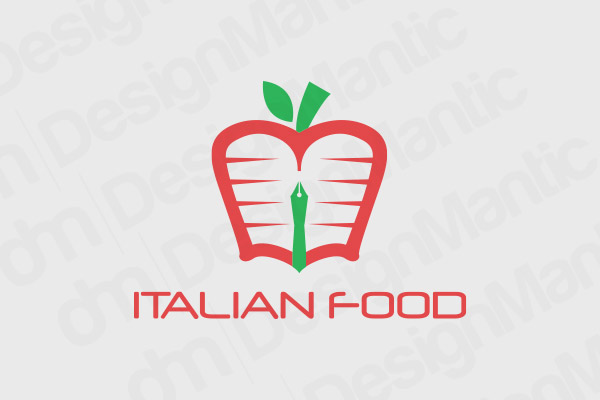 Food apple logo in red and green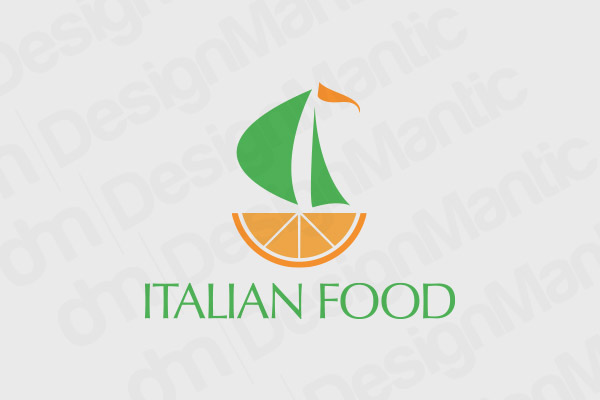 Lemon slice logo featuring boat design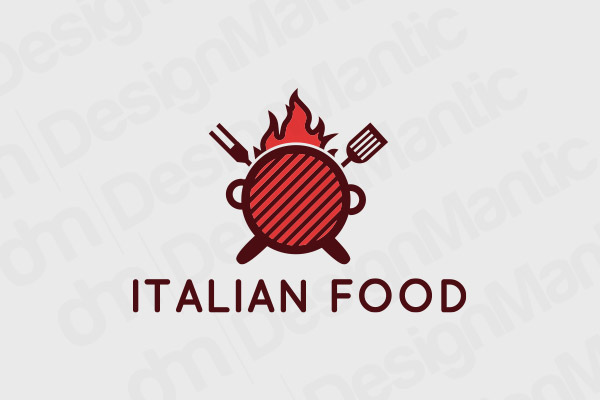 Grill logo for Italian pub/bar restaurant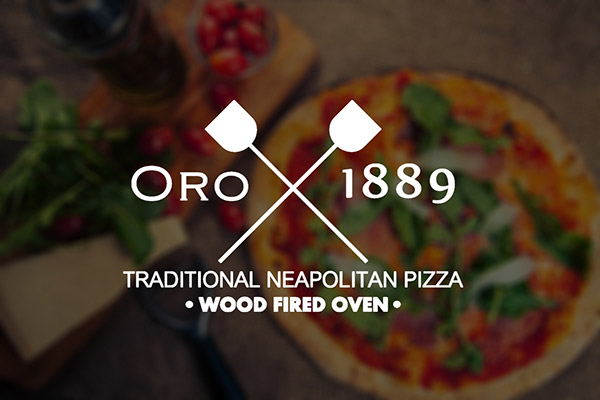 Image Source: Behance/Dihan de Silva
3. Fast Food/Pizza Delivery Restaurants
In addition to casual dining options, pizza delivery places make up the bulk of the Italian restaurants in America. In fact, pizza has completely become an American food, perhaps as American as apple pie.
To design a pizza delivery logo or a brand design for a fast food option, make sure your logo incorporates a ready image that symbolizes the delivery option you are emphasizing on. With inviting colors and casual but interesting typography, you can create a distinct Italian restaurant logo for your fast and casual dining place.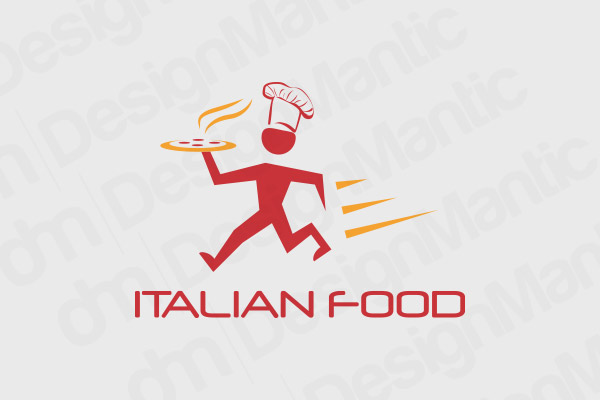 Fast food pizza delivery logo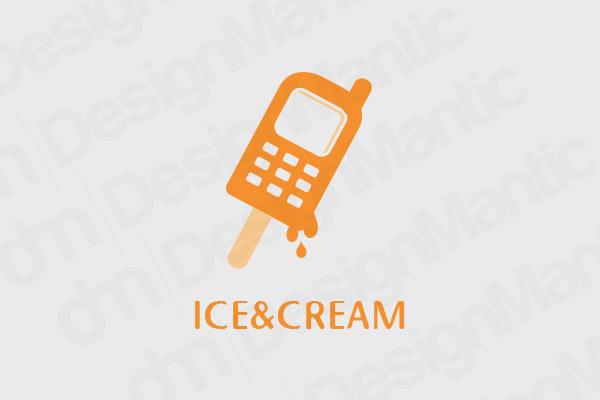 Ice cream logo in mobile phone design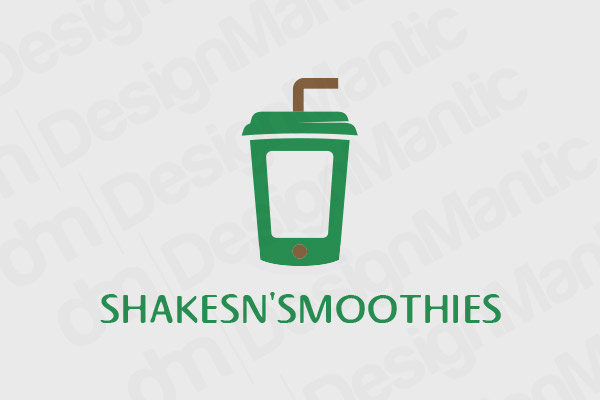 Coffee on the go logo in green color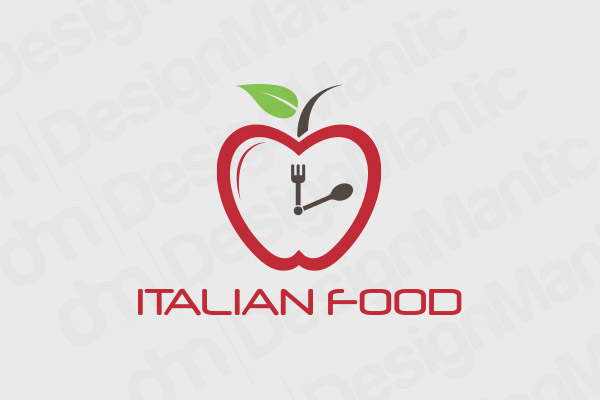 Food delivery logo with clock within apple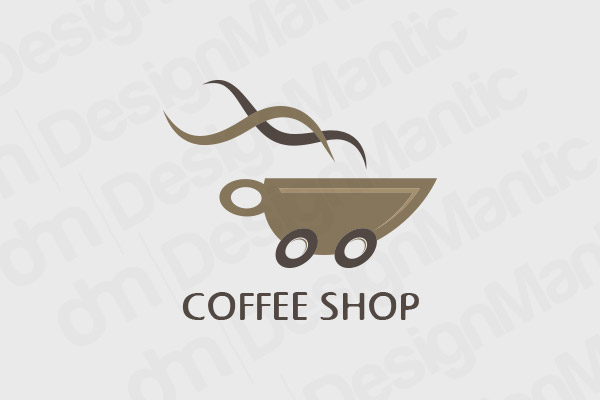 Cup on wheels logo for food delivery
4. Pub And Bar Restaurants
Of all the dining options mentioned in this list, a pub/bar restaurant is a place that has its own unique culture, atmosphere, and vibe. Bars are the most fast-paced, loud, casual, and laid back dining options there are. Visited only by adults and each featuring a distinct air, it is safe to say bars offer the most relaxed and individualistic dining experiences.
For creating a logo for an Italian bar restaurant, we need to capture the feel of the atmosphere, the food, the culture, and most importantly, the clientele. It's this last factor that makes each bar distinctly unique.
We suggest restaurant logos that feature characteristic symbols like beer glasses or wine glasses, personalized shields, water mark logos, and loud, intentional typography.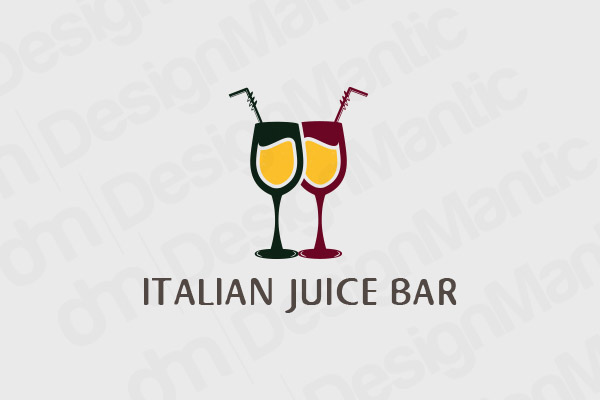 Beer glass logo for Italian bar/pub restaurant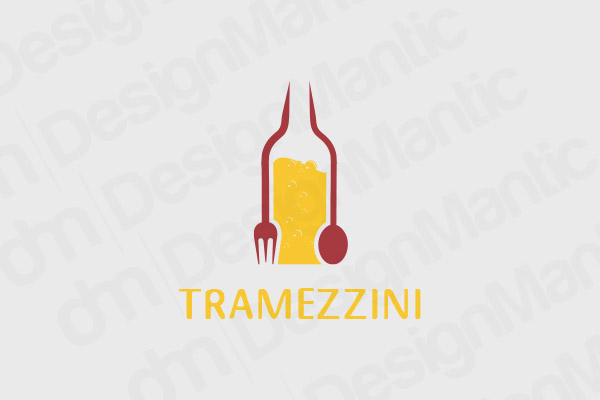 Wine bottle with spoons and forks logo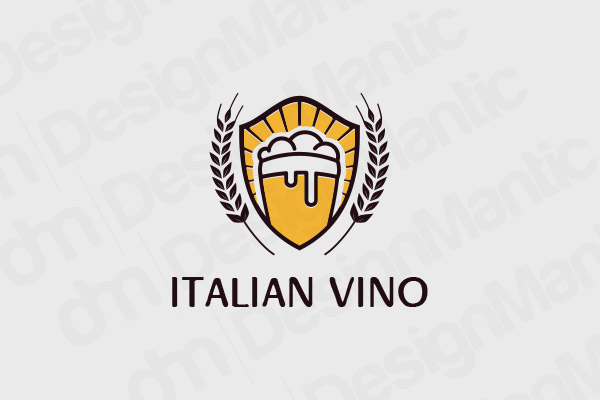 Beer shield logo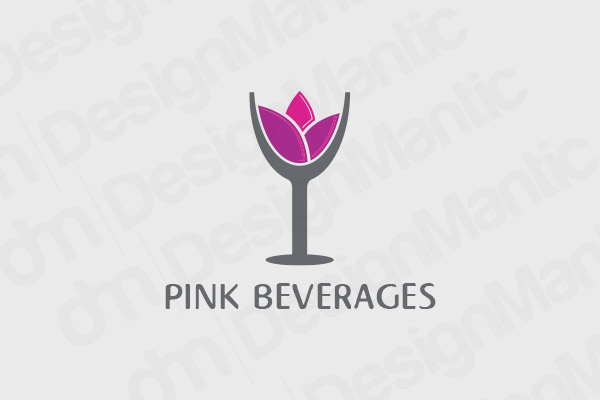 Champagne glass logo for bar restaurants design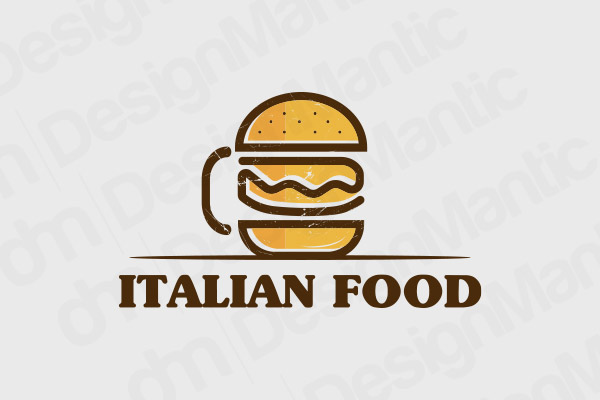 Burger logo featuring cup holder design
Happy With The Designs?
What do you think of this collection? Let us know in the comments below. If you like any of the designs we've featured here, come visit our website for more of where these came from.
Try Our Online Logo Maker Tool: