"There is no sincerer love than the love of food." George Bernard Shaw, "Make it Count."
We are fenced in by restaurants, diners, eateries, fast food joints, bistros, coffee shops, juice bars, pizzerias, and high end luxe hotels wherever we look. While this keeps us food aficionados forever drooling, leering, and dreaming of instant gratification at every turn, which one do we choose to satiate our carnal desires?
This may be an era of restaurant oversaturation, but only few of them turn into viable brands that people remember and believe in while deciding where to dine out. The nature of the business entails heavy competition and restaurants that fail to make that first good impression are sure to stay in oblivion for eternity (or until rebranded). While we are taught not to judge a book by its cover; we do lust after beauty and for most people; beauty runs skin (restaurant logo) deep.
Not only can your restaurant increase sales turnover with a good logo design, customers are prone to forming opinions by looking at your restaurant logo or even before they have the chance to walk through your doors. Thus, this cutthroat race is compelling restaurants to come forward with unique and inspiring identity symbols that are extremely beguiling and drive customers to them. Restaurant logos are one of the most viable tools of marketing the business and helping cement a solid base of loyal customers. Thus, an attractive, meaningful, and captivating restaurant logo becomes an inevitable part of doing business. As such, restaurants are going to painstaking lengths to design unique logos that bring all the 'boys to the yard' and they be like 'it's better than yours!
What Makes A Restaurant Logo Scrumptious?
Have you ever felt a yearning for hamburgers when glancing upon a McDonald's logo while driving, or thought that you just caught a waft of coffee aroma when looking at a Starbucks logo? Isn't it mesmerizing the way restaurant logos can tantalize your taste buds and connect you to the food and beverages you have developed an infatuation for?
If you have ever wondered what magic goes into designing such delectable restaurant logos, The Logo Maker For Restaurants eBook details the scrumptious ingredients that go into designing such palatable restaurant logos.
Here are the underground secrets of the trade that most popular restaurants are hiding up their sleeves when it comes to logo designing and DesignMantic logo maker have meticulously perfected to get you a logo that dreams are made of:
1. Getting Your Restaurant Patrons In The Right Mood
"Pull up a chair. Take a taste. Come join us. Life is so endlessly delicious."

― Ruth Reichl
To guarantee the ultimate pleasure of your patrons, you can't force your restaurant upon them, they have to come to you themselves (Consent is the key). This is why you need to keep the mood of your customers at the forefront and think about the emotions and feelings you want your food to evoke in your customers before designing your restaurant logo to mirror those sentiments and woo them in. Logo is the sweet foreplay of the senses before the ecstasy arrives on steaming platters and trays!
Whether you have an Italian café or a Chinese restaurant chain, your strategy for logo design should include the moods of the prospective customers to define the designing process. For instance, small club or cafe logos should exude a funky and vibrant feel and thus might incorporate fun and casual typography symbols. On the other hand, high end restaurant logos should be touched up with chic and elegance to reflect the ambience within and promise an exuberant experience. Rustic bistros should have a relaxing feel to the logo design to entice in customers who are looking for a great homemade meal and a laid back setting. With a plethora of food and beverage logo designs available at DesignMantic, be sure to ponder over each and introspect if it sets the right mood for the kind of food you are offering.
2. Taglines; Finally Pickup Lines That Actually Work
Diligently constructed taglines are those sweet whispering of promises and tender affection! A tagline is one of the greatest ways of marketing your restaurant without having to announce it over and over again. Not to mention, it renders your logos witty and memorable. After all, a million dollar face, zero cent brain is so outdated!
A catchy tagline replete with puns can make your patrons blush and giggle (Funny is the new sexy). Your logo tagline can be a food-mantic rhyme or stanza that you have penned down to make your customers flip their heads for a second look, or a few words explaining what you have to offer. Ideally, the tagline should capture the essence of your restaurant so your customers take something away from it.

3. Making It Work With Typography
As any religious foodie would tell you, food isn't just for the body. As a restaurant owner, you should know that many people indulge in the art of eating because they can feel their spirit and soul lift with each bite. It goes deeper than physical gratification! Thus, when designing a logo, special consideration should be paid to fonts and typography that set the right tone for your logo and are suitable to your business. Fast food font choices are sure to be poles apart from high end restaurants. Once you have chosen a logo design from DesignMantic, be sure to scrutinize the font closely and tweak it to your preference and the overall theme of your restaurant.
While it is a widely known concept that logos devoid of symbols or images look incomplete, a designer can ingeniously use a single or a combination of two similar typefaces to craft a nifty logo design that leaves the customers in awe and tell them what you are all about. Words are not everything; it's also how you articulate them that portrays their true intent. Without a physical voice, typography is all that you have to leverage.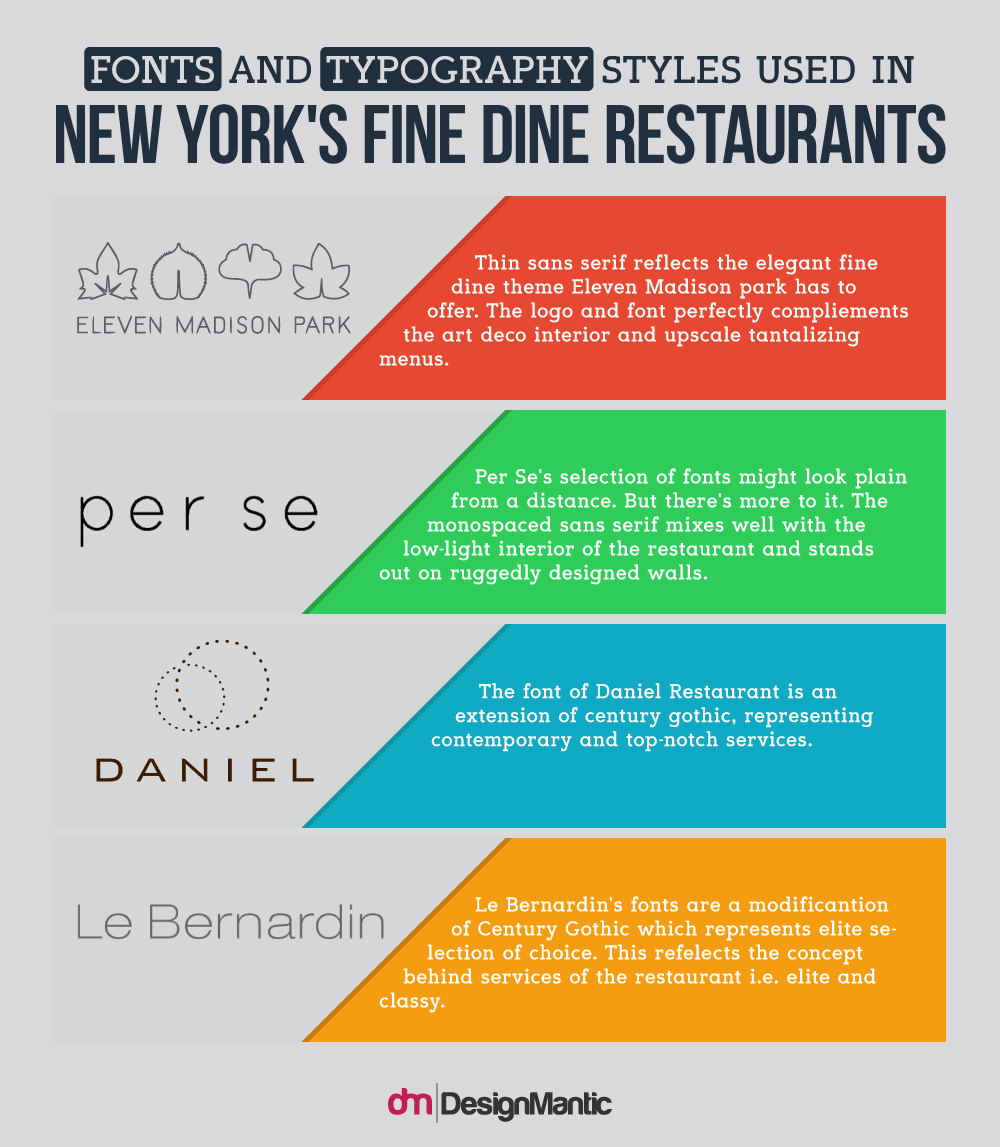 The Logo Maker For Restaurants eBook covers the quintessential rules of typography that all restaurant owners must comply to when designing a viable restaurant logo. The comprehensive guide explains how the type of restaurant you own and the ambience you are flaunting to offer has a direct bearing on the typography of your logos, and how you can leverage it to make an even greater impact!
4. Colors Can Make Them Say Yay Or Ney
"Some colors become you, bring out the color of your eyes and make you look oh so ravishing", says food to the logo. However, when choosing the colors of your restaurant logo, aesthetics is not the only factor you have to contend with. According to the color psychology, colors play on our minds and evoke a plethora of emotions. If you look at the color spectrum of famous logos, you are bound to put two and two together and see the connection.
For instance, some restaurants, especially those like McDonalds and Hardees that promote a quick fare and drive through options for hunger emergencies, have donned their logos in red since red triggers hunger and incites a sense of urgency. Similarly, restaurants that encourage healthy eating and going green, such as subway and Starbucks, have their logos in green, the color of healthiness, serenity, and feel good sentiments. On the other hand, high end dining restaurants have their logos in hues of purples and blacks, the colors of royalty and opulence. Have you ever seen a girl wearing black to a birthday party, drab brown to a soiree in the sun, and lush red to a funeral?
The choice of colors not only help to deliver the business message effectively, but make your logo design stand out and emphasize the type of food and ambience you are offering. Each logo design that you choose from DesignMantic is accompanied by 4 color palettes so that you can select one that fits in.
Remember that your competitors are also using color psychology to woo customers, so try to choose a color scheme that renders your logo memorable and is perfectly in line with the theme of your restaurant. Never use inappropriate colors for your restaurant as it could mar your entire flirting endeavors and leave you wondering what it is that makes you a love repellent!
5. Clarity Will Take You Places Where Exaggeration Wont
Einstein's and Shakespeare's dates must have had a hard nut to crack, what with all the incomprehensive talks and hard to fathom words!! This is why we see that readable, clear, and simple restaurant logo designs are the ones that get the most dates! Using overtly complicated graphic art, or hard to decipher symbology will only serve to confound your customers and make them look elsewhere for meaning. Think of the all too ubiquitous golden arch of McDonalds. The straightforward and simple 'M' gets what most logos don't; it triggers yearning for burgers and shakes at a glance.
Whether you are using text, icons, or a combination logo, make sure that the symbols and words are understandable, clear, and intuitive, and the logo is memorable and recognizable, so that your corporate identity becomes an enviable success. In fact, many restaurant logos are simple and only incorporate images and icons which fortifies the food specialties of the place. This is why DesignMantic logos are clear, precise, simple, and satisfy all the rules of dating to make your customers go "hallelujah"!
6. Be Versatile!
Another great trick is to ensure that your restaurant logo is adaptable and versatile throughout multiple platforms if you want it to hit the market with a bang. Since your logo is going to be used on myriad marketing materials, such as pens, business cards, and napkins, it should pack a punch no matter where it is shown or printed on. Our online logo maker lets you garner a versatile logo vector that would fit in anywhere you want it to, something that a boyfriend won't!
7. Flirt With Icons
When appropriately used, icons can make your customers famished! Icons offer a sneak-peak into some element of your restaurant and the striptease is enough to make them come back for more! DesignMantic logo tool designs incorporate a wide array of viable icons that mirror the essence of the restaurant and what one hopes to find within.
Common Icons Found In Logos
We have all seen a few icons repeating through myriad restaurant logos and have become accustomed to them. In fact, here's a roundup of some popular restaurants and catering logos all over the world is jumping to adopt and a collection of DesignMantic logo designs that have adapted those icons to perfection:
Chef's hat: This logo icon is a promise of a meal meticulously prepared by skilled and experienced chefs.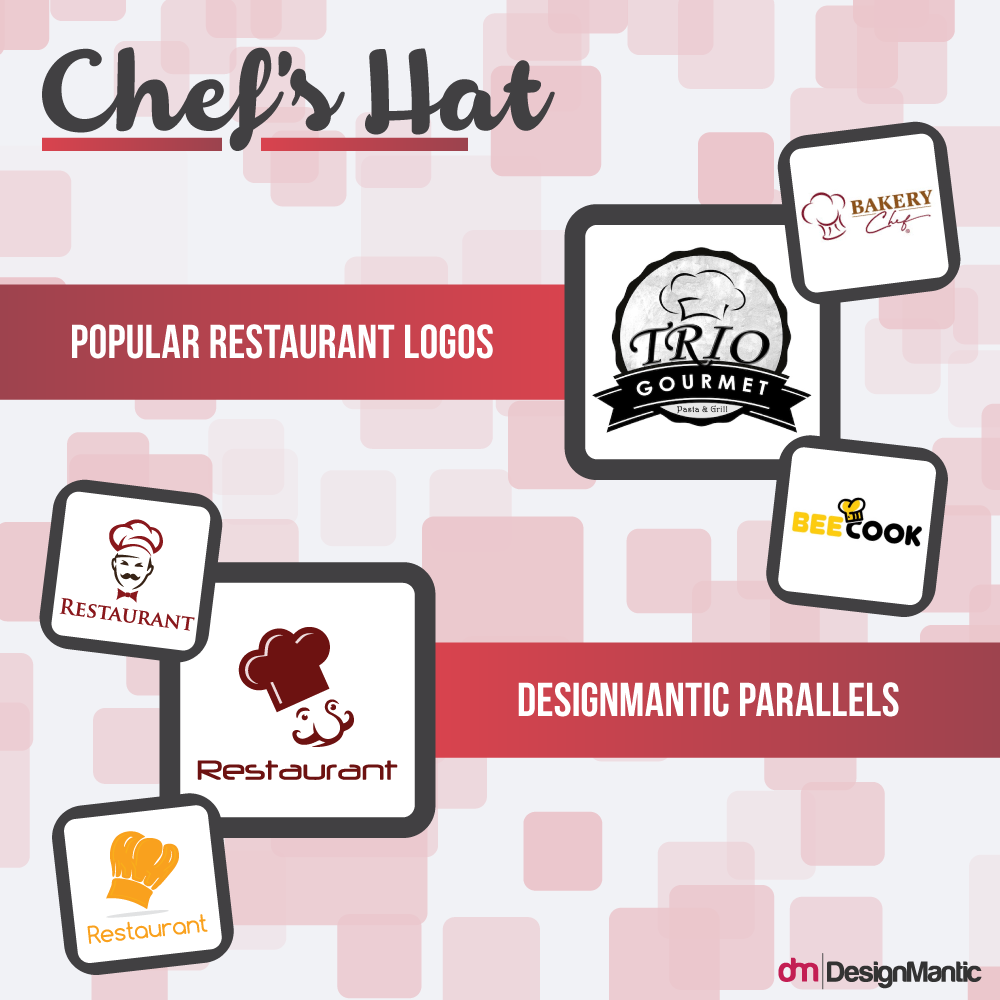 Cutlery Icons: Cutlery icons in a restaurant logo shows the exquisite tableware you'll find inside; a promise of fine dining in short.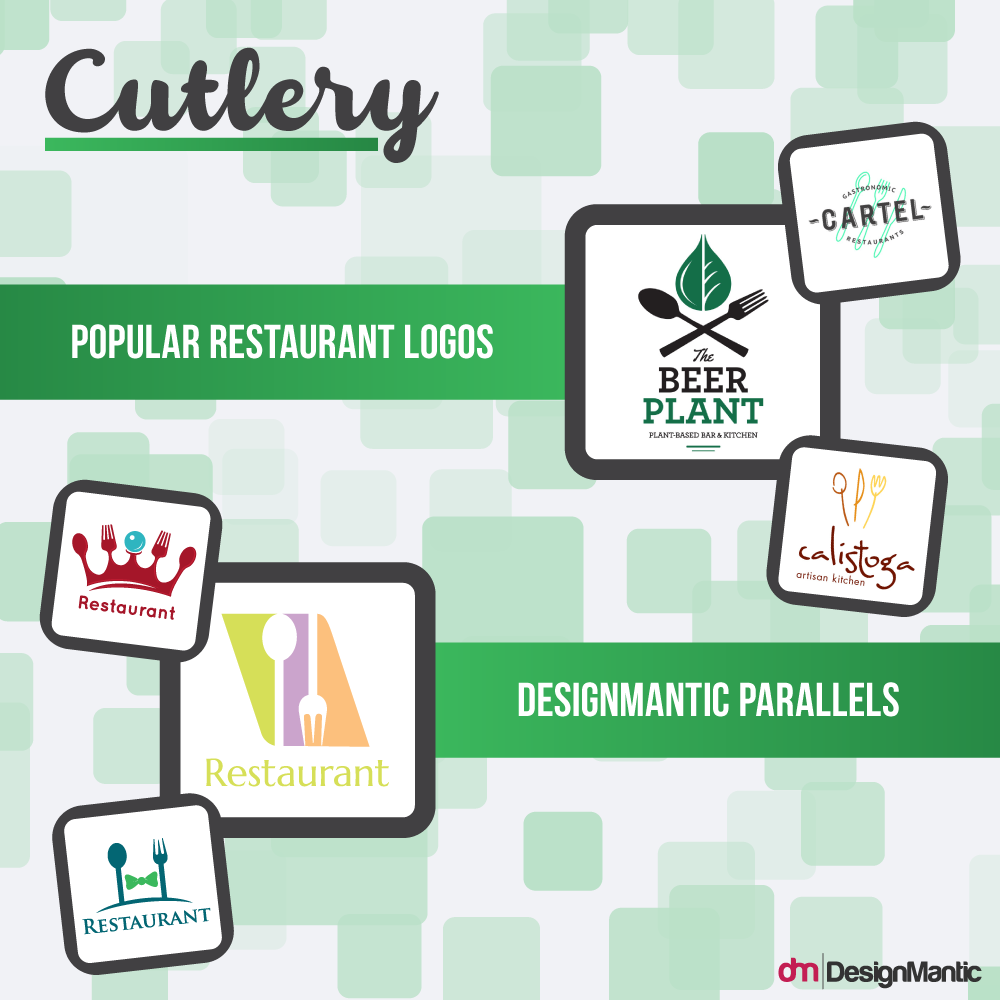 Cloche Icons: Food platters encased in a cloche hints at the promise of warm, freshly prepared meals offers by the restaurant and the icon is designed to stir hunger in the patrons.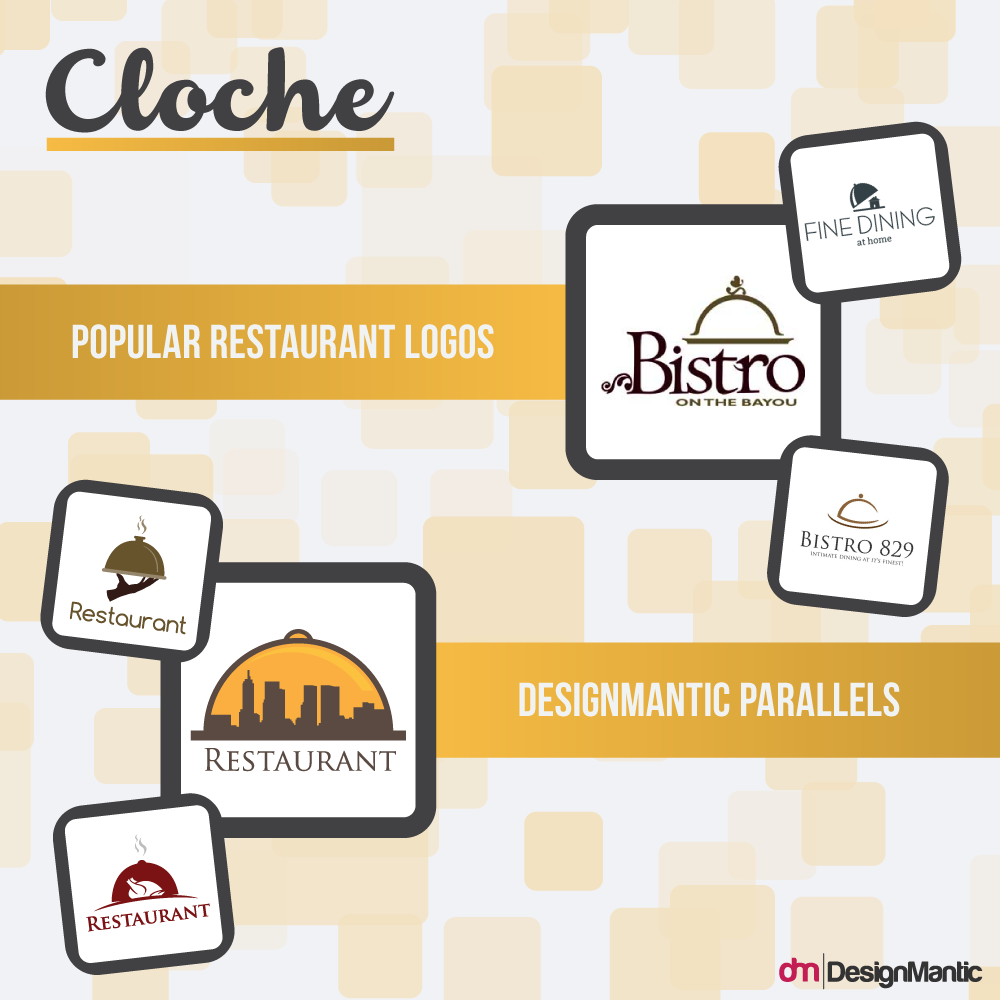 Popular Seafood Restaurant Logo Icons: Icons of sea life not only show that we are entering a sea food restaurant, but also exhibit a promise of fresh catch. "Double fish" restaurant designed their logo creatively to double as cutlery items. A stroke of genius!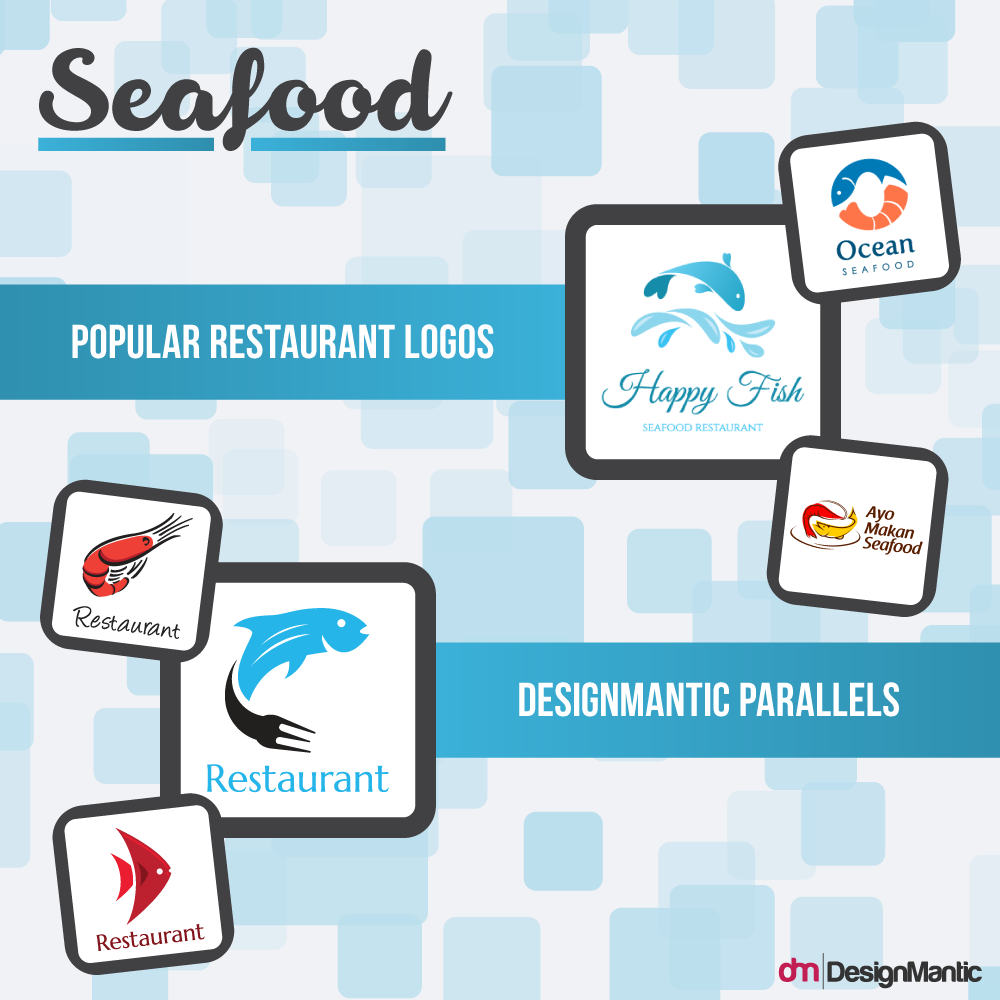 Chopsticks Icons in Asian Themed Restaurants: What do you think of when one mentions Asian Cuisine: Chopsticks! The Icon is there to remind of you your Love for Asian cuisine!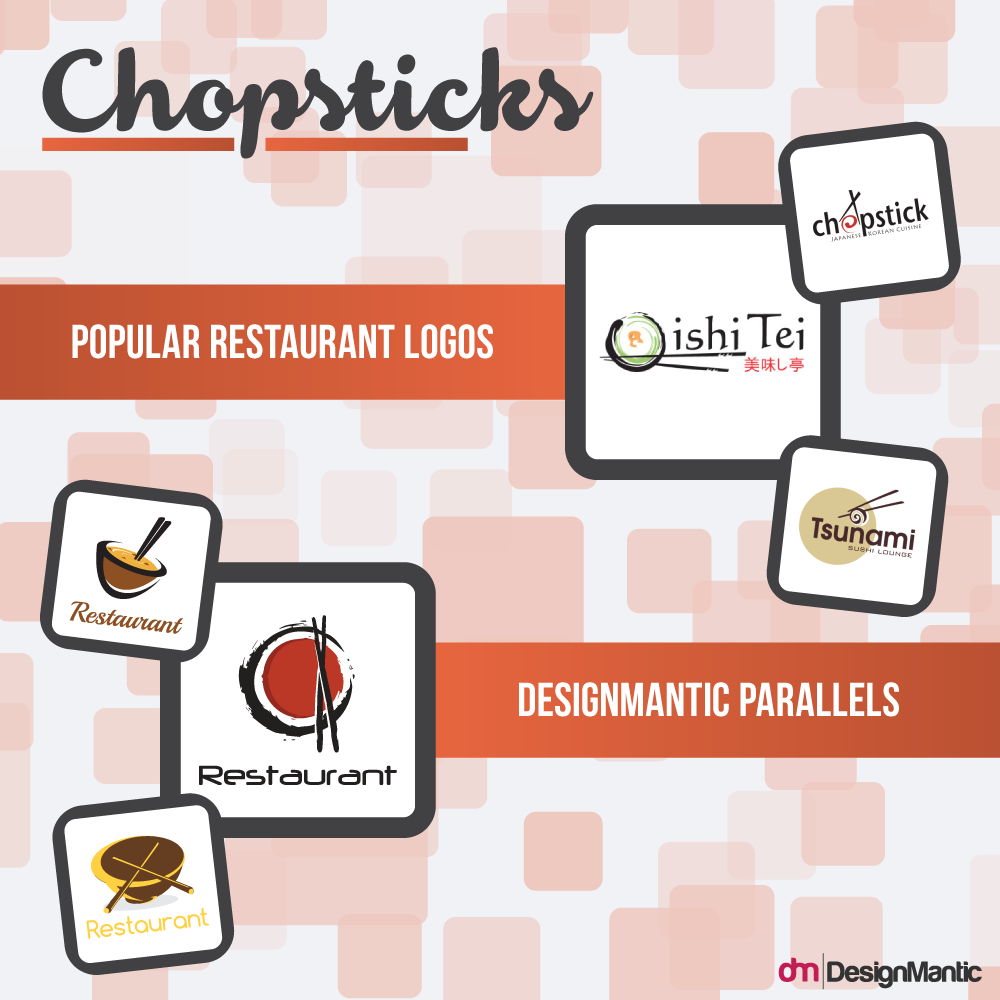 Popular Coffee Shop Logo Icons: Steaming coffee mugs the sumptuous brown shades of these icons make you yearn for coffee.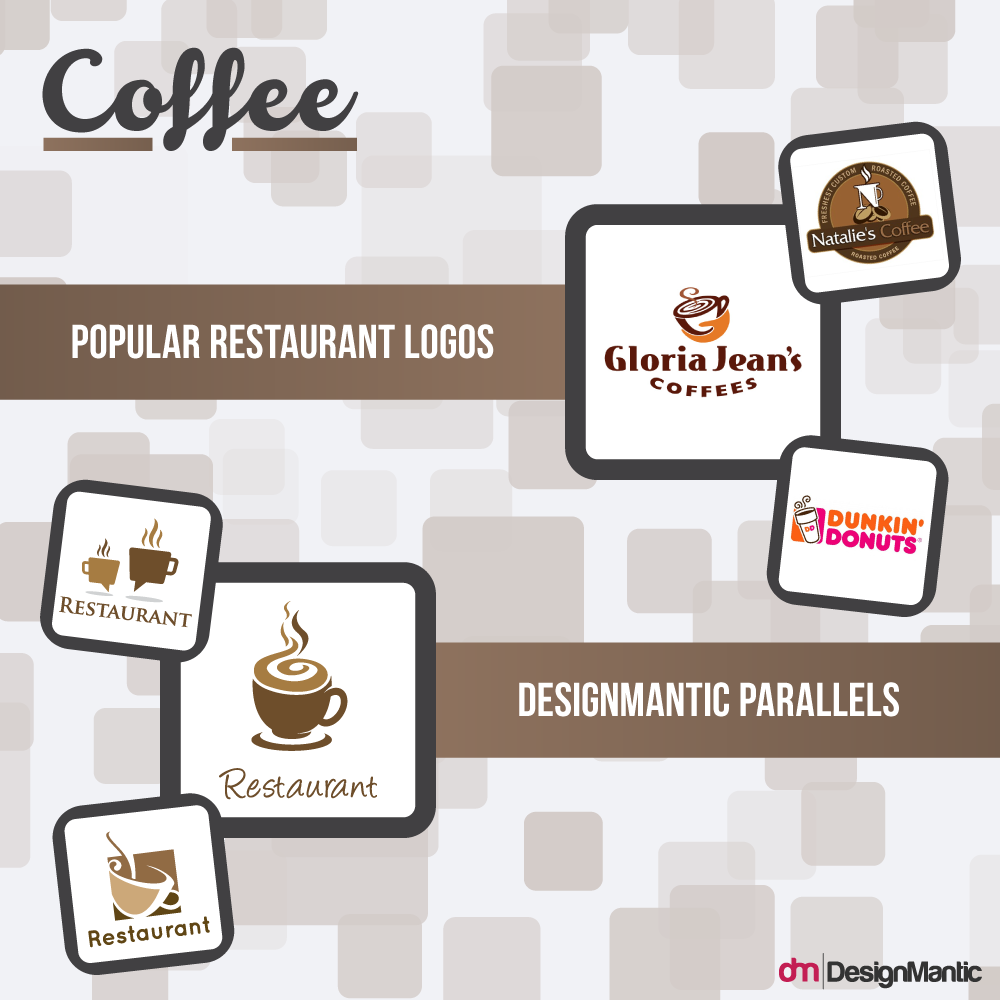 Cupcakes and Cake shop Logos: There is nothing like a picture of a cupcake to kick awake your sweet tooth! And bakeries know that!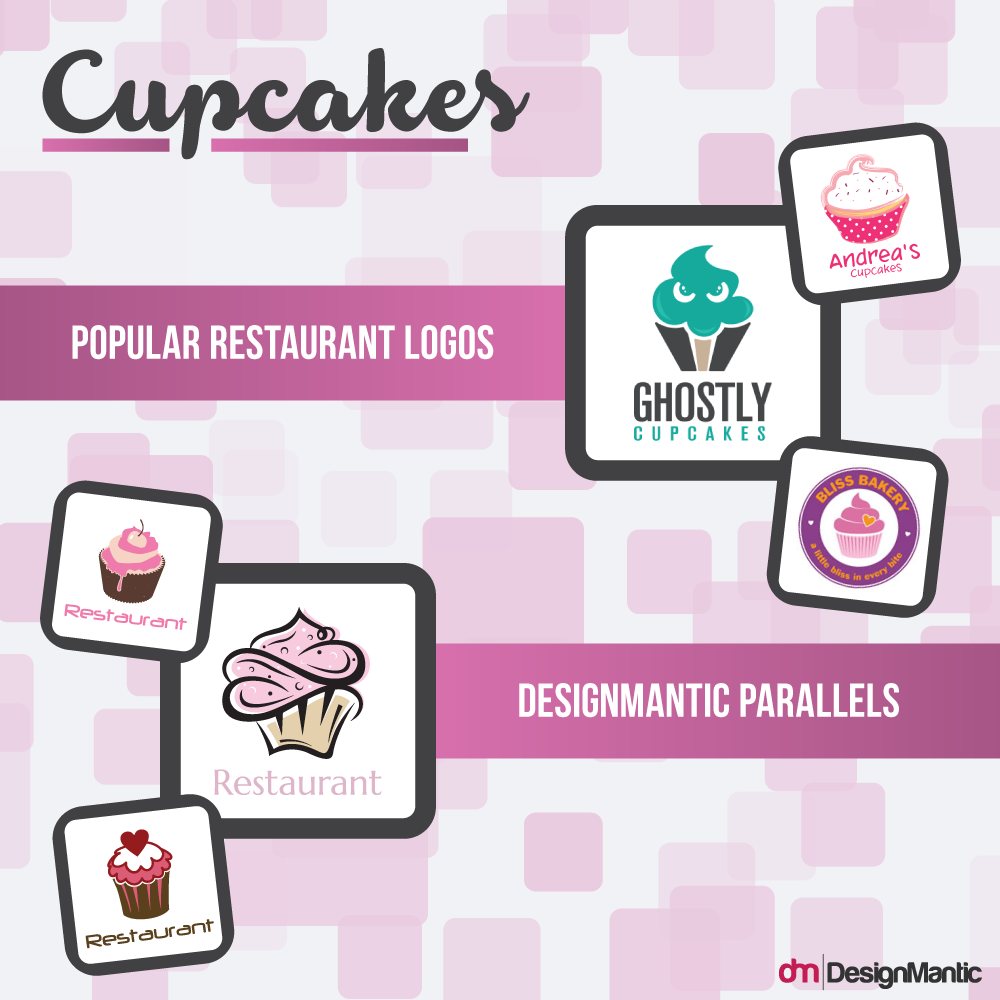 Peruse through the extensive logo design collection of DesignMantic and tell us which logo design elements captured your eyes the most.
Try Our Personalized Logo Maker Tool For:
Tea Cups Logo
Lunch Logo Templates
Pizza Logo Maker
Chicken Logo Generator
Bake Shop Logo Ideas
Chinese Soup Logo Design
Meat Logo Generator
Fish Logo Templates