The warm smell of sun-kissed flowers mixed with a hint of dirt comes into the mind when one thinks of spring. That's what you feel like too, right? But, did you ever wonder what Botticelli had in mind when he pictured a few maidens celebrating spring equinox in the forest?

Image: uffizi.org
It might seem like an exquisite masterpiece, but ask any renaissance expert and he'll inform you that the 'Primavera' still remains the most controversial piece of art since its origin and has been written about the most.
However, why are we discussing renaissance art here? You were here for spring posters, weren't you? Well, let's just go through the link between our Mother Nature's joy and Botticelli's chef-d'oeuvre. So let's begin. There are various versions of the same story, but the widely accepted idea is that Botticelli was inspired by the classical allegory of the mythical figures and hence, portrayed the arrival of spring in a figurative style. He just wanted to depict the joy, the warmth, the blossoming fertility, and everything growing in nature, but in an enigmatic fashion.
Spring from Botticelli's point of view has shifted from its pattern and has taken a 360° turn in today's world. Art and design have become more explicit, vivid, invigorating, flashy, and less controversial of which our mysterious renaissance artist might have had no idea.
We might not celebrate spring like the maidens dancing in the classic portrayal, but we do know how to fancy some graphic design spring posters. Here we've gathered some spring design ideas and posters from various graphic designers, which will definitely make you feel like spring for 25 consecutive days.
So, let's do it!
1. New Poster Collection Spring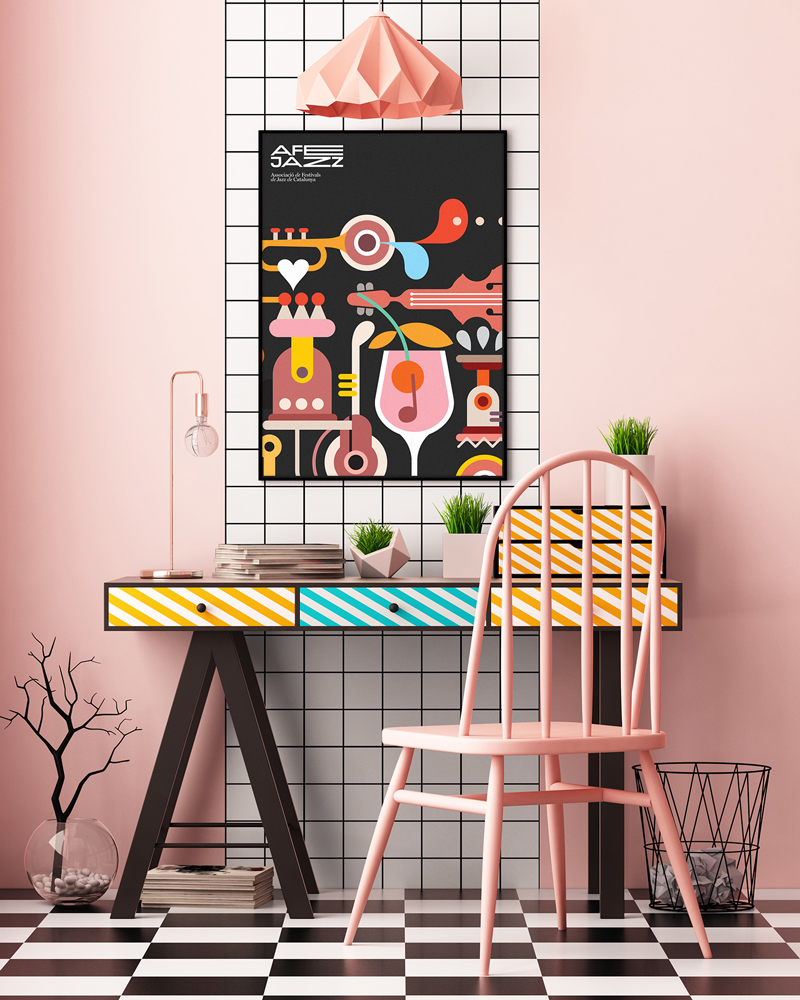 Image: Behance/Quim Marin
Quim Marin's work is a bold expression of spring arrival that doesn't need an introduction. His spring collection is complete and breathes life into the spring spirit. You'll find abstract designs, typography, and everyday objects put together in a dazzling style in his spring poster collection.
2. EST OEST │ EL GIR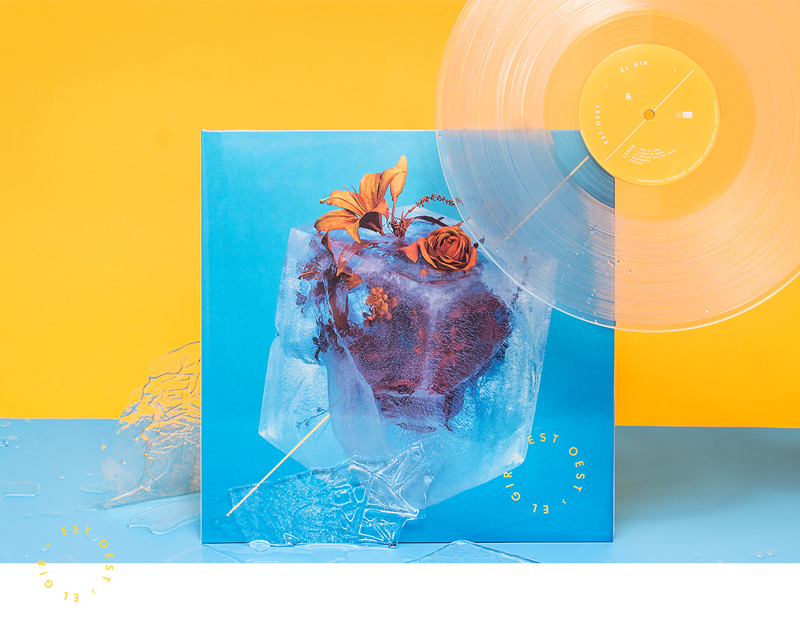 Image: Behance/Partee Design
Seeing this spring poster reminds us of 'breaking the winter ice' with some flower power. The varying hues of blues and yellows determine the soothing effect that spring brings. Partee Design sure has taken some spring action this season!
3. Spring Again

Image: Behance/HWAL
HWAL is a South Korea-based graphic designer who likes to have fun blending colors. This poster demonstrates circle icons with rounded, diffused edges, which gives them a soft, mesmerizing tone. You can also think of it as a camera flare that's diffusing as it spreads. Or even balloons too. But then again, it's spring again by HWAL.
4. Harvard Business Review OnPoint Magazine (Spring 2018)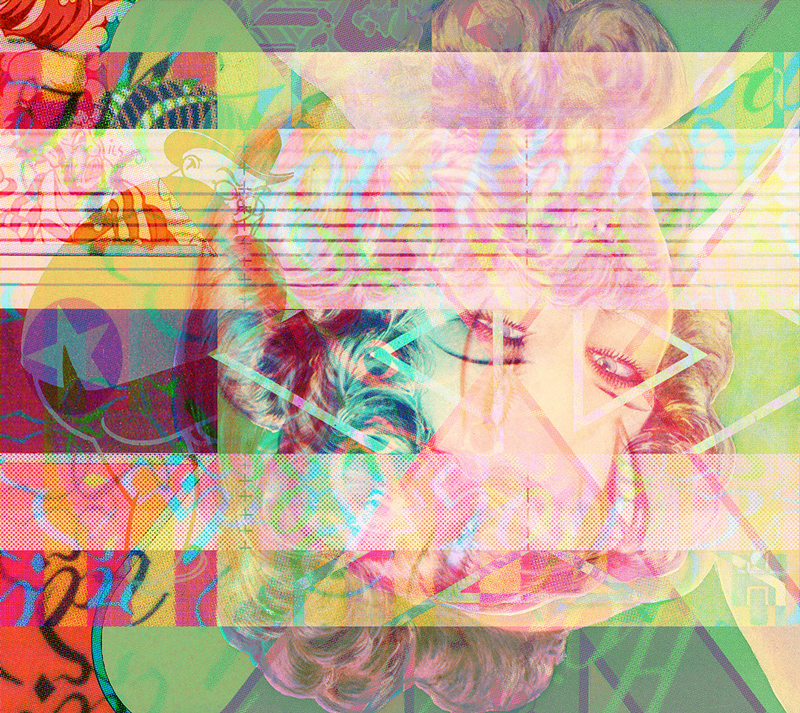 Image: Behance/Tim Evans
If you are a fan of retro merged with pop art, then you must see Tim Evan's collection of posters that are making their way up the Spring 2018 issue of the Harvard Business Review OnPoint Magazine. It's new, it's different, and it's a fresh breeze in the world of graphic design.
5. The Hanging Stars (Spring 2018)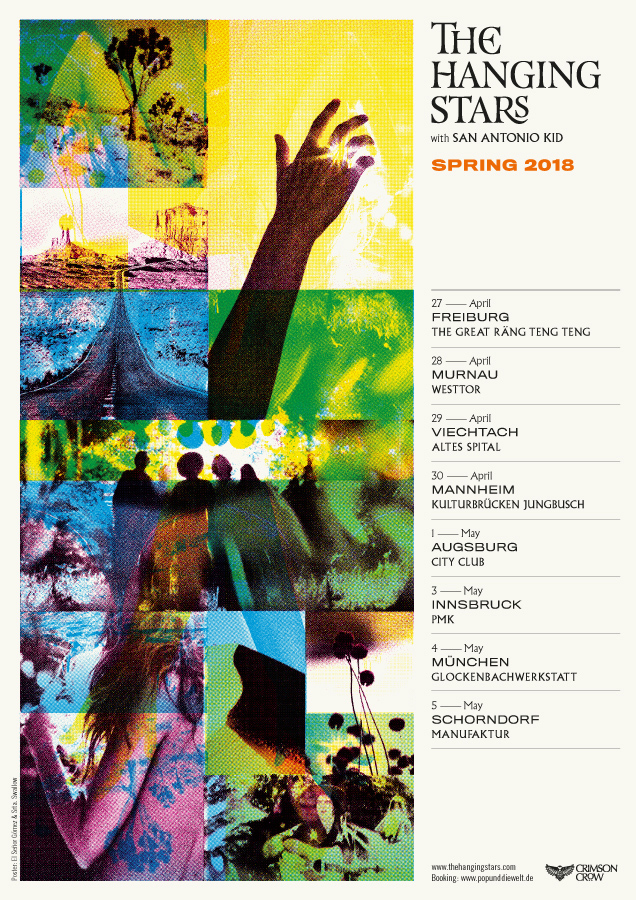 Image: Behance/El Señor Gómez
The fascinating piece of artwork you see above is designed by El Señor Gómez for the concert of San Antonio Kid. This poster displays the spring events with color overlay and double exposure. The poster also features a black eagle logo at the bottom right corner. A charming poster for a spring concert, isn't it?
6. Neon Posters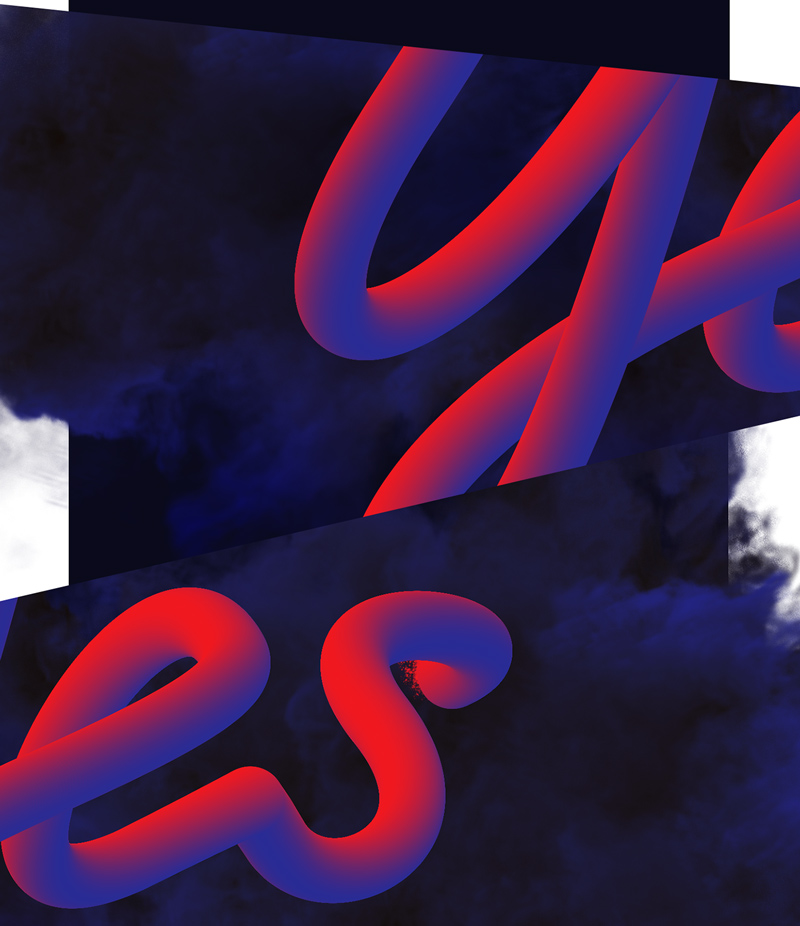 Image: Behance/ Valeria Arlova "lerler"
C'mon, who doesn't like watching flashy neon signs on a cool breezy spring night? Valeria Arlova "lerler" gives some nice edge to the flashy neon signs on a dark smoking background. Not necessarily a traditional spring poster, the artist has fluxed the colors well, giving it a rebellious touch.
7. Spring Awakening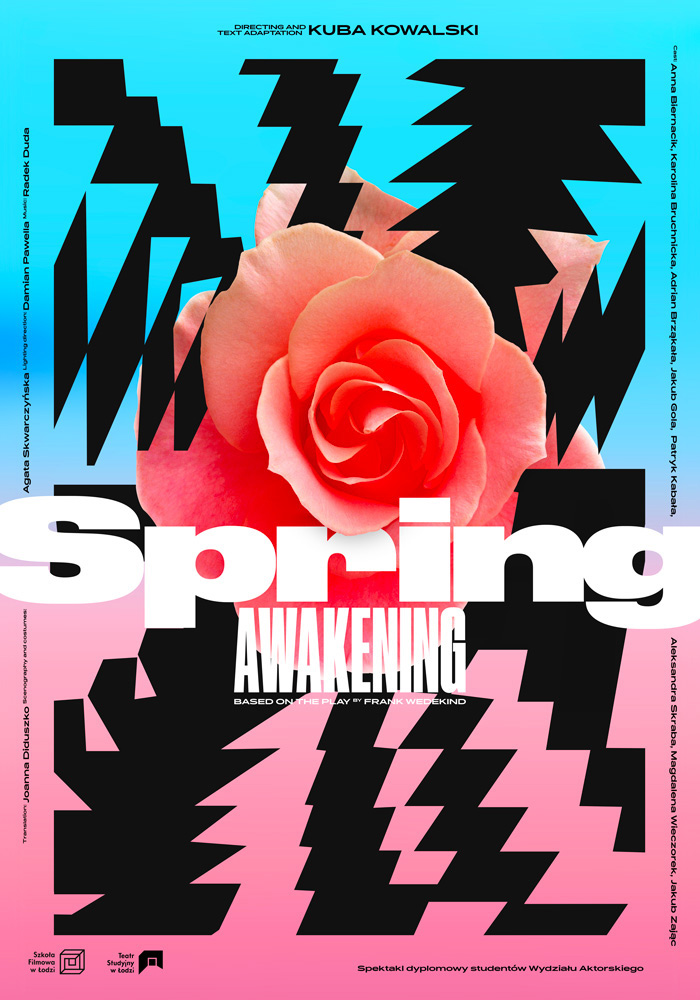 Image: Behance/Krzysztof Iwanski
The poster refers to a play written by Frank Wedekind in 1891. Due to its explicit and bare attempt to uncover the disguise of human morality, the play was banned for about 15 years. Krzysztof Iwanski pays his tribute to the 'Spring Awakening', which still remains evergreen after even a century.
8. Series Of Spring Posters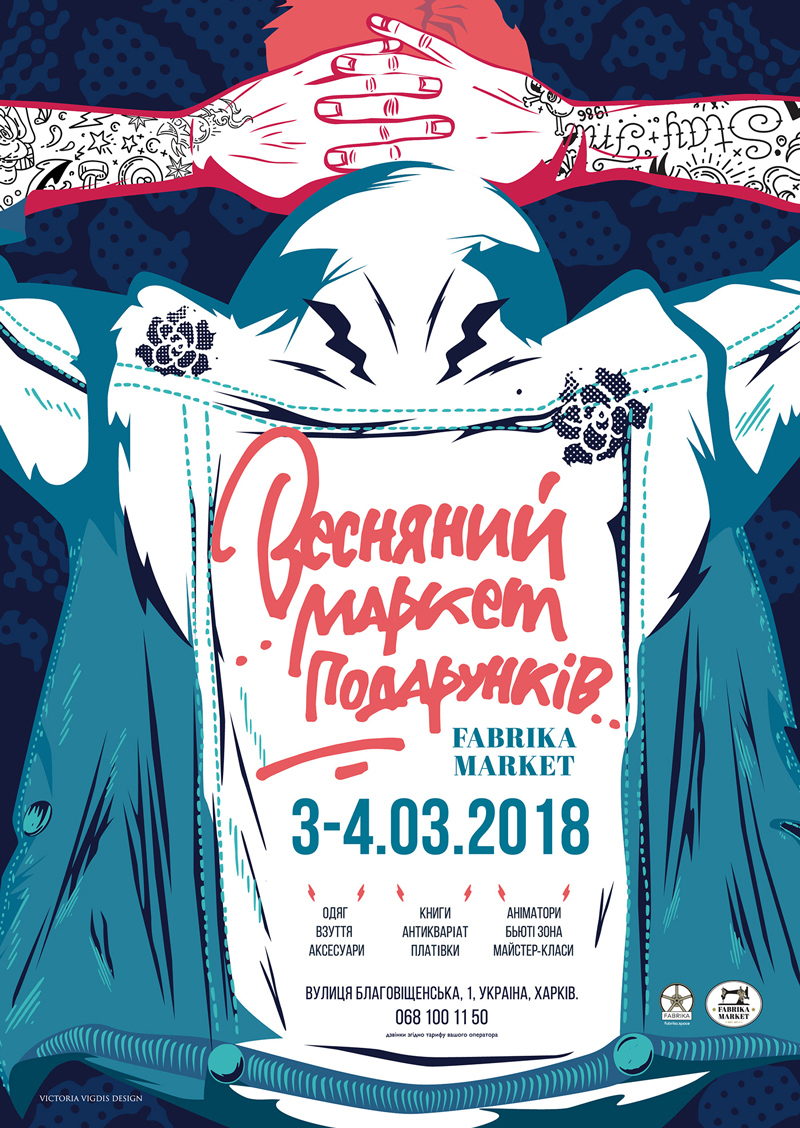 Image: Behance/Victoria Vigdis
Spring is coming, so everyone is going to take out their denim and show off on streets. But instead of wearing denim, Victoria Vigdis has designed a spring poster for a fabric company that was featured all over Kharkov, Ukraine. There's no reason this spring-themed poster should be missed out from the list.
9. Kungl. Konsthögskolan Spring Exhibitions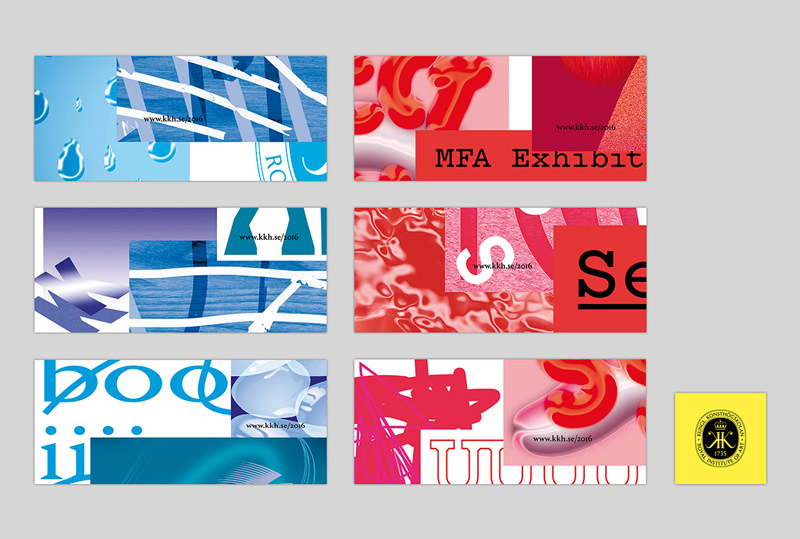 Image: Behance/Summer Studio
The Summer Studio designed and curated these outstanding posters for the Royal Institute of Art Spring Exhibition in 2016. Summer Studio was offered to create graphic design posters for the event. The most interesting fact about these posters is that the colors represented individual events and more than 35 posters of the same graphic design were created in a unique way. It's just the blues and reds that swayed the spring exhibition. The Royal Institute of Art logo in yellow still stands out though.
10. Spring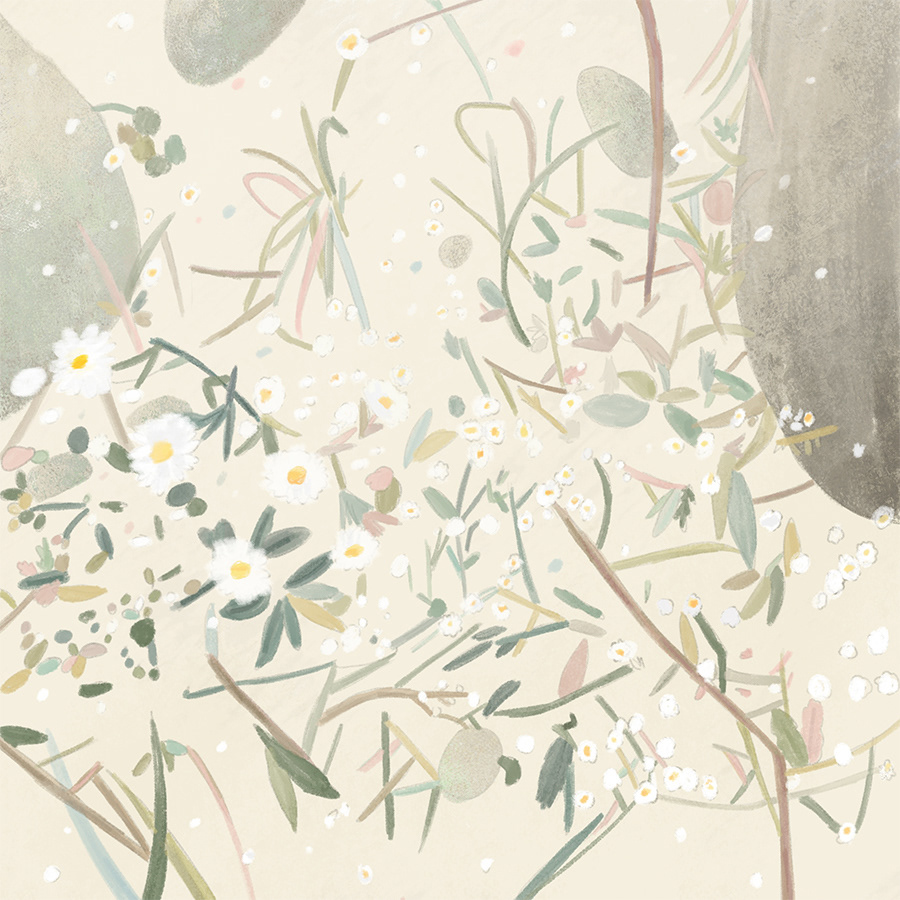 Image: Behance/U Jung
Who said spring can't be depicted as a neutral, faded, and washed up mass of flowers, leaves, and weeds? In contrast to the colorful, vivid spring posters, the nature aesthetics are pictured warm and tender in this one created by U Jung. Subtly simple and a home-calling spring.
11. Eye Of Spring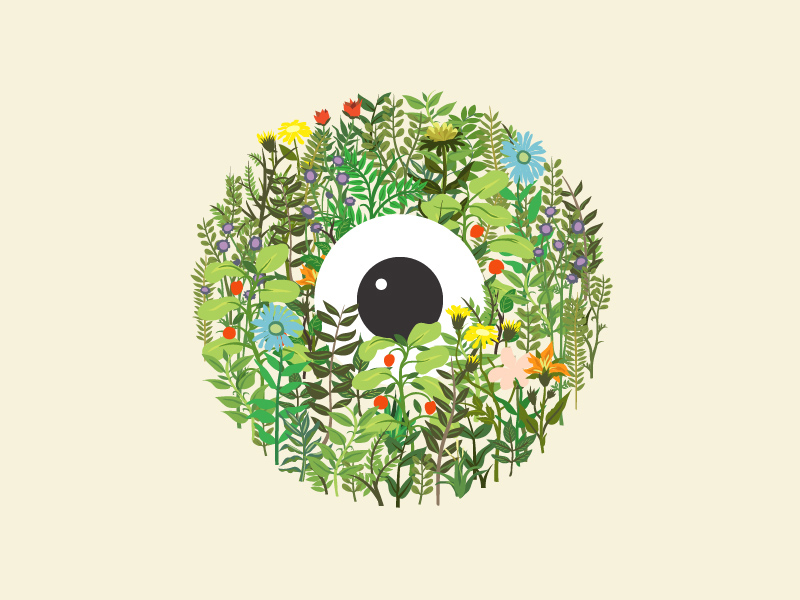 Image: Dribbble/Matt Carlson
You've heard about April showers, apple blossoms, fragrance of flowers, but bet you never heard about the eye of spring. Matt Carlson gives us the unique and astounding idea of how the spring is viewed as he places an eyeball in a floral wreath. Is this how Mother Nature keeps an eye on us? Only Matt can tell that!
12. Beautiful Spring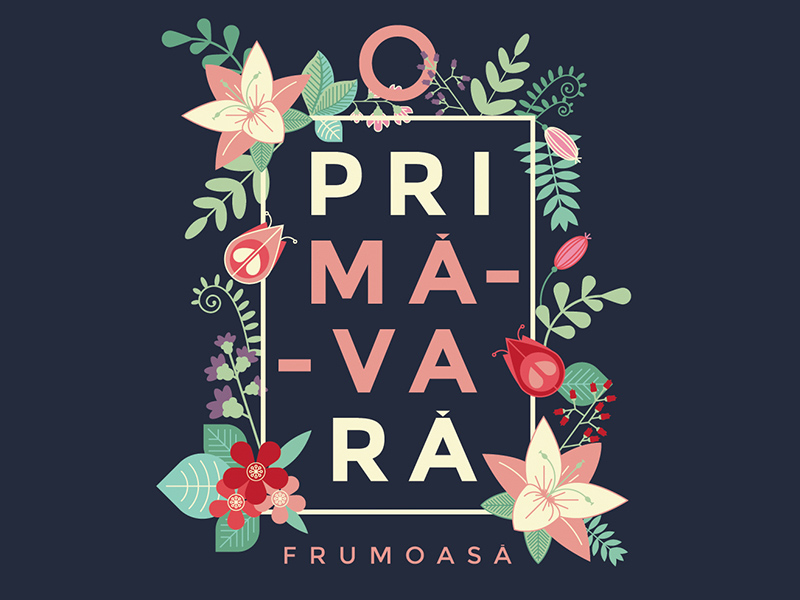 Image: Dribbble/Vandal Club
This spring poster, greeting card, flyer graphic design uses matte pastel typography framed with mellow colors on a navy shade. The harmonious tones soothe the viewers in a bizarre manner. Nice job, Vandal Club!
13. Obrigado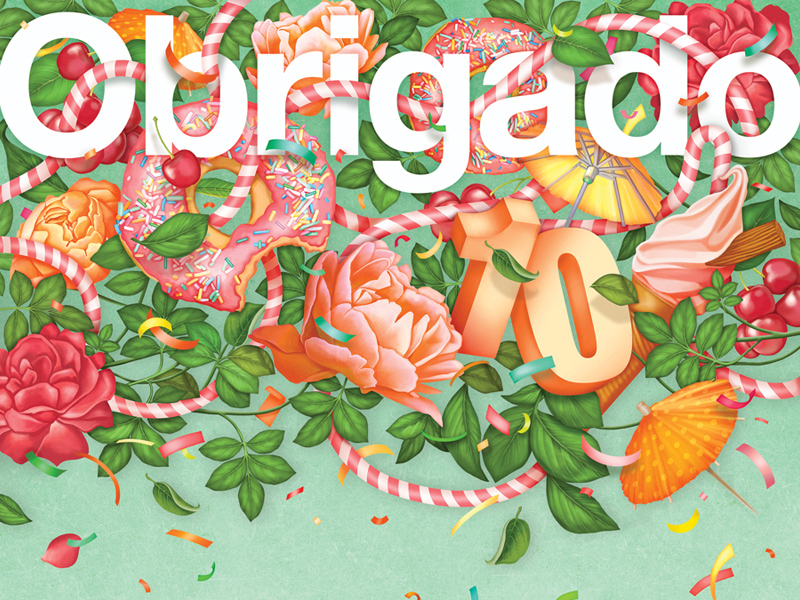 Image: Dribbble/MUTI
Donuts, confetti, candy cane ropes, cocktail umbrellas, cherries, and roses never go out of spring fashion. MUTI designed this cover poster for Obrigado magazine. The warm and lambent tones on an aquamarine background conveys a springy festive sensation. The connectedness of the elements is just so synchronized!
14. Floral Flyer Bundle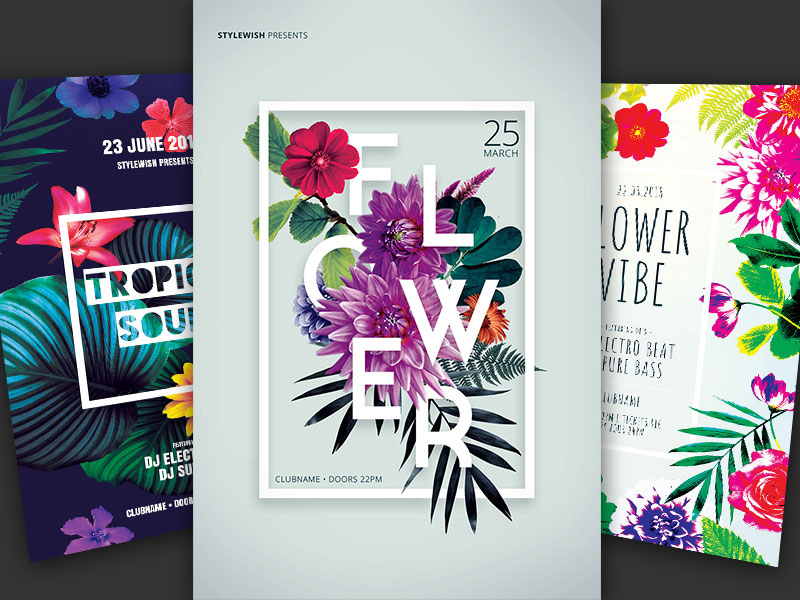 Image: Dribbble/styleWish
The graphic design ninja has come up with some popping ideas that can't constrict the bouquet in the frame. Unlike the classic imagery of the framed flowers and typography in spring posters, styleWish gives us some cool, wild, vibrant, and incandescent ideas that are a perfect example of what spring posters should look like.
15. Berlin Botanical Poster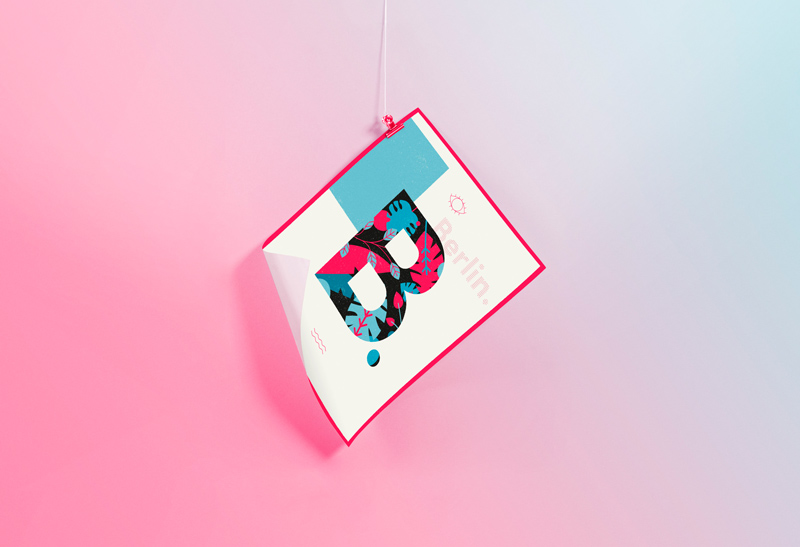 Image: Gloria Ciceri
Gloria loves botanics and she loves Berlin. That's why she decided to scatter the Belin vibe in the form of screaming colors that give just the right touch to the coming spring. Crazy, psychedelic, and simply elegant. Her creative eye symbol logo blends-in well with the springy mood of the poster.
16. Spring is Coming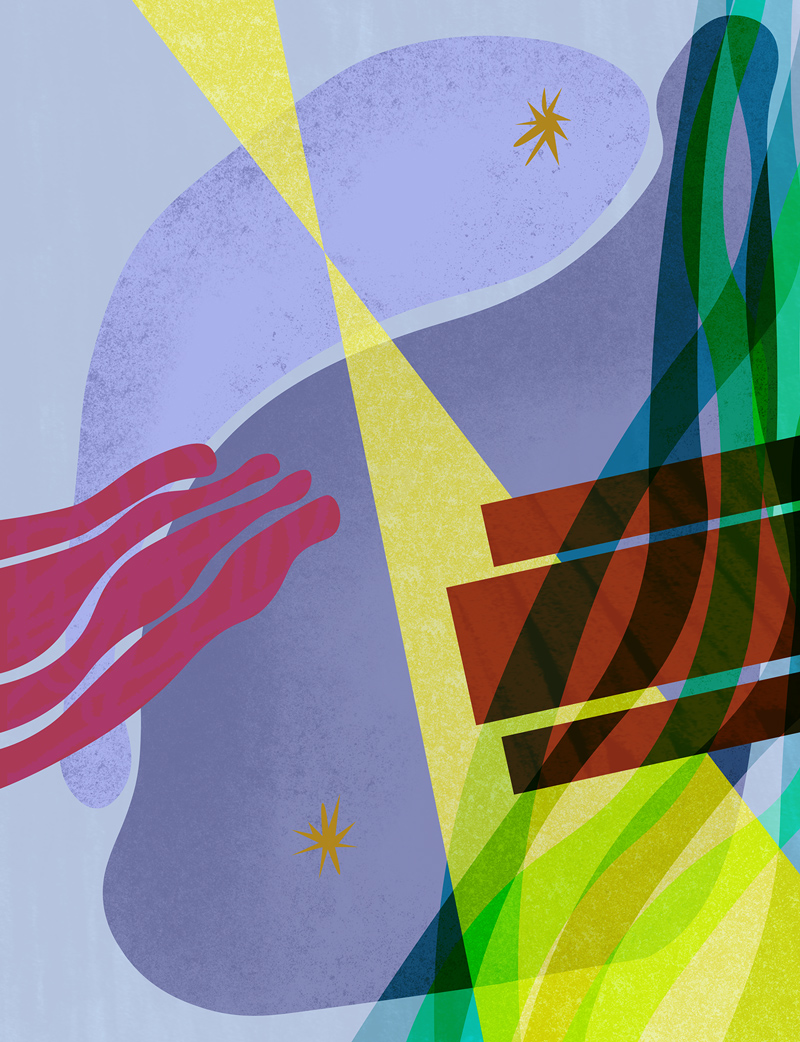 Image: Anna Kimelfeld
Anna Kimelfeld's idea of spring reminds us of Robert Delaunay's 'The Joy of Life', which displays a unique use of particolored geometric and abstract images on canvas. She wants to showcase her spring celebration in a different style, resembling somewhat the classic masterpiece.
17. Spring/Primavera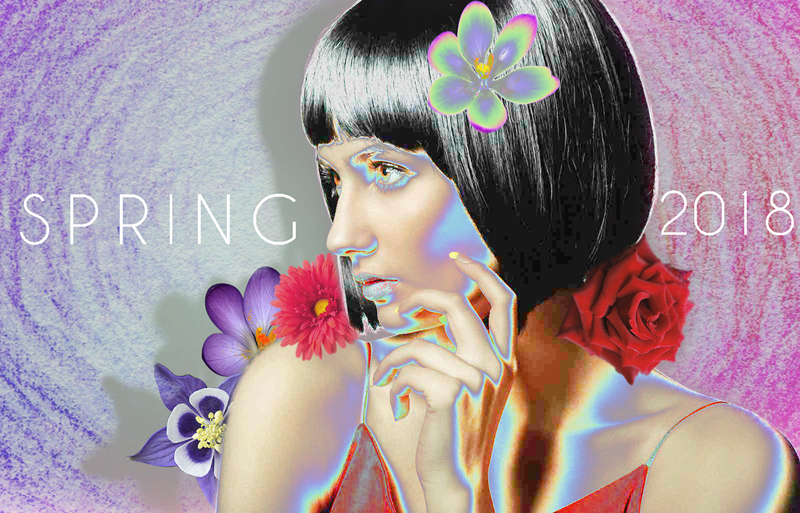 Image: Behance/Sarahi Negerete
The spring poster by Sarahi Negrete strikes the eye as she uses some illuminating and holographic effects. The iridescent glow on a black-bobbed beauty looks stunning and refreshing. Not to mention the makeup trend, that's been in for the spring too!
18. Spring Retail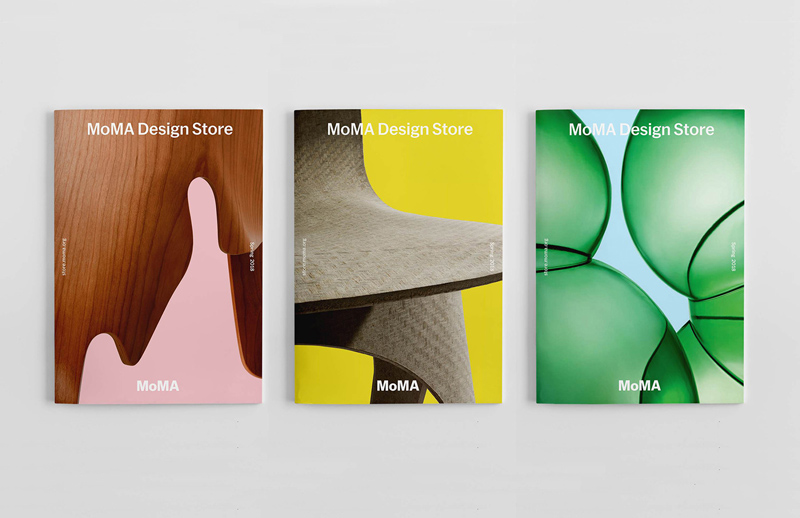 Image: Behance/Eva Bochem-Shur
Eva Bochem-Shur is a graphic designer, photographer, and an illustrator who's got a great eye for detail. In her spring retail posters for an interior design store, Eva carefully manages to demonstrate the design with pastel backgrounds. She brings out the spring element in these images and depicts the design as abstract images and shapes, which makes it unique and intriguing.
19. Grace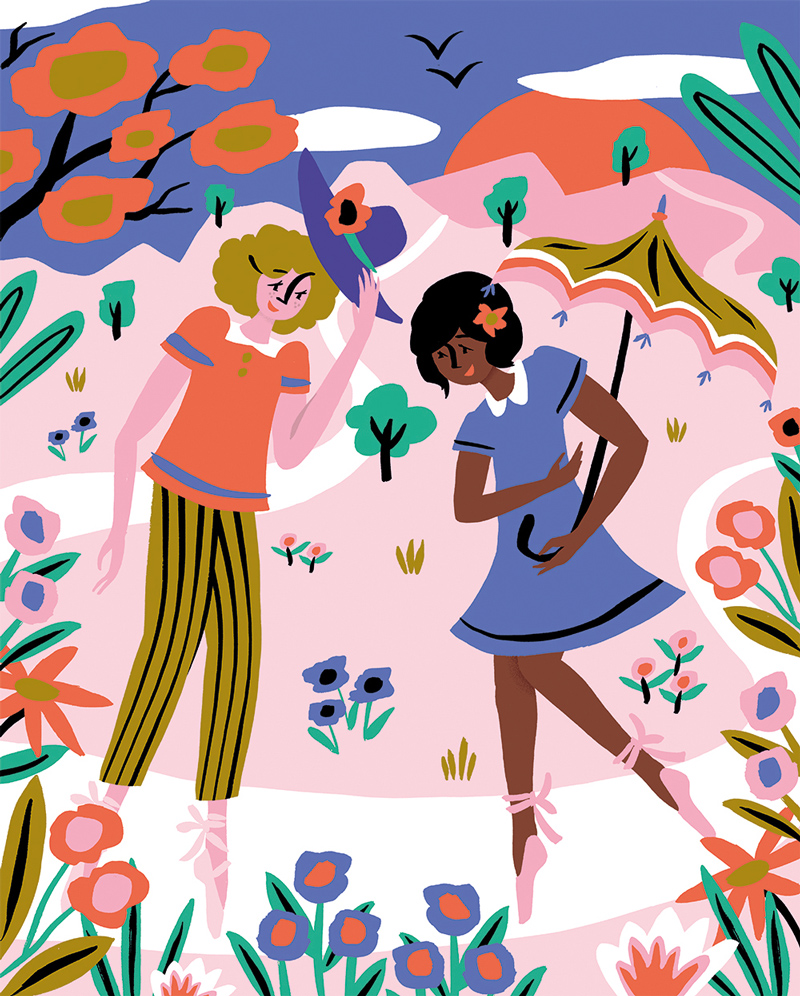 Image: Behance/Marijke Buurlage
Using all the ingredients for a perfect spring poster, Marijke Buurlage presents 'Grace' which introduces the idea of happiness in our lives and others. What's more interesting is her illustration, which brings back some memories of our childhood classic fairy tales.
20. Spring Festival Of Pérouges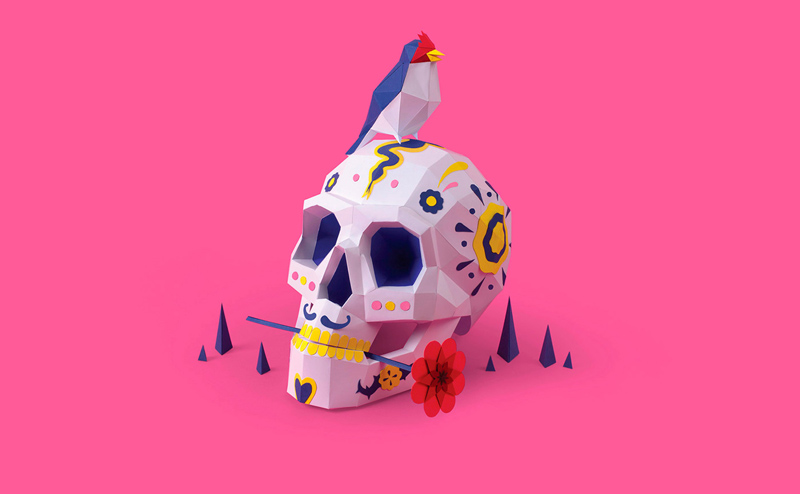 Image: Behance/Graphéine
Graphéine sums up the Perouges spring festival in their poster with a bird on top of a decorated skull, which has a flower tucked in between the jaws. Just like the Mexican day of the dead, this spring poster illustrates the joys spring beings to living as well as the dead in Parouges.
21. Graphic Design-Spring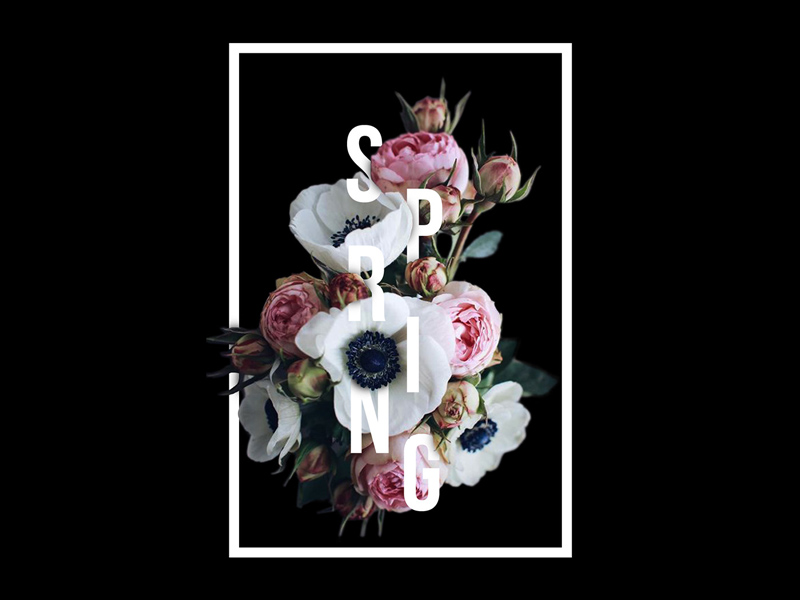 Image: Behance/Chelsea Ruelens
Again, we bring to you another spring poster that combines the most intricate components. Chelsea Ruelens uses high contract to bring forth the subtle and dim flowers in a white frame, with typographic letters 'spring' arranged in a vertical manner. Isn't it soothing to look at?
22. Spring Feeling Poster
Basically a spring party poster, the warm reds, yellows, and pinks deliver a perfect rhythm as well as an explicit invitation to anyone who want to step into the party and enjoy the fun. Instead of fruits, Rita Ribeiro shows the retro pinup lady wearing a load of flowers over her head. The poster also unveils a fine crystal logo representing the brand. So, who's up for the fiesta?
23. Macy's Flower Show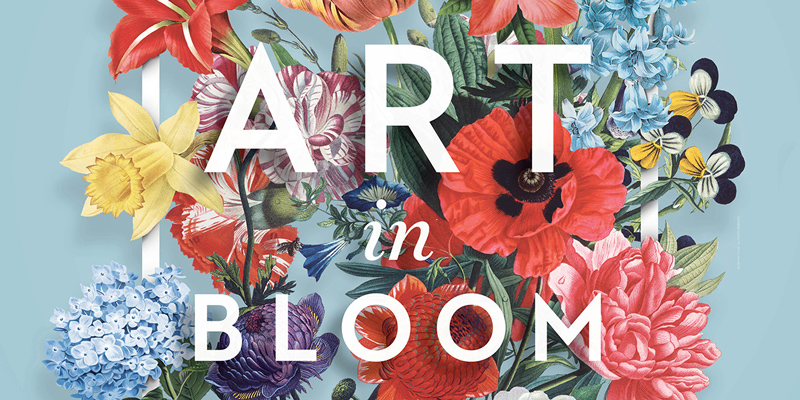 Image: Behance/Aleksandr Gusakov
Representing the great flower festival aka the 'Macy's Flower Show', organized in the US, Aleksandr Gusakov illustrates the poster for its ad campaign. With a variety of flowers in the background, he tells us that the Art is going to bloom at Macy's flower show.
24. Quarterly Magazine Musashino Spring 2018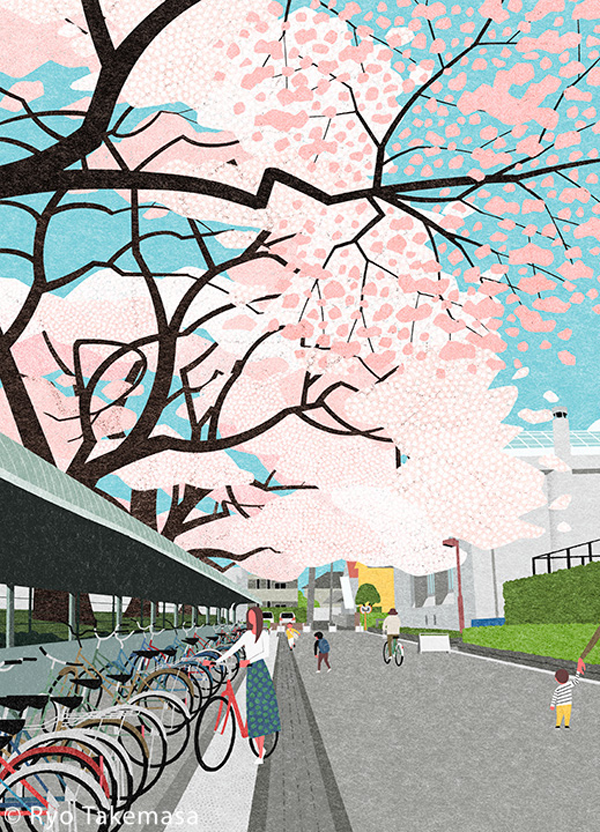 Image: Behance/Ryo Takemasa
Spring in Japan is incomplete without cherry blossoms. All the way from japan, Ryo Takemasa designed the spring issue cover for the Quarterly Magazine Musashino. The poster is a simple embedded with the spring tree illustration and an elegant representation of everyday life in Japan when spring covers the city with Sakura.
The Spring Poster Show – In A Nutshell
That was some spring poster list out there. What you saw above is the collection of spring posters we've gathered to inspire your design skills this spring and help you design colorful logos, hearty posters and exciting graphics. From what we know, spring is all about joy and happiness that's presented in the posters above. If Botticelli were alive, he would definitely admire the sense of spring displayed in today's colorful imagery.
Which one was your favorite and which will end up on your wall this spring? Decide for yourself, but don't forget to show us your spring spirit!
Try Our Personalized Logo Maker Tool:
Create Flower Logos
Floral Design Logo Maker
Logo Maker For Florists
Festival Logo Generator
Greenery Logo Ideas
Springs Manufacturer and Supply Logo
Make Artificial Flowers and Plants Logo
Design Pine Trees Logo