Everyone in tech and news is talking about Facebook's possible rebrand. Apparently, the company is soon going to announce a new name, to demonstrate a shift towards a brand new technology they are developing: the metaverse.
You know this svg converter is best and free online along with many other image and file converter that 1 million+ people use every month, it's worth to try.
What Is Metaverse?
If you have read Neal Stephenson's sci-fi thriller Snow Crash, you'll know. Metaverse is virtual reality and augmented reality on steroids. It allows its users to create their avatars and live virtually in the metaverse. In this immersive experience, users can travel from one place to the next, buy goods, receive services, and carry out financial transactions – all virtually.
So, Why Did This Shift Require A Brand New Identity?
Facebook feels that people have a hard time separating Facebook the app from Facebook the technology conglomerate. When we say Facebook, the company thinks, we are thinking of the social media platform, and not the technology giant that has successful products such as Instagram, WhatsApp, and Oculus under its umbrella.
So, renaming the company to show everyone that the Facebook app is only a slice of a much larger pie, and not the whole dough.
But, one could argue, that there could be another reason for the rebrand. In recent years, Facebook has suffered through a lot of bad press: allegations of abuse of privacy, misuse of user information, and inability of Facebook to control the hatred people are exposed to on its platform, to name a few.
So, yes, a clean break and a fresh new start sound quite attractive.
But since it's Facebook, and since it's the Internet, things aren't really going as planned.
From the moment the news leaked of the rebrand, people have taken to Twitter to suggest some very unsavory names for the new company. Tracebook, Teenage Wasteland, and Aunt Brenda's Three-Paragraph Rant-a-torium are few of the nicer suggestions.
Ouch.
But before we can blame the Internet, know that the bigwigs at Facebook have apparently decided to name the new company Horizon. And it's making us think, why do they hate their company so much?
And That Brings Us To The Point.
If they are going with Horizon, how much creative thought are they putting into their potential new logo? What new colors are they using? What will be the shape of the new logo?
While the whole logo is a large architecture to speculate about, we have decided to wonder aloud about the colors (and some possible names). Because let's face it. That blue was always a bit too unresponsive. Sure, at first sight, it was okay. It was a color. Nice, dependable blue.
But over the years, especially since the reports started circulating of Facebook tracking its users obsessively, that blue become synonymous with cyber stalking – major Joe Goldberg vibes, during the worst of times.
So, dear Facebook, as you try to rise from the ashes (we like drama), here are some nice, chirpy, and exciting colors to celebrate your rebirth with. We have chosen colors that you can mix and match with each other and create completely different palettes, or choose to stick with one or two and stay close to your minimal vibe.
We have chosen colors based on our extensive knowledge of color psychology, accessible design, and the theory of colors.
1. Neon Tangerine
We are starting off with something totally opposite to blue. If you really want people to forget about their present, not-so-positive emotional associations to the Facebook brand, give them a visual cue that's on the other end of the blue: tangerine with a hint of neon.
While tangerine is warm and beautiful, neon adds a dash of brightness and makes the effect youthful.
And since so many people associate Facebook with older generations – some on Twitter suggested the name Boomerville – the young and excited neon tangerine will make a convincing case for Millennials Gen-Z.
Top Three Traits Of Neon Tangerine:
Confidence
A youthful spirit
Wisdom
2. Cherry Red
Cherry red, with its sexy, passionate vibe is the ideal color for a brand that's looking to forge a new identity. It's unlike anything Facebook has ever known and that's why stands a serious chance of making an impact.
You want people to notice your new brand and get hyped up for the new thing you are selling (the metaverse)? Give them an attention-grabbing, fiery shade that's hard to miss.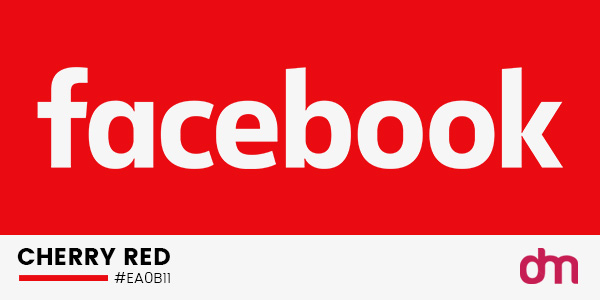 Top Three Traits OF Cherry Red:
Intense
Sexy
Action-packed
3. Fuchsia
Taking the color game to the next level, we have our very feminine and energetic, bright pink to lead the charge. Fuchsia is inherently and unapologetically feminine. It's electric, unafraid, loud, and exciting. The color, in its many shades, is perfect for a brand that wants to shed its old skin and reinvent itself.
To be fair though, we don't really see Facebook going with Fuchsia. In terms of emotions and meanings, fuchsia is a pretty straightforward shade. And a global corporation like Facebook wants a little wriggle room in its branding. Therefore, we suggest using fuchsia with colors that balance its brightness and add more meaning to the color palette. Our top suggestions include black, tan, and grey.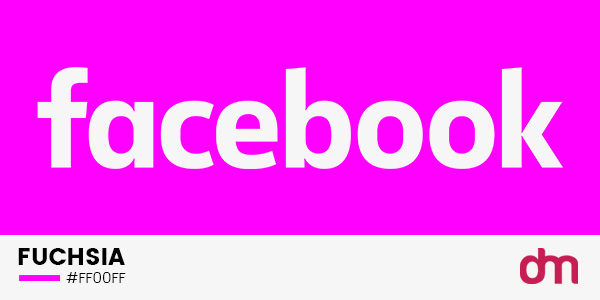 Top Three Traits Of Fuchsia:
Playful
Expressive
Confident
4. Mauve
Let's add a bit of thought and sentiment to our color palette with a bit of mauve. It is a shade of purple but has a lot of other colors mixed into its tones. It's warm as well as cool, and includes a bit of blue, yellow, and green in it too.
If Facebook is looking for a color that can add a whole dictionary of meanings into its branding, mauve is the color to go with. It's friendly and upbeat which is great for generating positive emotions in your audience, but it is also sophisticated and innovative, which is great for investors and the market.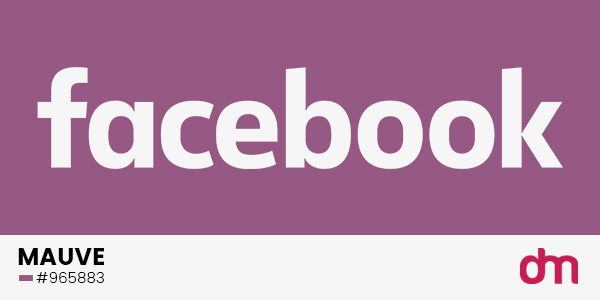 Top Three Traits Of Mauve:
Inspirational
Generous
Uplifting
5. Dark Chocolate
If we are canceling the color blue and the bright shades aren't really doing it for the Facebook rebrand, perhaps it's time to turn to wholesome, honest, and simple shades.
Dark chocolate, a rich and creamy shade, embodies the solidity and steadfastness of brown. If Facebook wants an identity that's professional, corporate, and stable, dark chocolate is the ultimate choice. It's the warm antithesis that Facebook might be hoping for after the effects of the cold blue which has remained an integral part of the social media brand.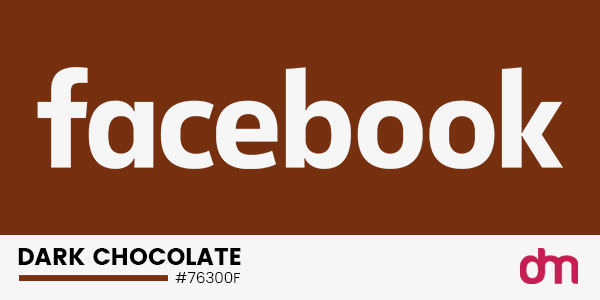 Top Three Traits Of Dark Chocolate:
Reliable
Approachable
Honest
So, Which Is It Going To Be?
Since it is Facebook and since it's the Internet, no matter which design choices the company makes in its rebrand, they are going to be thoroughly analyzed and dissected. And therefore we believe the bigwigs at the corporate office will try to play things safe.
However, a rebrand is a chance at rebirth. So not sure if playing safe is the wisest way to utilize the potential of this moment. Here's to hoping Zuckerberg and his design people are able to make some brave choices and really give their new company a solid fighting chance.