There are many instances where we find ourselves stuck in a rut, not coming up with anything creative and relevant. Well, people call it mental block when getting an answer to a solution seems like a never-ending problem. This happens especially when someone is loaded with ginormous workload or is back at the work desk after a long time. No wonder that creative people are more prone to the situation working on more than one design elements on daily basis. Your bosses might ask you taking a break so as to divert your brain as changing the scenery around you helps a lot in bringing the creative senses back to life.
There are some other tech-based solutions to this problem. With the advent of new methods to boost our creativity and the tools to help us pulling ourselves, mental block is not a problem anymore given how much are we aware of them. In the below lines, we are going to introduce you to some of the best android and iPhone apps to achieve design nirvana and to make your creative juices flow without any disruption. Tap them and keep your creativity at the top of its game. Best to use when you feel stuck and need an inspiration.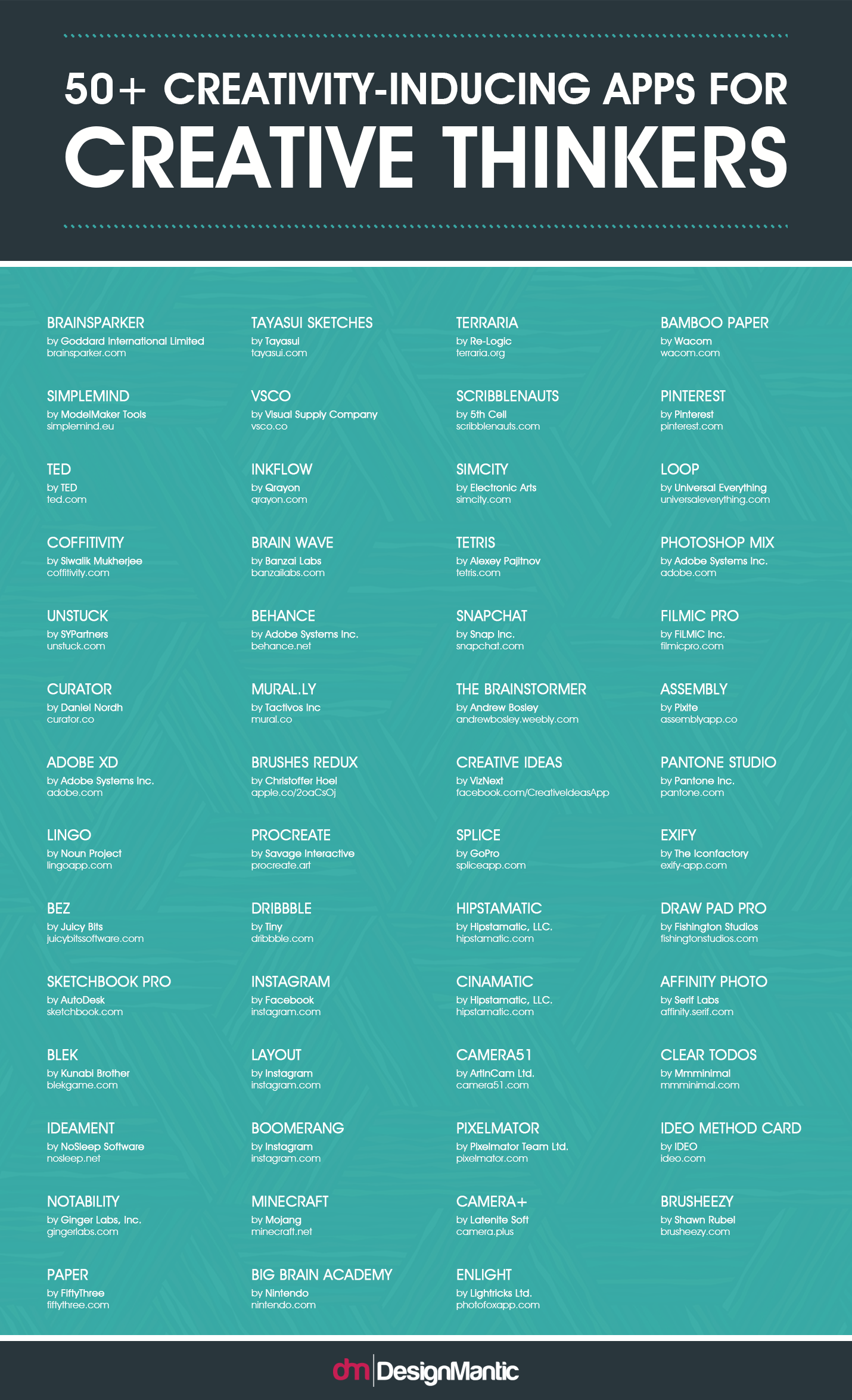 Embed Infographic on Your Blog:
1. Brainsparker
Brainsparker is one of the best apps around when it comes to creative ideas. The app kick starts your creativity by lending you inspiration as creative prompts. Available on iOS, the app will make you a little greedy for ideas as it has too many to offer in the form of words, quotes, images, actions, and questions. You name it and the app has it!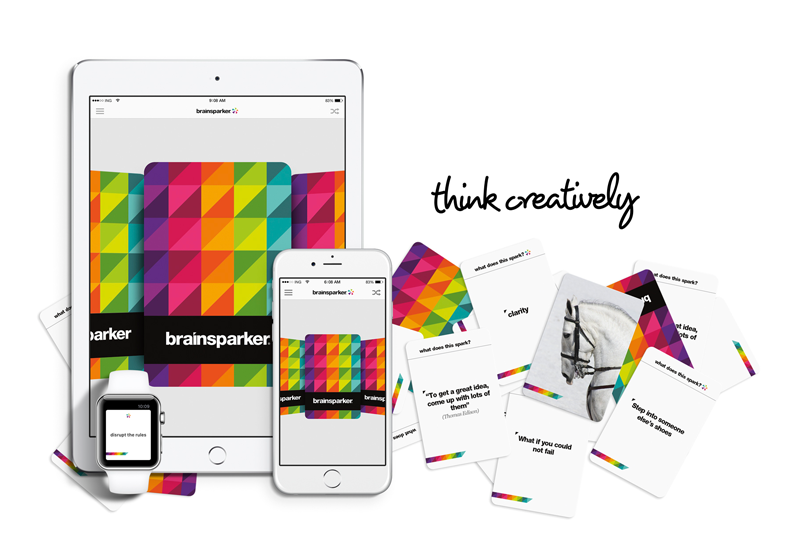 2. SimpleMind
According to its website, SimpleMind is the world leader in cross platform mind mapping tools. The app is designed for iOS devices and helps you generate new ideas, organize your thoughts and keep a hold of things. It is a beautiful, intuitive app that can mind map irrespective of your location.
3. TED
Well, TED Talks is here to feed your curiosity and expand your world. We are not claiming anything here but the app page itself that also claims that there are more than 2,000 TED Talks from remarkable people, by topic and mood, from tech and science to the surprises of your own psychology.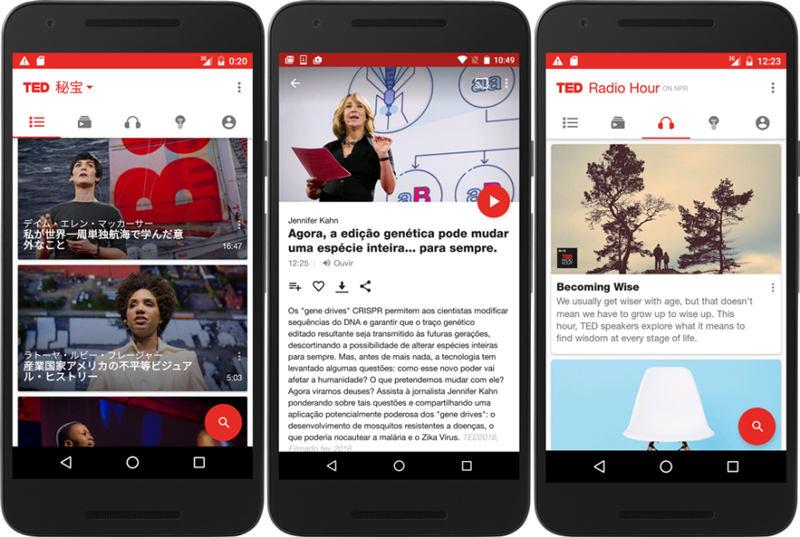 4. Coffitivity
Created by Siwalik Mukherjee, Coffitivity is one of the best apps around that can work even with you offline. All you need is an updated iOS device. According to the review of macworld.com, "Simple utility brings the feel of a coffee shop to your home office."
5. Unstuck
As the name suggests, Unstuck acts like a life coach that helps you unlock the mind block by figuring out why you're stuck in a certain area and guides you how to unstuck. It is an app that helps you achieve your goals in a viable manner.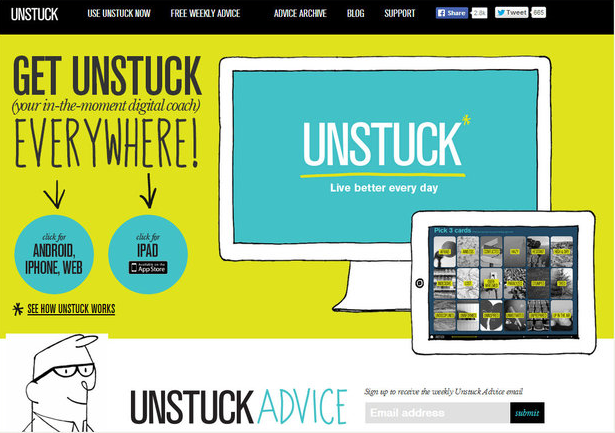 6. Curator
Curator performs great when collaboration with others is a must. If we go by its claim, it is the 'No. 1 tool to keep your creative process on the track.' As the app helps you create visual notes, collect and organize inspiration, refine your visual storytelling skills, create mood boards, and either export them to PDFs or share them right in the app or you can also use the fastest PDF flipbook maker available on the market, it is great to prepare and make presentations on a visual reference library.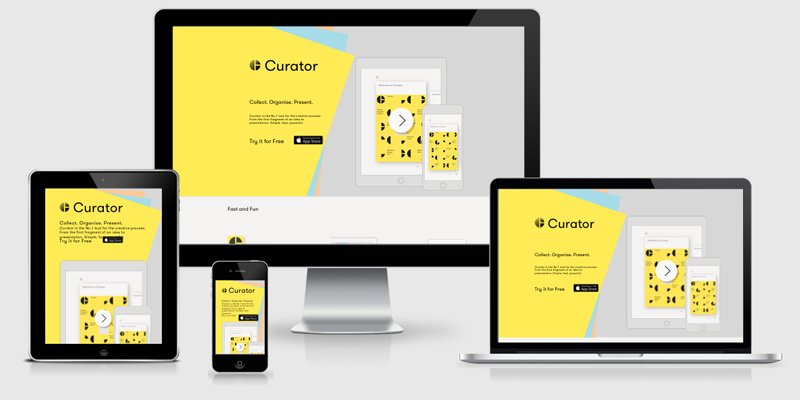 7. Adobe XD
Adobe XD's claim to fame is 'By designers, for designers.' The app makes the designers reimagine how to create user experiences, so you can take your ideas from art board to wireframe to interactive prototype in minutes. Design, prototype, share — all in XD.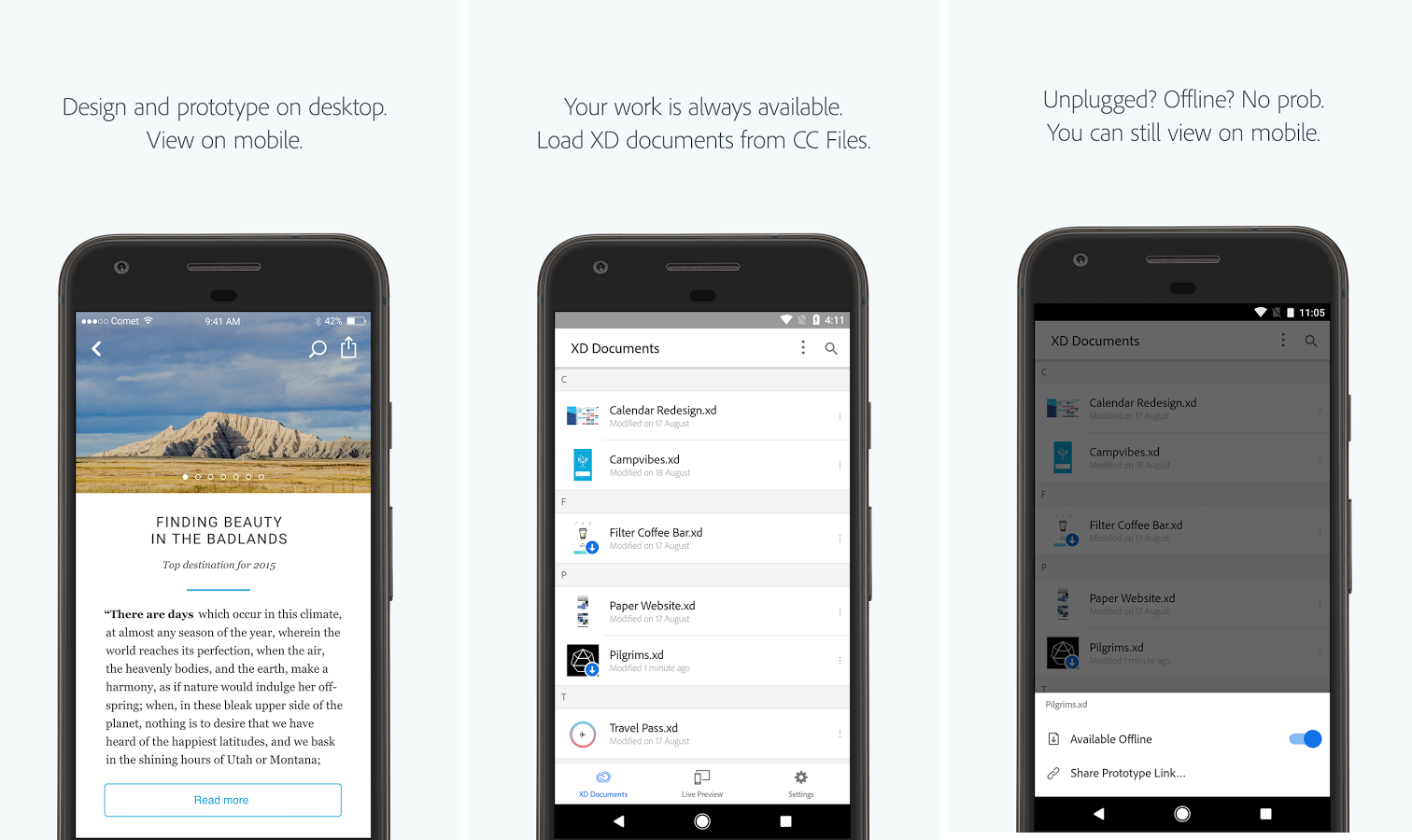 8. Lingo
Lingo is a scale consistent design library designed keeping in mind the working needs of a collaborated team – everyone from designers to developers and marketers to managers.
9. Bez
Bez works well as a vector graphics editor that makes beautiful and precise art creation very easy using your iPad and iPad Pro. As it fully supports Slide Over, Split View, Smart Keyboard, and Apple Pencil, Bez's flexibility towards designing high-quality illustrations is unquestionable.

10. SketchBook Pro
Sketchbook Pro is equally famous amongst students and educators for the obvious reasons. First, it is free and is user-friendly. Its enterprise version allows you to manage multiple licenses for an entire school.
11. Blek
The creators of Blek call the app 'a game about imagination.' It is being considered as one of the few open-ended games that really looks like art. Its website says, watching it move is like watching magic. The game is knitted around a line that collects all the colored circles while avoiding black holes along its route.
12. Ideament
Ideament is a great app if you need to brainstorm new ideas as it helps you organize the ideas. It is perfect for creating diagrams, mind maps, concept maps, or flow charts and is good at converting them to a text outline, just like Idea Sketch. The app's cloud-friendly features allow you to save or share your ideas.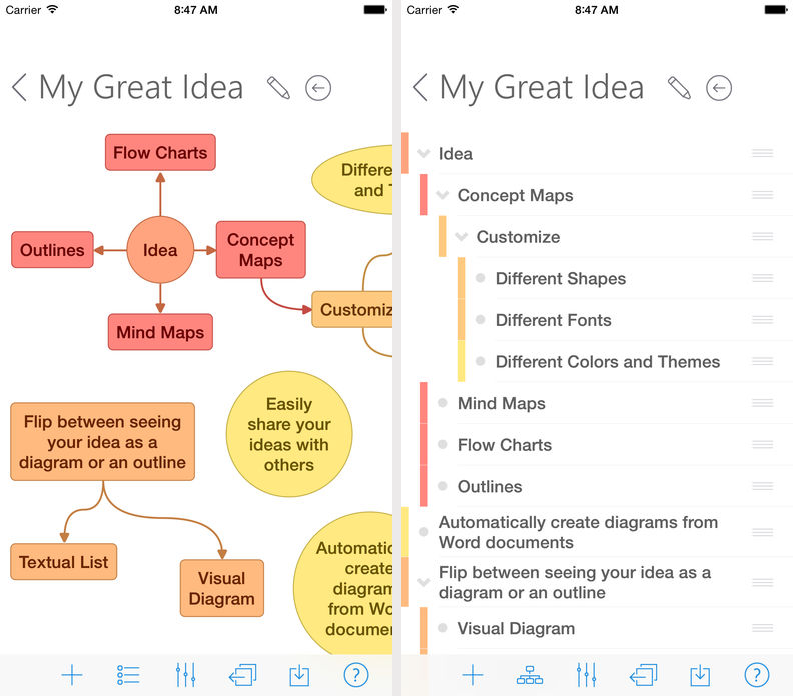 13. Notability
Note-taking apps are very much in demand by creative people and Notability possesses a very prominent spot in this regard. The app combines handwriting, photos, and typing in a single note and is giving a very tough competition to likewise apps as it offers a range of note-taking and sketching tools, which make a record of your ideas.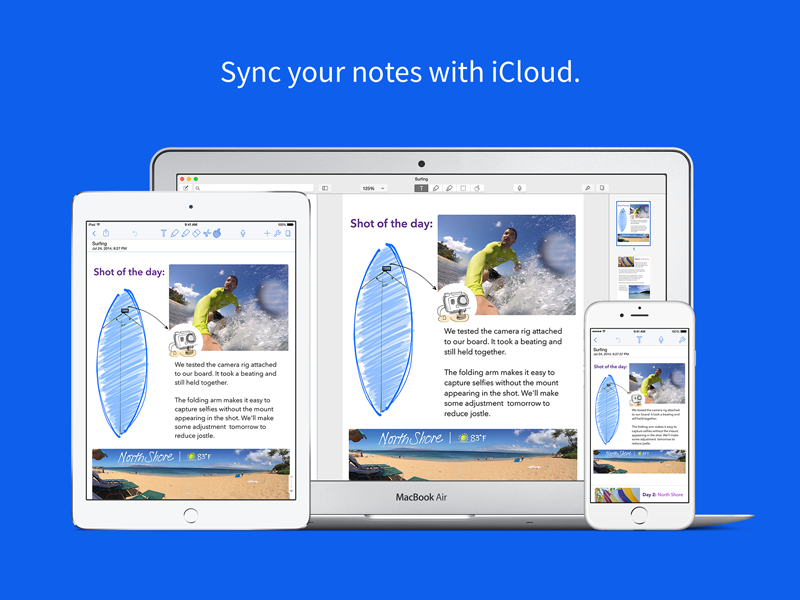 14. Paper By FiftyThree
FiftyThree is the company behind the immersive drawing app, Paper. Based in the heart of New York City, FiftyThree creates digital tools for future creative to inspire a better future and create the space to make great things happen. Paper let's capturing of ideas anywhere, anytime with a purpose built iOS11 app. Used by over 25 million people, Paper supports on-the-go sketching, writing and prompt netting of ideas.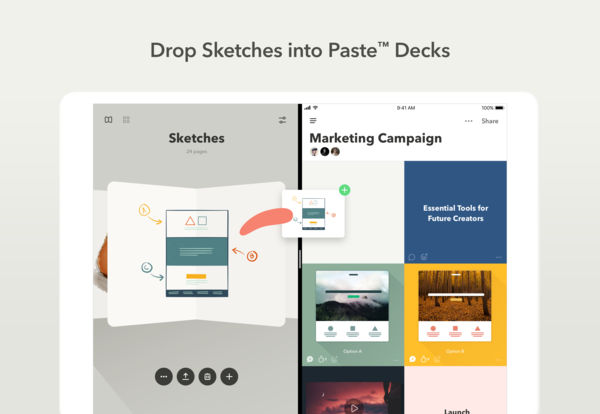 15. Tayasui Sketches
Sketches by Tayasui is an all-inclusive app with a range of exclusive digital drawing tools to facilitate creative artists to create stunning illustrations. Endorsed by artists worldwide, Tayasui Sketches is a versatile app that brings a complete range of pencil, rotring, felt pen, pen brush, oil pastel, acrylic, air brush, ink, watercolor and smudge effects in a single app to give wings to creative ideas.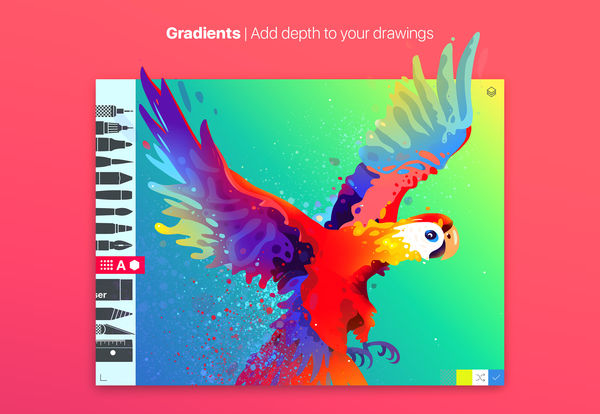 16. VSCO
Established in 2011, VSCO is a cutting-edge art and tech company which is committed to empower creative around the world and give creative expression a new meaning. VSCO Mobile Presets 02 is the perfect package for lifestyle photographers, portrait artists and more. It features an assortment of 55 presets, including Valence (V1-V8) and Neocha (NC) to help artists recreate the same art on mobile apps when editing images on desktop. These mobile emulation presets and tools can be used in Adobe Lightroom and Adobe Camera Raw to restructure the workflow.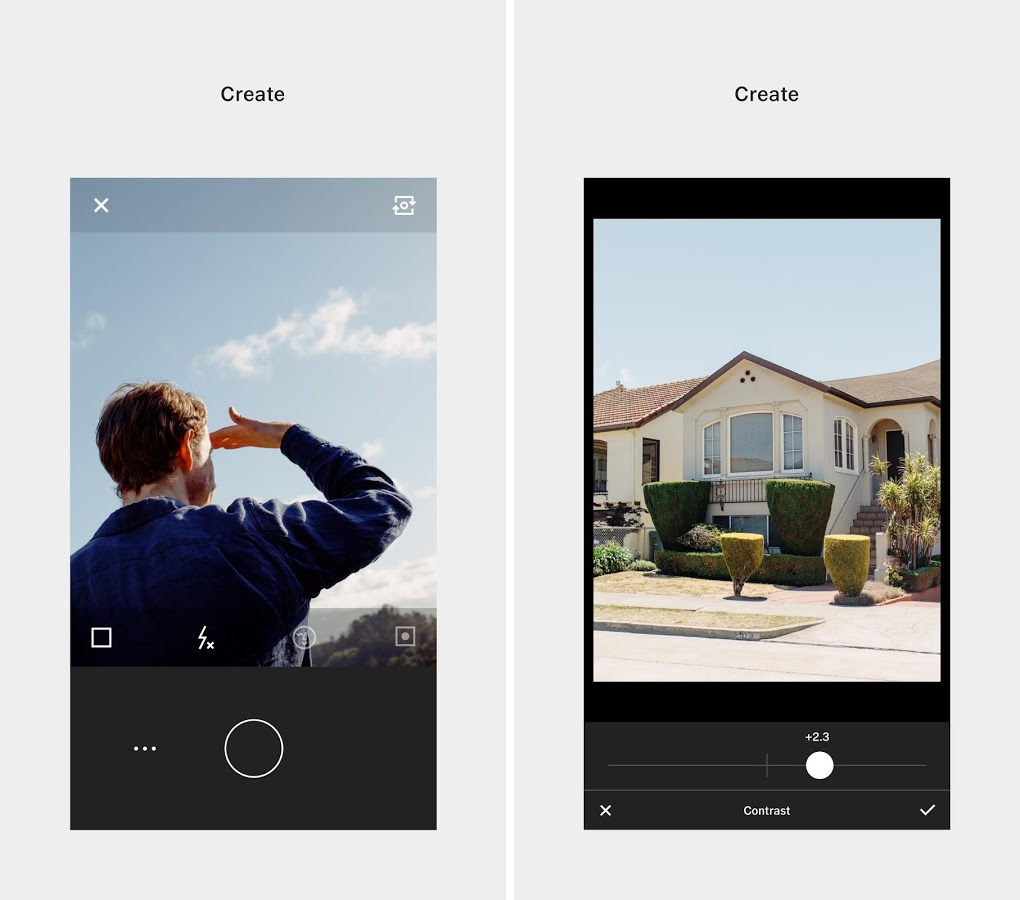 17. Inkflow Visual Notebook
Designed by digital creative firm Qrayon, Inkflow is a visual notebook for creative thinkers. It works like a sophisticated fountain pen on iPad or iPhone, allowing users to capture creative ideas in a jiffy. The digital writing app allows you jot down ideas to put together a list of potential concepts, organize ideas into meaningful plans to brainstorm, or create prototypes, sketches or layouts for future creative projects.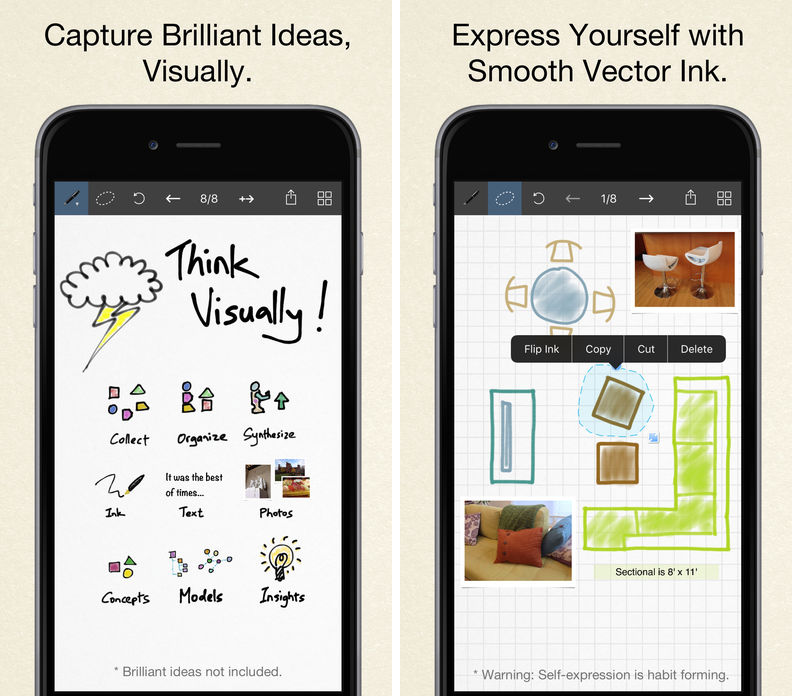 18. Brain Wave
1 in 10 Americans are plagued with one or the other form of depression, according to the CDC. And since, to be creative is to think more often and taking inspiration from diverse experiences in life, creatives are more susceptible to depression and frequently, suffer from creative burnout too. BrainWave – a creative app by Banzai Labs – brings a range of binaural programs for sleep, focus, memory, energy, positive mood, confidence, anxiety relief, stress relief, relaxation, meditation and a lot more to help creative artists soothe and freshen up their mind.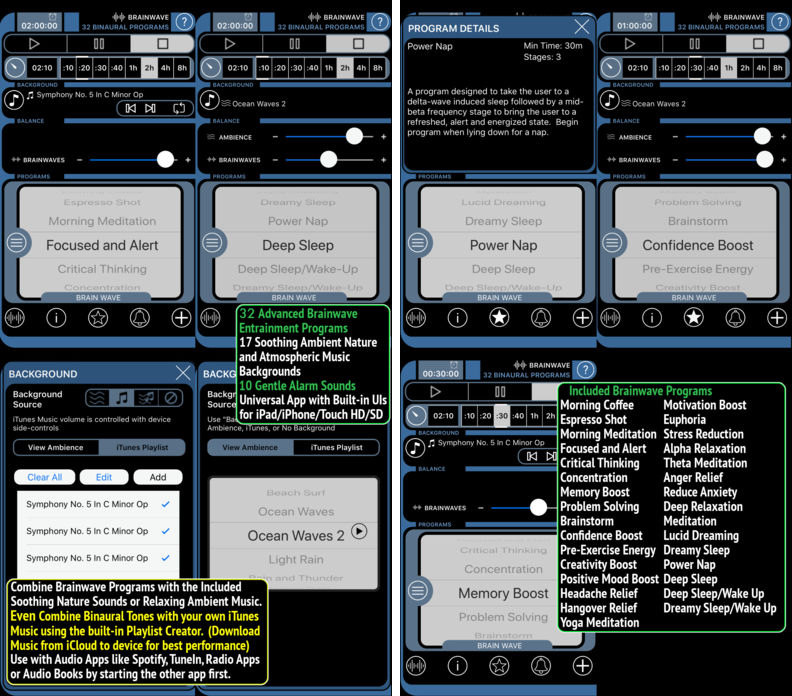 19. Behance
Behance is an Adobe-owned network of website and services specializing in personal branding and self-promotion through online portfolio. It allows designers to showcase their skills and work, browse creative projects from a variety of disciplines in design including photography, packaging/print design, illustration and user interface design and keep abreast with the latest work from their favorite designers or design agencies.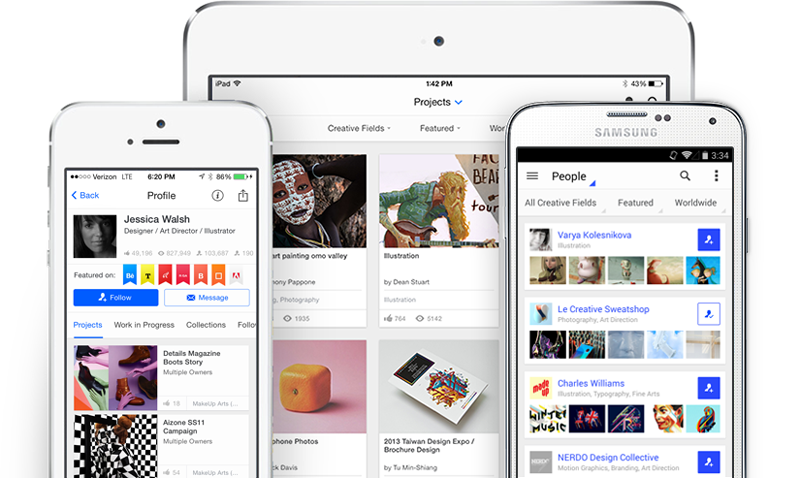 20. Mural.ly
Tactivos Inc – incorporated in Delaware, USA – is the parent company of the trailblazing visual workspace called MURAL. The digital workspace allows visual collaboration, innovation and communication – across devices – to help global tech companies to deploy highly-concerted design/creative solutions across the organization. Since its inception in 2012, thousands of creative individuals and teams have used MURAL to organize, share, and design their ideas.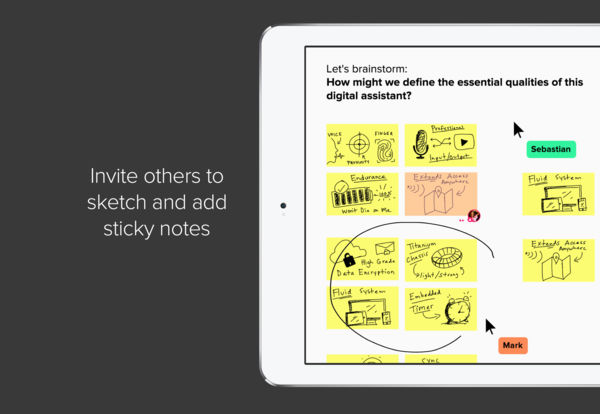 21. Brushes Redux
Brushes Redux is an accelerated OpenGL-based painting app designed by Christoffer Hoel. It is a responsive app that runs across iPhone and iPad, making it easier to exchange graphics through devices and design on the move. With a variety of brush sizes, Apple Pencil experimental support, and paint options, Brushes Redux is a slick app for digital illustrators and painters.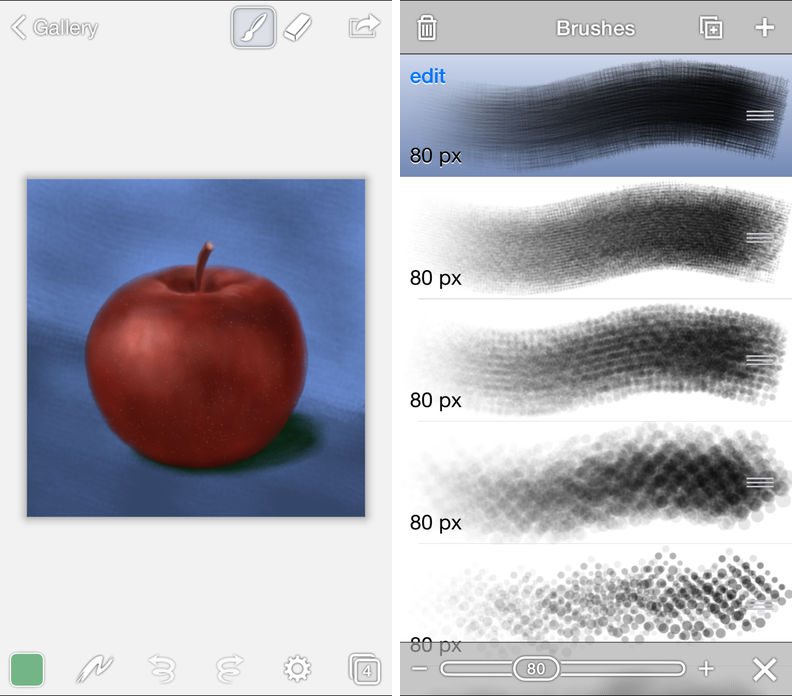 22. Procreate
Procreate is no ordinary app, it is a multi-award winning painting app designed exclusively for creative professionals to realize their dreams and build beautiful sketches, thought-provoking paintings and spectacular illustrations right on their iPad. Procreate features over a hundred handcrafted tools, from pencils and paint brushes to spray paints and pastels to add fabulous finesse and extra dimensions to design.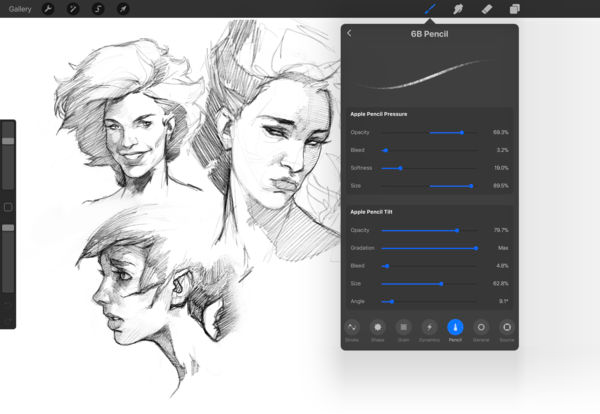 23. Dribbble
Dribbble is another versatile portfolio network preferred by graphic designers, web artists, photographers and web designers alike. Dribbble, with its range of collaboration tools, doubles as a social network for designers to showcase, discuss and share their work. Established in 2009, Dribbble started out as a side project and is now a Tiny, bootstrapped and profitable business.
24. Instagram
Instagram is not just another image sharing website. It is a promising tool for designers to showcase their work to a community of 800 Million monthly active users. The platform lets designers capture their favorite moments or designs and share them with the audience, with added filters and state-of-the-art editing options.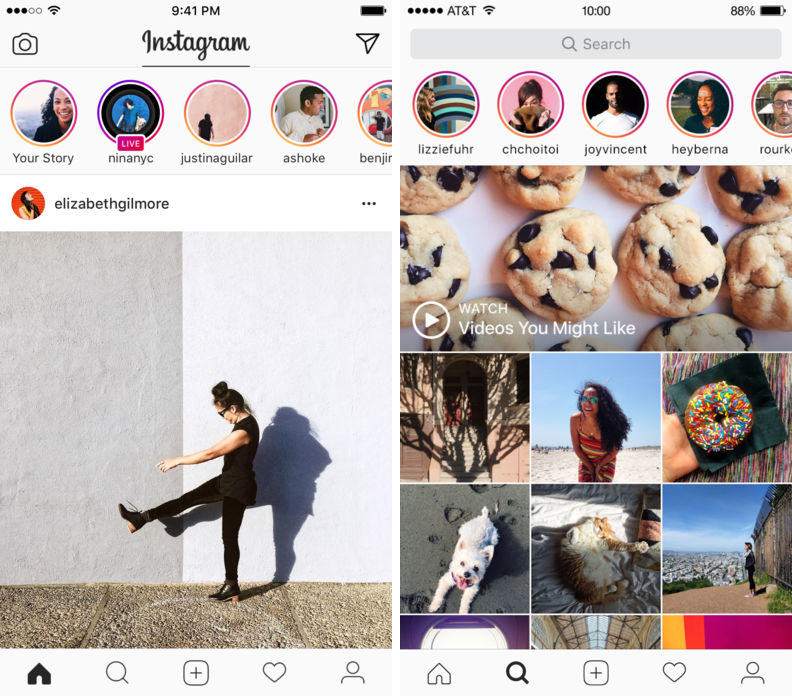 Layout:
Layout is the fun Instagram extension to create fresh layouts (collages) by remixing photos, designs and ideas.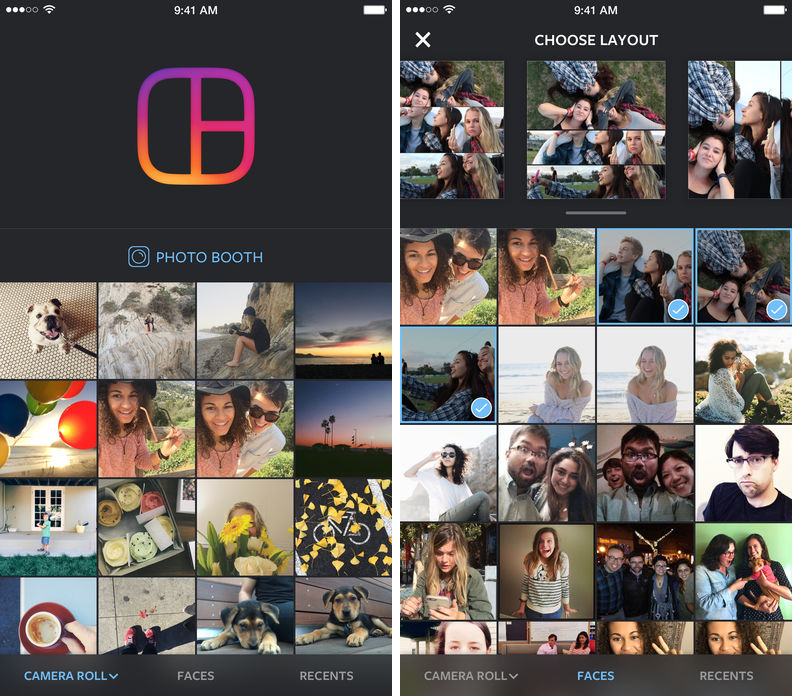 Boomerang:
Boomerang is another fun app from Instagram. It makes images fun and exciting by creating enchanting mini videos that loop back and forth.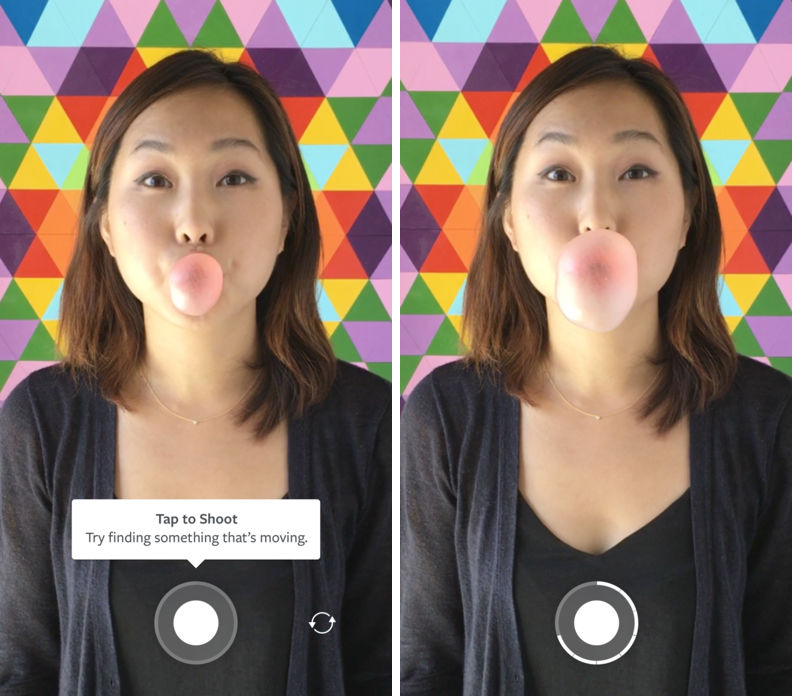 25. Minecraft
Minecraft is a sandbox video game designed by Swedish Game designer Markus Persson (also known as Notch), later developed and published by Mojang. The ingenious game allows free and organic exploration of a virtual world. The reason it is on our list of best apps to inspire creativity is because with over hundred million players around the world, Minecraft is encouraging people to embrace their creative side and design their own spaces with its build-it-with-blocks approach.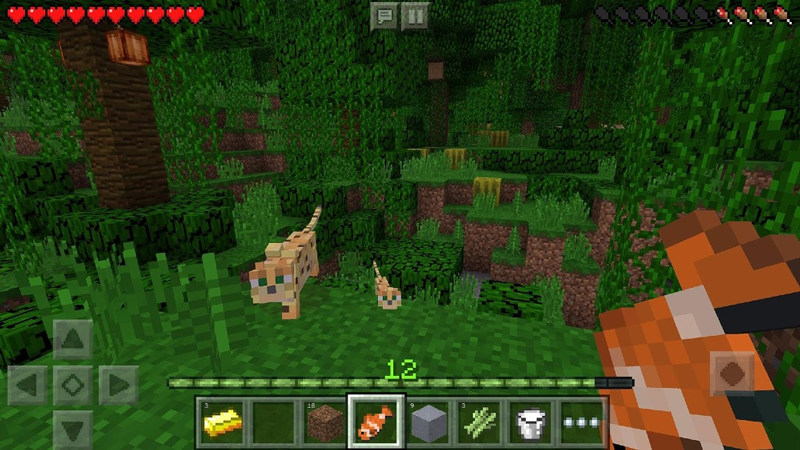 26. Big Brain Academy
The Big Brain Academy is an award-winning puzzle video game published and developed by the popular Japanese multinational consumer electronics and video game company, Nintendo. The Japanese name of the game is Yawaraka Atama Juku (やわらかあたま塾) and it is specifically designed for the Nintendo DS handheld video game console. The game conducts tests to gauge brain mass of the player and based on results, it provides an assessment of player (the heavier the brain, the smarter the player is) and suggest what ranking the player would be in different professions.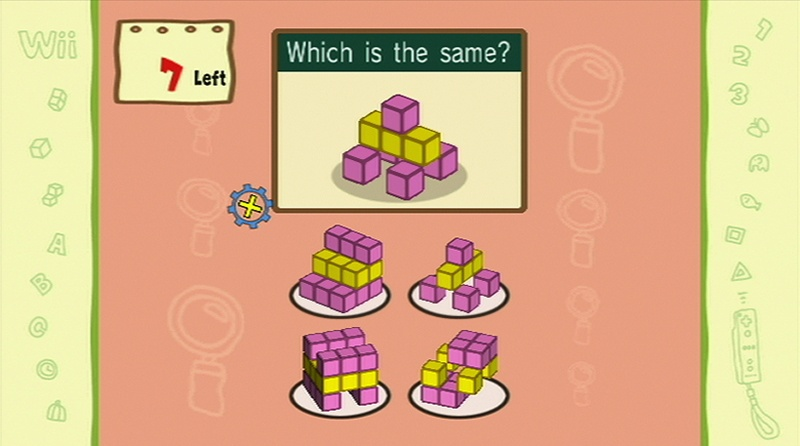 27. Terraria
With Terraria, the world is your canvas. Similar to Minecraft, Terraria is a 2D action-adventure sandbox video game developed by Re-Logic. The game allows creative minds to explore, design, craft and combat with a variety of creatures in a procedurally generated 2D world. Terraria lets players create the world they want with an assortments of biomes, structures and heaps of imagination.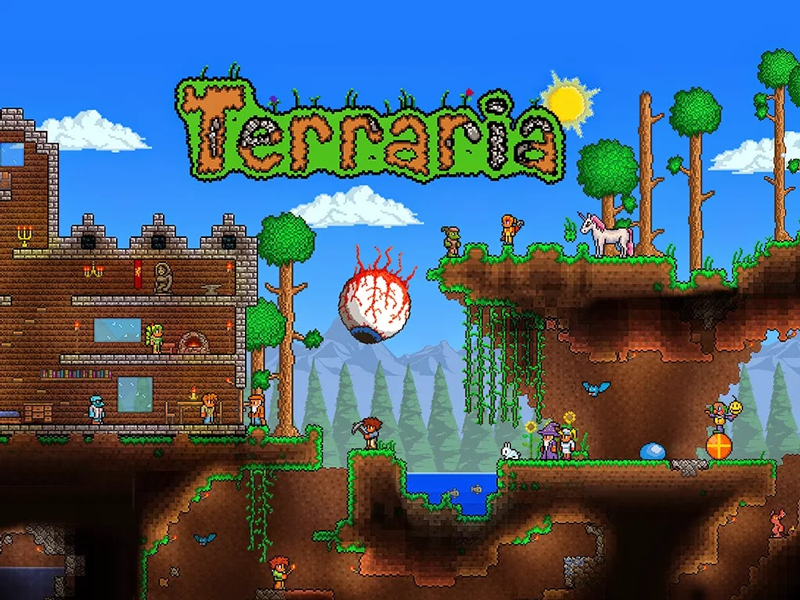 28. Scribblenauts
The promising puzzle action video game, Scribblenauts, was developed by an independently owned video game developer company, 5th Cell. It was later published by Warner Bros. Interactive Entertainment for the Nintendo DS. The objective of the game "Write Anything, Solve Everything" is to promote creativity and emergent gameplay by challenging the player to solve puzzles by summoning objects within few limitations and manifold solutions.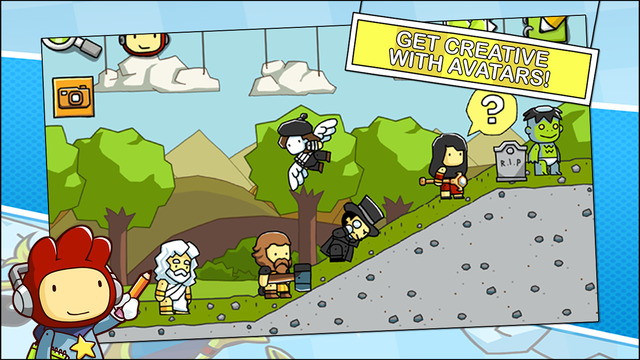 29. SimCity
Designed and developed by Will Wright, SimCity is an open-ended city-building video game series published by Maxis (now a part of Electronic Arts). The first game in the series was published in 1989 and since it has hatched various edition that have been sold worldwide. SimCity's game mechanics are designed to boost creativity with a 20th century city development theme where each player starts from an undeveloped green-field and turn it into a fully functional city with metropolitan area, disaster control and more.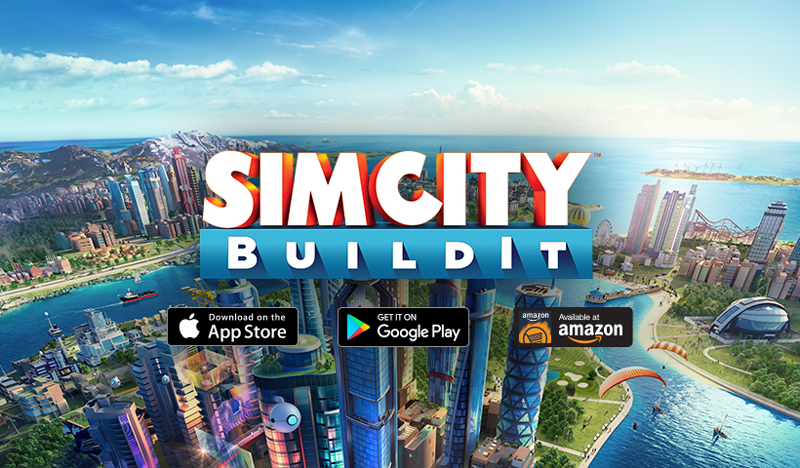 30. Tetris
Tetris, the name, is derived from the Greek numerical prefix 'Tetra' and Tennis (game designer's favorite game). The tile matching puzzle video game was designed by Russian game designer Alexey Pajitnov. Dr. Richard Haier, a renowned American Neurologist claim that Tetris is an excellent tool for neuroscience and prolonged Tetris activity can lead to more efficient brain function. According to him, as Tetris players become more skillful in the game, their brains show a reduced consumption of glucose, showing more efficient brain activity.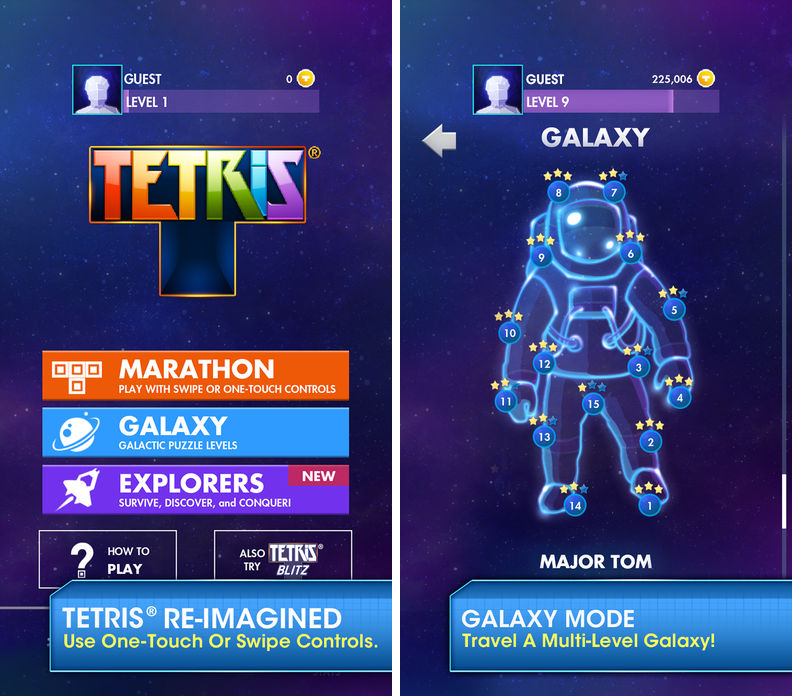 31. Snapchat
Ranked as one of the most popular app amongst millennial, Snapchat boasts about 178 million active daily users worldwide. In addition to photo and image sharing, Snapchat allows its users to share their creative side to the world with a range of drawing tools including filters, pen tool, vivid color palette, stickers and more.
32. The Brainstormer
The Brainstormer is an idea or story generating app that dares creative minds to think in a unique way. It is a tactile app to combine a plot, a subject and a theme randomly to design a creative story or an idea. The Brainstormer App, designed by Andrew Bosley, can provide that intangible flash of muse and inspiration for creative writers and artists. It is also a great way to overcome the creative block and spur new ideas with a fresh frame of mind.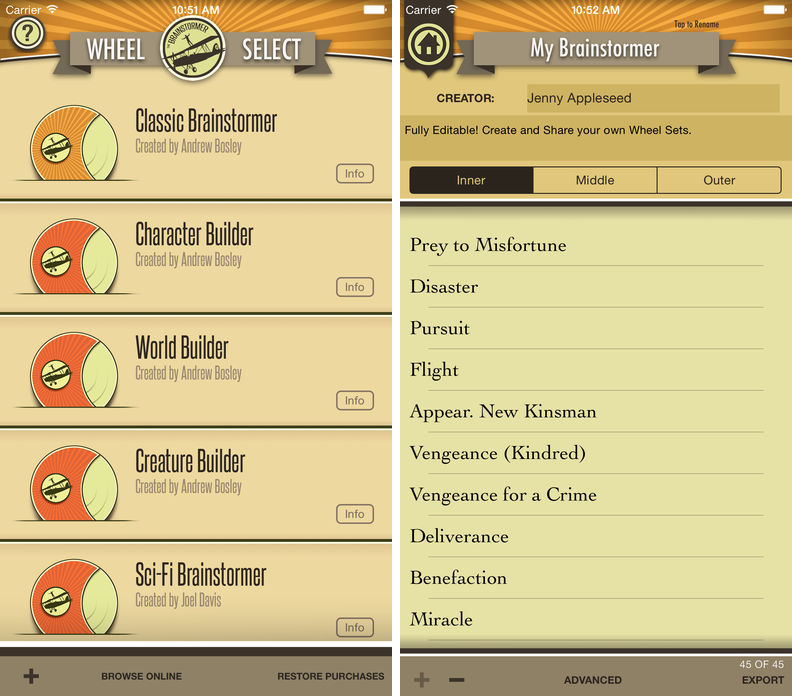 33. Creative Ideas – DIY & Craft
The Creative Ideas – DIY & Craft is a simple lifestyle app by VizNext that brings you cool DIY ideas, simple life hacks, crafting tips and more to inspire designers or individuals every day. The Creative Ideas app also provides built-in tools to help those with talent and skills to explore the artist inside them and showcase their ideas to the world.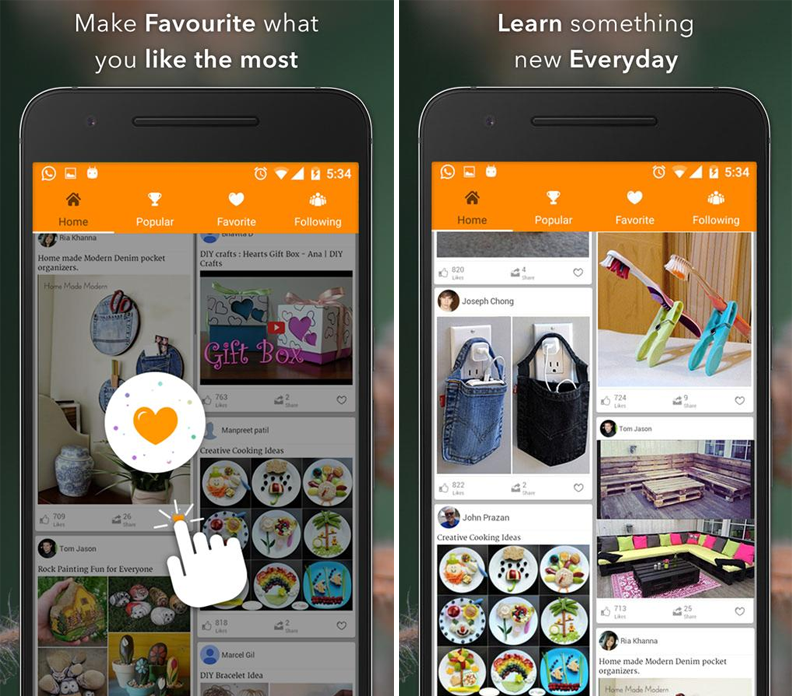 34. Splice
Splice is a cutting edge video editor tool by GoPro – an international company that has sold over 26 million cameras in more than 100 countries. Splice Video Editor has everything iPhone users need to create professional-looking videos right from their phone. It brings complete range of customized video editing features including trim, crop, effects, titles, speed controls, animation, transitions, music and more.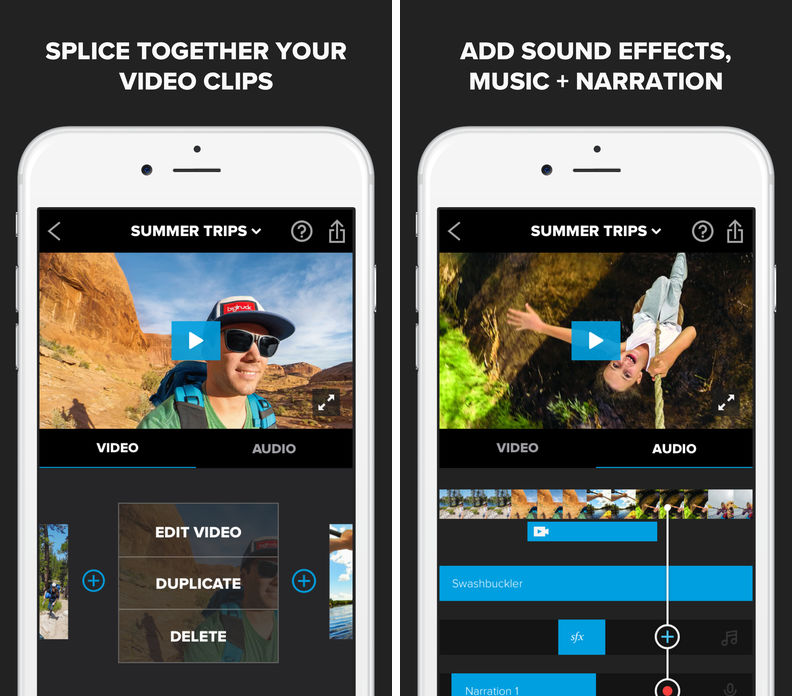 35. Hipstamatic
Hipstamatic is a world-class digital photography app for the iPhone users. It uses the phone's camera to let users capture social-media-savvy square photographs to which it applies a series of filters to make the photographs appear as though they were shot from a vintage film camera. The users can select from a wide range of effects and simulated filters to step up their photographs and game up their creative ideas.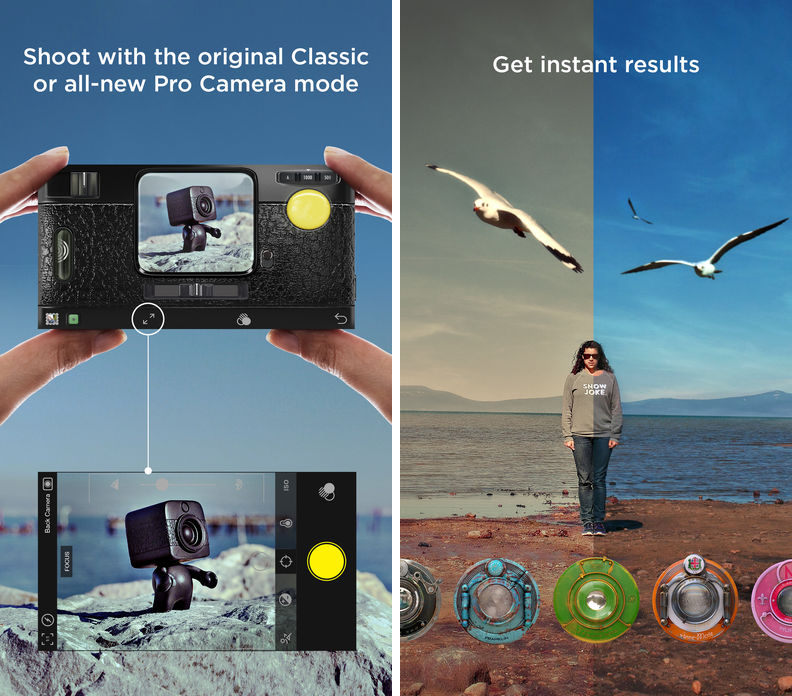 Cinamatic
Cinematic is an extension of Hipstamatic app. It allows users to create amazing short motion pictures transforming multiple short clips captured through the iPhone. Furthermore, users can prettify their short motion pictures with in-built Hipstamatic filters and share right away on Instagram, Vine or Facebook.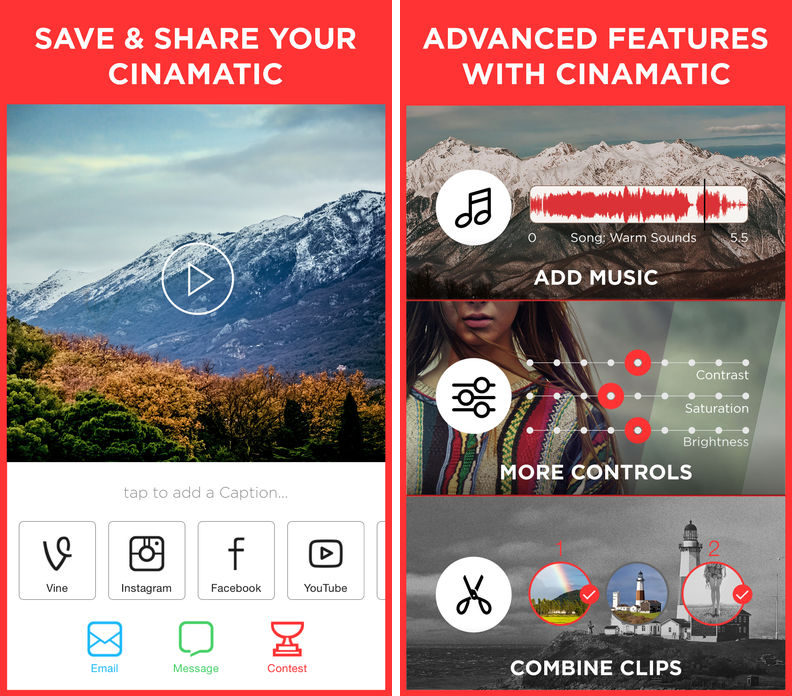 36. Camera51
Camera51 is the true smart camera app for Smartphone users. This unique app comes built in with artificial intelligence and interacts with locations or situations in real time. It spontaneously identifies people, scenes, lines and objects when capturing an image and based on real-time analysis proposes the best possible shot for the photographer.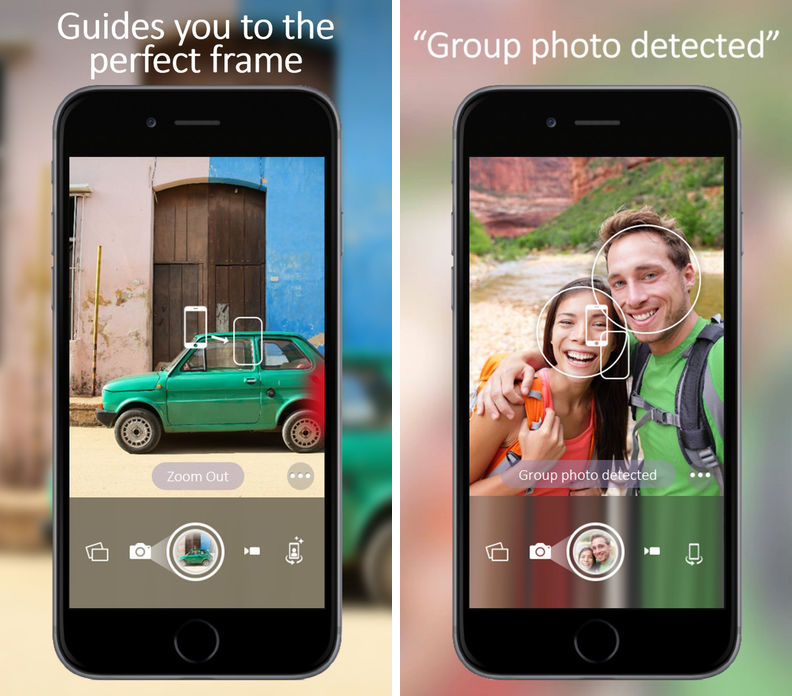 37. Pixelmator
Pixelmator is a robust layer-based image editing tool. It lets you retouch and improve images, sketches, paintings or advanced image compositions on iPhone or iPad. Pixelmator is a full-featured image editor for iOS works across platforms without a glitch and even works with ease across Adobe Photoshop.

38. Camera+
Camera+, a third party app for Smartphone users, helps creative photographers shoot the best photos from their phone without any professional skills or hardware. It is packed with hundreds of video editing features such as touch exposure and focus, enhanced portrait and macro shoots with flashlights, skilled grid system, digital zoom and versatile shooting moods. Camera+ adds professional crispness to almost any shot.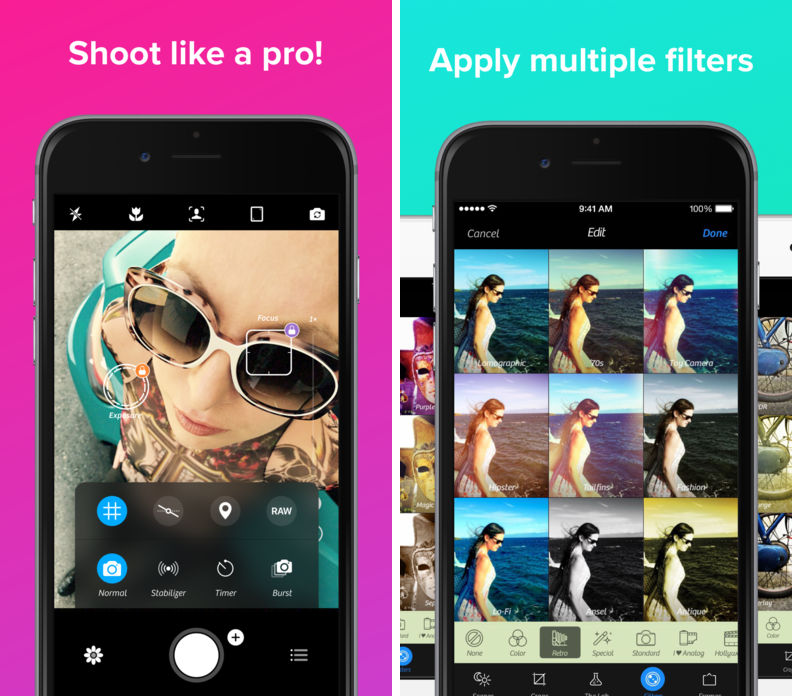 39. Enlight
Enlight is the Apple Design Award Winner of 2017. It is a cool camera app that provides great image editing tools that are easy to use and incredible to design with. Designed by Lightricks Ltd, Enlight app offers image perfection, analog and duo filters, decorative touches, photo mixer, universal masking and other powerful tools – right to your iPhone.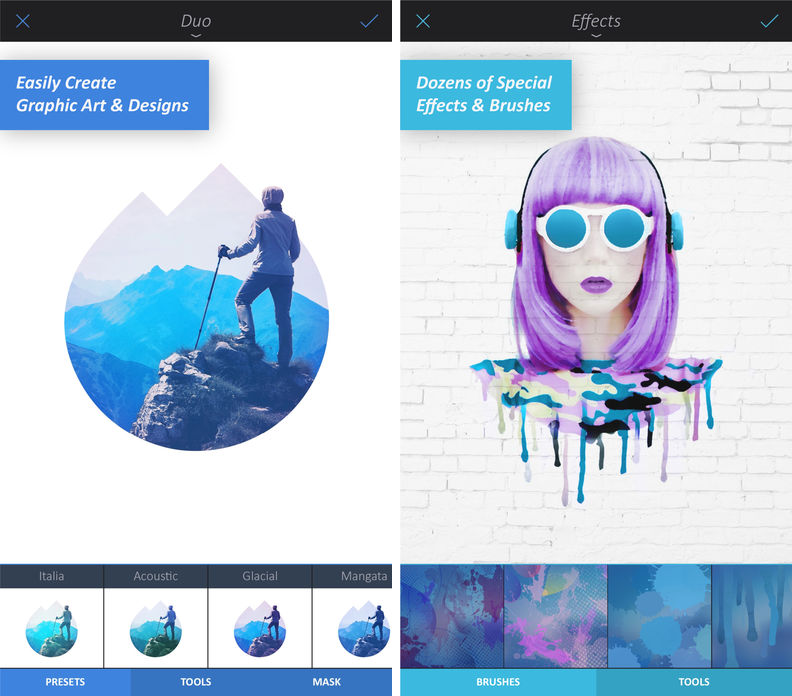 40. Bamboo Paper
Bamboo Paper is a pioneering app that turns your mobile device into a paper notebook. Japan-based manufacturer of a broad range of creative tools and technologies, Wacom rolled out Bamboo Paper app in 2014 to take note-taking to a new level with Wacom´s WILL™ universal ink. Bamboo Paper sets designers free by allowing them to draw, write or illustrate on mobile or tablet and transfer their notes from one device to another, without any loss of quality or editing features.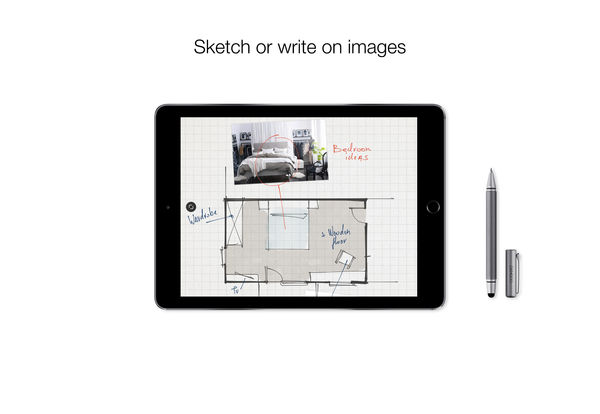 41. Pinterest
With over 100 million active monthly users, Pinterest is indeed the best and biggest visual or graphic bookmarking and discovery platform on the Web. It is not just overloaded with wedding pictures and food recipes but it also stocks piles and piles of graphic inspirations including illustration designs, web layouts, photos, wisdom bits, design tutorials, GIFs, infographics and more for designers to feed their creative hunger.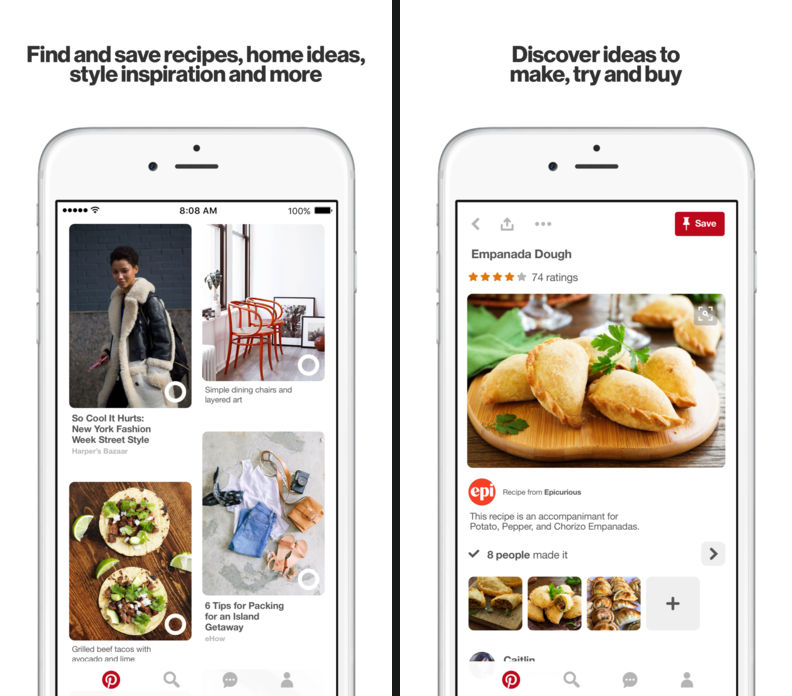 42. Loop
Loop is an uber-cool creative hand-drawn animation tool for your iPad by Universal Everything. This brilliant app facilitates creation and sharing of ideas with just simple animation and allows designers/design teams to collaborate better. Users can create sketches or animations in one of the three colors – black, red or blue – and can make use of Loop's built in features such as frame duplication, importing, onion skinning and more. The end product is a looped animation compressed into a GIF for quick sharing.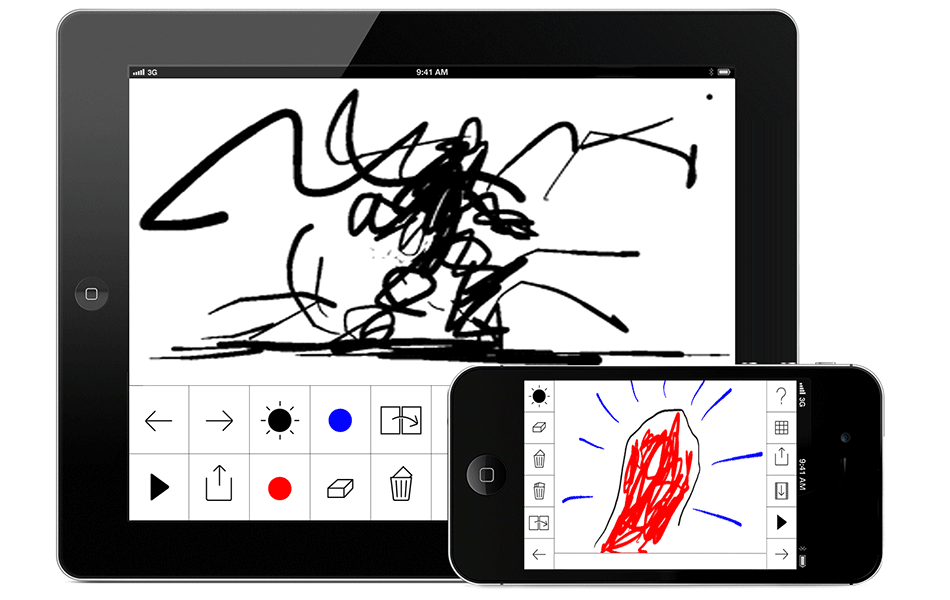 43. Photoshop Mix
Photoshop Mix is a next-generation Adobe app. It offers advanced imaging with a hassle-free mobile app that lets designers crop or edit images, merges them with other images and designs stylish blends with complete control on layers. Photoshop Mix allows instant uploads to Behance to get prompt feedback from design community. It also integrates with Adobe Creative Cloud so that designers can seamlessly work with other desktop apps.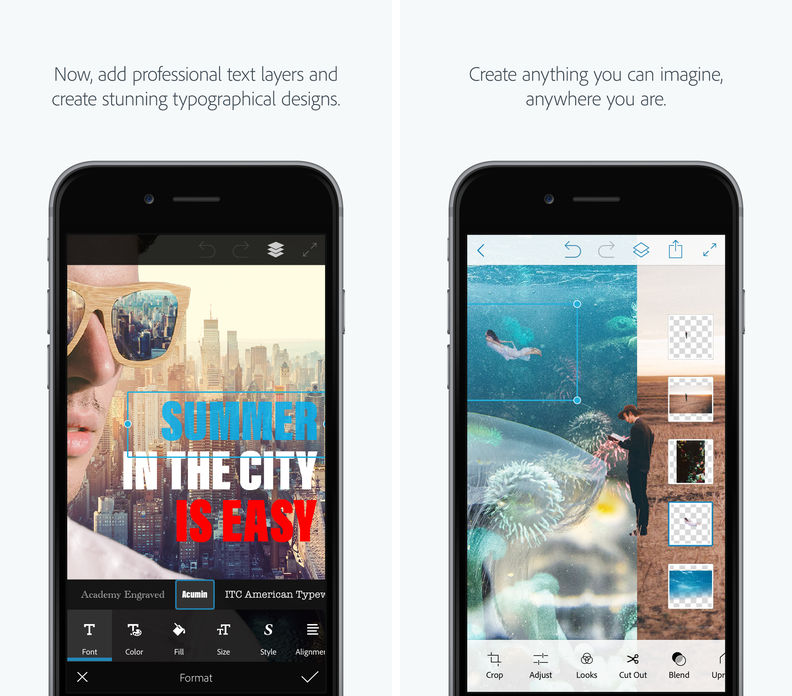 44. Filmic Pro
FiLMiC Pro v6 is a trailblazing video camera for Smartphone. It features a responsive manual camera interface that works equally well on iPhone, iPod and iPad. It has won 'iOS Video Camera App of the Year' award multiple times and is used by many celebrated artists in the video making field.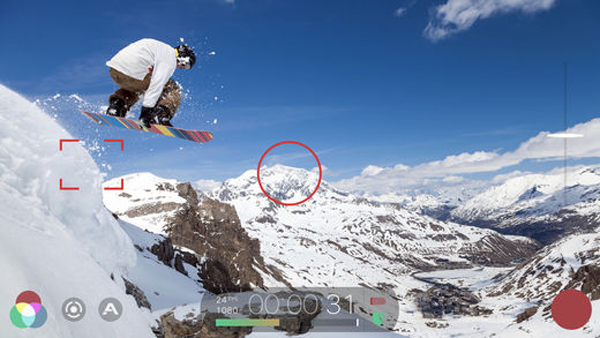 45. Assembly
Designed and published by San Diego, CA based Pixite, Assembly is a super-cute design app that makes design accessible beginners and pros alike. It features a suite of professional tools and a vast library of necessary shapes, symbols and stickers that can be layered, stacked and positioned as needed. Assembly App is a great design solution for on-the-go quick editing and creative communication.

46. Pantone Studio
Pantone Inc. is the US based proprietary owner of Pantone Matching System (PMS) – a color space used in several industries from paint, fashion, fabric and plastic to graphic design and branding. Pantone Studio for iOS is an extension of Pantone color libraries on iPhone where designers can create color palettes to experiment on 3D-rendered materials and share them with Creative Cloud community or through social media.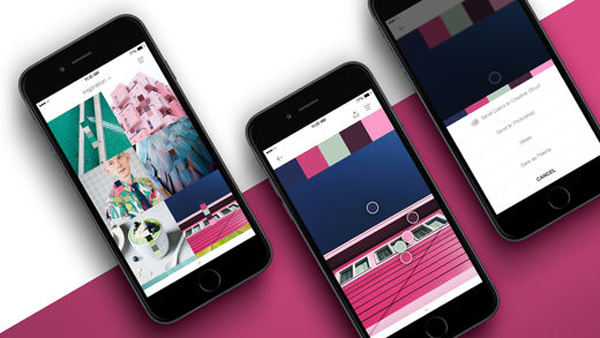 47. Exify
Exify is a collection of custom-developed tools for shutterbugs. This nifty app reveals the EXIF (exchangeable image file format) info stored in photographs and lets designers interact with the photographs to organize them better. The Iconfactory – an award winning design and development firm in Greensboro, NC developed Exify to make it easier to find, arrange and explore photos for photography lovers.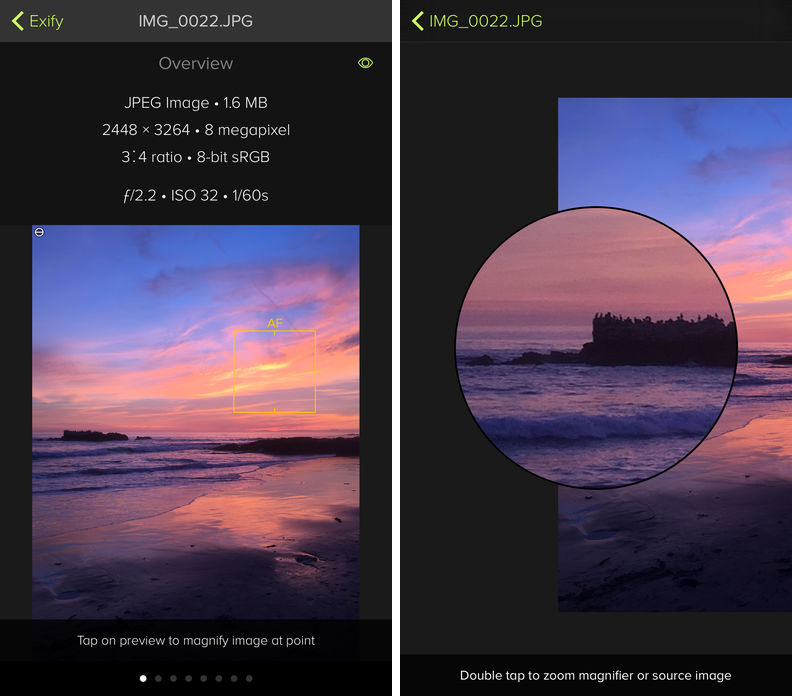 48. Draw Pad Pro
Draw Pad Pro was developed in Fishington Studios – a small Indie software development company based in Logan, Utah. It is a popular note-taking app with approx. 3 million downloads to date. The app is designed to allow designers to create sketches, scribble notes and draw inspiring illustrations with the ability to manage and share all right through the app.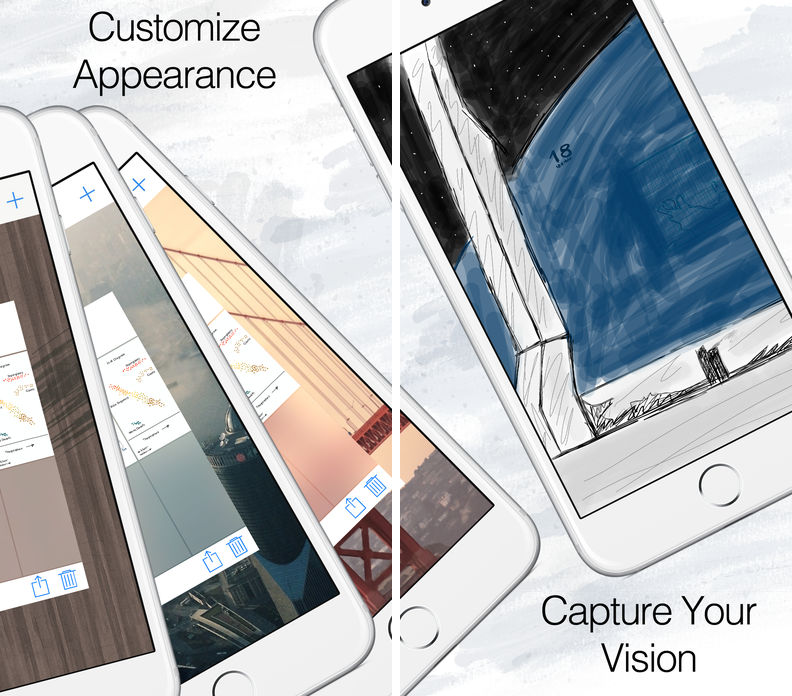 49. Affinity Photo
Affinity Photo is a novel graphic design app for Smartphone generation by Serif Labs – a legacy software development company for creative professionals. The custom design app uses light interface to bring the best of design and mobile world to the creative aficionados. It covers the core disciplines of photo editing, vector drawing and desktop publishing to bring together an app that makes design accessible for everyone in a couple of taps.

50. Clear Todos
Clear Todos is a productivity app for iPhone users. Clear was built and designed by Realmac Software, Impending, Inc. and Milen.me to cleanly organize their errands without being bothered by clutter and achieve a peace of mind. It is an intelligent mobile app that brings order to chaos with features like priority color, drag-pinch-and-drop gestures, group tasks and more.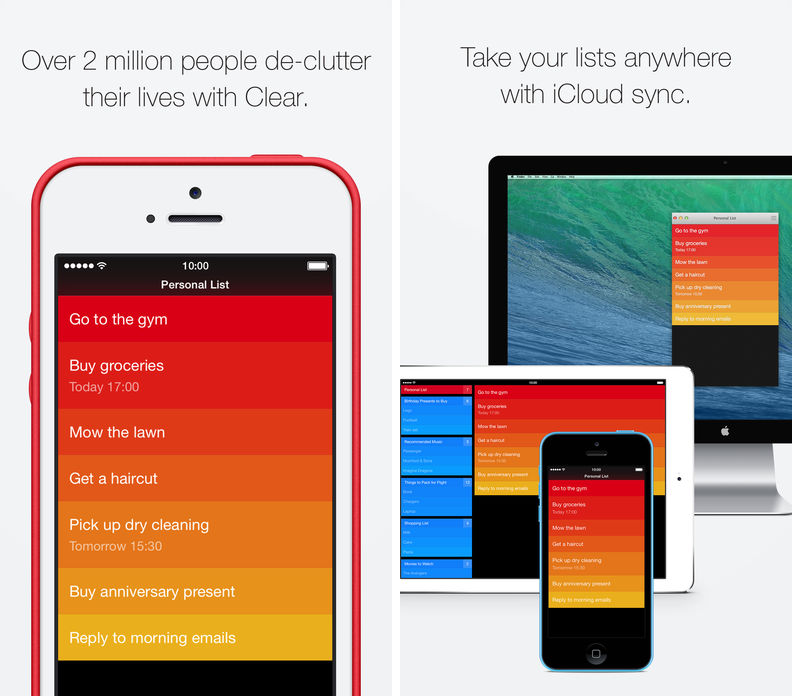 BONUS TOOLS:
51. IDEO Method Card
IDEO is a global design company dedicated to inspire designers, entrepreneurs, engineers, researchers, and instructors to create a positive impact through design. IDEO Method Cards is a set of 51 cards – a tool for aspiring artists – where IDEO showcases methods their design community uses to create moving designs and keep people at the heart of design process. Each card details one method and includes a brief story about how and when to use the method.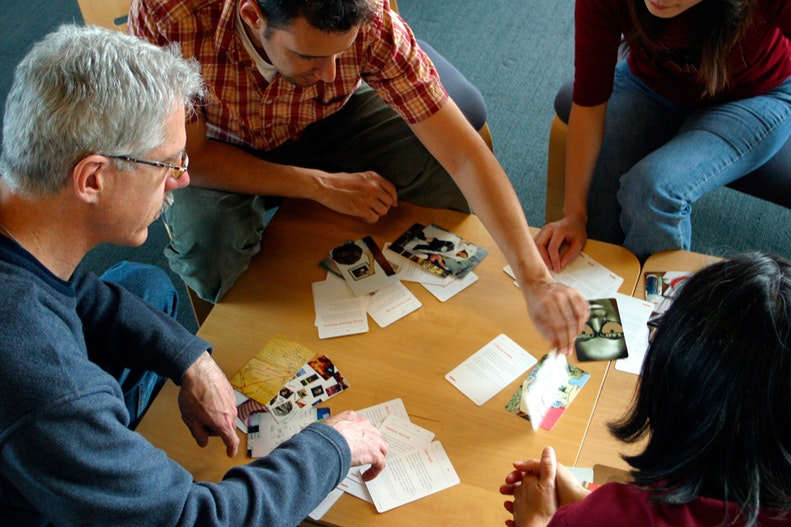 52. Brusheezy
Brusheezy is a bliss for designers. It is the place where designers can find and share FREE Photoshop brushes, collaborate with brush effect artists around the work and glam-up their designs with thousands of resources from the art community far afield. The best part is, Brusheezy resources are free to download and, based on license, free to use in design projects.
53. Glorify App
Glorify is an easy-to-use yet powerful graphic design tool that allows you to plan, design, launch and analyze all your big ideas in one place. It is a life saver for if you're looking to easily create high-quality images without the need for pricey outsourcing .
Glorify makes design accessible to all. Entrepreneurs, marketers, agency owners, designers and just about any busy professional can use this tool to create aesthetic images that convert.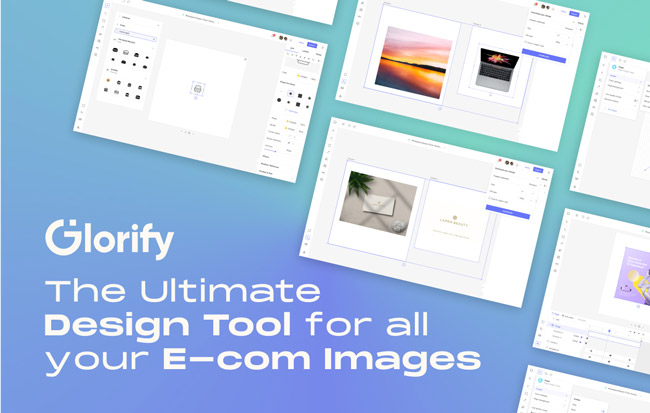 It is also super useful to Ecommerce enthusiasts who need a simple, quick solution to make their products stand out in a saturated market. With simple tools for beginners and advanced features for designers, Glorify provides a great alternative to other design tools out there.
Has thousands of fully customizable ready-made templates
Offers fully customizable 3D mockups and mockup scenes
Has branding tools such as a logo maker, brand kits and template bundles
Collaborative features and workspaces make it ideal for teams
Has an ambitious roadmap with several future features lined up
Has amazing customer support
Glorify offers a free plan for those just getting started. Monthly subscriptions to their Pro and Business plans cost $39.99 and $99.99 respectively. However, if you choose either plan as a yearly subscription, you will get a 25% discount.