Aficionados of art are so enamored with the majestic and intricate creations of Botticelli, Da Vinci, and Machiavelli that they fail to notice the beauty one can find in the simplest of things, such as everyday objects lying randomly around our houses. Here, we give you 20 amazingly creative artists who are putting their unique spin on items of day-to-day use and turning them into mesmerizing illustrations which would leave you awe-struck!
1. Christoph Niemann
Christoph Niemann, the hyper-prolific illustrator behind a plethora of impressive New York Times, Wired, and New Yorker covers, is an artist who is literally bounding with creativity. When he is not head over heels busy creating insightful and ingenious cartoons for prestigious publications, he tends to draw illustrations for fun, leveraging ordinary everyday objects to add life to his creations. He fits his "Sunday sketches" between his more serious illustrations, including both column illustrations and political cartoons for the New Yorker and the Times Magazine. His brilliantly nutty illustrations expertly deploy astounding visual puns that make his viewers smile.
2. Javier Pérez
The Instagram account of Ecuador-based art director and illustrator Javier Pérez is replete with a startlingly fun and creative series of photo illustrations that we are loving. His simple, yet adoringly cute, ideas mix line drawings with everyday objects to create light bulbs out of balloons, porcupine quills out of nails, or balloons out of grapes. His work is so accessible because it doesn't require difficult skills or especially expensive materials to create. All that the artist does is view everyday objects from a new perspective and think outside the box.
3. Gilbert Legrand
French Artist Gilbert Legrand paints and beautifully alters everyday objects that we are surrounded with and turns them into something surreal. He breathes in a new life into otherwise mundane objects by converting them into cute characters. Capitalizing on his active imagination, the artist paints small details onto simple objects and makes us see them the way he does. With the addition of legs, arms, and faces, a juicer becomes a woman coming out of a pool, a hinge becomes a shady salesman, while a paintbrush can be made to resemble a mangled fox!
4. Evol
Once you see it, you won't be able to resist the wild art displays, known as the Building series, designed by the German street artist, Evol. He creates incredulously lifelike miniature apartment buildings leveraging everyday objects, such as walls, power boxes, concrete blocks, and other publicly accessible urban surfaces, transforming them into highly intricate masterpieces. He is able to create such realistic looking surfaces by using stencils to create the effect, paying attention down to the last minute detail, and steering clear of repetitious patterns, such as stenciling in worn and wet surfaces, open windows, graffiti, and satellite dishes. When photographed right, you won't even notice it's not an actual building!
5. Sean Charmatz
Los Angeles based illustrator, writer, and animation director Sean Charmatz, captures commonplace footage of everyday objects using his IPhone, and animates on top of them to turn into hilarious characters. According to Sean,
"To me, there is magic in seeing a story that was already happening between objects. I feel the magic, so believe others will too."
6. Giuseppe Colarusso
Switzerland-born Italian artist Giuseppe Colarusso is making people crazy by rendering everyday objects totally unusable. Objects depicted in his pictures are not just peculiar, but completely useless and impractical if applied in day to day life; imagine a square rolling pin, an unmarked dice, Egyptian hieroglyphs on a keyboard, a table tennis racket with a whole in the middle, and an ordinary hammer with an electrical plug. His pictures entail you to stop and ponder what you are seeing and thus every image becomes a little puzzle that you have to solve to get at the gist of the concept.
7. Cynthia Greig
Artist Cynthia Greig labors to deconstruct our view of the world in three dimensions with her series of photographs portraying day-to-day objects as converted into 2D drawings seemingly. By whitewashing everyday objects with ordinary white paint, outlining them with charcoal, and photographing them against a white backdrop, day-to-day solid household items go from 3 dimensional to flat, especially when viewed with the right light and from the proper angle. She seeks to challenge our perception of reality of common objects to make us consider the truth of photography. This straightforward and simple process creates a cool optical effect without any digital manipulation.
8. Derek Gore
Florida-based artist Derek Gores takes us back to elementary school projects: devising vibrant collages from magazine cutouts. Only, he's much better at it than we ever were. He became widely popular after he designed an ironical collage, depicting a relaxed summer scene of a lesbian couple strolling along with their daughter at the park, from scraps of hate speech. Gores combines the fearless sense of play, the angular design of machinery, the aesthetic of fashion, and the natural beauty of the human figure into his creations to lend them great charms.
9. Tatsuya Tanaka
In 2011, Japanese Art director and photographer Tatsuya Tanaka realized his penchant for miniature art and started creating his awe-inspiring miniature dioramas. Four years later, the artist still adds to his diorama collection on a daily basis, and his creations are getting ever stranger and more creative; a mango slice suddenly becomes a small island bedecked with a palm tree, a circuit board is converted into a golf field with actual players, and a rolled up magazine is miraculously transformed into a wave for a surfer! The photographer's knack lies in imagining everyday objects in ingenious ways and his fantastical childlike imagination leaves us enthralled. Don't forget to check out his Miniature Calendar series every day on Instagram and prepared to be amazed!
10. Aravis Dolmenna
British artist Aravis Dolmenna employs a rather unconventional technique when creating her masterpieces. Oozing with creativity, her beautiful creations are surprisingly created form random objects that she finds around the house. Who would've thought that haute couture gowns fabricated from lettuce leaves could look so pretty or sheep could have buttons in place of wool. Her artworks are extremely playful and imaginative, with her signature style evident in each.
11. Dan Cretu
How often were you admonished as a child not to play with your food? Bucharest based Rumanian artist and photographer Dan Cretu, throws this adage to the winds when it comes to creating his implausible creations. Internet is teeming with his photos of everyday objects constructed using fresh vegetables and fruits, and people are raving breathlessly about his creativity and imagination. His collection includes a camera, a motorbike, and a radio amongst others.
According to the artist,
"Since I created the bike from oranges, I can honestly say that I never see fruit and vegetables in the same way as I used to. Now, when I'm at the market, I spend a few minutes looking at the fruit and vegetables and trying to imagine my next work".
12. Carter Zufelt
Carter Zufelt, an industrial designer currently based in Milan, is garnering media attention and turning heads with his sophisticated creations. His elegant and simple designs are giving a whole new meaning to everyday objects like organizers, cubes, and stools, and his methods are downright impressive. Years of trial and error have given Carter the ability to turn trash into handy and gorgeous objects, addressing the problems of plastic waste disposal along the way.
13. Brock Davis
The Minneapolis based digital artist, Brock Davis, doesn't deluge his Instagram account with selfies and photos of his food, but leverages the platform to share reimagined photos of regular items, transformed into something wondrous! Talk about tree leaves that transfigure into a hamburger, a broccoli tree house, or a cucumber killer whale! The artist harbors a belief that everyday objects, such as the head of a cauliflower, a piece of gum, or a spider's web, are all imbibed with a creative potential that the artist seeks to tap in to.
14. Kyle Beans
Artist Kyle Bean is a London-based illustrator, designer and artist who specializes in extraordinarily detailed installations, sets, and handmade models, using a diverse range of found objects and everyday materials, including eggshells, wood, and paper. His meticulous and whimsical re-appropriation of everyday materials goes so far that the artist is famed for not even throwing out those Sunday brunch eggshells; He employs them to construct wildlife, realistic sculptures.
15. Adel Abdessemed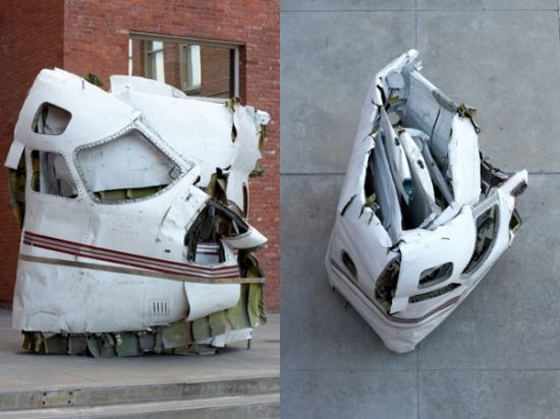 Image: Adel Abdessemed
The Algerian-born artist, Adel Abdessemed, is taking his multifarious and unique art to great heights by delving into a number of untapped possibilities. Through his sheer imagination and art, he morphs everyday disused items and discarded objects into aesthetically pleasing works of art in myriad sizes. In addition to transforming ordinary objects into installations and sculptures, he also creates drawings, photographs, and videos based on similar stuff.
16. Benedetto Demaio
A plethora of artists aspire to uncover their signature styles by coming up with new concepts, materials, and techniques, but the Italian artist Benedetto Demaio chose something more abstract. All his works are tied into one consistent body by the integration of a turquoise color scheme in his every single composition. His minimal illustrations are designed by arranging ordinary everyday objects into surreal scenarios, and applying a fresh perspective and a turquoise shade on the whole thing.
17. Rob Millard Mendez
The artwork of Rob Millard-Mendez is whimsical with a twist of dark humor and human parody. He is famous for employing unexpected materials, such as mouse traps, matchsticks, plastic fruits, oven mitts, and rulers to create his startling masterpieces.
According to Millard-Mendez,
"I'll often find something that I think has some kind of a resonance or a sense of beauty or history to it that I can't pass up. Oftentimes those things will make their way into my sculptures and I'll try to play off of some of their own senses of history and some of the innate beauties, but also their sense of being used by somebody."
18. Kristian Mensa
Instagram user Kristián Mensa keeps his account teeming with super creative yet beautifully simple drawings, breathing life into everyday objects of use with his ingenuity. A bottle opener gets transformed into a bird perched on a branch, an orange becomes a turtle, and even spaghetti gets a place of honor in his awesome drawings.
19. Vincent Bal
The Belgian filmmaker and artist, Vincent Bal, leverages shadows to create his whimsical doodles, yet there isn't anything dark and ominous about his works. He creates within the confines of shadows cast by everyday objects in the light of the sun to fashion a wide array of quirky illustrations. The shadow of a film canister gets somehow turned into a forbidding tower, a Yoda toy's shadow becomes a howling wolf, while the dramatic shadow of the filaments of a light bulb serves as a backdrop for a staircase in a scenario of daring escape.
According to the artist,
"While I was working on a new script last April, I noticed how my teacup made a nice shadow on a piece of paper. I drew some lines on it and suddenly the shadow was an elephant. I took a pic with my phone and posted it on Facebook. Before I knew it, this pic was shared and liked as never before. I was surprised how much people liked it. Since that day I've been posting a doodle a day."
20. Victor Nunes
Portuguese retired art director turned innovative pop artist, Victor Nunes, illustrates playful and amusing drawings using bits of everyday objects and just a black pen. By enveloping different objects in simple line drawings, he is able to fashion whimsical illustrations. Popcorn turns into an elephant's head, a walnut becomes a lion's head, lettuce turns into a dress, and Scissors become a bicycle; everything is possible in the wild and eccentric imagination of Victor Nunes.
Do you know of any more creative artists turning everyday objects into mesmerizing pieces of art? Do let us know in the comments below!
Try Our Personalized Logo Maker Tool For:
Apple Logo Design Tool
Free Fruit Logo Creator Tool
Pores Logo Maker Software
100's Free DIY Fruits Logo Templates
Free DIY Healthy Logo Design
Make A Free Health Logo Online
Use A Free Grapes Logo Maker
Free Oranges Logo Templates
Use A Free Cherries Logo Maker