Thanks to the breast cancer awareness campaigns throughout the world of which the prominent brands are very much a part that there is a breakthrough in breast cancer treatment with two new drugs, Herceptin and Tyverb, and according to researchers from Cancer Research UK, both are giving astonishing results on breast cancer patients.
With the advent of month of October, the skies turn pink with breast cancer awareness campaign posters, advertisements, flyers adorned with pink ribbons, taken over the streets, with brands hiring help of graphic design for care and cure of breast cancer. Such is the power of branding that more people have started celebrating this month as an occasion.
Since more people are inclined towards the cause of eradicating breast cancer, more brands are feeling the need to commit to the cause by participating in awareness campaigns one way or the other or associating themselves with breast cancer research initiatives. The brands from every walk of life are even contributing huge sums of money to breast cancer research.
Every year, multiple numbers of brands participate in breast cancer awareness moves with the aim to eradicate the deadly disease by making people more aware of the signs and lifestyle changes along the way.
1. Adidas – Mindful Approach
Designer Diego Rodriguez Wikander, has played mindfully with a shoe lace by giving it a twist of pink ribbon while keeping true to the brand, to show brand's solidarity to the cause of breast cancer awareness.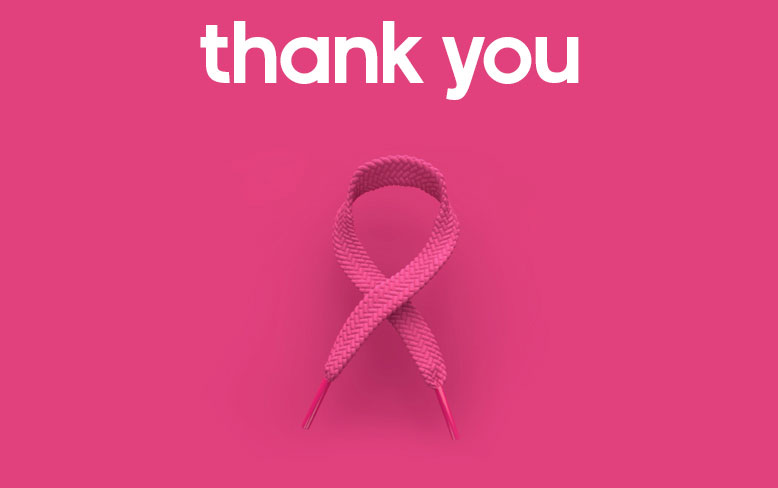 Image Source: Behance/Diego Rodriguez Wikander
2. Primesight, Campaign And Future Dreams – Showing The Power Of Creative
The designer Paulus Kristantosays about his concept, "I made a concept to create artwork that celebrates the work Future Dreams are doing in relation to breast cancer. The concept talks about survivorship, positivity, support and focusing on life after cancer. I thought about the arresting visual impact of this huge canvas and communicate with creative language so that it inspires thousands of people."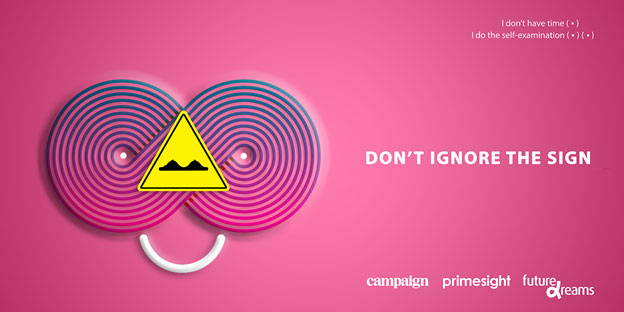 Image Source: Behance/Paulus Kristanto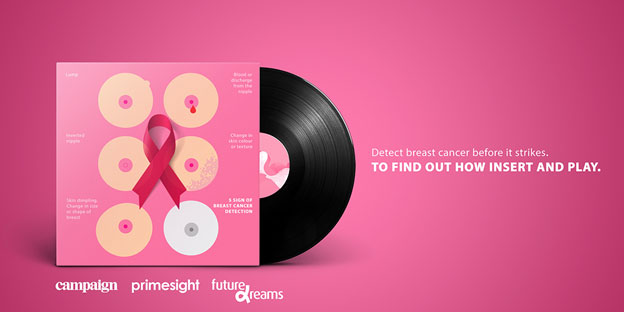 Image Source: Behance/Paulus Kristanto
3. Pfizer – A Real Awareness
In this awareness for the Pfizer pharmaceutical, designer Karim Hassan Sherif made the use of sheer creativity by replacing the 'A' in 'ReAl' to grab the attention of viewers in order to make a lasting impact of the cause.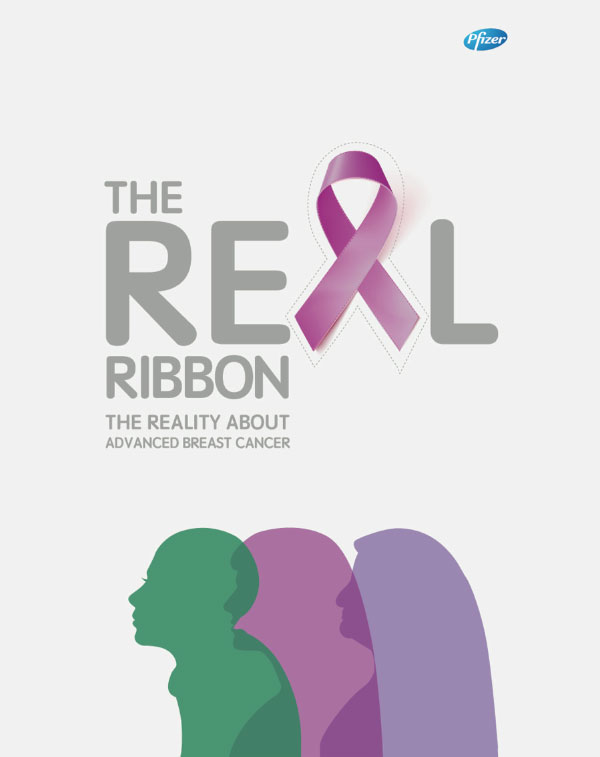 Image Source: Behance/Karim Hassan Sherif
4. Acibadem Sistina Hospital – Time Is Ticking
The pink ribbon is incorporated in a clock design as needles to show the importance of regular check ups and early detection. Designer Darko Dojcinovski played well with creativity in this thought provoking awareness campaign.

Image Source: dojki.mk
5. Allergan – A Ray Of Hope
Allergan, a multi-national pharmaceutical, say it all about their support for Breast Cancer Awareness with this creative.

Image Source: AIGA/Joseph Bañuelos
6. Safe & Sound Breast Cancer Awareness Program – Smash (H)It
Designed by Y&R, the creative ad speaks volumes about its cause and has a mass appeal to it.

Image Source: london.yr.com
7. Breast Cancer Awareness – The License Plate
Linda Gill, breast cancer survivor and volunteer for Susan G. Komen Nebraska worked tirelessly for more than a year to get approval for this breast cancer awareness license plate featuring the message 'Early Detection Saves Lives.' All plates that are assigned with an alpha/numeric combination from the Department of Motor Vehicles are absolutely free. Any plate with a custom message is priced at $40.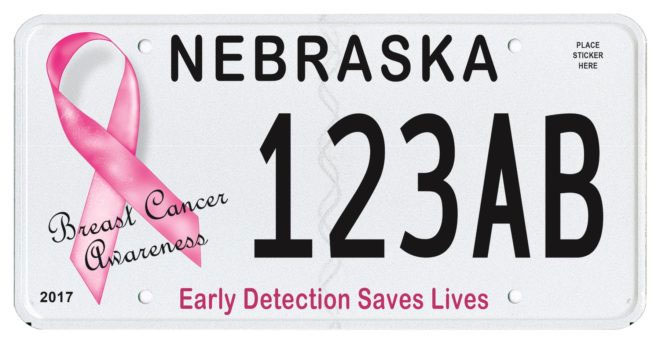 Image Source: komengreatplains.org
8. Pink Wig-A-Thon – Pink Wigs On
Pink Ribbon Wellness Foundation organized its 2nd fund raising Pink Wig-A-Thon. For the flyers, the 'A' is again replaced by the pink ribbon coupled with a tiny heart, stating that the cause is close to the heart of the Foundation.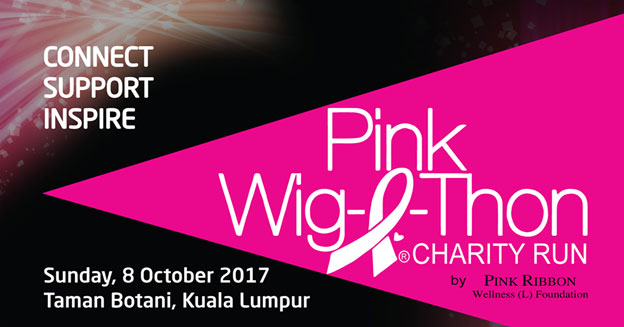 Image Source: Pink Wig-A-Thon
9. Princess Margaret Cancer Centre: Breastober
The fire trucks are going pink this October. The month is being called as Breastober by Princess Margaret Cancer Centre whose Maggie The Pink Firetruck is rolling through the GTA this October! Catch the truck and support the cancer awareness cause.
It's #Breastober & @tofire has a pink fire truck for #BreastCancerAwareness month! 💕 pic.twitter.com/8gwiv4XFcx

— Shawna Coxon (@ShawnaCoxon) October 5, 2017
Stay tuned for a @TorontoPolice press conference supporting #Breastober today at 11AM! Read the press release now at https://t.co/xt5sGAE5WO pic.twitter.com/jkB2gZrbi0

— Princess Margaret CF (@thePMCF) October 5, 2017
10. Starbucks – Pink Is Mine
With this design for Starbucks, the designer Jorjon Nanca incorporated a pink ribbon symbolizing breast cancer. Instead of spending the money on coffee, donate the money at Starbucks to fight against breast cancer.

Image Source: Behance/Jorjon Nanca
11. Raceway Ford – One Way To Af(Ford)
The Inland Empires Premier Ford Dealer, Raceway Ford, raised the curtains from the pink Ford logo. Big initiative from a big brand.
October is #BreastCancerAwareness month, Think Pink and support the fight to find the cure! pic.twitter.com/SPUHaKN9C7

— Raceway Ford (@RacewayFord) October 2, 2017
12. Monarch Firefighters – Fighting The Sirens
Firefighters and paramedics of the Monarch Fire Protection District, Monarch Firefighters has turned its logo pink to support the cause of breast cancer awareness.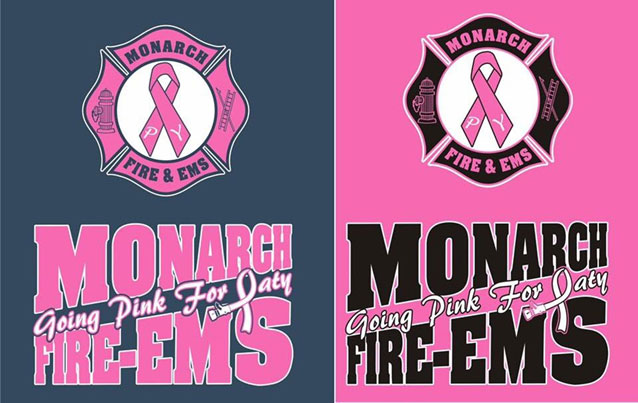 Image Source: @MonarchOutreach
13. Southgate Restaurants – Dine Pink
Dine Pink is an exciting new fundraising event that acknowledges the important role food plays in connecting people. Restaurants and cafes will donate proceeds from their special events, drinks and dishes to Breast Cancer Network Australia (BCNA).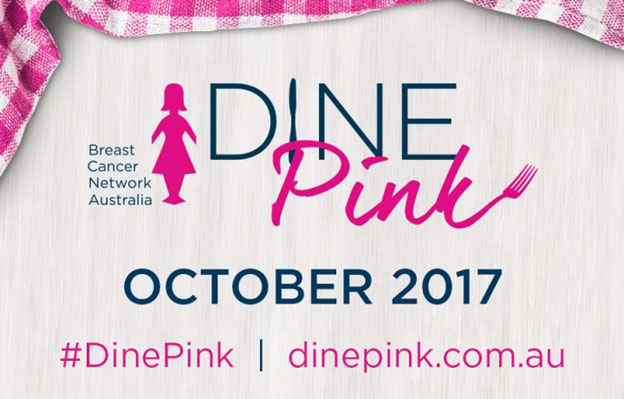 Image Source: bcna.org.au
14. Florida Wine Academy – Taste Pink
Florida Wine Academy, a leading wine & spirits education company based in Miami, in collaboration with ABACO Wines + Wine Bar hosted a 'Pink Tasting' on October 3 in support of Breast Cancer Awareness. All proceeds of the event will benefit the National Breast Cancer Foundation.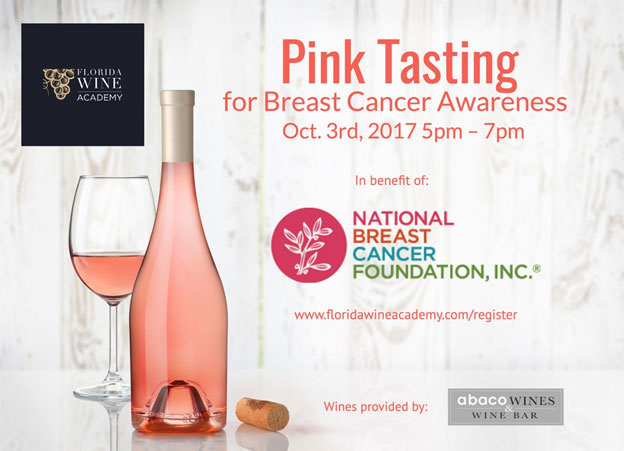 Image Source: Florida Wine Academy
15. Brighton – The Power Of Pink
Brighton is educating customers by holding events that help affected families – connecting them with experts and raising money for Georgia Brest Cancer Coalition Fund. The pink butterflies have taken the shape of iconic pink ribbon to show a ray of hope for breast cancer patients.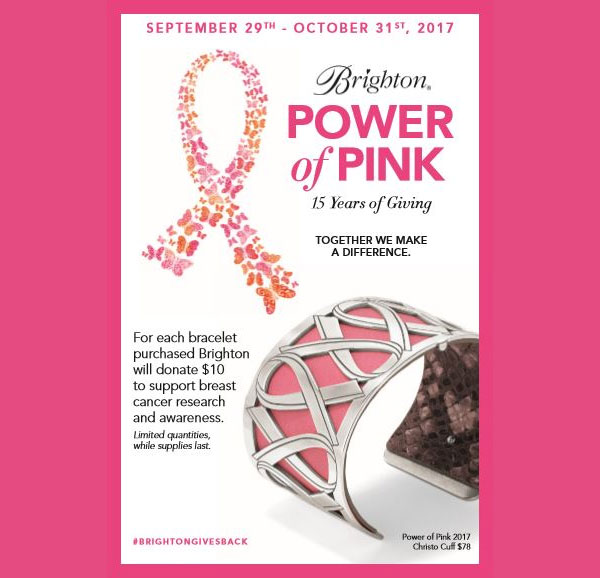 Image Source: brighton.com/powerofpink
16. Pandora – Think Pink
Pandora provides hope with limited edition charms and jewelry; a silver heart charm with the pink ribbon on one side and 'hope' on the other and a special edition of the Pink Shimmer Murano which has the pink ribbon and 'survivor' along the side.

Image Source: Pandora
17. Susan g. Komen – Worship In Pink
The Virginia Blue Ridge Affiliate of Susan G. Komen invited the participants to join in their mission to permanently eradicate breast cancer by joining Worship in Pink, which is a program that communicates information about breast cancer to various religious organizations.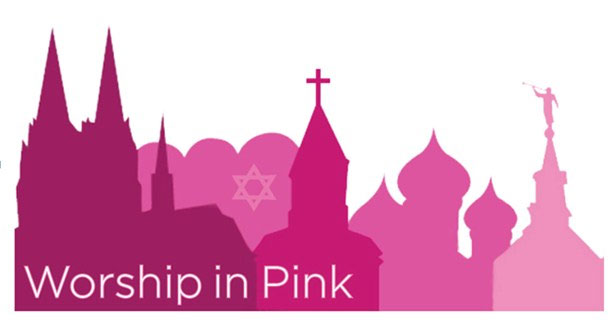 Image Source: komenatlanta.org
The Susan G. Komen Race for the Cure Series is the world's largest and most successful fundraising and education event for breast cancer ever created.


Image Source: Susan G. Komen
18. GoForPink – Shop. Dine. Donate
GoForPink a series of Breast Cancer Alliance (BCA) events, which by partnering with the Town of Greenwich and its merchants, gathered the local community together in order to generate awareness and funds for the elimination of breast cancer and to continue supporting BCA's mission.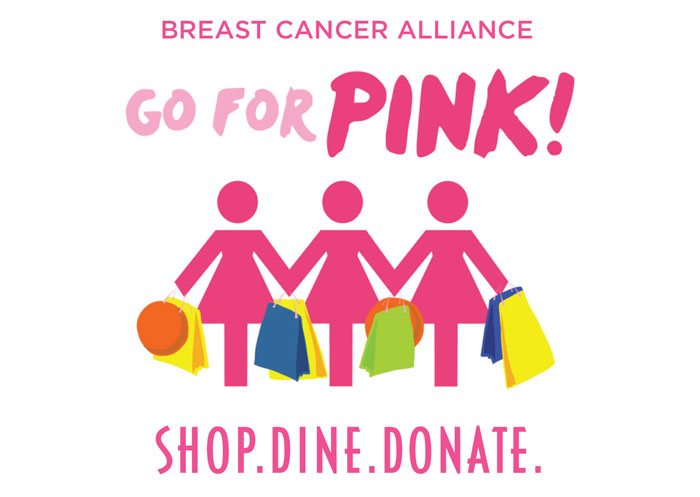 Image Source: bcagoforpink.org
19. Kappa Alpha Psi Fraternity – Operation Pink
Next Monday, join us in decorating Bras for a Cause at the BCC to bring awareness to breast cancer! The org with the best bra wins $100 👌🏾 pic.twitter.com/iir0N4kFJf

— Mizzou Kappas (@DQKappas) September 26, 2017
20. Hands Trichology Center For Hair Loss – Painting On Purpose
Let's support a worthy cause, while having a fantastic time! Join Anointed Hands Trichology Center for Hair Loss, along with Starlite Espresso Cafe and Horn of Plenty for their 'Painting on Purpose' event. Two hours of canvas painting, refreshments, champagne, door prizes and more will be enjoyed!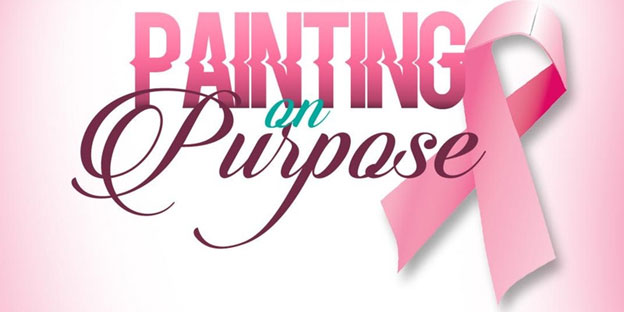 Image Source: ahtcforhairloss.com
21. The AIS Cancer Center – Get Pretty In Pink
The event was all girly for reduced price 3D mammograms, beauty and cosmetology vendors, tastings from some of Bakersfield's brand new restaurants, the latest breast health information and boutique shopping!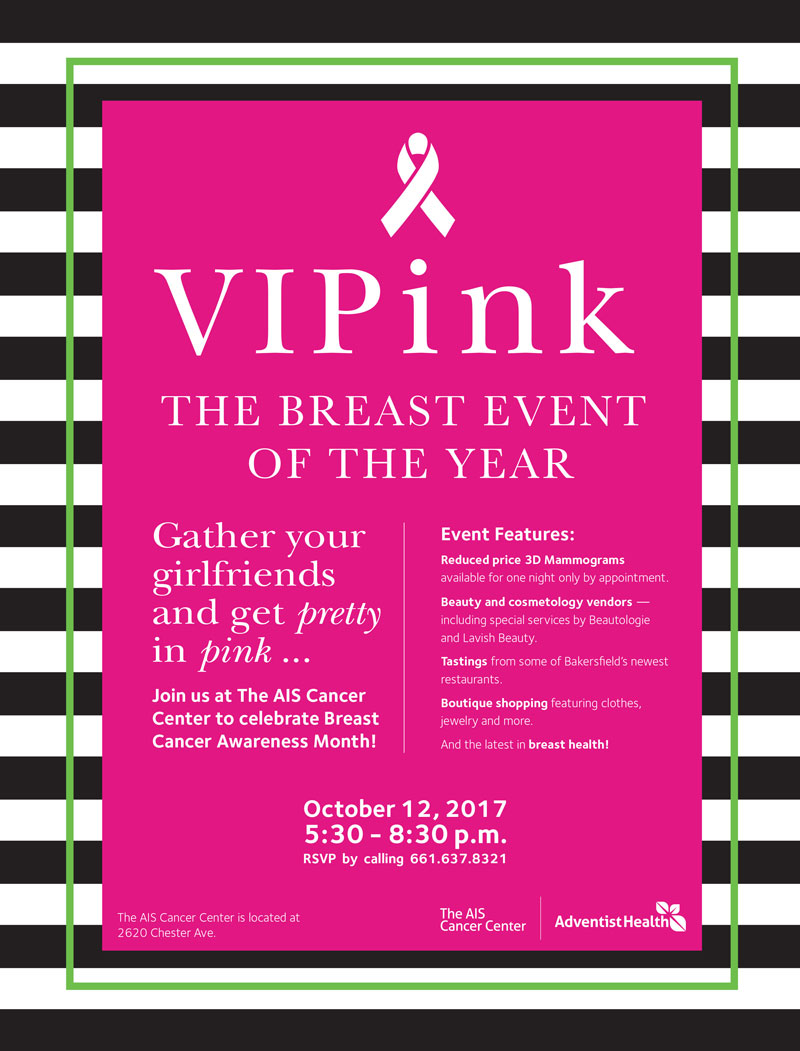 Image Source: adventisthealth.org
22. Desert Cancer Foundation – Paint El Paseo Pink
Coachella Valley residents at the Desert Cancer Foundation's 11th Annual Paint El Paseo Pink walked for breast cancer awareness at The Gardens on El Paseo in Palm Desert!
Every Paint El Paseo Pink proceeds that have been raised will aid the Desert Cancer Foundation's Suzanne Jackson Breast Cancer Fund for their breast cancer screening, diagnosis and treatment for the local residents of the Coachella Valley.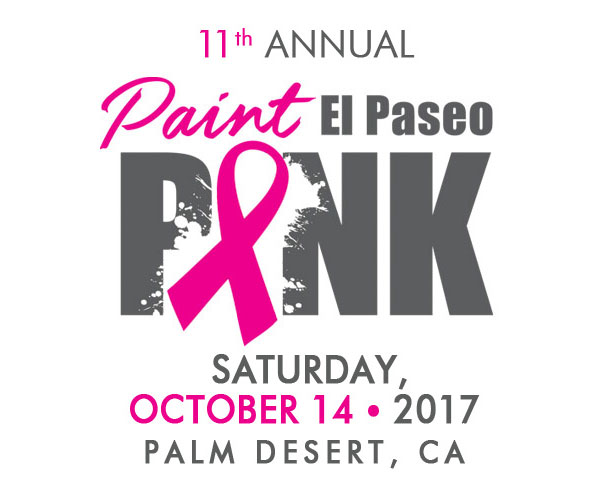 Image Source: desertcancerfoundation.org
23. MediGence Home Health Care
Send us your queries, our experts will answer them related to #breastcancer #BreastCancerAwareness Email: contactus@medigence.com pic.twitter.com/ZYGXWYVmpH

— MediGence (@MediGence) September 30, 2017
24. Milk Shake Hair UK
We're celebrating #BreastCancerAwareness with a limited edition pink Incredible Milk💕 Head to Facebook for a chance to #win #milk_shake pic.twitter.com/duXm3Ktku0

— milkshakehairuk (@milkshakehairuk) September 30, 2017
25. Resolute Health Hospital
For your peace of mind, make time for your mammogram. Call 833-219-5154 to schedule your #mammogram. #breastcancerawareness #womenshealth pic.twitter.com/Iud9nJavwx

— Resolute Health (@Resolute_Health) September 29, 2017
26. KentuckyOne Health
What are the top five reasons to get a mammogram? Take a look! #BreastCancerAwareness pic.twitter.com/D7hwA6Idc3

— KentuckyOne Health (@kyone_health) September 29, 2017
27. Liverpool County FA
CUP | Details have been confirmed for the third annual Big Pink #BreastCancerAwareness Cup w/ @LivHomelessFC.

➡️ https://t.co/46TVVOurgO pic.twitter.com/qjbRFYmU00

— Liverpool County FA (@Liverpool_CFA) September 29, 2017
With hope and courage we can change the harmful things in lives and breast cancer is one of many types of cancers that is affecting 1 in 8 women throughout the world. As the number of women affected by the deadly cancer is on the rise, there is a need of some authentic measures to be taken at every level for breast cancer awareness.
Your Say:
Do you know of any breast cancer awareness initiatives being taken in your vicinity or by any chance have you been a part of such initiative? Share your stories and views (if any) with us in the comment box below.