As the number of Coronavirus cases spikes around the globe, a large number of employees have been asked to work from home. Large tech companies included Facebook, Amazon, Twitter, and Google have all asked their employees to start working remotely, if their jobs allow, CNN reports. Google was the first company to start this measure and others soon followed suit. AT&T has rolled out a similar plan and many other companies are testing out remote work measures to figure out if this is something that they can do.
It is going to be a big test for the internet. It will be interesting to see if the technology is equipped to handle such an unprecedented number of people using its services to work remotely.
While graphic designers are not new to the remote work situation (many of them start as freelancers or take up side gigs to boost their incomes), some have always worked in a corporate or official setup. And the recent development – coupled with the anxiety about their and their loved ones' health – could be untested waters for them.
If you're one such employee, rest assured in the knowledge that remote work can be done and has been proven to be a great productivity booster. Workers also love the flexibility that comes with it. Sure, there's a bit of learning curve involved, but this is where we come in.
This article is dedicated to talking about resources and measures that we can take to make sure the productivity of graphic designers, as well as mental and physical health, remains optimum while we are working from home.
How To Maintain Your Productivity When WFH:
Before you do anything else, read and re-read the remote-work or WFH memo your company has sent out. It will contain all the guidelines that can help you do your remote work efficiently and will include things like any new software that you'll need to download, conference call timings, the preferred network to use, your revised hours (if any) and other similar things.
After you've gone through the memo and know what is required of you, it is time to start working.
• Set Up Your Home Office
The environment you create for yourself when working from home is going to be critical for your productivity levels. So dedicate a space of your living room, kitchen table, or any other area in your house where you can keep the distractions to the minimum. Encourage everyone in the house to respect your work boundaries, both physical and otherwise.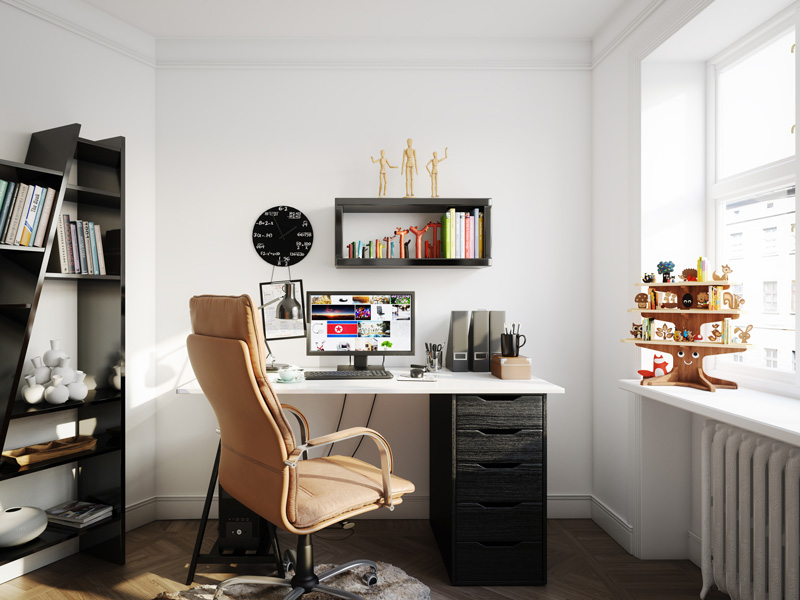 Image Source: iStock/Bulgac
Invest in a good work-chair because you don't know how long the remote work situation is going to last. So even if you don't want to buy a separate work-desk, the nice chair will help you give comfort and support as you acclimate to the new work environment.
• Stay Disciplined
As you'll soon discover, working from home requires more discipline than working from an office. You may think you don't need to dress up or that no one will know if you're taking too many breaks, the effects of 'slacking off' will show in your performance and productivity.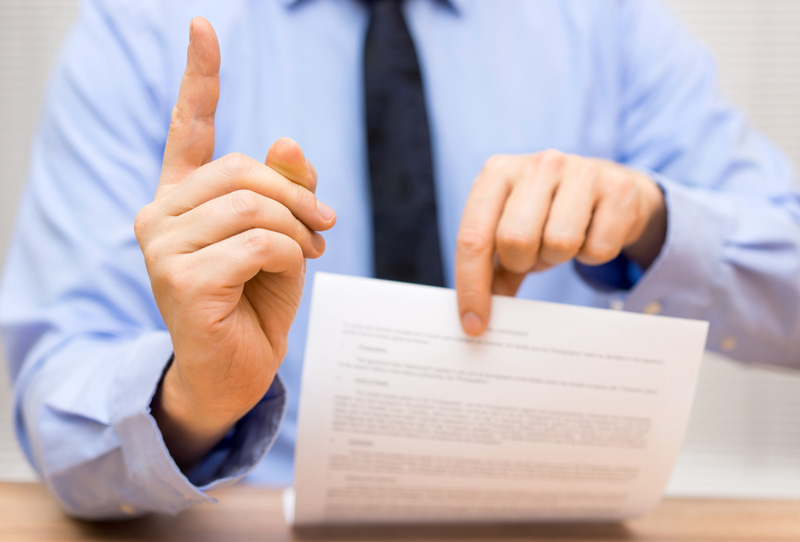 Image Source: iStock/BernardaSv
To keep both of these in check (and not to use this time as a pseudo-holiday), treat this new situation as 'business as usual' and stick to your regular work routine. Get out of your PJs and put on some proper clothes so you can get into the work-mode. Use the time you'd have spent on commuting to work on having a good, healthy breakfast so you don't have to get up for frequent snack breaks. Also, don't run errands when you are supposed to be working. Keep your home and work life separate and follow the work hours your company has outlined.
• Keep Your Graphic Design Equipment In Top Shape
Chances are you'll be given a company-issued laptop to do all your design work so there are no compromises on quality or efficiency. However, if that's not the case, you need to make sure that the equipment you have is in top working order. It includes your PC or laptop, your Wi-Fi, webcam, headset, and USB docks, etc.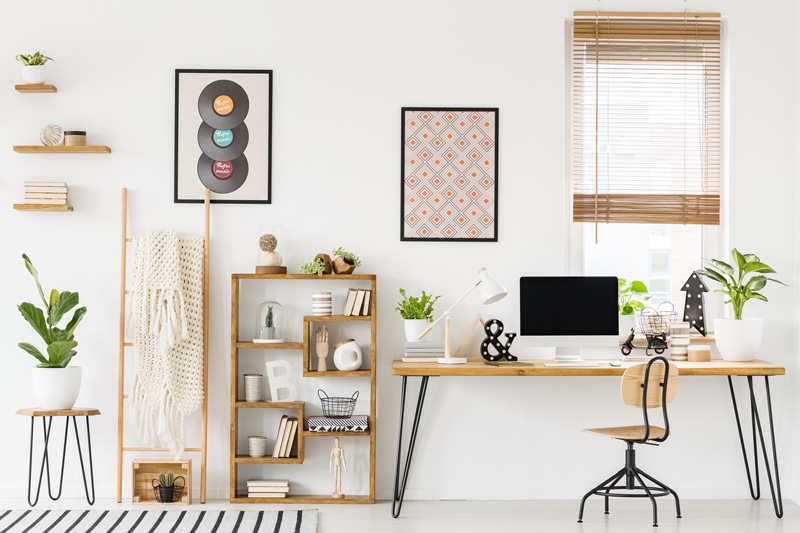 Image Source: iStock/KatarzynaBialasiewicz
Hopefully, you'll use a desktop computer (as they're more powerful than a laptop) on which to do your design work but if not then it's time to take your laptop in for some important updates and touch-ups. See how much backup the battery is giving you and how often you have to recharge it. Also, see if the laptop runs smoothly and you won't have to suffer sudden freezes and long load times due to insufficient or outdated RAM.
Also, check if your system allows for split-screen capabilities or can be hooked to several screens so you can multitask easily. While you are at it pay attention to your headset and webcam, too. These will be especially needed for your conference calls.
Get your Wi-Fi router in order, too. If it's more than five years old, you may need to replace it before you sit down for work. The newer models allow for more stable and speedier networks, and also allow you the opportunity to set up priority levels for your multiple devices, ensuring a more productive sharing.
• VPN And Cyber Security
Your company will tell you if you can use any VPN to connect to the firm's network or what security measures you need to take to ensure there's no breach of sensitive company or design information to any unwanted party.
Even if your company hasn't outlined anything about a VPN, we recommend you use one, especially if you'll be sending or receiving sensitive information. As a graphic designer, it can be anything from a design prototype to your client's specifications about a certain new project or marketing campaign they want to launch.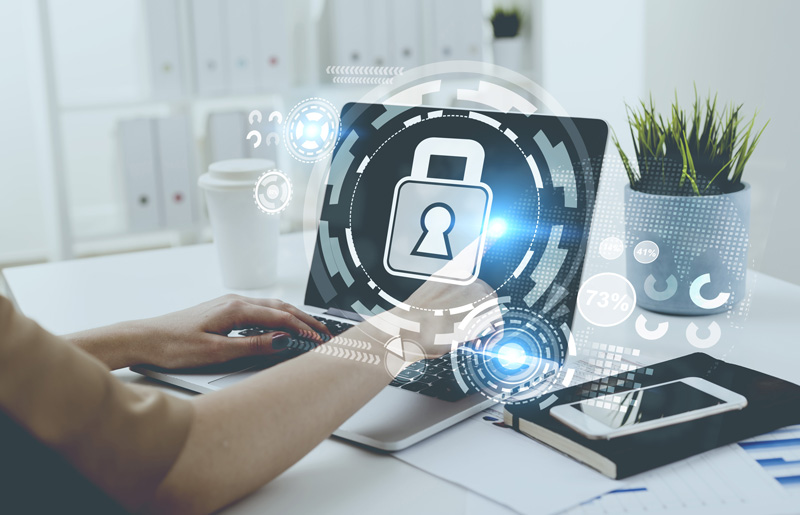 Image Source: iStock/ismagilov
Also make sure that you've installed the latest security patches and anti-virus software updates so your machine is fully protected, allowing you to carry on with your tasks with complete peace of mind.
• See If Your Internet Speed Can Take The Load
If you don't know how much browsing or downloading you're allowed in your current plan or is what speed you're currently getting from your ISP, it's time to find that out. Internet speed will be of paramount importance when you'll be sending some really heavy files out on to the cloud, or when you'll have to join in a conference call that may take a while to conclude.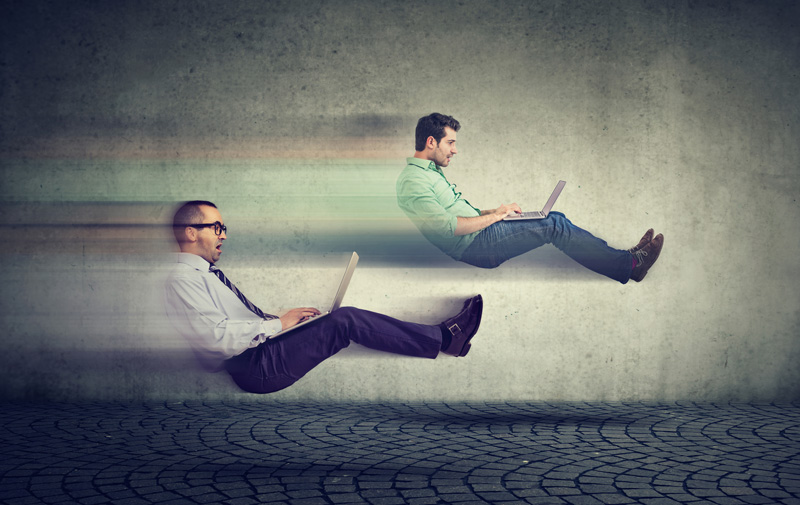 Image Source: iStock/SIphotography
So, check if your internet speed is boosted enough to take the extra load. If not, take the necessary measures right now so your productivity won't be affected.
• Process Mapping
Process mapping is especially handy for team leaders and supervisors who now need to have exact steps of a process laid out. Process mapping helps the managers know which employee is tasked with which step of the project and how long it may take them to finish it. It is a really useful tool to keep tabs on individual employee's productivity, become familiar with how the process takes place, and have a plan B ready whenever needed.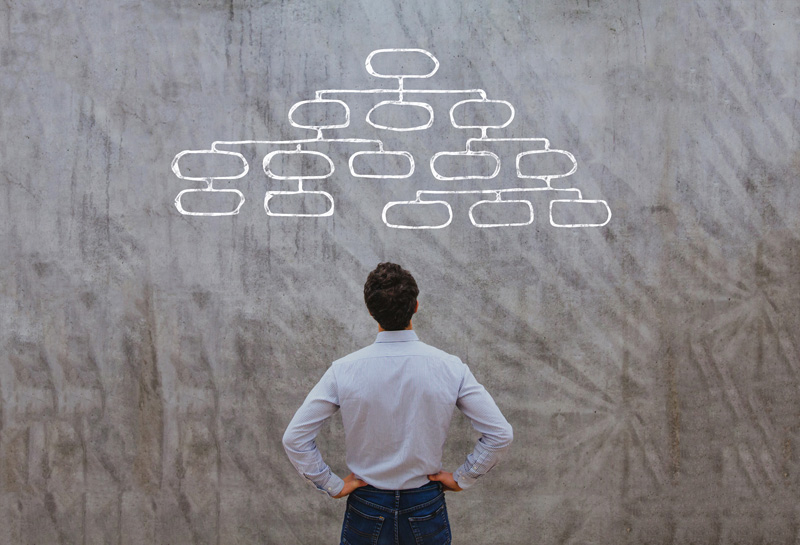 Image Source: iStock/anyaberkut
Even if you are not a design lead, process mapping helps you outline your task and assign it stages. Looking at a visual presentation of what you need to do and when can boost your productivity exponentially. It can help you figure out the areas where you're spending way too much time, and invest those precious minutes into perfecting another step that can use some extra attention.
• Tools That'll Improve Your Productivity
You may already be using a few of these tools as part of your usual work routine: Google Drive or G Suite, Microsoft's Office 365, or Zoom, the popular virtual meeting app offering video conferencing solutions.
In this section, we are going to share some more collaboration tools that can boost your productivity when working from home.
– Google gives free access to Hangouts Meet to all its G Suite and G Suite for Education Customers:
In response to the Coronavirus outbreak, the tech giant is giving free global access to its G Suite and G Suite for Education users to take advantage of its advanced Hangouts Meet video-conferencing tool to continue work and studies as usual. Using the advanced features, you cannot only live stream the conference but also record the whole thing and save it on Drive. Hangout Meets also allows larger virtual meetings to take place, for up to 250 participants per call.
The free access will continue till July 1, 2020.
– Microsoft offers its premium version of Teams for free for the next six months:
Similar to Google, Microsoft is also giving free global access to the advanced features of its Teams app for free, for the next six months. It is worth noting that although Teams had already been free for many schools in the country, the latest offering helps the global student population use the service to carry on its studies without any interruption. For the professional community, the company has lifted existing user limits on its free version so more and more people who'd be working from home can use its advanced features to boost up their productivity.
– Zoom, another video-calling app:
If you don't want to use Hangout Meets or Teams, Zoom is your best bet in remaining productive and up-to-speed with the rest of your team. It also offers file sharing, webinars, and video-conferencing with split-screen capabilities so you can meet everyone on the call face-to-face.
– Slack:
Remain in the loop with your colleagues and workflows with the help of Slack. This productivity tool is specially engineered to keep the work organized, give everyone in the team a shared-view of work progress, and keep the communication transparent and timely. So if you have to ask your teammate or a supervisor a quick question about any part of your design work, you can do it without writing or waiting for an email.
– Spark Mail:
On the subject of emails, this is a handy tool that helps organize your inbox for you. It prioritizes your emails so the most important ones are at the top and archives the rest. Instead of incessant email notifications that are such an annoying distraction, it only notifies you for emails from the people you know or work with.
When you'll be working from home, it'll be your best friend at helping you remain focused and distraction-free.
– Harvest:
It is a time-tracking app that lets you know the amount of time you're spending on various parts of your work – meetings, calls, actual work – so you can manage your time more efficiently and productively. If you decide to use this app, it will come in really handy when your supervisor isn't sure that a particular drawing could have taken four hours and you can simply show them your time-tracker data.
– Android's Focus mode:
As you may have guessed, this feature on all Android 9 and 10 phones allow you to go into a special mode where you won't be distracted by notifications from apps that take away a lot of your time. It lets you remain focused on work, temporarily pause apps, and be more vigilant about how you're spending your time. The new features also allow you to activate the Focus mode on your device for particular durations of the day, 9 am-5 pm, for example, and get more work done with reduced digital noise from your environment.
• Don't Forget To Take A Break
Make sure that your increased productivity is not achieved at the cost of your health. Extending sitting can cause you a host of health problems. Some researchers even call it the 'new smoking'. It slows down metabolism, lowers the electrical activity in legs, turns off the muscles in your lower body, and decreases the level of good cholesterol in your blood. To avoid these dangerous pitfalls, stand up from your seat every 20 minutes or at least change your sitting position. Move your arms, do a short stretch, flex your legs, and just move. Don't keep sitting in the same position for hours on end. It can be life-threatening in the long run.
As a graphic designer, you're required to remain focused on what you are doing and look at your screen for extended periods. To offset this, make sure you take a break every hour – set an alarm if you tend to get lost in the work – and get up off your seat. Take a short walk and come back. The short break will not only keep you healthy, but it will also improve your efficiency and productivity, allowing you to spot your mistakes with fresh eyes.
Preventive Measures Against CONVID-19 Pandemic:
We've talked about how you can perform at your optimum productivity levels even when working remotely. Now we need to address the global pandemic that has already claimed thousands of lives worldwide.
So far, there is no vaccine to treat Coronavirus. The only thing we can do to remain safe is to take precautions, be it for graphic designers or any other professional. According to the World Health Organization, following preventive measures have proven to be successful against the spread of Coronavirus:

This, Too, Shall Pass.
Our parents and their parents had to fight world wars; so let's just face the fact that 'we can do this'. They were facing bombs and bullets; all we have to do is stay indoors. We should be okay.
Times like these, they allow us an opportunity to show ourselves and each other what we are made of. The pandemic has already claimed precious lives. Let's not give in to panic and instead remain mindful of each other's safety, follow health protocols given by the scientific and medical community, keep kids engaged with fun learning activities, and remain indoors.
As more than half of the world population is under government-imposed lockdowns, the global economy is severely struggling. As small parts of that world economy, we can do our bid to keep it afloat. Being productive during our work-from-home situation is one way to do it. Successful remote work measures will help keep the economy's heart pumping and enable the governments to spend on saving lives. It will also allow us to still be able to buy food and afford electricity, and soon when we are out of this pandemic, help the economy start thriving in no time.
And just keep reminding yourself: This, too, shall pass.