As a marketer, creating campaigns for Mother's Day and other recurring holidays and special occasions can both be a breeze and a battle. On one hand, you have the necessary ingredients for a great recipe – you know what the customers are looking for and what the trends are. Yet, everyone else also knows the recipe and has the same ingredients.
So, how do you cook a dish that'll deliver on tradition but also have a unique zing to it? Below we are sharing 5 unique Mother's Day campaigns by famous brands that delivered all that. Use these ideas as a part of your inspiration board and cook a dish that'll leave everyone asking for seconds.
1. The Gift Of Time
Moms are superheroes. There is nothing that they can't do. They are homemakers, nurses, designers, and prime ministers of countries. But even superheroes need a break. Being part of a lavish Mother's Day extravagance sounds nice and brunches are always great but ask any mom of young kids and she'll tell you what gift she really wants.
As the popular blog, ScaryMommy articulates in one of their blog posts, what moms want for Mother's Day is to be left the heck alone. Time away from diaper duty, spit-ups, and being constantly needed is what young mothers are after.
Paradoxically, moms of older children also want the gift of time, but with their kids. They want to spend quality time with their older kids, indulging in activities that both moms and kids enjoy together.
As a brand, promote the gift of time through your campaign. Depending on your audience, you can target and promote MeTime or TimeWithKids. If you are a frozen food brand, for example, the MeTime campaign may be more suitable for your audience. If you are a fancy restaurant, however, announcing deals and discounts on Mother's Day, promoting TimeWithKids may get you more engagement and sales.
Here are some brands that perfected the Gift of Time campaigns for their Mother's Day marketing.
Supported by statistics, which showed that moms just want to take it easy on Mother's Day, the mattress brand started this ad campaign. It was tied in with discounted gift card deals to make the campaign more successful.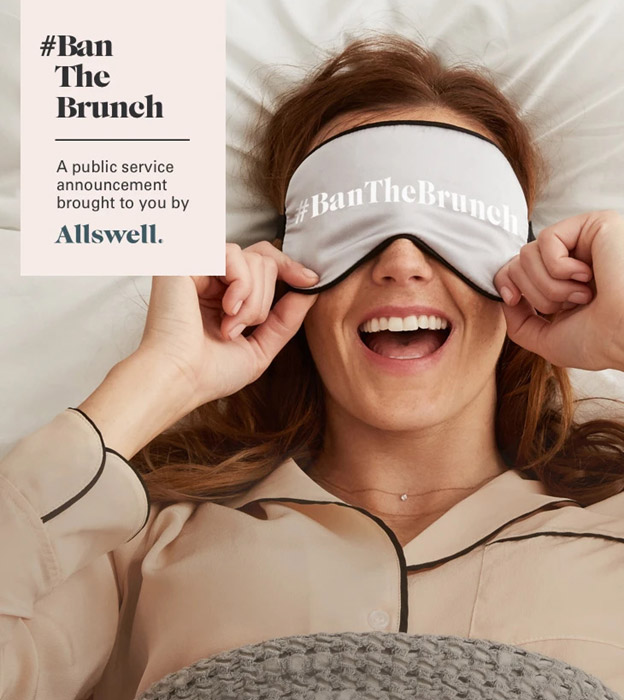 The brand offered moms a break away from all the responsibilities on Mother's Day by reimbursing the cost of their babysitter for the day. The campaign received huge accolades and extensive media coverage.
2. Old Tale With An Original Twist
If there is one thing that defines motherhood, it's emotions. Yes, it's a lot of hard work and sleepless nights. It is questions, doubts, and guilts. But start peeling off all these layers and you'll find raw, authentic emotion bubbling right under the surface.
That is why telling emotional tales of motherhood is a staple of Mother's Day ad campaigns. Brands old and new rely on emotional storytelling to drive their customer engagement on this national holiday. But too many brands telling too many sappy stories can dilute the effect. Therefore, mix your moving ad campaign with a healthy dose of twist to make the message more poignant, relevant, and memorable.
Brands that have successfully done so in recent years include Google, and the makers-of-emotions, Hallmark.
Hey Mom by Google Home Hub
3. Celebrate All Mums
Barring certain moms, all moms love their kids. Whether it is biological moms, adoptive moms, stepmoms, or something else entirely, becoming a mother is a universal experience. Studies have shown that when people set out to celebrate Mother's Day and plan activities for their moms, they not only think of their moms but go beyond that.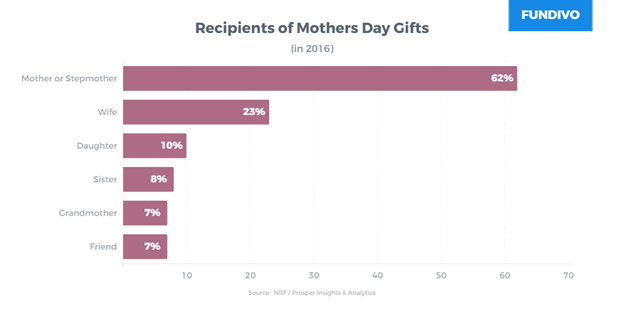 Image Source: FunDivo
So, if you are looking to stand out from the rest of your competition this Mother's Day, create an ad campaign that celebrates all the different mom figures in our lives. And don't forget pet moms either. They run this world.
Brands that have pulled off successful 'celebrate all mums' campaigns:
The dog food brand will be celebrating Mother's Day this year by treating pet moms with discounted bundles of personalized dog food, a plush toy, and cute Dog Mom socks.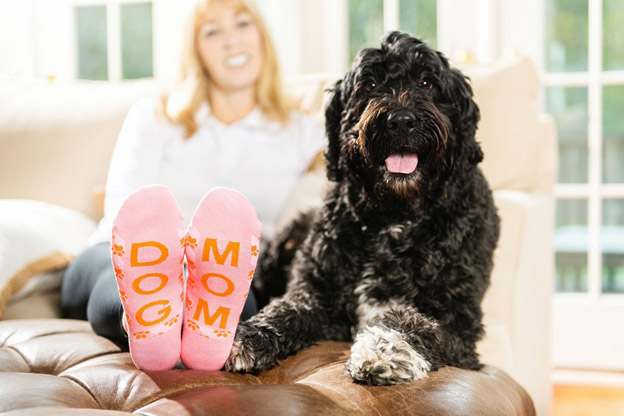 4. Catchy Taglines/Trending Hashtags
Sometimes inspiration strikes and marketers come up with really unique ideas. The premise may still be routine but the execution and the angles covered are unique and original.
As a brand, when you land on such an idea, hold tight and turn it into a hashtag. Hashtags not only help your campaign gain traction but also improve brand awareness. If your campaign is something special, you can also gain new consumers with a successful hashtag and a unique idea.
In recent years, several brands have truly inspired us all with their creative Mother's Day marketing. However, few stand out. Here are the two brands that did justice to their Mother's Day campaigns with fresh ideas:
The online dating website came up with a Mother's Day ad campaign that highlighted the dating struggles of single moms. The execution of the campaign was flawless and sensitive. The message was raw but uplifting.
The flower delivery company used a speech dedicated to male strength to narrate and showcase the sheer female resilience and might.
5. Be Covid-Conscious
We are living in the times of Covid. As a responsible and relevant brand, you must keep the ground realities in mind when you curate your Mother's Day campaign. No discounts or deals that encourage dining out by large groups of people. No emotional airport arrival gate meet-ups because so many countries around the world are still under travel restrictions. So what can a brand do?
Remain Covid-conscious when you create your campaigns. Figure out how you can celebrate Mother's Day in this new normal we're living in for the past year and how it ties in naturally with your brand.
Two brands were able to do just that in their 2020 Mother's Day campaigns.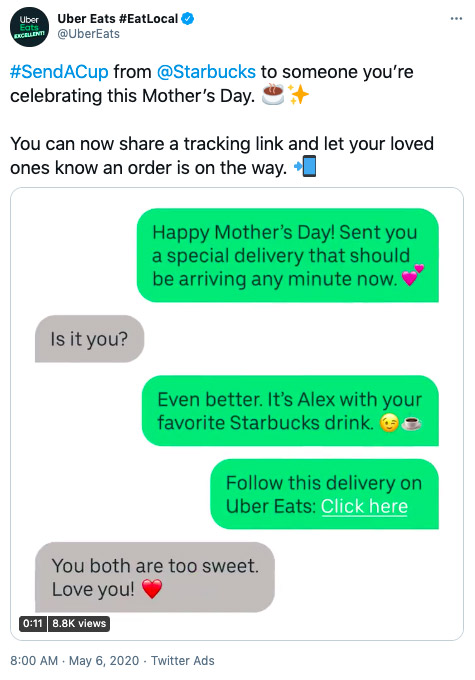 What's Next?
With Mother's Day just around the corner, hopefully, your marketing team will have a solid strategy and campaign idea all prepared and ready to go. If it isn't, well, this is the post for you. Use the ideas shared here and tweak (or build from scratch) your own marketing campaign to let your audience celebrate Mother's Day with a thoughtful message shared by your brand.