Holidays are happy occasions. Right? Not for these brands, they certainly weren't.
Over the years we've seen some of the most tone-deaf, irrelevant, off-the-point, and in extreme cases, disastrous marketing attempts by big brands surfacing around the holidays. How did these ads ever saw the light of day, escapes us.
Here we are sharing ten of the worst holiday ads (according to us) with you, in an attempt so we all learn the most valuable lesson in marketing: what NOT to do.
1. Apple Forgot How To Make Videos On Its Phone
Apple usually gets their marketing right.
Therefore it was a shock to everyone when they got such critical detail wrong in their 2013 Christmas commercial.
The commercial is quite a typical one, in all senses. Families getting together. Preparing Christmas food. Lighting Christmas trees. Wrapping Christmas presents. Just all the regular stuff you see in every ad with the Christmas spirit – with the addition of a lone teenager always busy with a phone.
But here's the catch. The teenager here isn't being antisocial. He's secretly making videos of everyone, capturing the little moments. Cue the 'Awws'.
Here's what Apple forgot. The iPhone, when held vertically, records videos with two vertical blanks visible on either side of the recording. But they aren't present when the video is being displayed on the big screen TV.
Where did they go?
The fact that the final video does not have those strips makes the boy's video look completely commercial – something that the fans were quick to note and make fun of. Some went a bit further, and 'corrected' the mistake.
Have a look:
2. Cadbury Drops 'Easter' From Its Holiday Marketing
In 2017, Cadbury made a lot of buyers angry when they missed writing the word 'Easter' on their Easter chocolate egg packaging. Since chocolate eggs have been a regular staple of the religious and traditional holiday, buyers were irate over what they thought was the brand's deliberate decision to disassociate itself from the religious holiday in such a way.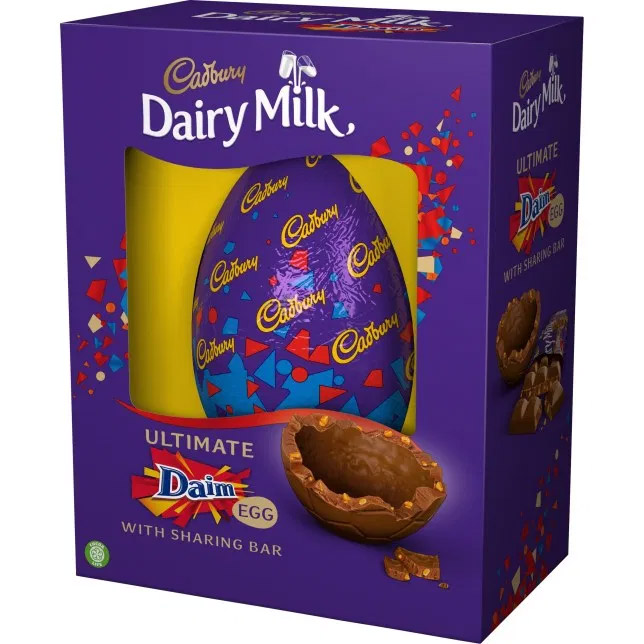 Image Source: Metro UK
The brand is so loved and their careless mistake to not include the holiday name on their packaging so silly that it even irate the-then UK Prime Minister, who called the ads 'ridiculous'.
Cadbury kept trying to diffuse the situation by displaying how the word is mentioned on the eggs themselves, but it didn't satisfy the consumers who wanted it displayed proudly and openly on the packaging.
3. Coca Cola Manages To Anger Russia And Then Ukraine
For their 2016 New Year message, Coca Cola released a map of Russia wishing everyone Happy Holidays and a happier new year.
But things immediately took a dive as soon as the ad was posted on Russia's most popular social media network VK.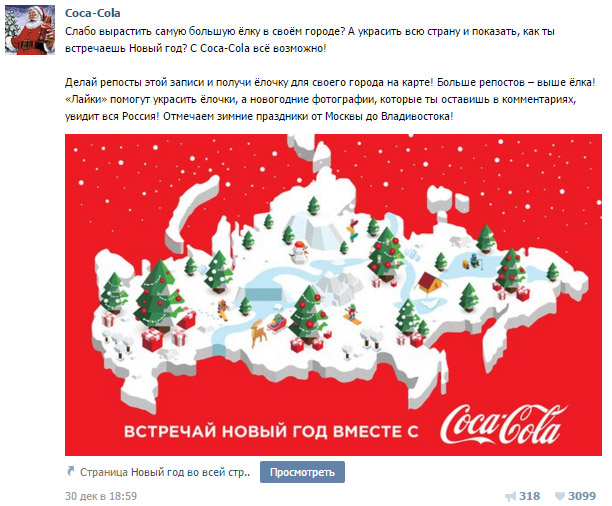 Image Source: Meduza
Reason? The map of Russia included in Coca Cola's holiday poster did not include Crimea – a territory that's been a bone of contention between Russia and Ukraine. With both countries fighting over its control, Russian users on VK were furious at Coca Cola's decision (or mistake) to not include the territory on the country's map. Coca Cola immediately apologized, released a now corrected map, which included Crimea as part of it, and perhaps thought it finally averted a disaster.
Wrong. As soon as the edited map was released, people in Ukraine started flushing coke down their toilets – literally.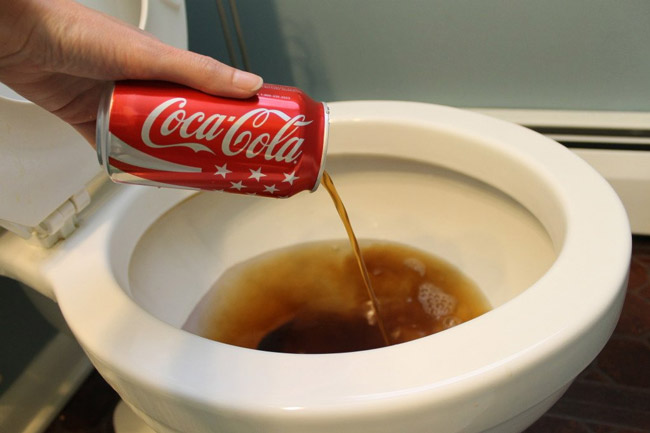 Image Source: The Spruce
Sick of the blunders it didn't intend – but that could be avoided – Coca Cola pulled down both the ads and said this:
"Dear friends! Thank you for your attention. It has been decided to delete the item which caused the upset."
4. Kmart's Holiday Greed
In 2013, Kmart made what it must have thought a great decision. They decided to open early on Thanksgiving Day, much earlier than they had ever did in the past. Not only that, they also decided to remain open through Black Friday. What Kmart perhaps did not see coming was a flood of criticism from customers who were, justifiably, angry on behalf of all the employees who won't be able to spend time with their families over the holidays.
When the angry customers took to Twitter to express their frustration over the ethics of this decision, Kmart's social media team responded with a robotic copy/paste answer:
@bintrepid81 Kmart is staffing w/ teams & seasonal associates when possible, giving them opportunity to make extra money during holiday.

— Kmart (@Kmart) October 22, 2014
@nuggetfan4life Kmart is staffing w/ teams & seasonal associates when possible, giving them opportunity to make extra money during holiday.

— Kmart (@Kmart) November 5, 2013
@AnnalisaAlosco Kmart is staffing w/ teams & seasonal associates when possible, giving them opportunity to make extra money during holiday.

— Kmart (@Kmart) November 5, 2013
5. Co-op's Sexist Easter Ad
This ad came out in 2017, long after brands should have learnt better. In the company's Chocolate Easter Egg advert, the tagline in the posters said,
'Be a good egg. Treat your daughter for doing the washing up'.

Image Source: CreativePod
Interestingly, these eggs were Fair Trade eggs, an association that champions non-discrimination, gender equality and freedom of association.
Quite rightly, the ads were immediately called out for the blatant sexism they contained.
Wow! Co-op demonstrating outrageous sexism!! @EverydaySexism pic.twitter.com/jPFjdjgi4A

— Ronnie Morris (@VeronicaMorris2) April 4, 2017
However, the company, realizing its mistake, did the decent thing and apologized. It also changed the ads. A spokesman for the Supermarket said, "We are proud of our organisation's equality and diversity, we are sorry."
6. Virgin Mobile US Seemed Like Encouraging Assault
In 2012, Virgin Mobile US released their Christmas ad where the man is contemplating between surprising his wife with a necklace or just good old assaulting her.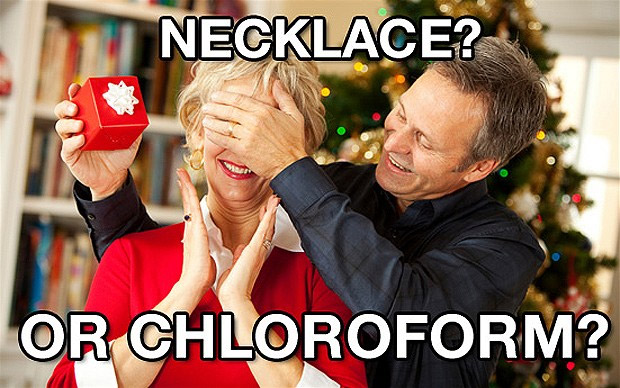 Image Source: The Telegraph
As a countdown to Christmas Branding that year, Virgin Mobile US had the above image as one of the ad promos on its website's homepage.
It gained a lot of traction soon after its release. People were beyond upset; they were angry. The Twitter feed for the brand was flooded with people who were angry that the company was making light of such a serious issue.
Buzzfeed analyzed the many subtleties of the message it was portraying: "Necklace? Or Abduction! Necklace? Or Rape! Necklace? Or Murder!"
People soon started tagging the brand's former owner, Richard Branson, alerting him to the misogyny the ad was perpetuating. He hadn't seen the ad yet, but responded immediately and took action. The ad was soon taken down and the company kind of apologized by saying that the ad was the doing of an outside agency and Virgin Mobile hadn't seen or approved it. Well, OK.
7. Bloomingdale's Infamous Spiked Eggnog Ad
"Spike your best friend's eggnog when they're not looking."
Really? Really?
The people who made this ad and those who approved it, were they not aware how commonly a spiked drink surfaces in tons of cases of date rapes or date assaults?
It's shocking they went with this ad copy.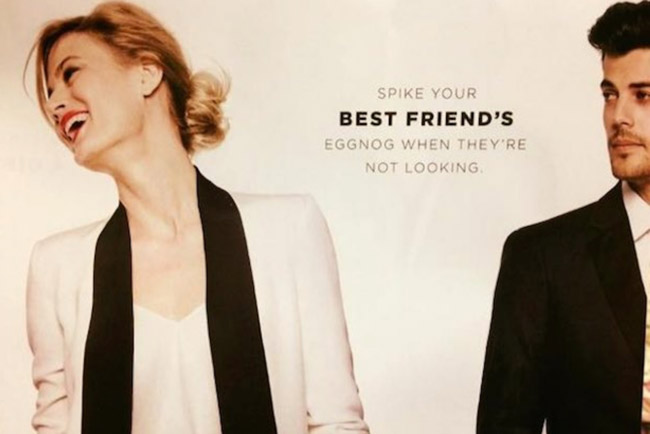 Image Source: USA Today
But perhaps it was the shock factor they were going for.
And they got plenty of it.
Twitter erupted in outrage at the blatant sexism and normalization of rape culture the ad was portraying.
Or don't and quit being a creep… #Bloomingdales pic.twitter.com/Liu8DKMMnP

— Kristen Alderson (@krisalderson) November 10, 2015
This ad is ridiculous #Bloomingdales https://t.co/yry9c83S2M

— Garcelle Beauvais (@GarcelleB) November 11, 2015
how did bloomingdales think that ad was a good idea

— Jessica Quail (@jessica_sarahh) November 11, 2015
It got so bad that Bloomingdale's had to apologize.
We heard your feedback about our catalog copy, which was inappropriate and in poor taste. Bloomingdale's sincerely apologizes.

— Bloomingdale's (@Bloomingdales) November 10, 2015
However, it shouldn't have taken Twitter's 'feedback', (read: outrage) to figure out this copy was bad; it should have been canned the moment it was presented by an enthusiastic copy writer living in the 50s.
8. Hallmark's Decision To Not Show Same-Sex Wedding Ads
On Dec. 2, this year, The Hallmark Channel began airing wedding commercials produced by the wedding organization company, Zola. Of the six ads aired, four featured same-sex couples and two had heterosexual couples. All six ads showed the couples kissing.
As soon as the ads were aired, One Million Moms, a division of the conservative organization, American Family Association, filed a petition against Hallmark, asking its members to boycott the brand. Over 27,000 people signed the petition.
Initially, the brand succumbed to the pressure, and the ads were pulled from the network.
However, that in turn unleased the rage of the whole of the LGBTQ community. People started calling the brand over its message of exclusion, discrimination, hypocrisy, and what many considered an act of 'indecency'. Glaad called for Hallmark's boycott with a BoycottHallmarkChannel hashtag that started trending immediately.
Hallmark soon realized what it has done, especially after Walt Disney's cable channel Freeform tweeted an invite to Zola that said: "This is what happens when you focus all your energy on exclusion instead of clever plotlines. Call us, @Zola. We celebrate the holidays with everyone."
The Hallmark Channel reinstated the ads and prevented a disaster. Why we have included it in a list of marketing disasters though, then? To show what could have been if people hadn't spoken up.
9. Paleton's 2019 Christmas Aka 'Hostage Video' Ad
You'd think in 2019 things would be different. Sexism would be gone, misogyny understood and spotted everywhere, and copywriters would be more careful.
Paleton, the maker of luxury exercise and fitness equipment, proved it isn't so.
The ad starts with a beautiful, and seemingly fit, wife who receives a Christmas gift of Paleton bike as a surprise from her husband. We say 'surprise' because you can see from her reactions that she is not expecting an exercise bike as a Christmas present. (Also, if your partner hasn't specifically asked you for exercise equipment as a gift, don't give it to them. Nothing says 'you need to shape up' more loudly than that. Not even the actual words.)
Receiving the gift, the wife in ad starts recording her fitness journey. She's already fit. So as a viewer you're not really sure what 'journey' she is talking about. As the ad ends, she plays that video for her husband, seemingly to gain his approval (yikes!).
The ad is a disaster from start to finish. The funniest part is, it's been nearly two weeks since the ad was first released, and even in the face of harsh criticism, widespread mockery, and even losing $1.2bn in stocks, Paleton still refuses to see what's wrong with its ad that's been called 'a hostage video'.
Ah well, guess it exactly easy for some to admit a mistake.
In any case, Ryan Reynolds has made a hilarious parody of this ad, featuring the exact same model who plays the wife in the Paleton ad.
And everyone loves it!
The model in both the ads, Monica Ruiz, recently spoke up and joked that it was her 'worried eyebrows' that caused all the drama.
Paleton, are you listening? Sometimes joking about yourself can take the edge off.
Takeaway:
It isn't easy to wade the complex waters of modern marketing. Your consumers are more aware, more ready to speak up, and know they deserve better than lazy one-liners, redundant jokes, and irrelevant commercialization.
So step up your ad game and for inspiration, take a look at these brilliant holiday adverts from brands who got it right!
Try Our Personalized Logo Maker Tool: