Easter is probably the most delicious holiday after Thanksgiving. Each spring, we're overwhelmed with egg-shaped chocolates, pastel-hued icings, and other decadent treats (putting on a few regrettable pounds in the process). With Easter being such a "sweet" holiday, customers rush to get a fill of their Easter goodies before they run out. Bakeries all over the country capitalize on this delectable spree to make Easter one of the most lucrative holidays of the year! As a small bakery owner, you should know how to play your cards right to come out strong against the tide of bakeries sprawling across the country.
However, it's hard to flourish as a small local bakery. The competition is both multi-faceted and tough. Not only do you have to compete with other retail bakeries, you also have to contend with large grocery chains who've expanded their focus on providing fresh baked cakes, muffins and pastries in the store. And when there's an occasion like Easter, the competition gets even rougher for you to attract customers and emerge as a premium bakery. But with some creative marketing ideas, you can reconnect with your customers and make your bakery logo appear in you customer minds.
While we don't have any top mystery biscuit formulas to impart to you, we can share some viable marketing ideas that will help your bakery flourish this spring.
1. Infuse Your Web Presence With The Easter Spirit
While indubitably, your bakery must be redolent with the sweet and zesty aroma of scrumptious cakes, macarons, melt-in-your-mouth pastries, and drool-worthy breads and buns, don't forget to let your online customers delve into a visual feast. There must be scores of customers who purchase your products online and wait in perseverance for what you have in store for them. The key is to make your website radiate the gusto of the holiday, whether with the use of cute Easter puns- such as "Super cheep deals", "Make this Easter eggs-stra special!", "Don't miss out on these eggs-treme savings!", or "Add some egg-citement to your Easter!"-, with the use of pastel hues- such as yellows, pinks, and greens-, or cooking up design schemes revolving around the theme of eggs, bunnies and chicks.
In addition to greeting them on the website with Easter fervor and revamping the look and feel of your website to reflect the season, it's also prudent to create a separate page leading up to your Easter specialties. This helps customers looking for Easter specials, instantly land amongst the delectable assortments you have to offer. It also pays well to make sure your Easter treats are highlighted on your home-page with clear call-to-actions to boost sales.
For instance, Cadbury's website has an amazingly redesigned page for Easter 2017, listing all their Easter chocolate gift offers. With their alluring and delightful chocolate products, Cadbury is literally offering bundles of joy to its customers.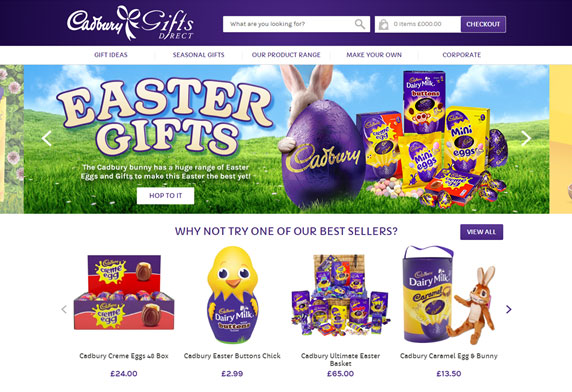 Image: Cadbury
Grandma's Bakery, founded in 1978, is a large wholesale/retail bakery located in White Bear Lake, MN. They have an adorable "Hare and Makeup" cake that they proudly flaunt on their homepage in bold lettering, almost as a bill-board of sorts. Showcasing your most attention-grabbing products capture the ever-plummeting attention span of your customers, making them more prone to peruse through your other specials.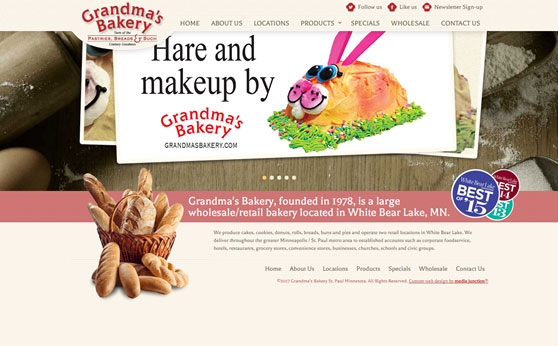 Image: Grandma's Bakery
Embracing the Easter Spirit, Swiss Bake Bakery has designed a vibrant, cutting-board menu card, listing their Easter Specials. When depicted on their website, this out-of-the-box menu instantly makes the eye hop from one delicacy to the next.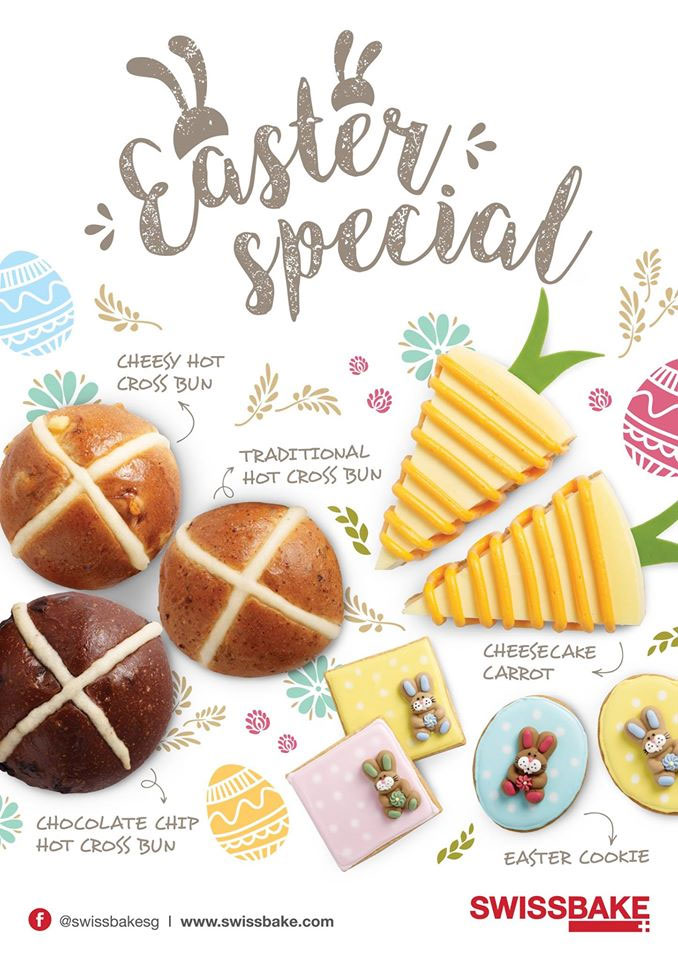 Image: Swiss Bake
Betty Bakery, located in the heart of Boerum Hill, Brooklyn, has a separate, well designed Easter page dedicated to listing their Easter Specials and enticing customers with magnificent imagery. Notice how they have leveraged traditional Easter icons and design elements, in addition to the colors of the festival, to exude the holiday spirit.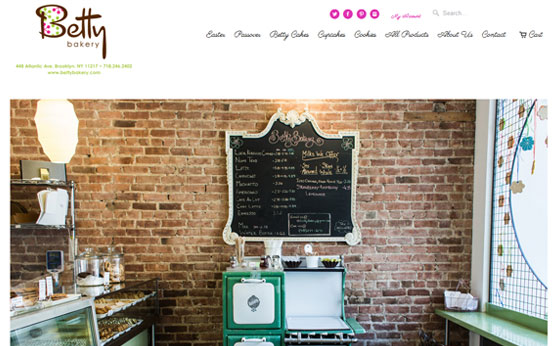 Image: Betty Bakery
The hummingbird bakery has a separate Easter Category which is highlighted on their homepage, with a clear CTA.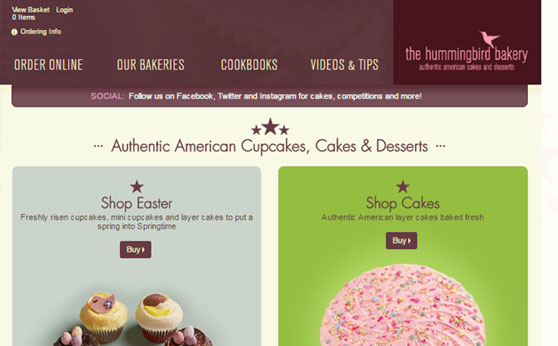 Image: The Hummingbird Bakery
2. Indulge Their Sweet Tooth With Specialized Easter Treats
Seasonal products go a long way in boosting sales and embracing the true spirit of the occasion, sweeping customers in their wake. The "get-it-before-it's-gone" sense of immediacy pertaining to premium limited-edition delicacies, encourage the customers to garner a taste before they miss it. This year, bakeries are capitalizing on this holiday to charm patrons with exquisite delicacies, Easter eggs, specialty cakes, and an adorable assortment of seasonal gourmet sweets that leave the customers spellbound. From Simmel cakes and hot-cross buns, Easter eggs and nest baskets, to intricate cakes in the shape of bunnies, lambs or chicks, bakeries over the globe strive to cash in on Easter favorites. In addition, it pays well to flood your social media pages with a promise of your upcoming treats to create the right hype around your products and get the word around, just as these bakeries have done!
• Love Soirette
This pastry boutique not only specializes in macarons and cakes, they also don't skimp when it comes to specialty Easter Treats. This spring, their Instagram page is replete with sneak peeks of their decadent Easter creations, including carrot-shaped pops, chocolate nests, and robin egg-blue macarons.
• Suarez Bakery
Suarez bakery has also introduced a heart-warming, frosted sugar cookie box as part of their new Easter Menu. They sure took no time making their customers catch a glimpse on Instagram.
• Merritt's Bakery
Not only has Merritt's Bakery launched an array of wonderful pies, cakes, and treats for Easter, they are making us extremely ravenous with their suite of scrumptious tweets.
Big Bunny Easter Cake is ready to hop to your home! pic.twitter.com/GIcs4AdsYy

— Merritt's Bakery (@merrittsbakery) April 8, 2017
• Chocolatier Constance Popp
This chocolatier is widely popular for preparing their treats from scratch using chocolate from their own cacao beans. This year, in addition to chocolate roosters and geese, they are also offering a stunning chocolate caramel Easter cake, decked out with a nest and eggs on the top.
• Bobbette & Belle
There's nothing like a classic sugar cookie to yell "Hoppy Easter". This Toronto bakery has a treat that is too adorable to eat (Almost!). Bring home the cookie monster!
• Butter Avenue
This bakery is a go-to spot for avid sweet-tooth indulgers in search of the best macarons. End your egg hunt with their too-good-to-die-for, hand-crafted Easter Chocolate Egg, festooned with bunnies and filled with milk macaron.
• Cake & Loaf Bakery
This bakery has gone up a notch to launch highly creative treats, such as their specialty Easter confectionary and the bunny bait.
3. Get Creative With Giveaways
From the perspective of a marketer, Easter is a highly anticipated (and lucrative) holiday that offers a great chance to get creative with social content. There's nothing your customers like more than a shot at winning giveaways and freebies in the holiday season.
While it's a great idea to give back a little in the spirit of the occasion and offer discounts and freebies with every purchase to your customers, you can get as creative as you want with giveaways. Be it a Facebook Contest with riddles and questions related to Easter or your products, customers entering their email address for a chance to win a special prize, or entering a draw through liking and sharing your post, any chances of getting their hands at freebies make your posts instantly viral, just as these bakeries have accomplished.
#WIN a #chocolate #Easteregg in our #competition! Follow and RT to enter. T&C's https://t.co/EvBrzIJXTF #chocolat #Easter #sweet #Foodies pic.twitter.com/lwN4us2AnG

— La Mienne (@LaMienneUK) April 6, 2017
Last chance to #win a Cheester Egg Hamper by @SoWrongItsNom – with @wildescheese egg + our #crispbread. RT to enter: https://t.co/nRFWWfbB12 pic.twitter.com/ZnzXSQeubc

— Peter's Yard (@PetersYard) April 6, 2017
In addition, you can hold contests asking people to submit photos of themselves in bunny costumes for a chance to win a free Easter cake, or Give a discount based on how far customers jump in their costumes in short video clips. Or perhaps ask customers visiting your store to drop their name in a draw box inside your physical store. Such marketing gimmicks create the right "buzz" about your bakery, get more exposure for your business, foster a positive feeling towards your business, boost traffic to your website/store, strengthen the relationship between you and your patrons, and also allow you to collect new email addresses for future marketing campaigns.
4. Plan An Egg Hunt For Adults And Other Events
While a vast majority of Easter activities are intended for children, why not attempt an Easter marketing idea that gives your grown-up clientele a dive in the fun as well? Hide plastic Easter eggs throughout your bakery, each containing a special prize, discount coupon, or funny tip, and put up posters or flyers all over your store reminding customers to look out for Easter eggs and to bring them to the counter to reclaim their prizes – and make them redeemable with a qualifying purchase. Such an event can bring throngs of customers to your bakery in a single evening.
Find the single egg w/ a golden ticket for $50 in Pix treats this Easter during our Egg Hunt Extravaganza! Doors open at 2PM #EasterEggHunt pic.twitter.com/CVPNYIl2FY

— Pix Patisserie (@PixPatisserie) March 7, 2017
Easter fun doesn't have to be limited to Egg-hunts. Why not Partner with local businesses to organize a "Bunny Trail", invite your customers to an Easter party where they can meet up with the Easter bunny and glean free giveaways, or invite people to come over and design their own Easter eggs.
5. Tweak Your Bakery Logo
Easter is a great time to get close to your customers and offer them something different and unique. While you can offer them tempting and fresh baked items, you can also make some efforts to market and brand your bakery at the special occasion of Easter. One of the best ideas to market your bakery in a unique style is to tweak your bakery logo according to the special occasion of Easter. You can add egg and Easter bunny icons in your logo or change the color of your logo on your packaging, wrappers and hand bags temporarily. This way you can convey a positive spirit of Easter to your customers and generate more leads.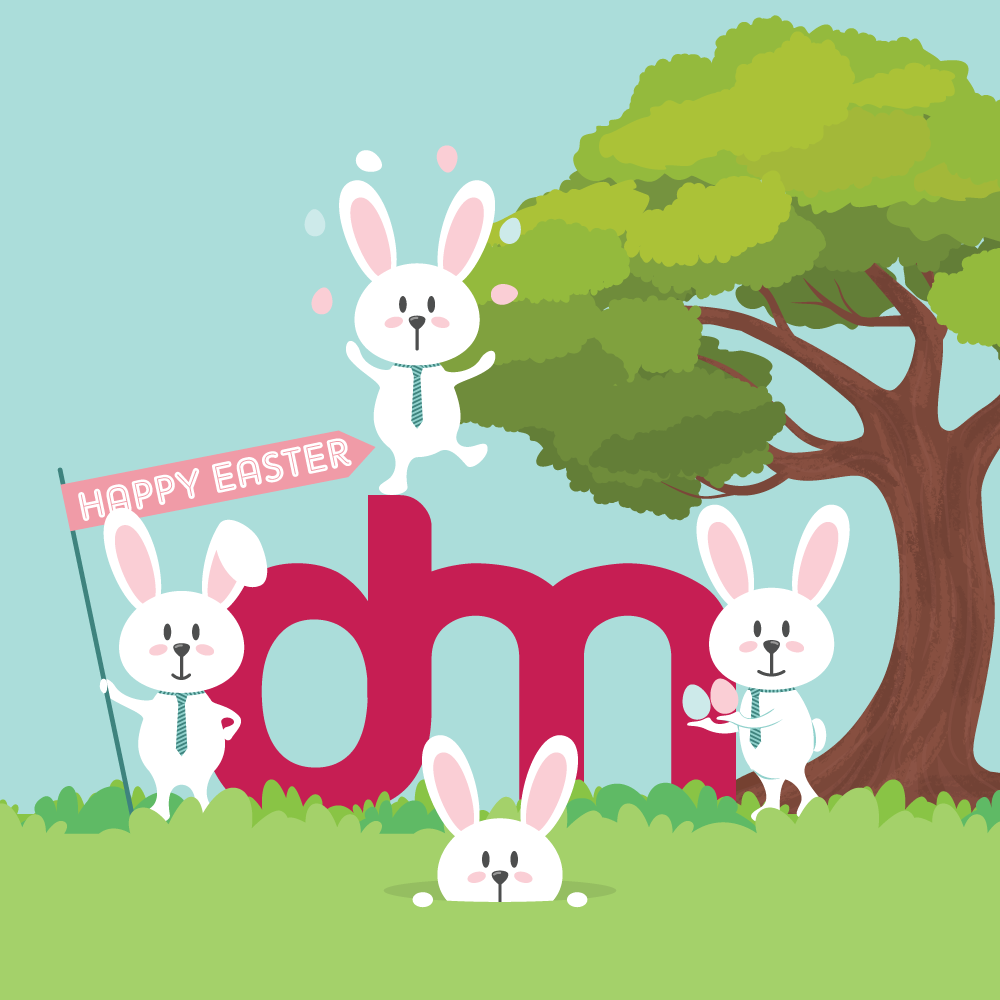 Illustration: Freepik
6. Run Special Easter Promotions
Akin to every major holiday, Easter deserves some dedicated promotions and offers in its own right. Running an Easter special time-limited offer, motivates your customers to visit and spend money in your store and encourages potential customers to respond immediately as well. As a cherry on top of the cake, a special Easter deal is one of the most viable ways of aligning your bakery delicacies with the spirit of the season. Putting on your creative hat and capitalizing on the theme of the occasion, you can offer discounts on all "bunny" marked items on the day of Easter, and a special discount on all products throughout the week. Strive to create and hand out Egg or bunny-shaped discounts cards with special offers that customers can avail on all Easter products, or even have someone dressed in a bunny costume hop around your store, dealing out discount cards and flyers to passersby.
Another great idea is to create Easter basket bundles. Patrons love convenience and you can greatly boost your sales by bundling a plethora of stand-alone items into special Easter baskets for spouses, parents, friends, kids, and others. This kills two birds in one stone; Bakeries find a way to sell items that don't move as quickly, and you end up making shopping easy for customers. By bundling products around an "Easter Theme", visitors are lured into purchasing other non-discounted items. This creates an opportunity for you to cross-sell, up-sell items where you can charge premium prices. For a polished look, use custom grab bags or gift baskets, personalized with your business logo.
Can you think of more ways small scale bakeries can come out with a bang this Easter? Do let us know in the comments below.