As a photographer, when you are laboring to get that perfect shot, you are looking for this one moment that represents the entire story. One shot that narrates the complete tale. Designing a photography logo isn't too different than that. It's all about discovering the perfect symbol that captures the whole essence of your brand in all its detail.
Here, we show 23 photography logo designs to get your creative juices going and help you narrow down the search for your own photography logo idea.
1. Bring The Camera Into Focus
A camera on a photography logo. So original, right? But there's a reason it's such a popular image for a photography logo. It gets the message across instantly! It's highly recognizable, memorable, and has enough angles, edges, details and curves that you can add your own artistry into even the most generic of camera symbols and make it truly spectacular.
You can shape it into a travel bag to symbolize travel photography, or give it the yellow-and-black colors of bees to inspire a sense of wildlife photography. You can also go retro for clients who prefer vintage or even to showcase your unique style. Or use the lines and edges to form the lens in geometric angles.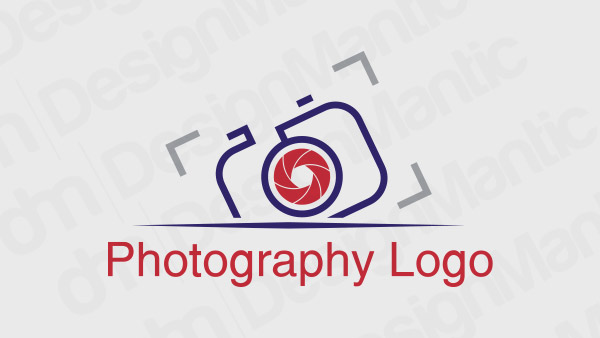 Commercial photography logo in red and blue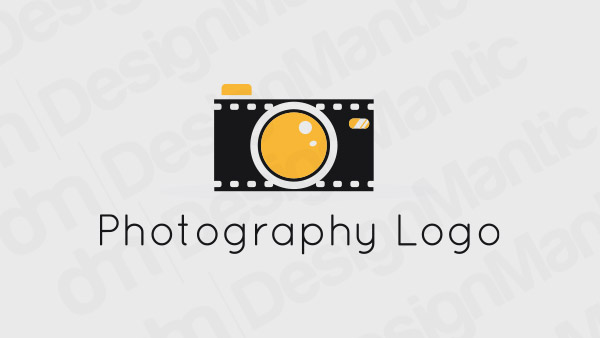 Photography studio logo in black and yellow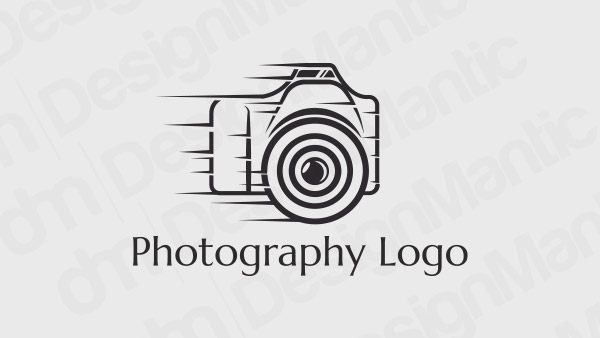 Black logo for minimal photography brands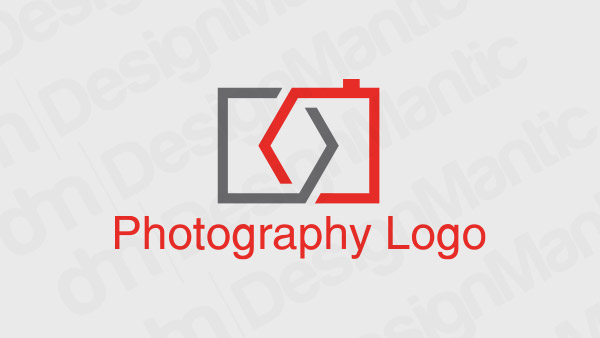 Camera logo in line art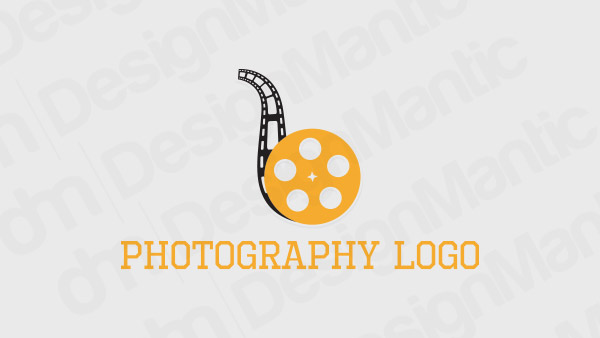 Camera reel logo making the letter b
2. Set The Lens Apart
One more way to create a great photography logo is to focus on the lens. Using the parallel between a camera lens and the human eye lens, you can play around with the concept and see where it takes you. The round lens can also become your symbolic synonym for focus, precision, and sharpness. Think of chopper blades, the reel of a movie film, the antenna of a drone – all these symbols can accompany the lens of camera to create really amazing logos for your inspirational photography brand.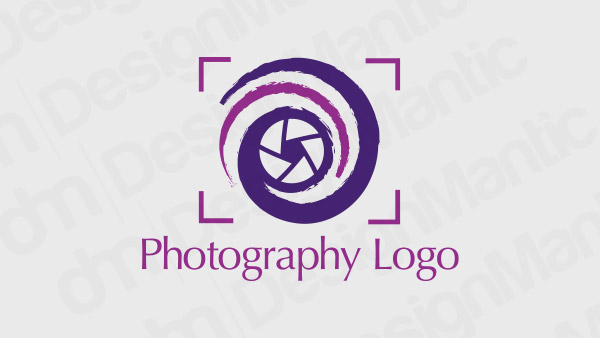 Purple swirl logo in a camera lens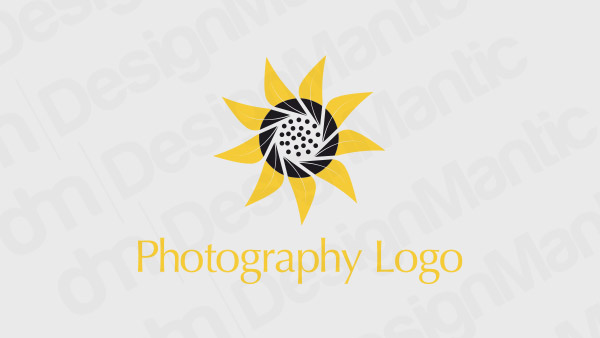 Sunflower logo with a camera shutter

Red 'S' logo with a camera lens in the curve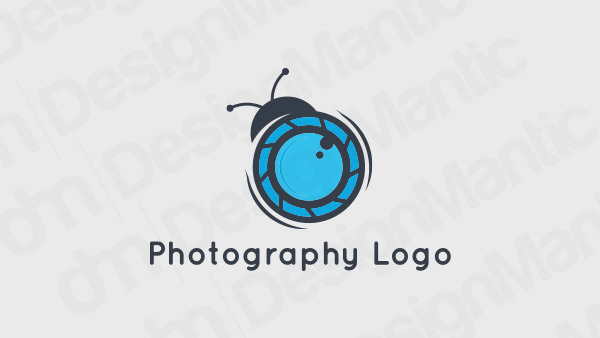 Photos logo using Polaroid picture
3. Wordmark Or Lettermark Logo
You can never go wrong with a wordmark or lettermark logo. Never. It is especially great for brands who want to make a statement with their name alone – and as brand marketers, we know it's always a good move. It instantly establishes you as a confident market player, somebody who isn't afraid to own it. Wordmark logos, especially the monograms, can also be timeless and enduring.
However, there are few things to keep in mind when designing a wordmark logo:
Choose a font that is clean, legible, and impactful.
Don't make it too word-y. If you want your name on the logo but it's a large moniker, see if monograms are something you'd be interested in.
Keep the colors minimal. In number, not in quality. Whereas you are free to choose even the most brightest and boldest color imaginable (within the brand identity), we advise not to go for more than three (max!) colors in your lettermark logo. It can get burdensome and confusing pretty quickly.
Also, bonus tip: a seal looks really awesome on a lettermark logo.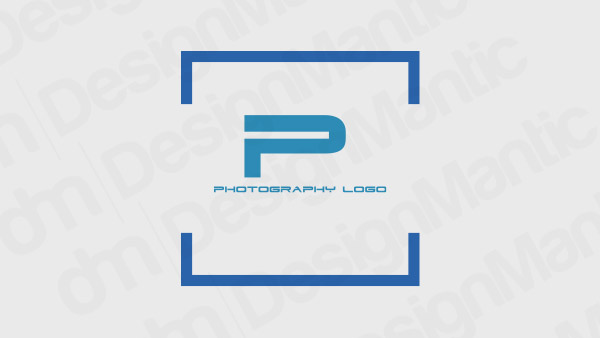 'P' logo with blue box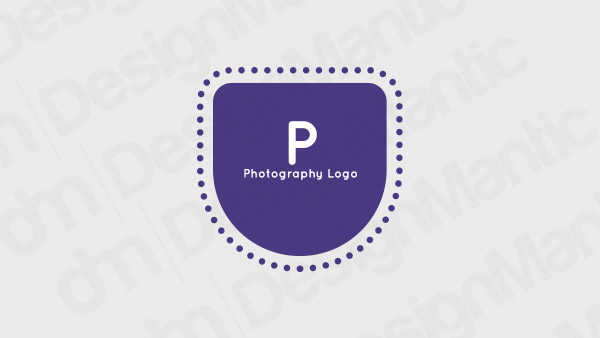 San Serif 'P' in a shield logo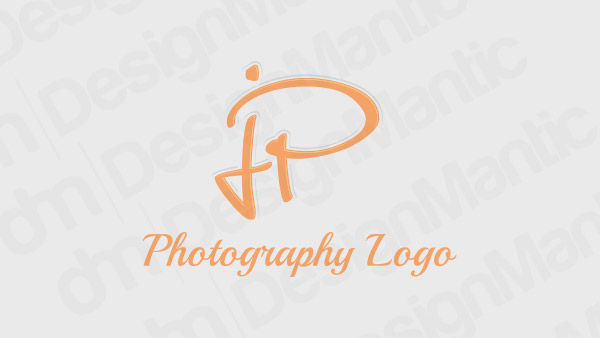 'P' in an orange script font logo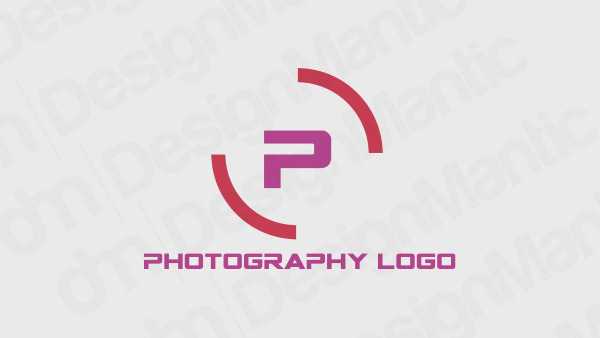 Block 'P' logo in a cropped circular form
4. An Eye For The Logo
An eye is perhaps the most versatile image for a photography logo. Different renditions of it can look equally perfect on a photography logo of a girl who captures the street art in her city, and another who does high-end shoots for runway models. The aperture rings of your camera lens or the focal distance markings around can also take the form of an eye to add details to your photography logo.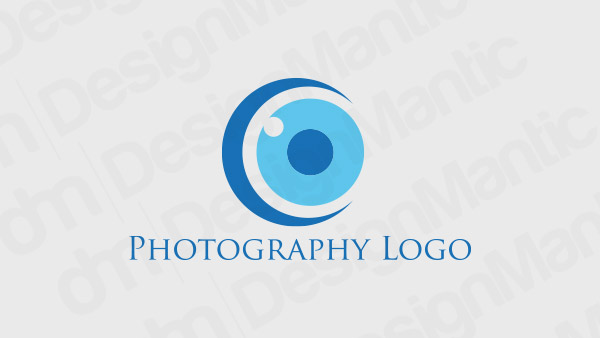 Eye logo in dark and light blue combo

DNA logo with a negative space eye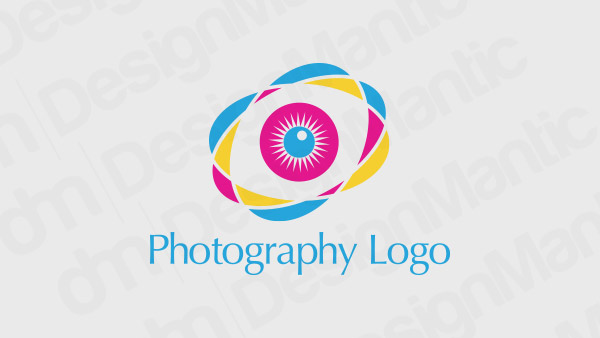 Colorful logo with an eye in the middle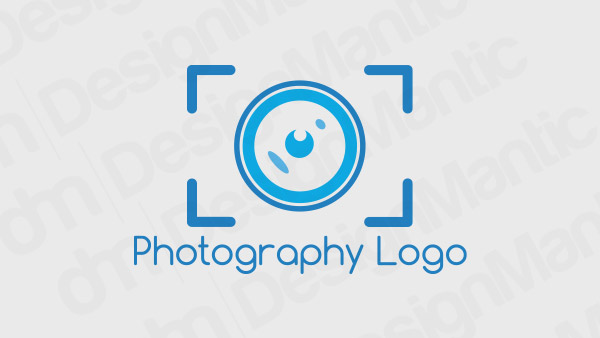 Circular logo with an Eye contained in a box
5. The Subject Matters
Who you are capturing, your primary muse, and the subject you focus on can all become a part of your photography logo design. You can decide and figure out how you'd like to portray them into your logo. Or you can take aspects of them and incorporate them into the larger design.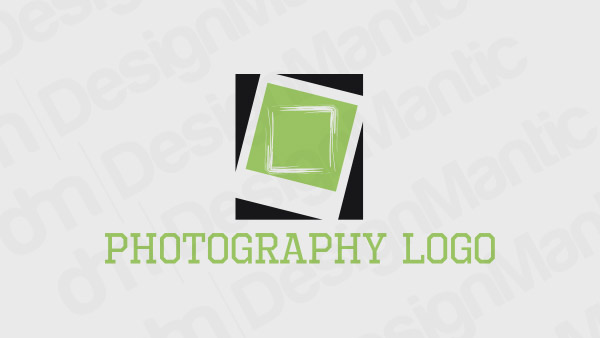 Photos logo using Polaroid picture
For example, if a wedding photography logo can include ring, tiara, or a crown as part of its emblem. For a photographer who excels in pets or animal photography, add your furry friend in your logo. For holiday photography professionals, the choice of imagery is as vast as their experiences. Same goes for an adventure photography logo. Fashion photographers usually like to go with wordmark logos or monograms, as they bespoke luxury, quality, and excellence.
• Wedding Photography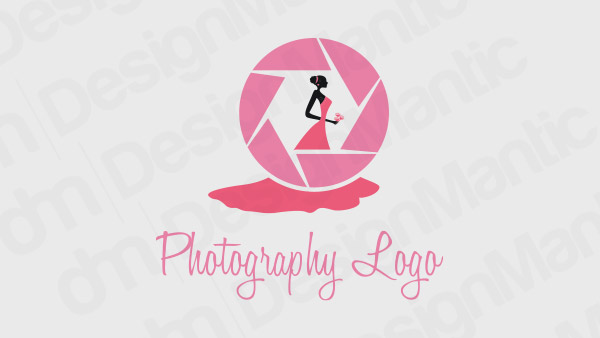 Wedding photographer logo with bride in lens

Necklace logo for wedding photographers
• Pets/Animal Photography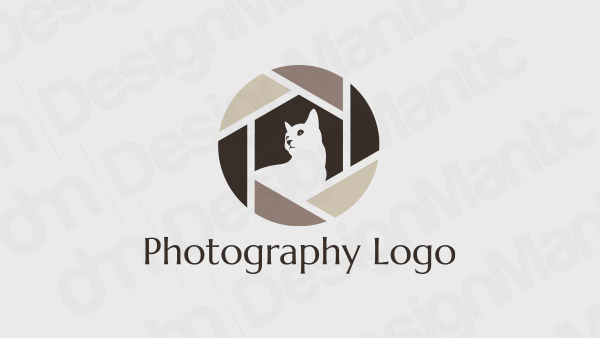 Cat logo for animal photographers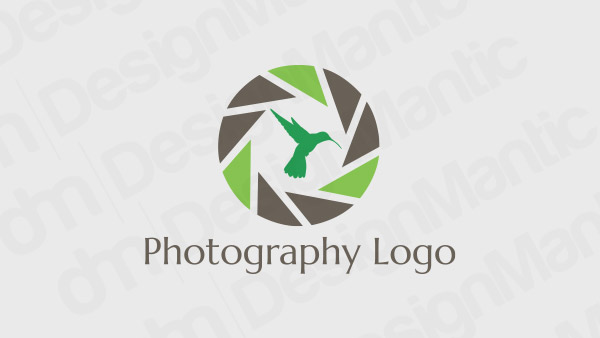 Green bird logo with a shutter icon
• Travel/Holiday Photography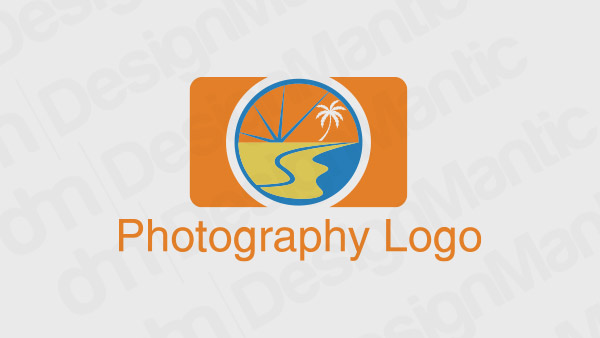 Desert logo for adventure photographers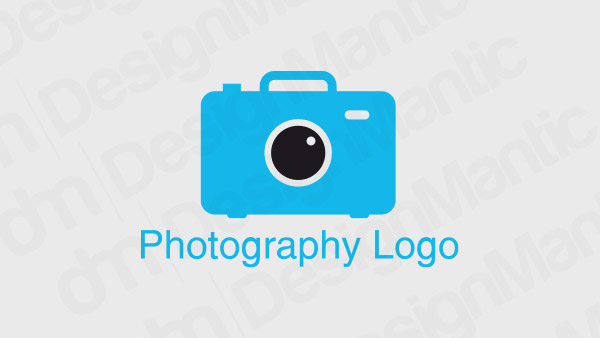 Suitcase logo turned into a camera
• Adventure Photography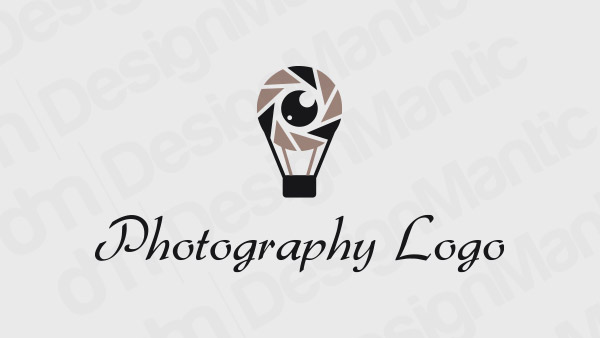 Hot air balloon logo for commercial photographers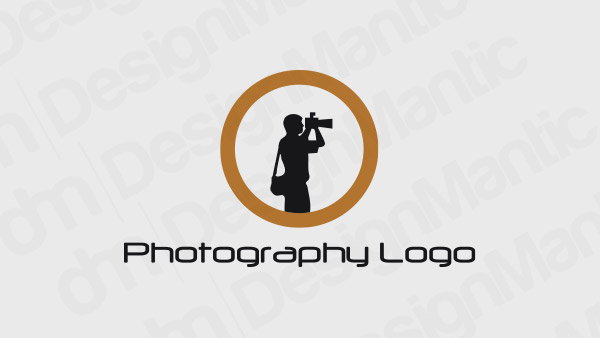 Silhouette logo with a brown circle
• Beauty/Fashion Photography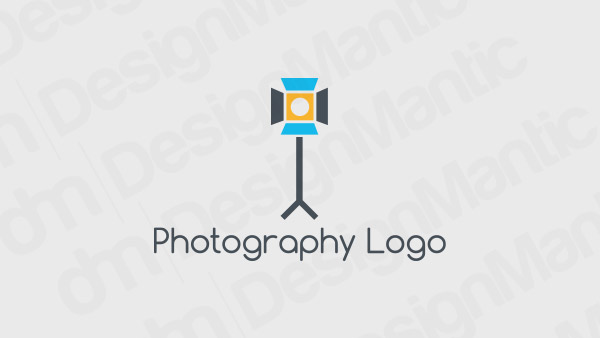 Photographic equipment logo for fashion photography

Big, bold red dot logo with camera frame
Ready To Launch?
So, what do you think? Ready to launch your photography brand yet? Use these designs here to inspire you, and get in the creative zone. Just like no two similar pictures are ever the same, so should your brand will have something that no other photographer has. Find out what that is and see how you can make it into something visual.
If you want to look at more logos, here's the link to our photography logo gallery. Have fun!
Try Our Personalized Logo Maker Tool:
Create your own Photography Studio Logo
DIY Children Portrait Photography Logo
Design Logo For Corporate Photography Services
Logo Design For Photographers Photos on Canvas
Logo Maker For Photograph and Imaging Agents