While the pandemic has been a disease (literally and figuratively) for many, there have been those that have flourished under it. Instagram is one of them.
With nothing better to do when shut up in our homes, we turned towards Insta and it didn't disappoint. Not only there was a storm of fun, inspirational, and relatable content on the app, the company also rolled out awesome features that made it difficult for us to stop scrolling: Live got longer and Reels materialized.
Businesses that have a visual flair to them – florists and flower shops, for example – boomed with Instagram's glow-up. If you also run a flower business, you must have noticed the changes. And if you want to know how best to maximize all these changes, here's an A-Z on how to market your floral business on Instagram for the most success.
1. Set up shop on Instagram
If you are going to market a business on Instagram, make sure the business is set up as a business page.
You will also need to ensure your business page has an appropriate Instagram bio, as it serves as a first impression and a snapshot of what your business is all about, so it's crucial to make it engaging and informative.
If you already have a profile on Instagram, go to your Account settings and scroll down to the end. You will see an option in blue – Add a new professional account – click on it and set up your Instagram business page. With the professional account, you get all the features of the app plus something extra: insights, new contact information, and more.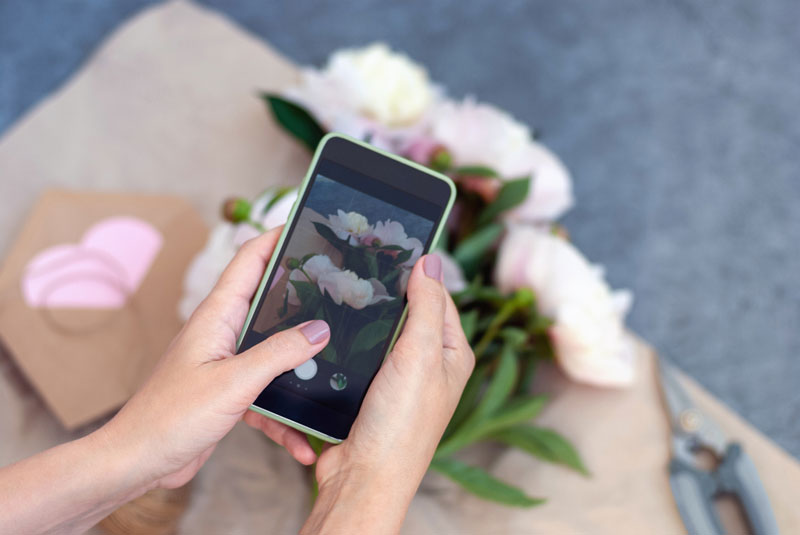 Image Source: iStock/Nadya So
This account will work as your digital store where you could add your business address, website link, and other contact information. The account will also help you create shoppable posts where people can click on your posts and directly start the buying process without clicking on any third link.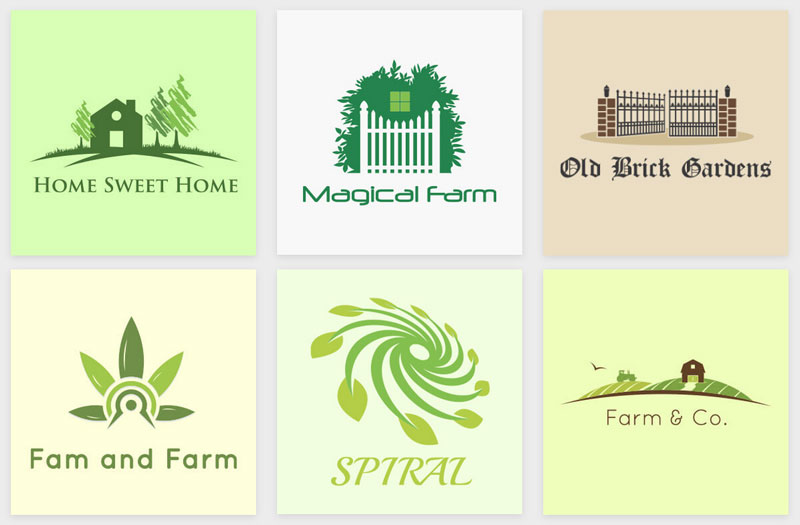 Use our home and garden logo maker to create a beautiful flower logo for your business that you can display as your profile picture.
2. Get intimate with your products
For the research of this article, I browsed through a lot of flower shops on Instagram. While all the accounts are doing a fairly good job of marketing – some are doing really great – I could hardly find a few that were talking about plants and flowers as more than just beautiful things of nature.
To set your business apart, I suggest you get intimate with your product. It isn't enough to know the plants and how to take care of them or present them in the best way, you also need to tell people the secrets behind these beauties.
For example, during my research, I found out that each different flower and plant has a different personality, meaning, and symbolism. While plant symbolism has been explored at length, what about getting a plant that matches your personality?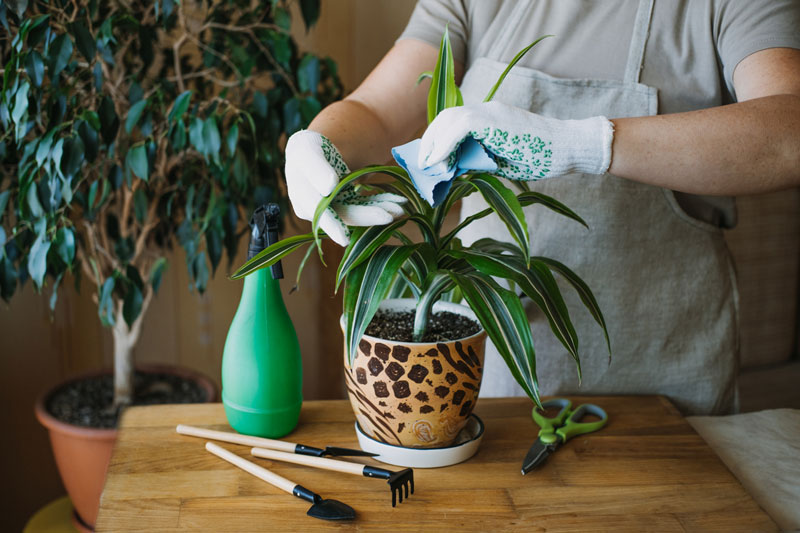 Image Source: iStock/Iryna Imago
Did you know that Dracaena is a fashionable but easy-going plant? And if you are someone who's always testing your boundaries and exploring what's out there, Pothos, with its ever-reaching vines is a more suitable plant to buy.
Sharing tidbits like these not only communicates your intimacy with your products but also becomes a great engagement tool. Ask your followers which plant personality they are – Dracaena or Pothos – and see the comment section bloom.
3. Post high-quality pictures but optimize them
Instagram is all visual. To feed this obsession and make it work for you, your Instagram business feed should be a garden of flora and fauna, captured in high-quality. For this, make sure to post to Instagram from Mac by using the necessary tools.
Post pictures of your planters, flowers, pots, and bouquets. Add a variety of petals, colors, vines, and leaves. Show the diversity of what your garden has to offer. But also keep a few technicalities in mind.
Instagram downsizes the quality of an image if it exceeds 1080px in width. So use dimensions that don't trigger Instagram's editing to make sure your pictures are posted with all the beauty intact. You also need to choose the right format. The two popular ones, jpg and png, both work best on Instagram so keep both these as your floral photography standards.
4. Benefit from double posting allowed by Facebook + Instagram
Talking about posting, it's important to mention that Instagram allows you to directly post to Facebook, too. As both the apps are owned by the same company, Meta (formerly Facebook), you can take advantage of this double posting to expand your reach.
To do this, select 'Post to Facebook' when you are publishing a post on Instagram. The action will duplicate that post and publish it on Facebook too, with all the necessary details, such as captions. This means less work and more followers.
The double posting not only gives you access to more followers but allows you to keep your Facebook feed fresh, too. This is important because together, these apps (including WhatsApp and Messenger) claim an astounding 2.76 billion active users daily.
That's not the kind of numbers that you want to ignore.
5. Start a photo contest
Sure you can do the regular 'share your favorite flower photo' but if you are looking for more engaging flower-themed posts, how about 'post the last floral picture you took'?
Let your audience rummage through their galleries to send you their photos, or even inspire them to go out and take one right now.
I saw this happen with a couple of brands I follow and I was pleasantly surprised to see the active engagement it created. The comment section was filled with all kinds of pictures – not just plant-related. There was fun, banter, and a ton of reciprocity in Likes.
People also commented that their galleries did not contain any pictures of the flowers. Some of them took it as a sign that they needed to reconnect with nature and so a simple Instagram post turned into a conversation about life and slowing it down a little so we can appreciate little, beautiful things.
6. Don't be a hashtag spammer
Hashtags are a multifunctional tool on Instagram. The app uses hashtags to organize related posts together. Users use hashtags for everything from organization, to getting access to newer content, and also to limit access to some other content.
If you don't want to see posts containing a certain hashtag, you can block that hashtag and the app will not show you its relevant content.
With that in mind, it is important to use hashtags with care. Do not flood your flower pictures with repetitive hashtags. Instagram sees it as spam and may penalize your page for it. To avoid that, use hashtag variations in your posts. Also, ensure that your posts must contain your business name hashtags. Keep the hashtags within 3-10 so as not to flood the feed but also make it easy for your content to become searchable.
You can also use relevant hashtags to define your niche. For example, if you are a gardening business or run a landscaping firm, you can use #landscapingdesign versus #floraldesign to separate your posts from other gardening-related businesses.
7. Use all that Instagram has to offer
Instagram has tons of features for brand owners and marketers to advertise their products. Instagram Live, Reels, IGTV, and Stories are a few that are the most popular. You can each for a specific marketing task. For example, you can go live to teach your followers how to arrange a beautiful Valentine bouquet. Reels can be great for plant care tips and tricks. You can also buy Instagram reel views to attract more visitors on your reels and stories. Stories are brilliant to show you in-the-moment and keep people engaged with what you are doing.
A range of social media tools is available that further make it easy to run and manage your business on Instagram and other social media apps. Taking advantage of these apps allows you to outsource some of the more repetitive tasks to AI while you focus on the creative side of work.
Conclusion
Marketing a floral business on Instagram is an exciting affair. It has become even more so with all the newest features it has to offer. Using them with care and strategy, plus including a mix of visual and insightful content for your feed can make your flower shop a smashing success on Instagram.
Use the information shared here as a stepping stone to correctly build your larger marketing plan on solid grounds.