Do what you want but there ain't no escape from the FIFA thrill and excitement, be it online or in real life. The 2014 FIFA World Cup is currently going through the knockout stage which will end by July 13 with the final match. The tournament is being held at one of the most beautiful and exotic countries of the world; i.e. Brazil. This Latin American country is the largest in all of South America, occupying almost half of that continent. Coffee and Football, two things come in mind when a non-Brazilian thinks about that country. If you haven't yet visited that country, now is the perfect time. Probably go catch the final match live! 😉
In the world of graphic design, the Brazilian community of designers is setting its own mark and reaching new heights of success. Whether it's about the talent of emerging logo designers, illustrators, or some graffiti artists, Brazil is teemed with creative people. To acknowledge the remarkably rich art of the FIFA host country, I will share 15 online portfolios of some amazing graphic designers, illustrators, and typography designers. Here is your fill of inspiration for this week:
GRAPHIC DESIGNERS
Meet Jonatan Xavier, the founder of Estúdio Atômicos where, "the only limit is imagination". Jonathan Xavier is an appreciated designer who loves to take his work up to new levels of creativity and art. His work has been described as unique, profound and inspirational.
Amanda Louisi is a Brazilian brand identity designer who loves to design innovative and inspiring minimalist logos. Her work is inclined towards flat and minimal designing with an emphasis on bold and vibrant colors.
Antonia Rodrigues is a self-educated designer, illustrator and typographer who have a background in Fine Art. Antonia's work revolves around intricate designs with a particular attention to details and fancy lettering.
Leandro Urban is a passionate designer and photographer who loves to keep innovating and experimenting with his work. His work revolves around clever use of photography and a dazzling play with colors.
Isabela Rodrigues is a Brazilian based designer who extends branding, designing for print and digital, illustration, packaging and Art Direction services to her potential clients. She has a design studio too that goes by the same name and lives by the tagline, "That loves you". Already in love? Then, follow Isabela.
ILLUSTRATORS
Gabriel Silveira is an infographic artist and an illustrator who loves to play with unique ideas and tricky designs and layouts. Gabriel's work is mostly retro inspired with smart use of vintage colors and effects.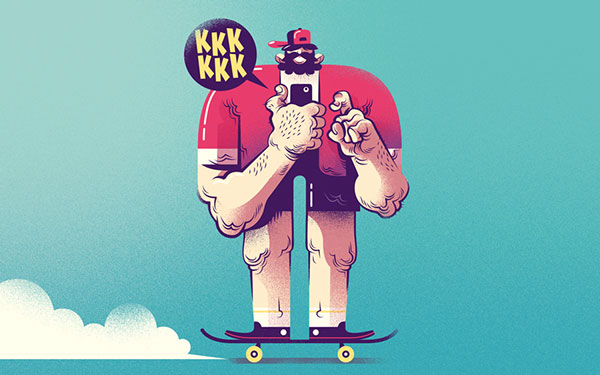 Rodrigo Moraes is a talented illustrator who is drawn to human sketches and tell-tale designs. His work is profound and extremely imaginative with meticulous attention to detail. This greatly helps in creating advertisements that work for international clients.
Breno Bitencourt is an enthusiastic illustration artist who is also the co-founder of Inkorpore. Inkorpore is a firm that aims to create amazing designs using vivid illustrations and imaginative ideas. He specializes in logo making and also focuses on branding, typography, and graphic design.
Guilherme Zamarioli is an illustration artist who loves to create vivid designs making use of vibrant colors. His work is funky and artsy with inclination towards minimalist school of design.
Lambuja is an illustration designer who is passionate about design. His work is stunning with an artistic allure that leaves you drawn and captivated within it. He recently finished a character design project for Brahma, in partnership with studio Alopra, creating avatars for Brazilian Footballers such as, Thiago Silva, Hulk, David Luiz, and Daniel Alves.
TYPEFACE DESIGNERS
Jackson Alves's lettering and typography has the fiery passion that only a Brazilian typeface designer could show as his expertise. He is a Curitiba-based designer involved with calligraphy, typeface design, and branding; and always mixing the three to come up with awesome projects.
Alvaro Beleza is a typography and visual composition professor from Brazil who is now living and working in Lisbon, Portugal. He is also a graphic designer who loves to do print design and editorial design, in other words, making his childhood dreams come true.
Álvaro Thomáz's expertise in typography, graphic design and web design make him quite a creative fella, isn't it? He is only 16, an indie font designer, who loves to play with fonts, especially, sans-serif. His color palette usually includes cool pastel colors over neat typeface.
Raphael Dietzsch is a type designer and typographer based in Brasilia, Brasil. He has a Master's degree in Typeface Design from the University of Reading, UK. You can check out his online portfolio to see what kind of work he has been involved with.
Typography is Belloti's specialty. He is based in Sao Paulo and focuses on branding and calligraphy as well. He has been working as a graphic designer since 2006 and loves to create typeface designs, desktop publishing and scenography.
Are you excited to see the 2014 FIFA World Cup champion too? Let us know which of these designers seemed like a champ to you and who else could be included on the list right here in the comments.