Can you recall that moment when the radio played your favorite song while you were traveling in your car? Or maybe you wished you could listen to your favorite talk show again and again? The one-time pleasures were worth delving into but times now have changed.
Though radio still exists, podcasts have been introduced to listen to people talking and discussing numerous ideas. The fun of it gets even better if you're hitting the gym, sipping your cup of morning coffee or drawing inspirations for your next social club logo design. However, every podcast and podcaster is unique in their own way, which is why you can't underestimate the power of strong speech and verbal communication.
You know where the title points towards and yes, we understand. It sounds radically absurd to describe a field completely based on visual perception of design. It's like describing the color orange to a blind person! But that doesn't mean the blind person can't imagine. Likewise, you can't see the speakers nor their designs, but that doesn't hold you back from letting your creative and imaginative juices flood your mind.
Sounds too good to be true? It sure is, because today, we decided to talk about some great design podcasts that may sound music to every graphic designer's ears. Not only do these podcasts provoke interest, they're also packed with crucial information in the form of trends, tips, and techniques to get hold of the graphic design, professional logo design and branding.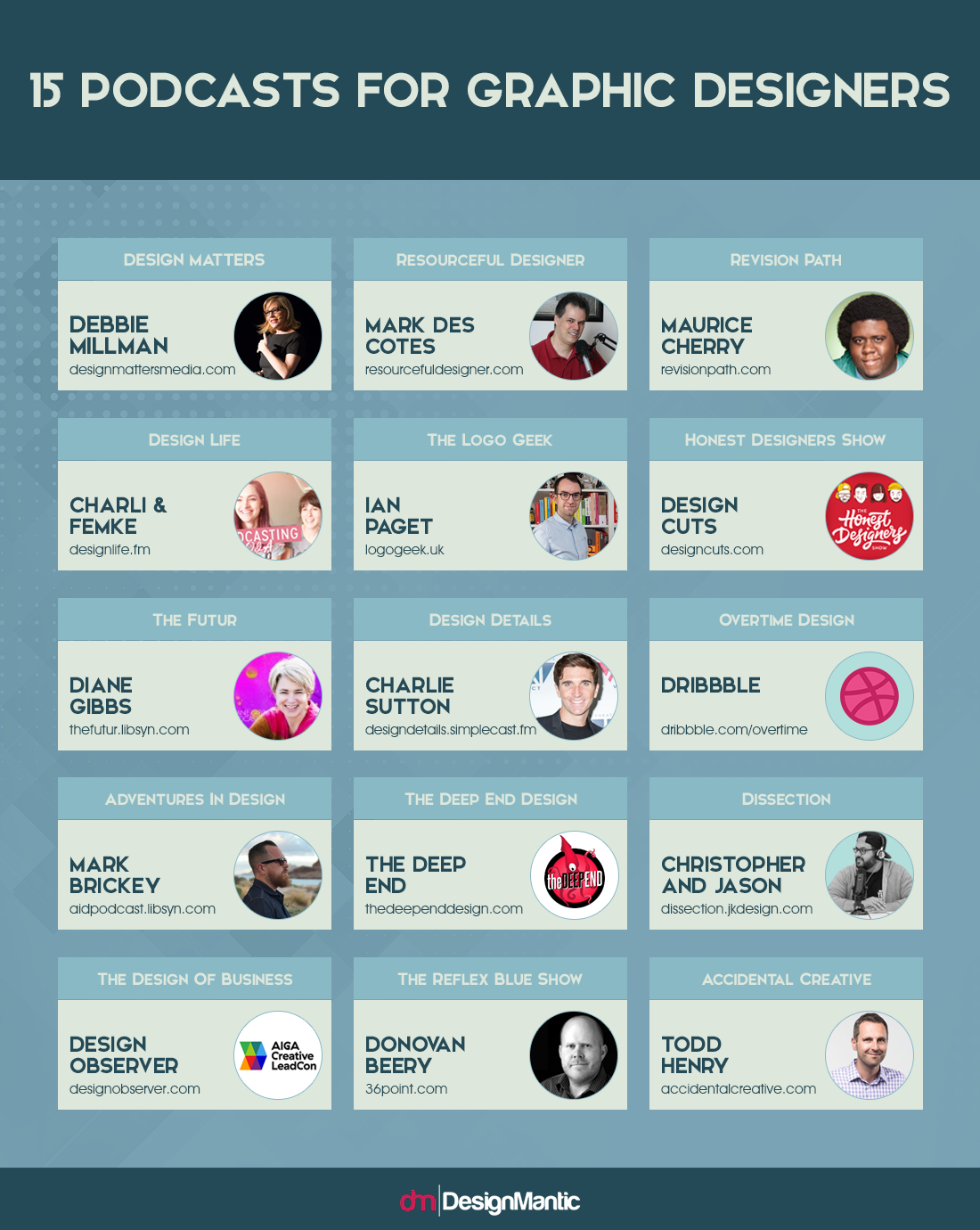 Be all eyes now because we're about to mesmerize your auditory senses in 3, 2, 1… Now!
1. Design Matters With Debbie Millman
The 'Adam of design' in the world of podcasts is none other than Design Matters. Since its inception, the show is hosted by Debbie Millman, who is 'one of the most influential designers working today'. What makes this show the longest-running are Debbie's interview sessions with celebrated professionals belonging to various creative fields including logo designs for design professionals, intuitive interface and experience design, and creative posters, etc. The conversations with creative geniuses are inclined to take a design turn and introduce thought-provoking ideas for current and upcoming designers.
Above other design podcasts, this show has garnered some hefty awards and has featured designers like Thomas Kail, Elizabeth Alexander, Sarah Jones, and Mike Mills among many others. Here's how Debbie ignites the spark of inspiration:
We can talk about making a difference, we can make a difference, or we can do both.
2. Design Life
If you're looking for a boost in your motivation, Design Life might just be the right podcast for you. Charli and Femke are two serial designers who are addicted to side projects. They record the episodes in a conversational style so the listeners get the gist in the easiest way possible.
It all started when they noticed the opportunity in the world of design podcasts and jabbed at different issues with their creative ideas. It's not what they do, it's how they do it. And on top of that, they advise how one can manage side projects, build identity as a commercial graphic designer along with a fulltime design job.
Dealing with the 'Designer Syndrome' Lately? Learn Why: It's Tough Being A Graphic Designer – Common Stresses And How To Overcome Them
3. The Futur
Chris Do is an Emmy-winning Director who wants to unleash the future of design with his podcast, The Futur. He wants to educate the designer newbies, freelancers, and design agency owners on various topics, such as the business of design, logo design for graphic designers and creative entrepreneurship. The lessons taught in his show aren't the ones you'll find at design schools and universities; these are the lessons learned from the inspirational lives of the impressive guests featured on the podcast. With 'The Futur', you don't learn to design only; you learn to close deals as well. This podcast is likely to overcome the future of other design podcasts. What do you think?
4. Adventures In Design
As fun as the name sounds, this American podcast helps entertain designers in the creative way possible. Adventures in Design's host, Mark Brickey, takes the listeners on a journey of 'self-discovery', where they can explore design in detail and come across issues and solutions designers all over the globe face. Mark and his guests may sometimes wander off topic and gossip about things… like graphic design.
C'mon, that can't possibly be boring! However, the episodes are featured Monday to Friday, so stay tuned for more inside information in the design market.
5. The Design Of Business | The Business Of Design
Graphic designers can't agree more to how design and business are connected. And experts acknowledge that all too well. For that reason, the world-renowned designers Michael Bierut and Jessica Helfand record fresh episodes from the Yale School of Management. The nature of this show is different from other design podcasts as the hosts discuss the whys and hows of design in the business organization and its ability to shape ideas, decisions, and related products. In The Design of Business | The Business of Design, the hosts discuss these aspects of design-business with various digital directors, entrepreneurs, graphic designers, journalists, and museum curators to name a few.
6. Resourceful Designer With Mark Des Cotes
Mark Des Cotes is a successful home-based graphic designer with more than 25 years of experience. The reason that he started this podcast is simply his urge to help graphic designers and web designers to achieve their business goals with relative resources, advice, and tips.
Each episode of this podcast offers something new. Resourceful Designer has crossed the 125 episode threshold covering new topics, such as home and office life balance, choosing between freelancing or design studio, using various tools to attract clients, designing impression logo and the list goes on and on. With a few prized design podcasts like this one, where would you rather be?
You May Also Like: Is Formal Education Necessary For Designers?
7. The Logo Geek Podcast
A podcast dedicated entirely to logos? Interesting! The show host, Ian Paget, is a celebrated graphic designer and the founder of the logo design company going by the same name. In this show, Ian stirs some crucial design information while interviewing different graphic designers and entrepreneurs all around the world.
The Logo Geek Podcast aims to educate designers through the experiences of the successes. All the hot and trending topics are discussed, such as the way of attracting clients, charging tips, brainstorming for creative ideas, choosing fonts and so much more. Once you listen to it, you'll be sure that it's different from other design podcasts in the industry.
8. Design Details
With more than 250 episodes, Design Details continues to be a favorite of the people who not only love the design but also are into details of intricate designs. If you pay closer attention, you'll see each episode with a title that seems a bit odd but intrigues the listener to delve into the pleasures of listening to the hosts, Bryn Jackson and Brian Lovin, and their guests' stories and side projects.
They've got everything you need to learn and know about graphic design, latest trends, and gossips from all around. Just tune in their channel and discover the new age of design!
9. Podcasts – The Deep End Design
The Deep End Design is actually a design consultation company that decided to venture on an exciting journey towards the modern idea of exploring creativity on a deeper level, i.e. by starting The Deep End Design podcast series to address the designers of all kind. From making portfolios branding business service logo to finding better clients, it is one of those design podcasts that not only provides tips but also offers listeners a chance to have their questions answered.
If you're interested in design and want to have your questions answered by the experts in the field, there's no time to waste. You can simply keep listening to their podcasts and email your questions. It's just as simple as that!
10. The Reflex Blue Show: A Graphic Design Podcast
Doesn't it feel great when you can talk/listen to your best friends talk about design amalgamated with pop culture? The Reflex Blue Show is a hip, shop talk design podcast that allows you to relax and follow the conversational tone of Donovan Beery and Nate Voss.
Sometimes, design information can get a bit heavy and might bore the listeners. But these design punks have got the talent to take serious matters in an amusingly nonchalant and smooth manner. They have a great sense of humor and aim to hone the skills of their avid listeners. Moreover, these guys also discuss recaps from different design conferences. Oh, and they also like to have fun with their guest from a variety of backgrounds, especially the ones fostering modern design culture. People should listen to these types of design podcasts more often!
11. Revision Path
As the name goes, Revision Path goes all the way in revising the stories, experiences, process, insights, and inspiration from the world of colored designers, creatives, and developers. The host Maurice Cherry shares and draws truly inspirational lessons that reflect the mission of Revision path.
Would you find design podcasts that focus on cultural domains as much as Revision path does? Probably not because due to their unique approach to bringing forth black talent, Maurice Cherry received several awards for his performance and dedication. This podcast is something you possibly can't afford to miss if you appreciate diversity.
12. The Honest Designers Show
Sticks and stones may break my bones, but I'm going to listen to The Honest Designers' Show! Ok, that might not rhyme smoothly but guess what? Tom Ross, Ian Bernard, Lisa Glanz, and Dustin Lee know how to rhyme honesty smoothly in their podcast. Each of them is a creative professional who tells their side of the truth about design from scratch.
This might be the best place to be if you're seeking to land clients, make your work unique, inspire rich logo designs or discover the similar challenges faced by designers in your niche. New episodes are featured weekly and each time, you get to see things transparently and crystal clear. This show is truly an 'honest' inspiration for other design podcasts out there!
13. Overtime Design – Dribbble
Besides being one of the biggest platforms for graphic designers, Dribbble decided to take things to the next level by introducing its official design podcast, going by the name of Overtime. Due to Dribbble's vastness and higher reach, Overtime features world-famous guests, who give valuable advice related to several design aspects including but not limited to scenic logo identity creative poster design, typography fundamentals, and more.
Currently, it has featured Haraldur Thorleifsson, Paula Scher, Sasha Barr, Josh and Katie Emrich, Pablo Stanley, and Lauren Dickens. Design podcasts like these are the source of sprouting inspiration if you ask us!
14. Dissection
If you wonder about how the cool designers concoct their design processes, you definitely need to hear the Dissection podcast. In this unique show, Christopher Holewski and Jason Alejandro conduct interviews with excelled professionals. This is how this podcast goes: The guest chooses one of his own works and provides all the intrinsic information behind it.
There are very few design podcasts that let you hear your favorite artist/ designer break the silence code and warm the temperature as they dissect their workpieces. Don't worry if you miss an episode from Dissection, they're readily available and are waiting for your subscription!
15. The Accidental Creative
With more than a million downloads, Todd Henry boils down the secrets of design in his show, The Accidental Creative. Todd Henry hosts the show and has written many books on design, that isn't accidental for sure. Accidental creative is one of those design podcasts that break the boundaries of mediocrity and channel the frequency of innovative design ideas. What makes this show special is the description of everyday design details and practices in different ways, which help listeners become more productive and efficient in their design game.
Plug-In Those Earphones Now!
So that was our list of the most popular design podcasts that designers have found face-saving during their critical design moments. Listening to the experts isn't just about hearing them talk and be fascinated by what you hear; it's about collecting that information, processing it, and hardwiring it into your designer mind.
Did we miss your favorite show or have you got something in mind? Don't forget to comment below!
Try Our Personalized Logo Maker:
Design Radio Logo
Microphone in Logo Design
Advertising TV, Radio and Cinema Logo Creator
Logo for After School Club
Loud Speaker Icon In Logo Design
Speakers Logo Generator
Speech Balloon Logo
Mic Logo Maker