Despite what people would have you believe, Lego Minifigures and Bricks are more than child's play; they are an innovative art medium that artists over the world are capitalizing on to illustrate a fictional world when an artist isn't feeling up to drawing one, the real world when a photograph fails to deliver or isn't freely available, or just for the fun of it.
Here are our favorite LEGO-centric artists who are redefining a new era of creative artwork:
1. Sean Kenney
Sean Kenney is a "professional kid", the award-winning renowned artist who leverages LEGO bricks to create and design contemporary sculptures for venues, major corporations, and high-profile clients around the globe for over a decade. So far, Sean has proudly authored 8 inspirational best-selling children's books, and his works have prominently featured in The Wall Street Journal, ABC World News, The Washington Post, and other such mammoth names.
2. Nathan Sawaya
The award winning Artist Nathan Sawaya is celebrated far and wide for creating mesmerizing works of art, conjured up from an array of unlikely things. "The Art of the Brick", his global touring exhibitions, feature life-size sculptures created utilizing only LEGO building bricks. His work is painstakingly and obsessively crafted, and is both playful and beautiful. He has secured the highest niche in the world of contemporary art and is famed for creating a dimension by merging Surrealism and Pop Art in ground breaking and awe inspiring ways. His art consists of playing with perspective, light, movement, color, and material.
3. David Hughes
David Hughes is an Artist and Designer who creates breath-taking contemporary art using only Lego Bricks. He elevates the recognizable, basic, and humble LEGO bricks to awe-inspiring modern art through his meticulous and careful designs. His art appeals to people who have grown up playing with LEGO bricks, while simultaneously exploring grown-up ideas of modern-day design and art. His wall mosaics are fun, colorful, and accessible. Whether they are graphic based, bright images from popular culture, LEGO mosaic portraits, or classic works of pop-art rendered in bricks, they make you smile. He pushes the abilities of LEGOs with his figurative sculptures. He leverages the plastic, orthogonal, and hard LEGO bricks to conjure up beautiful and impossibly graceful sculptures, capturing the essence and emotions of the subject.
4. Geoffroy Amelot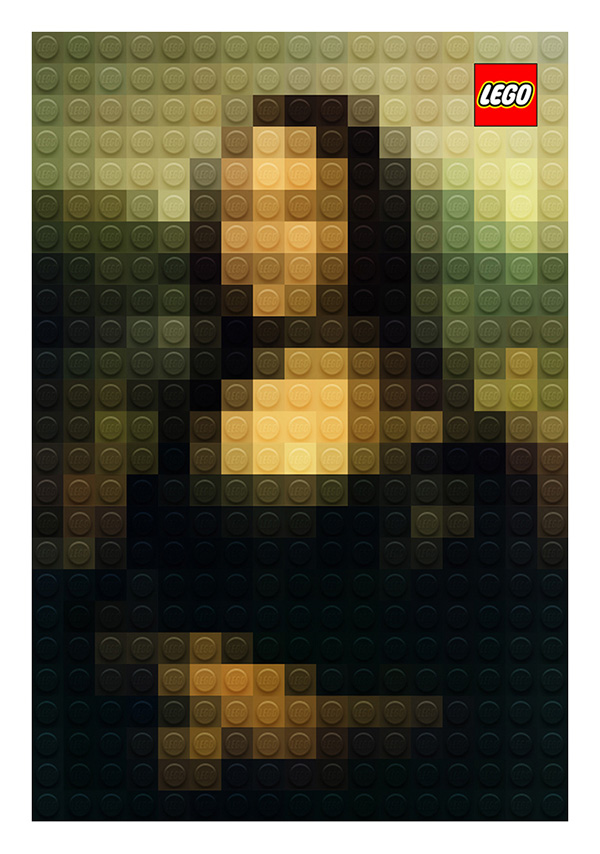 Image: Behance/Marco Sodano
Artist Marco Sodano has undertaken a creative project of arranging LEGO bricks to resemble famous pictures and portraits, which has gone viral all over the internet. From Da Vinci's Mona Lisa to Vermeer's Girl with a Pearl Earring, his work challenges you to test your art knowledge by piecing together his LEGO clues. His works reveal the toy blocks' hidden versatility and their ability to create real works of art.
5. Stefano Bolcato
Bolcato has harbored a love for LEGO-inspired art from a very young age, which became his inspiration later on. The Italian Artist Stefano Bolcato has reimagined some of the most celebrated paintings around the globe with LEGO minifigures as the models in his collection known as People. The likes of Piero Della Francesca, Leonardo Da Vinci, and Andy Warhol's works have been re-created by the Artist with the addition of myriad dresses-up LEGO characters.
6. Aaron Savage
The idea behind the works of British based Artist Aaron Savage is a rather simple one; Employ an assortment of LEGOs to recreate an array of music's finest album covers in his series known as "Break the LP"! It all works wonderfully, with the rock'n'roll's playful immediacy blending in perfectly with the endearing simplicity of LEGO. The chronology and stylistic range are suitably varied, which translates into the fact that his works run the gamut from recent classics like Lily Allen's "it's Not Me it's you" rubbing plastic with Elvis Presley's seminal self-titled debut album.
7. Dave

Image: Bricks of the Dead
Dave is the brains behind the webcomic Bricks of the Dead, which centers on a zombie apocalypse that began in 2010. Dave aspired to create a zombie comic book to inform the public on what to do in the event that a Zombie shows up at their doorstep. However, he was at a loss for how to realize his ambition due to his lack of artistic ability, until he stumbled across the LEGO comic Adventures of S-Team. As the epiphany hit home, he ran home to his childhood stash of LEGOs and immediately began concocting a story.
8. Tary
A Japanese LEGO creator, going by the name Tary, has been making people drool over the internet with his tantalizing LEGO-food creations. While he also sculpts Star War characters and Gundam robots, his enthralling LEGO food creations has led many to believe that he's a master LEGO builder. From vegetables and fruits to bento boxes, deserts, and junk food, he has got almost all food groups covered. The intricate and realistic designs leverage a kaleidoscope of LEGO bricks to make the creations look as real as possible.
9. Dante Dentoni
Being a huge LEGO aficionado as a kid paid off for this Miami Artist, not just because he became an architect or an engineer as a result- but because he has made a career out of still playing with his childhood obsession. Dante Dentoni's Lego creations are a far cry from resembling a child's work. The incredible wall mountings and artworks that he built out of the colorful blocks are masterpieces that sell for thousands of dollars apiece. Instead of his oeuvres being slapped together in his mom's basement, some of his masterworks take months of planning, designing, and installation.
10. Ekow Nimako
The long and slender fingers of the 36 years old Toronto based artist Ekow Nimako, have a knack for transforming the sturdy LEGO bricks into a remarkable gallery of Lego art: soaring birds, West African masks, fantastical creatures, and political statements like "Tar Baby"- a disconcerting monument that delves into the complexities of shadism between an infant and its mother.
11. Harry Heaton
While you have been seeing much of 3D Lego art recently, LEGO bricks can also be leveraged to render revamped versions of existing art in two dimensions. The project LEGO Albums is a Tumblr blog by Harry Heaton which makes use of LEGO Bricks to recreate iconic album covers. His creations resemble low-resolution pixelated versions of pop album art.
12. Anine Kirsten And Max Basler
Cape Town-based designers Max Basler and Anine Kirsten have designed the innovative Nimuno Loops, which are a reusable adhesive tape that prepares any surface into a foundation for creative LEGO projects. Think: irregularly shaped objects, ceilings, windows, glass, and other objects can all become a base for building with LEGOs. Nimbus Loops is a great break-through in the world of LEGO art, allowing you to attach extra bricks onto the sides of existing LEGO creations or even to build around corners.
13. Samsofy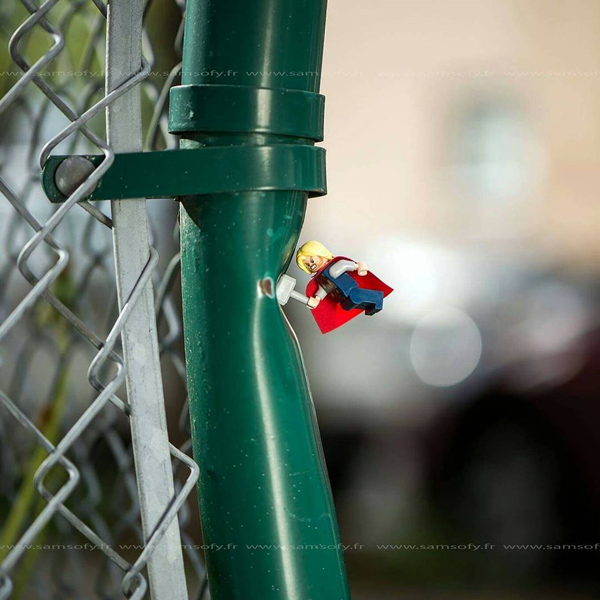 Image: samsofy.s
Sofiane Samlal, a photographer from Lyon, has launched a book replete with wonderful images that transform our world into a vibrant and colourful land. Going by the name of Samsofy, the artist makes really clever use of LEGOS. Kick-starting his career in extreme sports photography in urban areas, the artist's interest in LEGOS was fueled when his son developed a penchant for them. He soon realized that he could combine installations and model making with street photography techniques to deliver messages mixed with politics and humor. According to Sofiane, "I try to take pictures that mix the extremely big and the microscopic to help the naked eye discover what it usually cannot see."
14. Ryan McNAught
Don't miss the huge #LEGO boat! This is the #BrickmanAwesome exhibition's LAST WEEKEND at @ICCSyd in #Sydney– make sure you check it out before we set sail. Tickets available at the door or online: https://t.co/HC3BZf1b2B pic.twitter.com/Wb01kLc5XL

– The Brickman (@brickmanexp) February 2, 2018
Ryan McNaught is an Australian designer who proudly flaunts the title 'Certified Lego Professional' adorning his curriculum Vitae. McNaught's forte is interactive models, and he has even incorporated LEGO MINDSTORMS technology in his Qantas Airbus A380 project in the past. His love boat above is a great example of the intricacy and industriousness of his works, considering that the mind-boggling picture above just covers the middle interior of his artwork.
15. Marianne Asanuma
Over the years, Marianne has created exceptional Lego artwork both as the world's first female LEGO freelancer and as the master designer at LEGOLAND, California. Born and raised in San Diego, the artist took a great fancy to the world of Legos when she received her first set at the age of 6. Well-owned for her lovely mosaics and life-size sculptures, Marianne continues to steal the limelight with her acute eye for detail.
16. Andy Morris

Image: LittleBigArt/Andy Morris
Imagine yourself entering a LEGO house, where everything you see is made out of LEGOS; LEGO paintings of Andy Warhol, LEGO flowers, LEGO cameras, and even LEGO food. This ingenious concept is the brain-child of a 33-year-old Cardiff based artist, Andy Morris, who has devoted his life to creating LEGO inspired art. The Little Big Art exhibition is the first of its kind in the world. Instead of the usual installations and sculptures created using LEGO pieces, you will get a chance to witness magnified LEGO pieces merging together with the human world.
17. Paula Wirth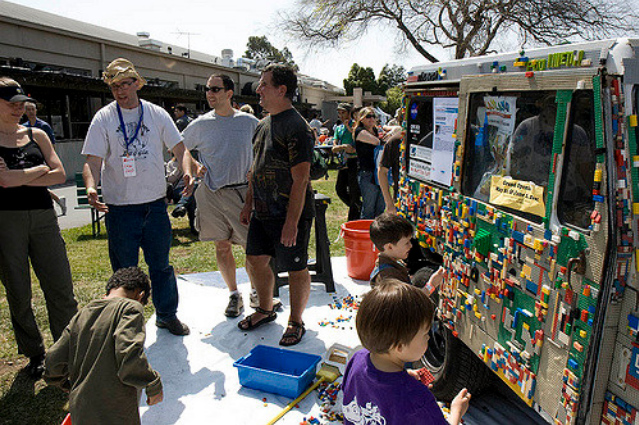 Image: Flickr/Paula Wirth
Moving on into the category of LEGO folk art is the LEGO art car. Constructed by Paula Wirth, it's not hard to see that instead of getting her hands into creating an actual working car from LEGO pieces and bricks from scratch, the artist has glued a carload of Lego bricks to create a reasonable facsimile. Finding your car in a crowded mall parking lot is not a trouble anymore, apparently.
18. Jeffrey Hunter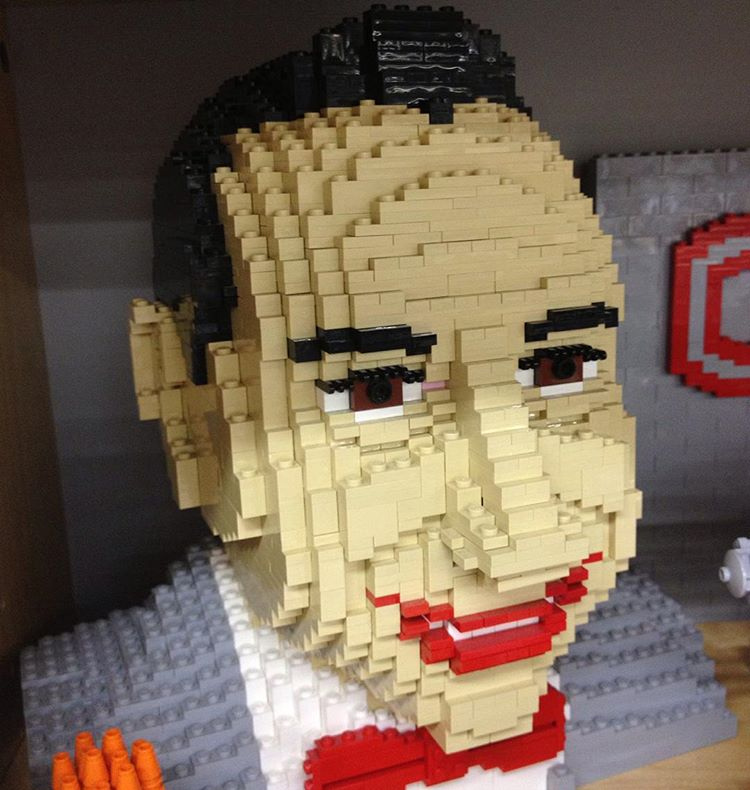 Image: The Art of LeGogh
From quantity to quality, Jeffrey Hunter specializes in Lego art and his creations run the gamut from whimsical to wacky- such as his implausible LEGO self-portrait. Hunter's light sense of humor is conspicuously depicted in the "Leggo My Lego Eggo!" waffle shown above.
19. Angus Maclane
Angus Maclane is the talented star of Pixar, having the distinction of working on all the hit features of the company after 1997, such as Toy Story 3, Wall-E, and up. If that isn't enough to make him sound incredulously brilliant, hearing that Angus is an avid LEGO builder would surely make you look at him in a new light. Angus has succeeded in creating the likes of Dennis Quad, Indiana Jones, and even Gizmo using only Lego pieces!
20. Cole Blaq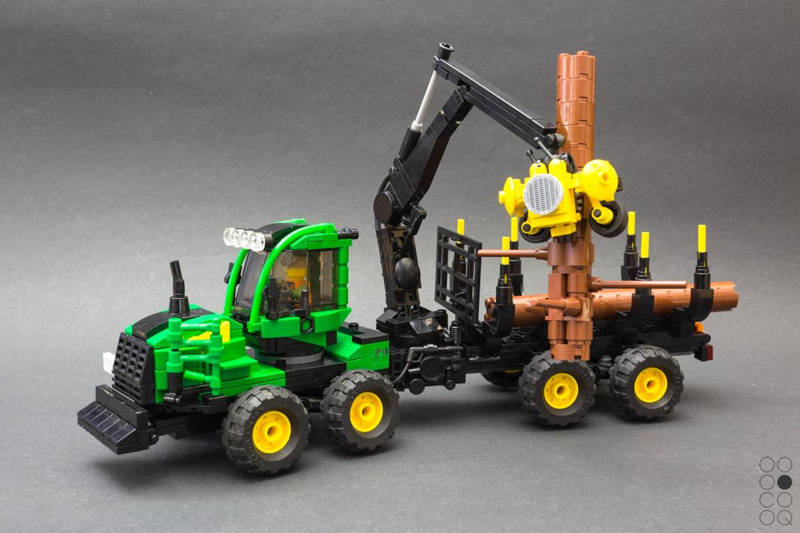 Image: cole-blaq.com
Hailing from Germany, Cole Blaq is a creative LEGO artist, with his blog replete with awesome Lego designs including his graffiti series. For instance, in the above photograph, Cole has actually managed to conjure up a seemingly true-to-life burning fire, employing only LEGO bricks. The heady inflection of light to dark colors makes this piece truly a keeper.
21. Dan Parker
Dan Parker and his Tacoma-based team have been the proud creators of more than 2,000 custom Lego art pieces since starting their businesses over 20 years ago. These include mechanical pieces, World class skyscrapers, sculptures, and mosaic, all completely constructed from simply Lego bricks. Many public and private events worldwide have featured his works, including Museum of Pop culture, the Seattle Center, and the Seattle Aquarium. His most mesmerizing creations to date include a life-sized Nativity display, a 10-foot-tall Statue of Liberty (shown above), a 6-foot-diameter Death Star, and a life-size casket for a client.
Can you name more Awesome Lego Artists who are piecing together great art, one brick at a time? Do let us know in the comments below!