Graphic designers are not just designing to mesmerize and please their viewers; writing is one of the traits of highly creative designers. Here are 20 creative graphic designers who are contributing to the design world with their awesome design blogs, helping others in their field grow and excel in their niche.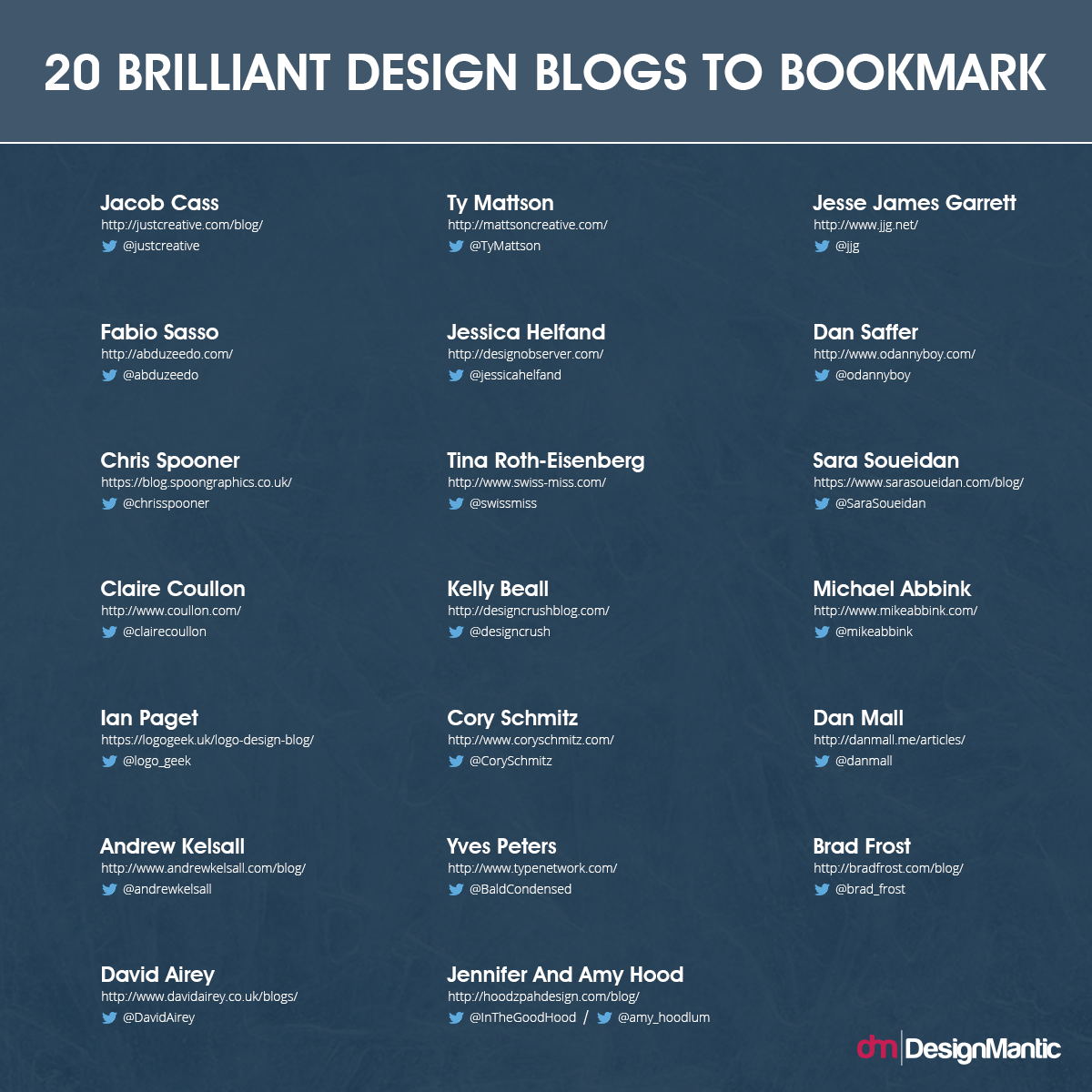 1. Jacob Cass
Jacob Cass is a celebrated designer focusing on identities and branding. He has been working as a freelancer for the past decade, and is the founder of a logo award scheme known as 'Logo of the Day', and his own blog 'Just Creative'. Just Creative was launched in 2007 in conjunction to his design studio, and has since been a repository of top-notch writings about user experience, social media, marketing, useful resources and tips, features about well-known designers, typography, branding, advertising, web design, logos, and all things design related. His most prominent clients include Nintendo, Disney, and Jerry Seinfeld.
2. Fabio Sasso
Product designer Fabio Sasso is currently employed at the Mountain View headquarters of Google as a senior designer. He has worked on extraordinary projects during his tenure there, pertaining to shopping, offers, Google Wallet to doodles and others. He also holds the prestige of working for Adobe, Wired, MSNBC, and Digital Arts Magazine in the past. In collaboration with Fabiano Meneghetti, he found his well-loved blog Abduzeedo. The publication touts a heady mixture of tutorials (mostly for Photoshop and Illustrator), inspirational pieces, and is a hub for designers hailing from all fields to share their work with peers and receive constructive feedback.
3. Chris Spooner
An independent developer and graphic designer hailing from Sheffield, UK, Chris Spooner has garnered quite a reputation by pairing together excellent design and graphic work with advice and handy design tutorials that are offered to his readers on his blog. Spooner's penchant for vivid colors is unparalleled, yet he is most celebrated for his incredibly popular tutorials on a wide array of topics within the realm of graphic design. He launched a small blog in conjunction with his creative work, which has blossomed into one of the most popular blogs for gleaning techniques, resources, and tutorials. Aspiring designers seeking out nifty tricks of the trade would find his blog quite to their liking.
4. Claire Coullon
Claire Coullon is a French lettering artist, typographer, and graphic designer currently located in Bath, UK, working through her independent design studio Op45. Currently her focus is on lettering illustration, branding, and logotypes, and she has had the pleasure of working with clients from all over the globe on all sorts of projects, ranging from large corporate contracts to personal projects. Even when she's not working, she has her hands full with layout and print design, multilingual typography, calligraphy, typeface design, and her passion for sketchbook keeping. Her website blog is also a hub of fascination for designers, keeping readers mesmerized with the interesting background details of her projects, all the way from the development of idea to the final execution.
5. Ian Paget
Most famously known as the brains behind the blog 'The Logo Geek', the homepage of British born designer Ian Paget utters a very simple message which describes him in a nutshell: "I Design Logos." He has been featured in LogoLounge, ShutterStock, and Creative Bloq. He is also an active name in the design industry, serving on juries, giving interviews, and writing plenty of valuable articles on his blog. The "Logogeek" blog serves as a repository of well-written and informative articles for designers, especially the ones focusing on branding and logo designs.
6. Andrew Kelsall
Andrew Kelsall is a graphic designer based out of Leeds, England, and excels at designing logos and CD covers, among other things. Apart from his great designs, his blog is the shining star of his website, with striking technical details that set him apart from other graphic designer bloggers. Andrew's blog is worth a visit if you want to really get drilled in design.
7. David Airey
David Airey operates a plethora of valuable design related blogs, the most well-known of which are Identity Design, Love Design Love, and his personal design blog on DavidAirey.com. He also authored two widely celebrated books, Work for Money, Design for Love and Logo Design Love. His style of writing keeps his readers engaged, as he shares his thoughts and opinions on a wide array of design related subjects, running the gamut from the world's best swimming pools through to the business of graphic design and logo design.
8. Ty Mattson
Ty Mattson is a design practitioner who is apt at both defining and executing brand strategies, and his distinct combination of strategic creativity is visible in his projects for Universal, Target, Nickelodeon, Hasbro, DreamWorks, Coca-Cola, Apple, Discovery Channel, Cartoon Network, and others that he brought to life through his design agency Mattson Creative. His works have found their way in myriad professional publications, and recognized by the leading design competitions, such as the Communication Arts and One Show. In addition Ty has his own blog that he keeps updated with the latest design tips and his numerous projects.
9. Jessica Helfand
Jessica Helfand, the author of the exceptional book 'Design: The Invention of Desire', a professor at Yale, and founder and curator of the esteemed 'Design Observer', the most famous international website of cultural and design criticism, has much to say on design, and she articulates her provocative thoughts through her blog. Her blog, the Design Observer, features the most up-to-the-minute works on urbanism, innovation, design, and pop culture, helping Creatives from around the globe come up to their fullest potential. The blog has a certain chic vintage business-like feel that makes sure your blog is anything but visually disappointing.
10. Tina Roth-Eisenberg
Based in Brooklyn, New York, Tina Roth-Eisenberg is a Swiss designer, best known for founding the Swiss Miss Design blog and studio. She also founded the Tattly, TeuxDeux, CreativeMornings, and Studiomates. Written in the format of a dairy, anybody harboring a passion for design can find something to their liking on her blog.

11. Kelly Beall
Kelly Beall is the lovely author of the extremely popular blog, Design Crush, which has amassed a mass following in the recent years. With a background in art direction, Kelly is a magnet for all things inspiring and cool. Since her career switch from the world of advertising to design, her daily life plays out as a creative consultant, freelance graphic designer, and author of Design Crush. Since its launch in 2007 as a repository of design inspiration for her day job, the blog has blossomed into a platform of epic proportions. Her posts are sweet and short, drawing on things that inspire her. Design Crush is sure to have everything you can possibly imagine. Happy exploring and crushing!
12. Cory Schmitz
Games signify form and function at the same time, and designers like Cory Schmitz are at the heart of them. While most people may not know him by name, they would definitely recognize his most fascinating works, especially the projects he had undertaken while working at PlayStation. Remember the Polygon logo? The credit goes to Cory. Logos for the recently released mobile stealth-hit Republiqué and Everybody's Gone to the Rapture are designed by him, as are the UI and menus in Double Fine's Broken Age. Even as we speak, we are sure that Cory is out there somewhere, helping to advance the entire outward facing image of games, as well as their creators. In addition to this numerous well-known works, his blog is replete with inspiration and lets readers take a sneak peek behind his designs.
13. Yves Peters
Yves Peters is a graphic designer/rock drummer/father of three who tries to be critical about typography without coming across as a snob. Yves started reviewing type in his Bald Condensed column on Typographer.org, and came to prominence as editor-in-chief for the international design and typography blog The FontFeed. After working primarily for FontShop for a decade, he has found a new home at Type Network.
14. Jennifer Hood and Amy Hood
Jennifer and Amy Hood are a creative duo based out of Newport Beach, CA. They are the co-founders and creative directors of Hoodzpah Design, a branding firm focused on catering to design-driven companies. In the simple course of 4 years, the twin sisters have designed a portfolio of enviable work, by creating unapologetic, bold design and branding. The twins design products, teach college courses, and are a source of inspiration to designers around the world through their magnificent blog. Their blog is a treasure trove of inspiration for designers and is replete with details of their projects, updates on the latest news and events in the design community, accounts of their social scenes, and simply anything that catches their fancy.
15. Jesse James Garrett
Based in San Francisco, California, Jesse James Garrett is an information architect and co-founder of Adaptive path strategy and design consulting. In the early 2000's, his diagram known as 'The Elements of User Experience' kicked off to much applaud in the web design community, and was later turned into a book. His valuable essays have appeared in New Architect, Boxes and Arrows, and Digital Web Magazine, and have served as a great source of knowledge for others in his field. His website also contains numerous valuable writings by Jesse that are sure to serve as a source of inspiration.
16. Dan Saffer
The son of a psychologist and plumber, the Creative Director at Smart Design, Dan, feels that his forte in interaction design combines a little bit of each. He has been designing everything ranging from websites to robots to consumer electronics since 1995. He believes that design doesn't solely exist to solve problems, but also to create a more humane and optimistic future. Dan's thoughtful and insightful approach to design is clearly depicted in his four publications. Furthermore, he also writes for Medium in addition to his own blog, where he has contributed numerous well-loved works to help designers overcome various problems.
17. Sara Soueidan
An independent front end developer from Lebanon, Sara Soueidan works with UX and design teams in agencies and companies around the world, establishing an infallible front-end foundation for inclusive, accessible, and fast web experiences and interfaces, with a strong focus on performance, accessibility, and responsive design. In addition, Sara has a penchant for writing, keeping her blog updated with valuable tips, tricks, insights, and tutorials on front-end development to help other developers excel in their tasks. Sara combines her love for teaching and writing on her blog, where she has a real knack for breaking down complex topics into digestible chunks of information, and for several other high-profile online magazines, such as CSS-Tricks, Smashing magazine, A-list apart, Adobe Dreamweaver Team Blog, Codrops, and Opera Developer's blog.
18. Michael Abbink
Mike Abbink, the Senior Creative Director at MoMA and the internationally acclaimed FontFont Designer has been designing letter forms since 1992. FF Kievit, his first completed typeface has won numerous awards from the ATypI and ISTD and is used around the world. Mike Abbink is a multidisciplinary educator, typeface designer, and creative director at the creative director at the Museum of Modern Art in New York. He has released at least 10 new typefaces recently. You can find details about his various projects on his website, where he writes in details about his works.
19. Dan Mall
Dan Mall is an advisor and creative director from Philly. He is currently the director and founder of SuperFriendly, a design collaborative aiming to introduce design and exquisite creative direction to some of the most interesting and important organizations around the world. He also runs his own podcast and blog, where he pours his heart out and writes about all things design. He has also authored the valuable guide, Pricing Design, which helps you speak confidently with your customers about the value they can expect from your business.
20. Brad Frost
Brad Frost is an artist, musician, consultant, speaker, and web designer, living in beautiful Pittsburgh, PA. He also has his own blog where he writes about design systems, atomic design, the web, and more. He has also written a book, titled Atomic Design, in addition to contributing to various books, magazines, publications.
Can you think of more graphic designer bloggers who are contributing to the design society? Do let us know in the comments below.