One of the many great things about being a designer is the constant exchange of ideas. On the surface, it may look like a solitary job but the creative process for any design work involves a lot of conversation at one point or another. And it doesn't need to be between two designers even. You could be a product developer or a marketer, the exchange would only get richer, more insightful.
With that in mind, and also knowing how the last two years have made even the most introverts among us crave social connection, here is a list of 24 design events to attend throughout the year.
A few of these events are virtual if you rather stay at home. The rest of them give you a chance to go out, stretch your legs, revisit the design scene, and explore how others in your communities have fared.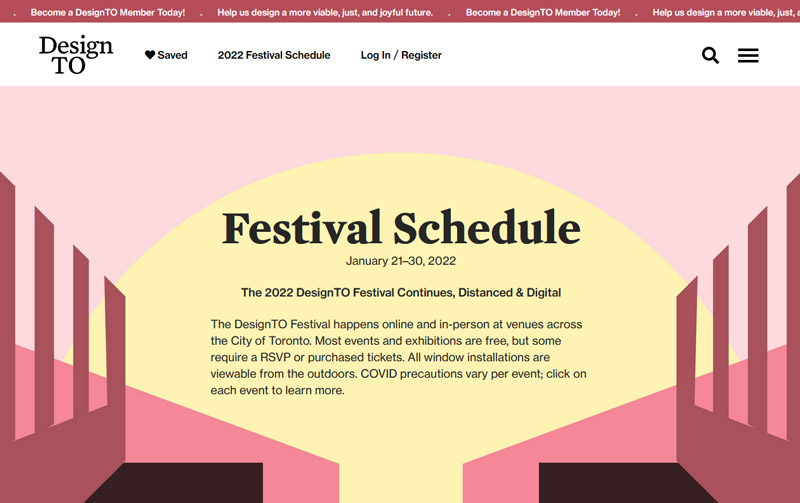 Where: Online (and in-person locations across Toronto)
It's a constellation of design events scattered across locations in Toronto, Canada, but also virtual events that you can attend from your kitchen/living room-office
Online events include talk sessions with industry leaders, portfolio collaborations with BIPOC students, conversations surrounding the topics of inclusivity, sustainability, how to bend linear thinking into the circular design, and so much more.
Please visit the website to check out the full roster of the festival and take part in some intense and fun design discussions.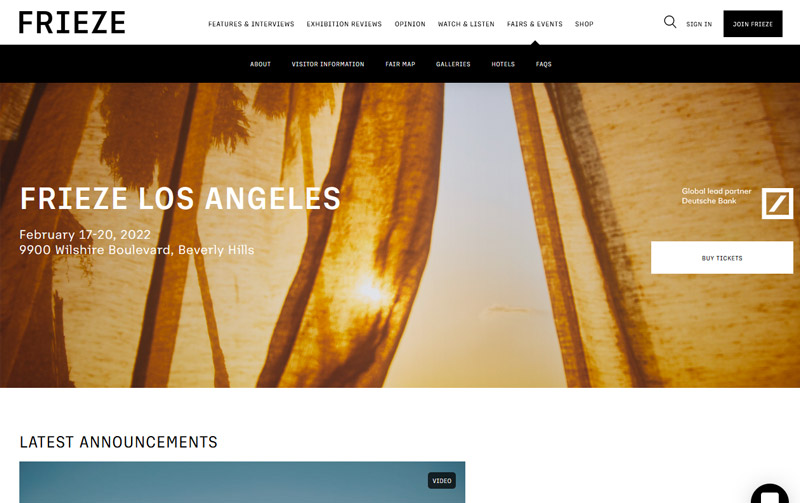 When: Feb 17-20
Where: Los Angeles, CA
This art and design fair is a celebration of contemporary art in the backdrop of LA and its contributions to the global visual arts. The 4-day event will bring together over 100 local and international art galleries. The intention is to put the spotlight on LA and its dynamic artistic landscape. Solo shows by women artists, focused exploration of established LA galleries, and looking at art from a racial perspective are a few of the highlights of this design week.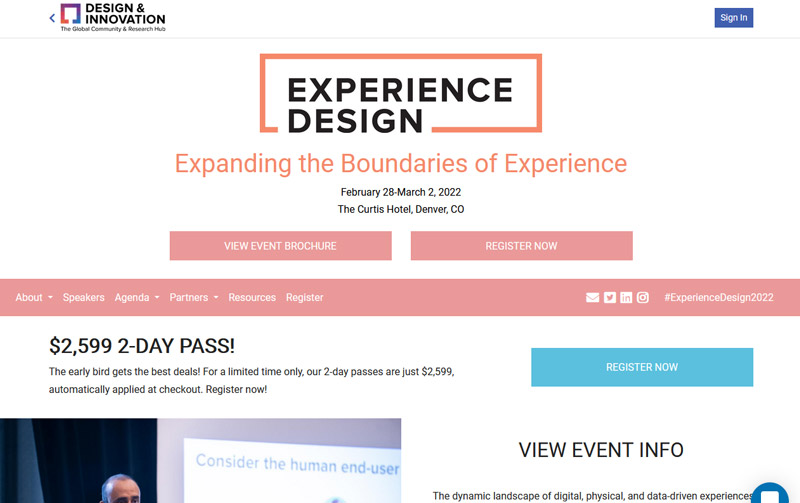 When: Feb 28 – Mar 2
Where: Denver, CO
The future of design is experience-driven. Any piece of design – industrial, commercial, or creative – that can enhance the user experience will get a foot in the door while others will be banished from society. As the design thinking evolves to become more human-centered, events like Experience Design will be a great way to learn the anatomy of experience, advanced analytics, and ethnographic research to fully – pillars of experience design evolution.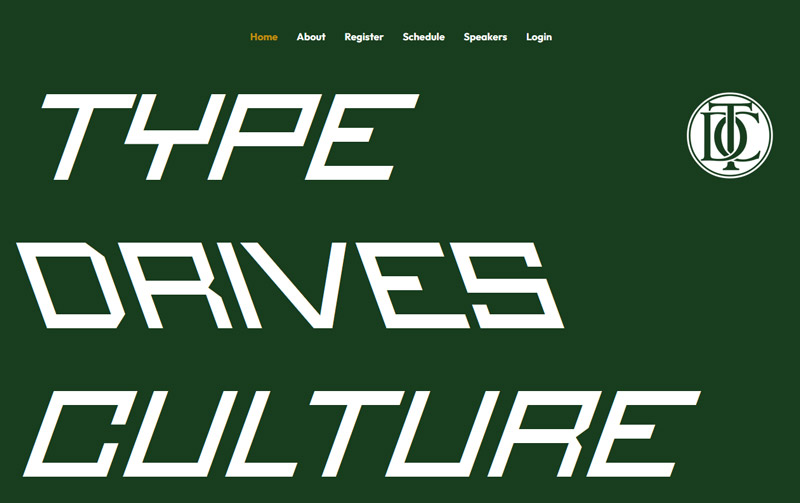 When: Mar 4-5
Where: Virtual
As graphic designers, we are all too aware of how typefaces can make or break a design. For some of us, choosing the right fonts takes the most effort and care – even more than the concept. Because if you mess up the font, the whole design becomes skewed – sometimes literally.
Type Drives Culture is an international conference where you can meet designers across the world who take type as seriously as you do. You can witness how fonts change perspectives and are used to influence technology, communication, social fabric, and even the economy.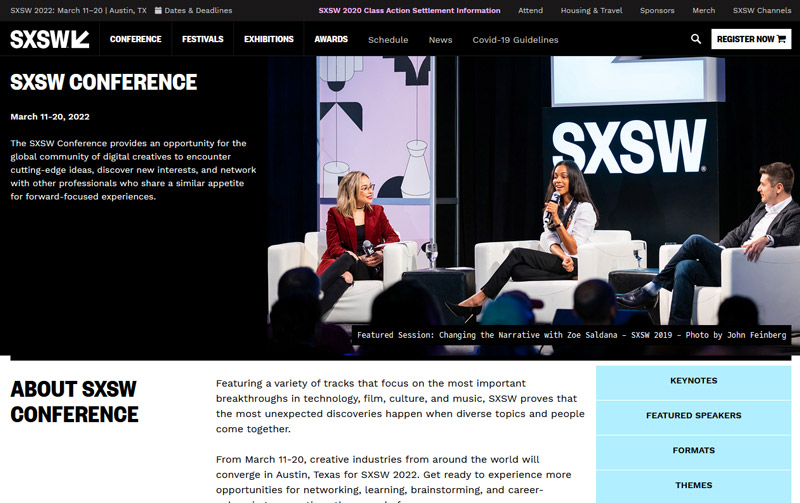 When: Mar 11-20
Where: Austin, TX
Allow me to go too far and claim that SXSW is the ultimate word in design festivals. Nowhere else have I witnessed the magic of collaboration, conversation, and connection that comes alive when newbies and leaders convene in Austin for SXSW and share what they have been doing!
This year, you can take part in this in-person event and witness the breakthroughs in design, culture, music, and technology. It's an opportunity to learn from the best, discover connections, and find career-boosting opportunities.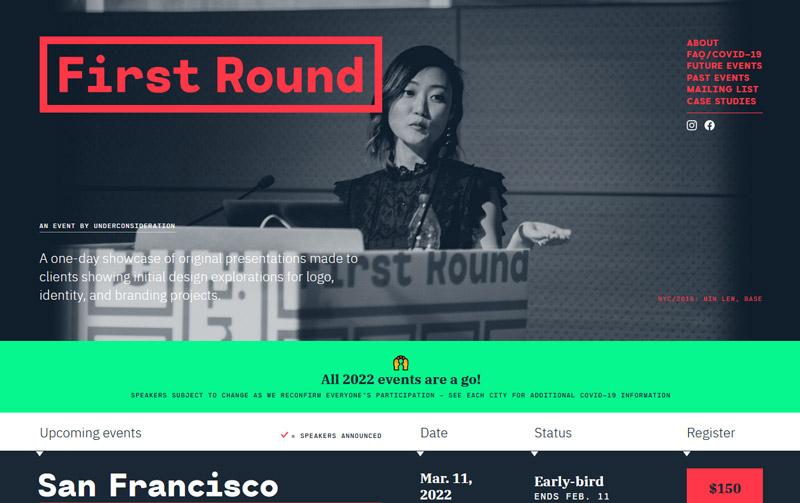 When: Mar 11 & May 6
Where: New York, NY, & San Francisco, CA
All of us always talk about design as a creative process, and it is. But so much of it is social and commercial. Take design presentations, for example. You need a specific set of social and sales skills to really sell your ideas and concepts to the client.
First Round is a brilliantly innovative design event that allows you to do just that. Amp up your social as well as sales skill so you can communicate what's on the page (or screen). It's a one-day event where you will get to see real designers go on stage and show you the branding and logo design presentations that they once presented to their clients.
This is a rare chance to see graphic designers actually talk about one of the most terrifying parts of their jobs.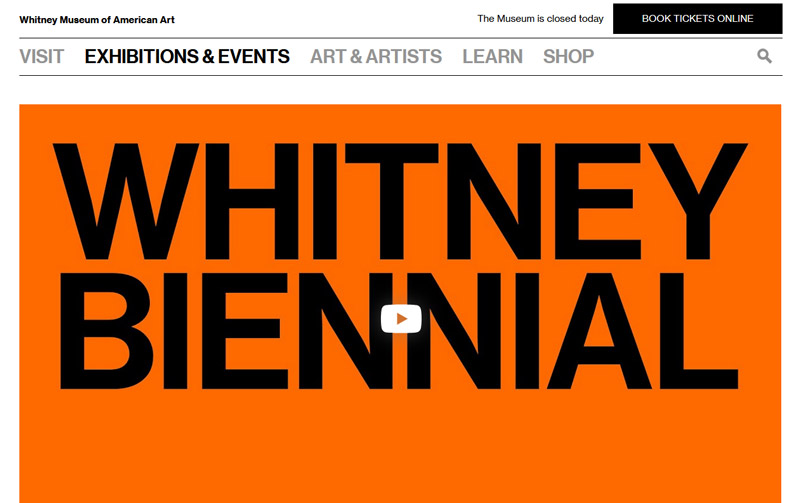 When: Apr 6 – Sept 5
Where: Online & In-Person (New York, NY)
It's a contemporary art exhibition at its most present. Held by the Whitney Museum of American Art, this is a hybrid art event where some shows are in-person while others virtual.
After you register, you can participate in art-making programs, look at exclusive art exhibitions that may fuel your creativity, and enjoy live Q&As with celebrated artists, designers, and innovators.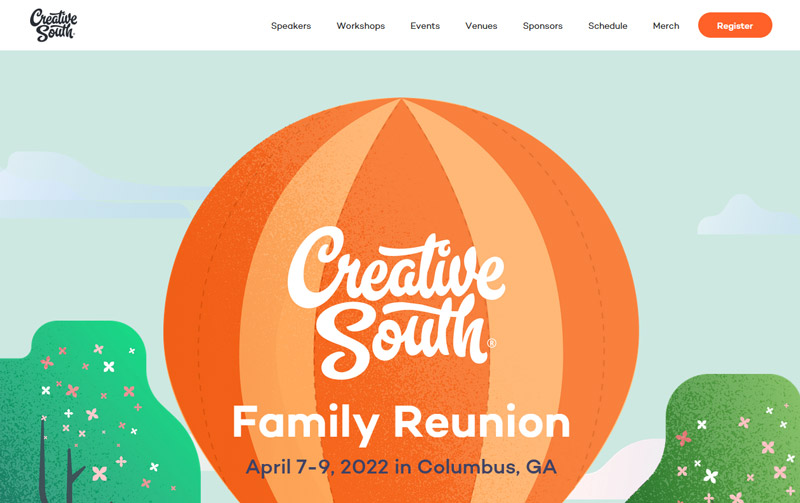 When: Apr 7-9
Where: Columbus, GA
If you have had enough creative discussions and want some practical advice and real-life tales on what goes on after a design brief is shared, this is a design festival you don't want to miss.
Speakers are going to talk about the legend of logo design, the art of communication, guidelines for accessible design, and how to conduct inclusive research that gives you more qualitative data to act upon. Events also include an afternoon of games, food, and community, design competitions, and a variety of design workshops.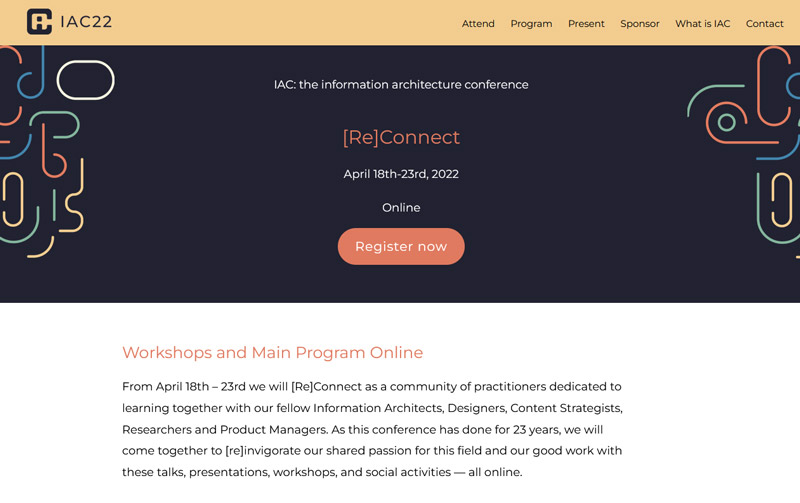 When: Apr 18-23
Where: Online
To augment your design portfolio and to ensure you have a working role on different levels of the branding project, it's important to understand things like information architecture, user experience, and content strategy.
This Information Architecture Conference is a week-long virtual event offering presentations, talks, workshops and so much more. You will get to meet fellow information architectures, web designers, user experience experts, and industry leaders from all the relevant fields.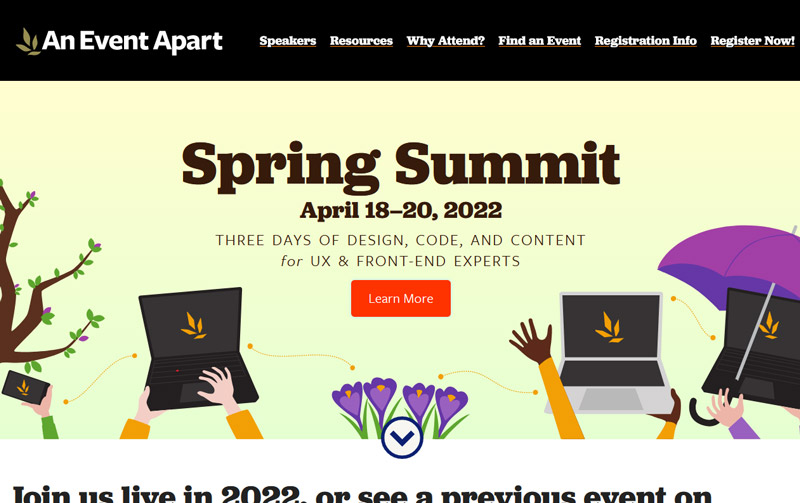 When: Apr 18-20, Oct 10-12, Dec 12-14,
Where: Online, Denver (CO), & San Francisco (CA), respectively
An Event Apart will take place online, in Denver, and then in San Francisco at various times of the year. The Spring Summit held virtually will take place in April. For events in Denver and San Francisco, plan your travels for October and December, respectively.
Each of these three conferences will be packed full of intense discussions on graphic design, UI/UX design, content, code, and more. You will get a feel of how things are at the moment and what you need in your skillset to ensure you continue your journey as the design world takes its next steps. You will be able to talk with speakers who are breaking barriers in terms of sustainability in branding, development of design systems, the interconnectivity of SEO and UX, immersive design, and so much more.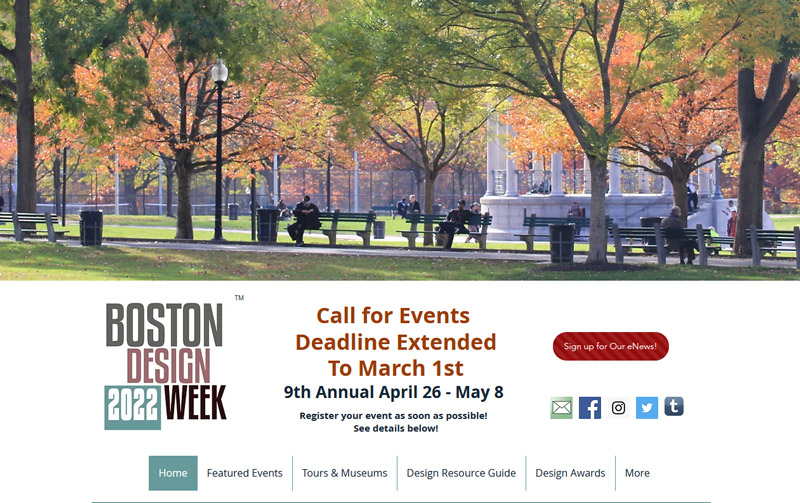 When: Apr 25 – May 8
Where: Boston, MA (and online, too)
Design is a rich and diverse landscape of creativity, commerce, convenience, and community. Events at Boston Design week are curated to introduce to the public all the different ways design makes our lives better.
This year as well, expect the festival to blow you away with its rich offerings. A hybrid celebration, the event will offer digital as well as in-person and outdoor events. There are going to be guest speakers, panel discussions, behind-the-scene tours, outdoor installations, and much more. The week will also include the annual Design Awards, so if you want to be a part of one of the biggest design celebrations of the year, mark your calendar now.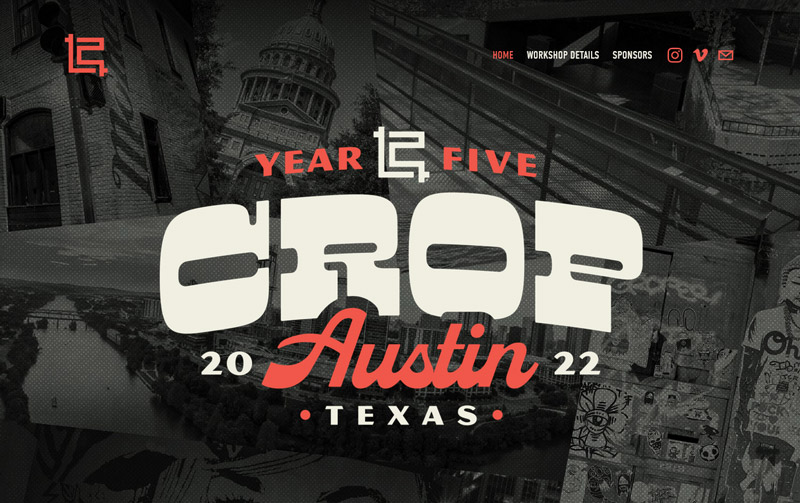 When: Apr 29-30
Where: Austin, TX
After a hiatus of two years, the folks behind the Crop are sure excited to be back. Featuring a stellar list of speakers from fields as diverse as visual arts, hustle coaches, illustrators and educators, and muralists and entrepreneurs, the event promises to be a success.
With Covid-19 restrictions in mind, the festival organizers have decided to keep the event exclusive, so tickets may be sold too quickly. Therefore, if you want to learn what's next in logo design, lettering, and portfolio strategy, don't miss these workshops.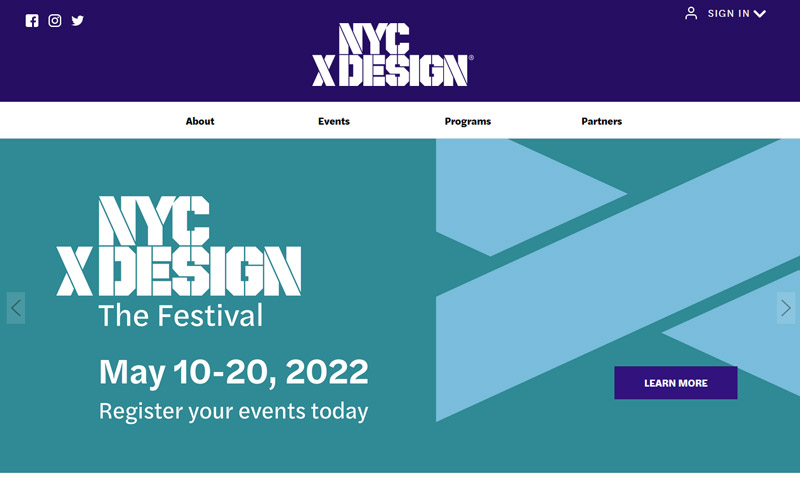 When: May 10-20
Where: New York City, NY
New York City and design go hand in hand, always have. The city is an enthralling and pulsating being full of creative artists fueling its design culture, fierce spirit, and innovative mind. The NYCxDesign brings the global contributions of NYC designers into focus during this festival. There are going to be virtual events, group exhibitions, public installations, and a whole lot of celebrations.
The organizers have yet to release a full agenda but if it's anything like previous years, expect a lot of stimulating and insightful conversation about design and what it can do for users in the years ahead.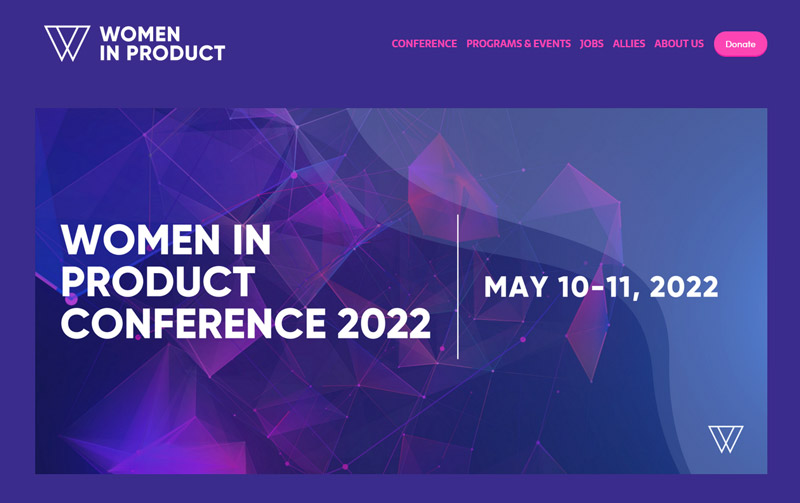 When: May 10-11
Where: Online
As in any other industry, women in design also do not get talked about much. Yet, when we pay attention, it becomes obvious how so much of modern product and design is indebted to female thought and intuition.
This conference is an attempt to bring the world's attention to female power in product development. Through panel discussions, workshops, and speaking events, women use this platform to learn career advancement strategies, new product development skills, and build strong community networks, among other things.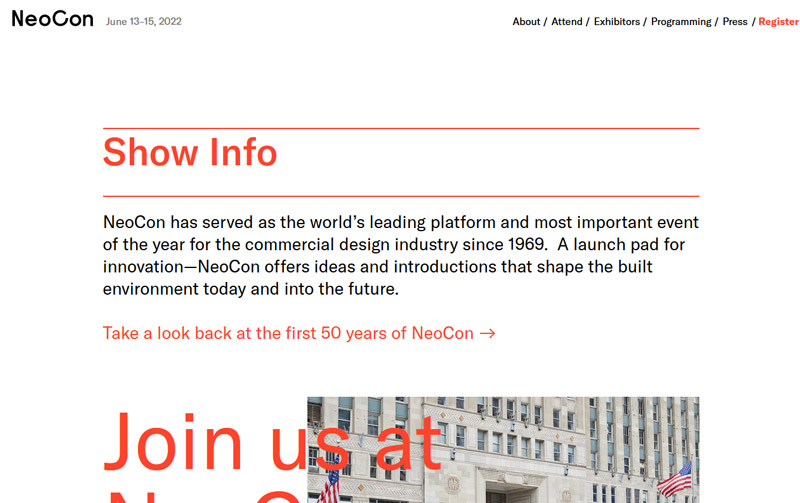 When: Jun 13-15
Where: Chicago, IL
NeoCon is a look into the design in its present form and a collective dialogue to figure out where it could be in the future. With a rich legacy of 50 years, NeoCon prides itself on being a 'launchpad for innovation'.
This year, we anticipate seeing a whole host of new faces. Design companies that arrived in the last two years or made an impact that made them more visible. Product and services manufacturers, commercial design stakeholders, and design educators will convene for this three-day event to inspire, educate, inform, and promote.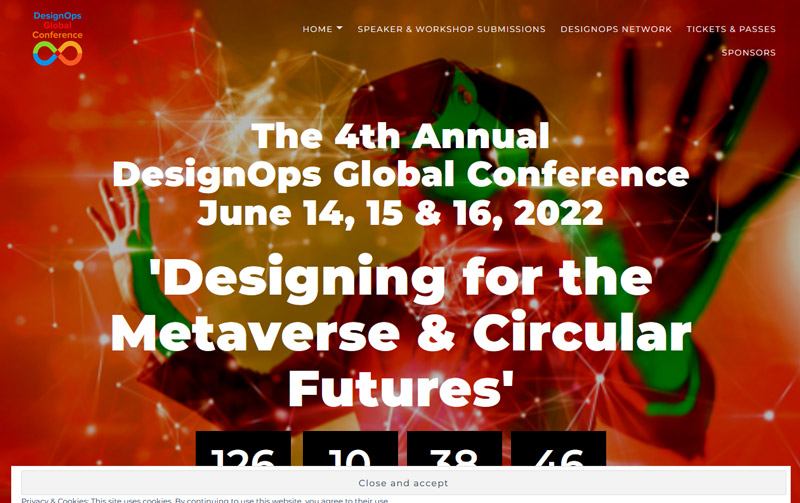 When: Jun 14-16
Where: Online
The theme for this year's DesignOps Global Conference is 'Designing for the Metaverse & Circular Futures'. Quite fitting, actually, considering it was only a few months ago when Mark Zuckerberg announced his company is building a metaverse. The whole of the technology valley went into a frenzy and tried to find out as much as they could about this new, exciting concept.
This conference is an extension of that interest and looks at what design can do for the metaverse. The speakers and participants of the conference are poised to conduct workshops and discussions on user research, service design, UX, and innovation.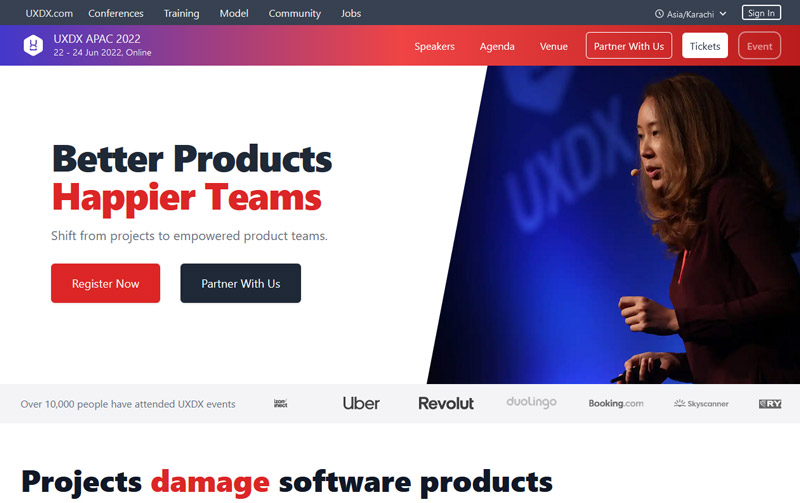 When: Jun 22-24
Where: Online
The design world took a major shift in the past, turning its attention from being design-centric to become user-centric. The design must work for the user, not the other way around. We are experiencing another shift now: from projects to teams. Make teams empowered and autonomous so they can create more efficient products.
The UXDX Conference brings stakeholders together and showcases companies and case studies where these shifts are taking place and making an impact. If you are looking to see what actionable insights are in this field, and the various ways they can be implemented into teams and designs, this is the conference for you.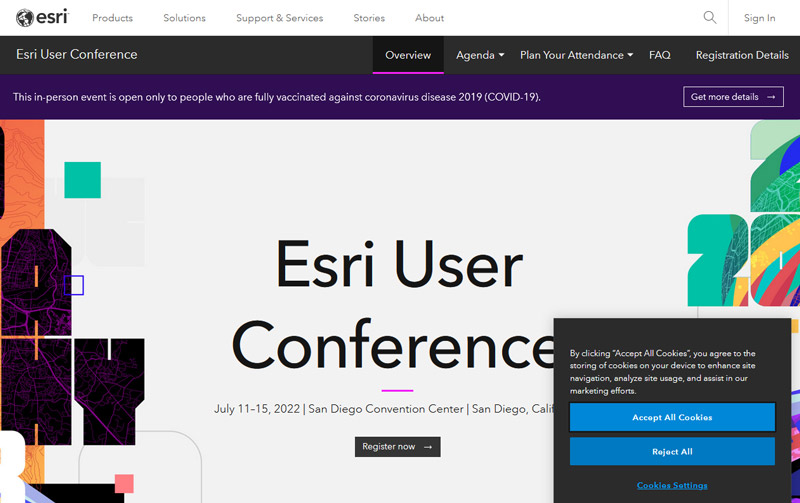 When: Jul 11-15
Where: San Diego, CA
Technology is making changes every day. The GIS User Conference talks about a very specific technology – geographic information systems – and invites users from all around the world to come and see what GIS can do for their businesses and everyday lives.
Here, you will meet Esri professionals, GIS experts, and tech guests to learn how you can the latest GIS tools. You can view user presentations, get specialized training, engage with sponsors and leaders, and network with others in your community.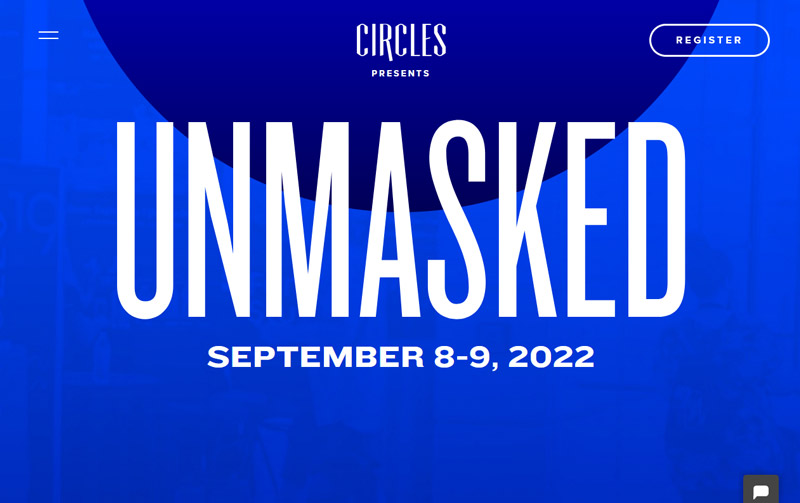 When: Sept 8-9
Where: Richardson, TX
If you are looking for some heart-to-heart talks about what pandemic has been like for your creative and design process, consider Unmasked for your social calendar. It promises a panel of speakers who are going to open up about their struggles with creative work during the pandemic. You will listen to inspirational stories, practical advice, and get the support of a close-knit community as you try to return to a world that is not as you had left it behind.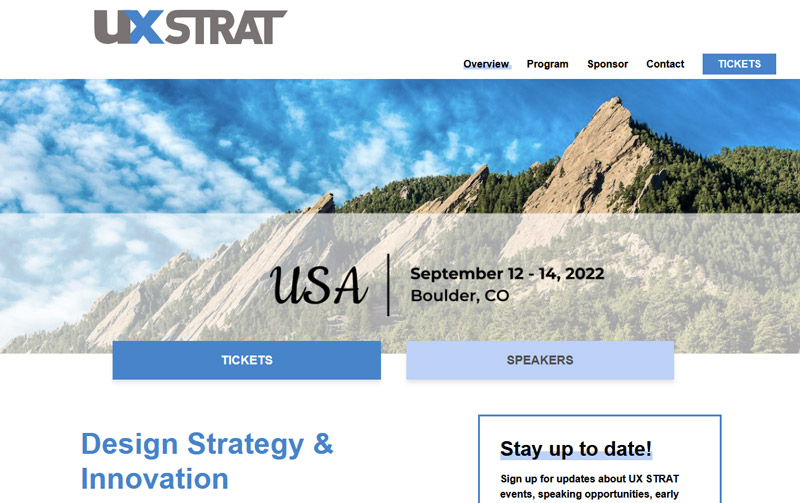 When: Sept 12-14
Where: Boulder, CO
The UX STRAT is a hybrid event of 2022 and can be accessed remotely as well as in-person. Bringing together leaders from the creative world, it promises to deliver an experience of strategic design thinking where you'll learn new tools and techniques of design and product development.
It's an event to learn new skills, make new connections, and be inspired by some of the most prominent names in the industry. The event will include lots of group discussions as well as live Q&A from thought leaders who can change your entire perspective.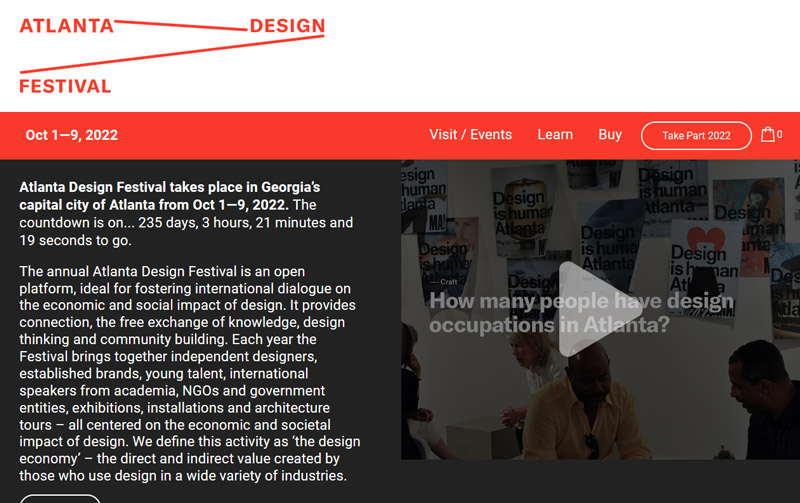 When: Oct 1-9
Where: Atlanta, GA
It's a rich collaboration of design thinkers from around the world who are going to share their take on how design shapes economy and society. It will bring together independent designers, established brands, academic speakers, government representatives, and emerging talent on a common platform.
Dubbed as the 'design economy', the Atlanta Design Festival has everything you would expect from a leading design festival that's committed to highlighting individuals, technologies, and strategies that are helping the design world recreate economies and societies.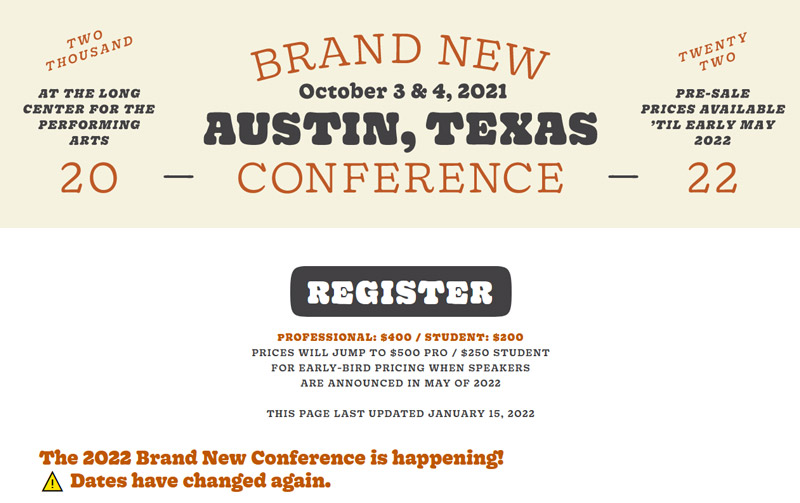 When: Oct 3-4
Where: Austin, TX
Organized by the brilliant minds behind the super popular design blog Under Construction, this event will look at the practices and policies of brands and businesses as they navigate brand identity waters. You will be able to hear views from a diverse range of speakers. From big corporations of established brands to newbie entrepreneurs, and in-house teams, the different views, and opinions, regarding logo design and other aspects of branding will come under the spotlight and will help you give interesting ideas to follow.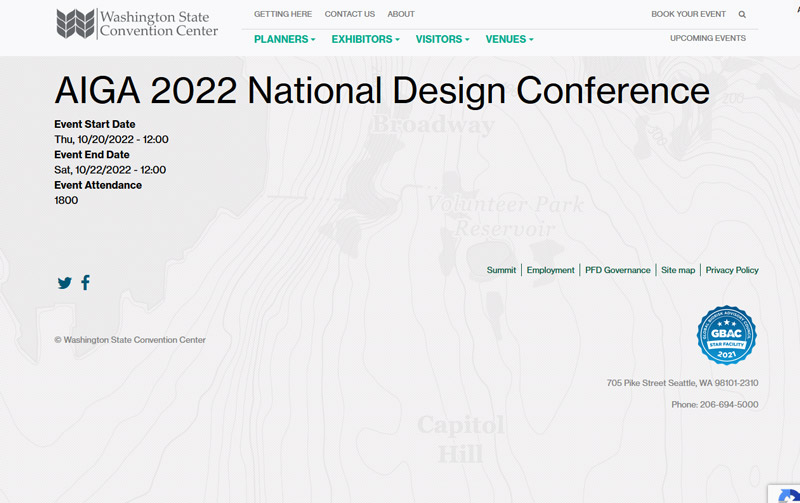 When: Oct 20-22
Where: Seattle, WA
The industry-standard on design conferences, this is an unmissable social event for designers and other creative professionals. It brings together designers from a wide variety of disciplines – industrial, commercial, digital, and such – to share their ideas, developments, and strategies.
A rich panel of experts will talk about issues as crucial as ethics in design, algorithms and privacy, artificial intelligence, and its impact on automation and communities. And so much more.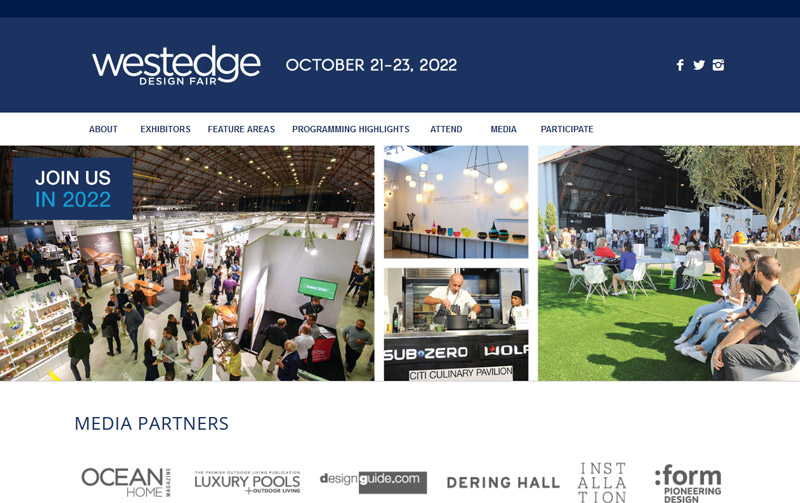 When: Oct 21-23
Where: Santa Monica, CA
The WestEdge Design Fair brings design and architecture together. Talented people from these two disciplines and covering a wide range of markets and industries join to teach aspiring artists and professionals about the ins and outs of the job.
To listen to panel discussions, take part in workshops, and be present when world-changing ideas are floated around, mark your calendars today and start planning for the trip.
Wrap Up
While there are tons of more events to consider, these make some of the most interesting, exciting, and fun to attend. We hope this hybrid list of events has given you enough to plan your yearly calendar around. If you are an introvert like most of us are, the presence of digital options on the list is a great place to test your interest in social activity for the year 2022.