David Cook, director of eBay and Procter and Gamble and founder of Intuit, once rightly said, "A brand is no longer what we tell the consumer it is – it is what consumers tell each other it is." And it seems that the marketing strategies of nearly every brand are revolving around this very saying.
Some marketing campaigns are designed around the idea of making money and some are strategized keeping in view the very needs of people and making them feel the urge to spend on a specific product and that is where the success lies. The world has been witnessing a shift in approaches how a customer perceive a brand. Since the times are tough with more people getting inclined towards savings rather than spending, the brands are feeling the need to be a little extra creative to lure the customers and that is where the urge of a better design campaign jumps in.
Best Social Media Campaigns of 2017
With the world going digital and more people prone to technology, the marketing geniuses are making purposeful use of social media to tap new customer base. If anyone out there thinks that is it really worth pursuing social media for an existing business, here are some examples for you…
1. Airbnb: #LIVETHERE – Taking Tourism To New Heights
Airbnb is rapidly expanding its service away from just offering accommodation to provide a full travel service. According to data from Airbnb, 86 percent of its users pick the platform because they want to live more like a local. That insight of living rather than visiting inspired the brand to hire TBWA\Chiat\Day for its latest and largest marketing campaign, #LIVETHERE.
With the campaign, Airbnb, focused on its ability to integrate into the local communities, as opposed to the tourists that have booked stays at traditional hotels. Its new service Trip (in line with their #LIVETHERE campaign) allows customers to purchase more than just lodging, and experience packages such as salsa dancing or surfing & sunsets. The campaign was hosted on Facebook, Twitter, and heavily leveraged the multimedia capabilities of Instagram.
Images: TBWA\Chiat\Day\Airbnb
2. Domino's Wedding Registry – Get Hitched In Style
The popular pizza chain, Domino's, around Valentine's Day, created a great deal of buzz by inviting newlyweds to host their wedding registry with the chain. While there is no word yet on how many people have taken them up on their offer, it sure is creating the attention the company wanted for its brand.
So how do you create a registry? Cp+B, Boulder has made it super simple. Just add in your information and select the photo, message and items you want, and then you can share your wish list with family and friends on social media or just pop it on your wedding registry with a unique URL. Wedding guests can also search for a registry by using your names and wedding date. And even if you know a pizza-loving couple who isn't registered yet, it's still a great gift to give for their engagement party.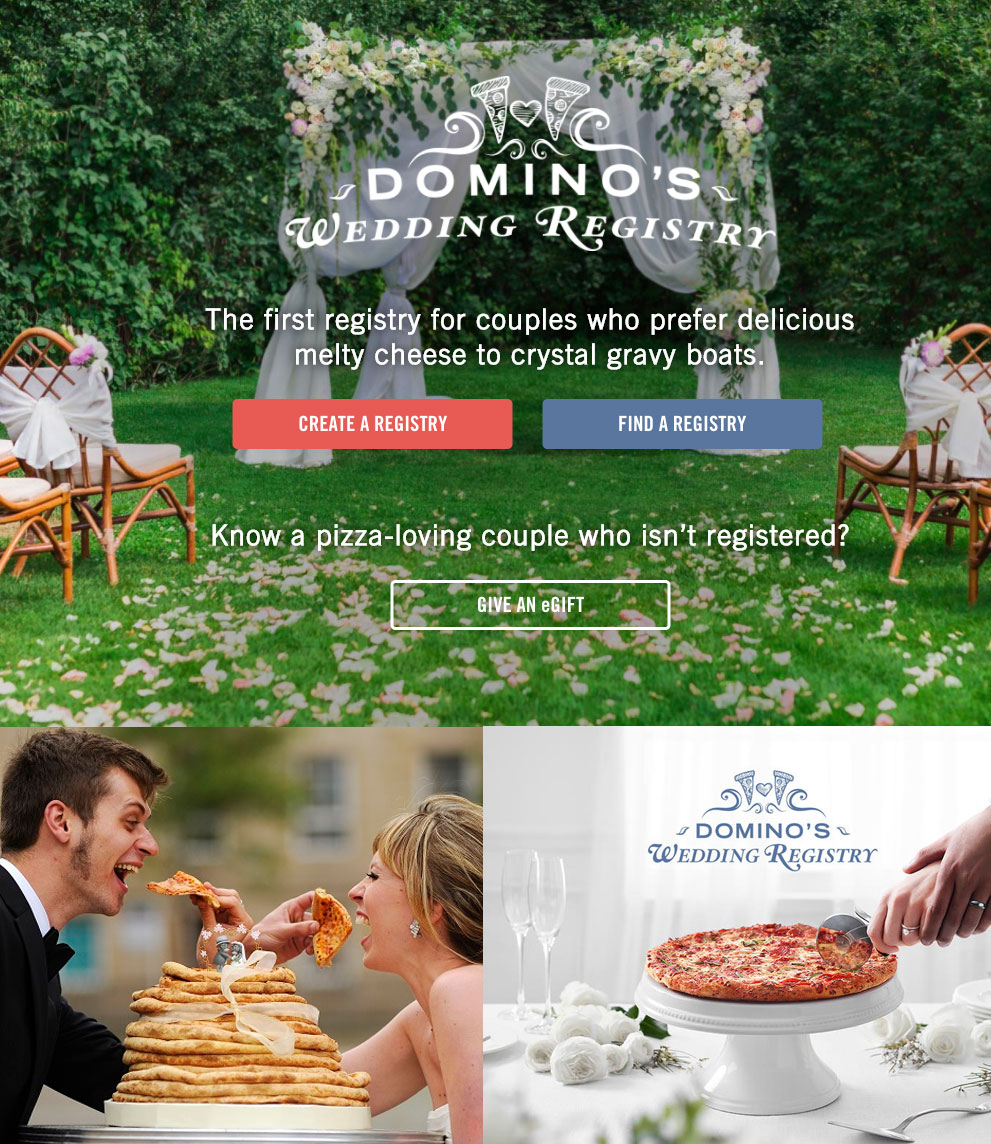 Image: Domino's
3. Wendy's #NuggsForCarter – Take Little Guy Seriously
When Carter Wilkerson, a teenager, asked the fast-food chain about the number of retweets required to get a year's supply of free nuggets, Wendy's replied in its usual cheeky and sassy brand voice: "18 million."
Wendy's showed dexterous social skill with reply if he could get enough retweets (Wendy's challenged him to get 18 million, then went on to make a whole campaign around it). The campaign won Lions in Cannes for VML.
We knew that the love for Wendy's nuggets ran deep," said Frank Vamos, brand communications director at Wendy's, "but we didn't expect the overwhelming response we've seen on Twitter to Carter's love of nuggs."
The response had been insane. Wendys' Twitter account has over 149,000 new followers and its Twitter handle has over 330 million social impressions. The tweets from the brand have allowed it to get over 978,500 likes and 280,900 retweets.
HELP ME PLEASE. A MAN NEEDS HIS NUGGS pic.twitter.com/4SrfHmEMo3

— Carter Wilkerson (@carterjwm) April 6, 2017
Best Print Campaigns of 2017
One cannot deny the power of print to attract more than the desired customer base while keeping the old one intact by running some print campaigns every now and then. Here are some examples that speak volumes when it comes to creativity.
4. Burger King, 'Burning Stores' – All About Flam(y) Grills
Burger King, with its series of ads 'Burning Stores,' came up with some of the best print campaigns of 2017 that showed real-life photos of Burger King restaurants on fire and firefighters who responded to the scene right away. David Miami infused ever classic print element into the campaign that best complimented the simple headline and powerful image 'Flame grilled since 1954'.
The campaign bagged the Grand Prix in the Cannes Lion International Festival of Creativity's Print & Publishing category. The win is considered to be unique, modest and bold and was perfectly timed for Burger King, which celebrated as Creative Marketer of the Year at Cannes this year.
Image: Burger King/David Miami
5. Emerald Nuts, "Yes Good" – All Is Well That Ends Well
Nobody knows who wrote the new tagline for Emerald Nuts but once the agency Barton F. Graf got the idea from an anonymous review on Amazon last summer, "Yes good," its designer Robert Broadbent ran with it.
The agency build a website, offering "Yes Good" baseball caps and coffee mugs on Emerald's social media channels. They also put up outdoor advertising in Boston, Miami, and New York that simply feature the "Yes Good" slogan in bold white font beneath the Emerald brand logo.
To expedite the campaign and to get maximum results, the agency got a bunch of artists, directors, animators and musicians for a series of online videos to bring other funny, glowing Amazon reviews of Emerald Nuts to life. The series is called Revue of Reviews – Art inspired by real customers' reviews. Check out a bunch of those videos here:
"Emerald Nuts believes in championing their customer and fans – they're not going to tell you how good their nuts are; they're going to let their customers do it for them." – Emerald Nuts as quoted by AdFreak.
6. Delta Dating Wall – For The Love of Tourism
The #DeltaDatingWall was up throughout the summer. Delta Air Lines, in partnership with Tinder (a dating website), hired Wieden & Kennedy New York after it noticed the overwhelming prominence of travel pics on online dating sites.
Located on Wythe Ave in Williamsburg, Brooklyn, the wall features exotic backdrops for a selfie, instantly making it a lot more windswept and interesting as a Rrsearch found that 74% women and 62% men wish to be with a partner who has the same travel interests as them.
It is being considered one of the coolest airline campaigns in years aimed at folks who are still struggling to actually fly anywhere helping New Yorkers to look well-traveled in their Tinder profiles.
Andrew Rae, photos enveloped by adorable illustrations feature a number of monuments such as London, Pisa, Mexico City, Honolulu, Zurich, Moscow and Amsterdam. This gallery is supposed to acknowledge the fact that Delta has the most travels of any NYC airline.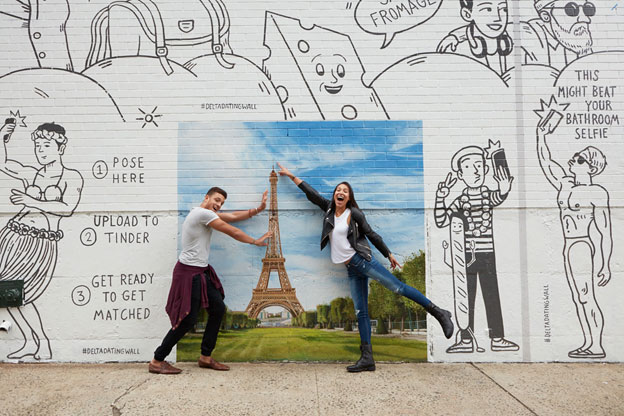 Image: Wieden + Kennedy New York/Delta Air Lines
Best Digital Campaigns of 2017
What a novel way to tap younger audience. As our younger generation has found their love in YouTube, digital design agencies are making the full use of the fact making funny and engaging videos that hit just the right notes. Following are some examples…
7. Coca-Cola, 'Pool Boy' – Taste The Feeling
For the latest instalment of its 'Taste the Feeling' campaign, Coca Cola came up with a stylish story to tell its customers by subtly weaving an LGBT inclusivity into the campaign.
The spot, by Santo, tells the story of a visiting pool boy and a brother and sister who both lust after him, only to be upstaged by another family member.
8. PlayStation, "Gravity Cat"
PlayStation came up this year with one of the craziest ads that show an apartment turned upside down in a video game called Gravity Daze 2. Created by Tokyo agency Hakuhodo and production company Tohokushinsha Film Corp., the four-minute film features two sisters trying to capture a gravity-defying kitten as the world inside their apartment very literally turns upside down.
The most interesting part about the film that, aside from the flying sequence at the end, the spot was shot mostly in camera. The spot won a Gold Pencil at The One Show, and also won the top prize in two categories – Branded Entertainment and Film – at New York Festivals.
9. MailChimp, "Did You Mean MailChimp?"
MailChimp is the top marketing platform of the world. Fifteen million customers use MailChimp to accurately connect with the most appropriate people online and with the right message. Its campaign displays MailChimp's promising ability of practicing what it teaches: it is vital for one to be as creative and honest as they have to be in order to run a great business.
Droga5 campaign enjoyed using the brand's name on a variety of online and offline activities and stunts as well as goofy films. It was designed as an ecosystem of playful experiences connected with the mispronunciation of Mailchimp. This led to the development of a new line of commodities and cultural developments such as potato chips, hit singles, short films and fashion trends. The common thing about names like KaleLimp, MailShrimp, JailBlimp, SnailPrimp and NailChamp is that they all read like MailChimp. The Did You Mean Mailchimp campaign, online at mailchimp.com/did-you-mean, was experienced in cinemas and has expressions on social media platforms such as YouTube, Twitter, Tumblr and Instagram.
Best Awareness Campaigns of 2017
Spreading awareness has never been an easy job as it needs serious minds at both ends. Simplicity and keeping true to the cause are the keys to a win-win situation. Let's have a look at the awareness campaigns that made people going gaga over them.
10. Ikea, "Identify An Original Ikea Frakta Bag" – The Image Issue
When a stunningly fancy $2,145 leather bag, created by French luxury fashion house Balenciaga bears a striking resemblance to Ikea's iconic 99-cent blue tote, Ikea playfully responded with social posts and a print ad telling consumers how to tell the difference between them.
IKEA, with the help of its design agency Acne put together a swift response – giving customers some tips on how to know that their FRAKTA blue bag is the real deal.
IKEA immediately released a short film to commemorate the Frakta tote and its various uses following its recent viral buzz. Created by IKEA's advertising partner Acne, the film showcases how the blue bag can be used in a number of occasions.
11. #WomensMarch – When Teresa shook the Facebook
Immediately following Donald Trump's inauguration as US President, largely due to his anti-women statements, Teresa Shook set up a Facebook event page for a hypothetical march to protest the results on January 21, 2017. It was the largest single-day protest in U.S. history as by the next morning, 10,000 people had responded.
The movement won the Webby Award for the Best Social Movement – and for good reason.
Facebook and other platforms keep people educated and engaged with the movement, and it has spurred on countless brand campaigns, including One's #GirlCount, which fights for education for women around the globe, and Western Union's #TheRaceIsON, which celebrates female empowerment.
Image: Women's March
As thousands plan to take to the streets for the Women's March on January 21, 2017, artist Shepard Fairey – who produced the "Hope" poster of Barack Obama – released a number of free designs ahead of the protest.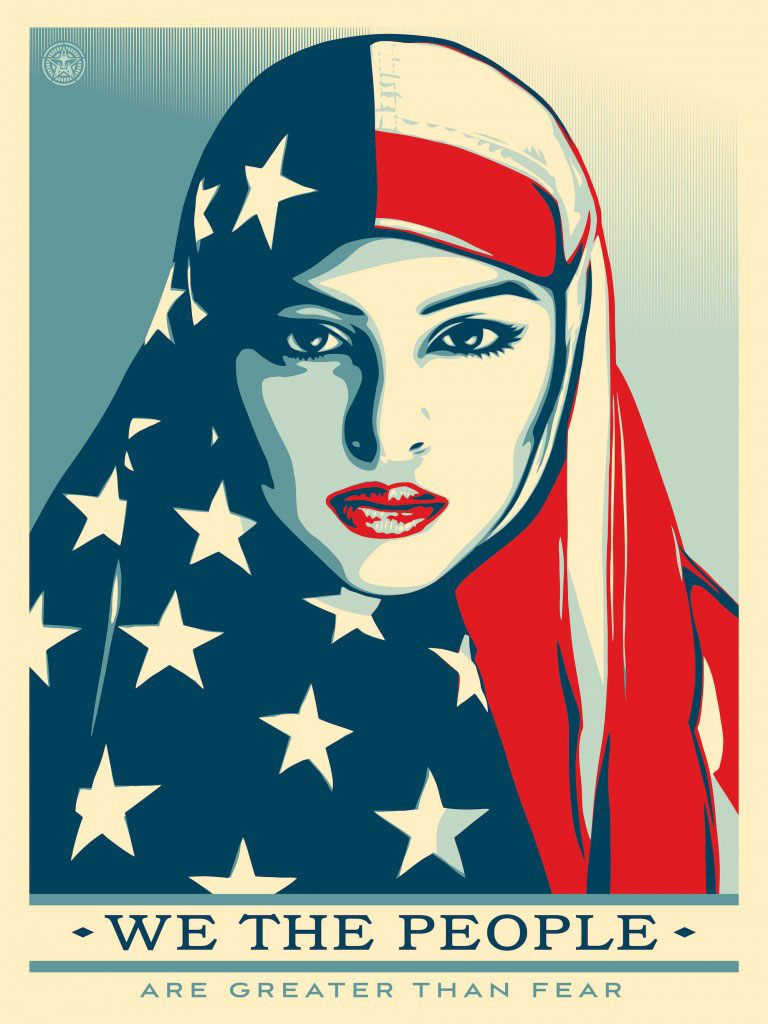 Image: We the People/Shepard Fairey
12. Apple, "Earth (Shot on iPhone)" – A Love Note To Earth
What a better idea to advertise iPhone's camera with an ad that features a bunch of short clips that were shot from regular iPhone users and narrated by astronomer Carl Sagan's soothing voice. The use of natural imagery along with Carl Sagan's voiceover feels like a jab at President Donald Trump's decision to go back on Paris's environmental agreement.
The crisp and clear clips of forests, beaches, and mountains, of insects and birds serve as a poetic warning of everything we have to lose, with no viable Plan B.
Where on one hand, science and tech based corporations are applauding Apple's efforts in highlighting the deteriorating state of the environment we live in, marketing experts are at a loss to how Apple new ad has been a successful venture for the filming capabilities of its iPhone.
Apple's latest iPhone ad is a love note to Earth https://t.co/KcLb0C039n pic.twitter.com/aqvVXHmVyP

— The Verge (@verge) June 8, 2017
Best Instagram Marketing Campaigns of 2017
Different brands run marketing campaigns with different approaches considering their customers' needs. Here is a list of some market giants that used the power of emotions to further market their products. Let's walk through the list…
13. Amazon
Amazon had a unique idea to congratulate their fans for helping them secure the highest rank in corporate reputation. Through an Instagram marketing campaign, Amazon posted an image displaying their ranking that included a caption informing customers about a new discounted that they created to commemorate their win.
The best thing about the campaign is that it's a discount. Providing followers with a discount code or linking to a promotional pricing page is one of the best ways to do it. And a big thanks coming from a corporate giant makes fans and followers feel appreciated thus strengthening their connection to the brand.
14. Lokai
Who does not know about Lokai bracelet that has become a world-famous accessory, thanks to the brand's inspiring message of positivity and commitment to help others.
Lokai's fanbase allowed it to craft a social media plan revolving primarily around user-generated content to promote its products. Take a look at Lokai's Instagram feed – it's full of gorgeous real images from real people all around the world. This results in an exciting feed that's still entirely product-focused.
It was an awesome approach by Lokai making its product market using the pictures by its own fans while connecting with its users at the same time.
15. Daniel Wellington
Famous timepiece maker Daniel Wellington made a deal with YouTube music sensation Joseph Vincent to promote its watches. Joseph Vincent created a genuine-looking Instagram photo highlighting both a men's and women's Daniel Wellington watch.
In his efforts to market the time piece, Joseph tagged the brand and also provided a discount code for his followers to use when buying a Daniel Wellington watch.
Celebrity based marketing is awesome for helping bridge the gap to certain segments of your target market.
16. Forever21
Forever21 is a brand that's an expert at the Instagram sale. It utilizes a monetization platform called Like2buy to turn the engagement and interactions it garners into sales. Like2buy takes Forever21's photos and links each item to the relevant store page.
Using a monetization platform is the simplest and most efficient way to drive sales from Instagram – it's a great option for any ecommerce business.
Like the article? Or is there anything that you would like to add to the list. Please leave your comments in the comments box below as your feedback fuel us to write more.