Green is quite the refreshing color with so many positive meanings behind it. It is the color of nature, energy, renewal, growth, hope and life. But green also happens to be the color of Ireland and is associated with several Irish traditions and folklore like four-leaf clovers that bring good luck and leprechauns, and corporate logo designs.
That aside, Ireland is also home to plenty of talented people like actors, singers, inventors, engineers and YouTube personalities. For this article, we will be paying tribute to some of Ireland's most talented and accomplished graphic designers whose works have been respected and shared from around the world.
Since there are quite a lot of them out there, we've made it easier for you by selecting what we think deserve to be mentioned in the list below.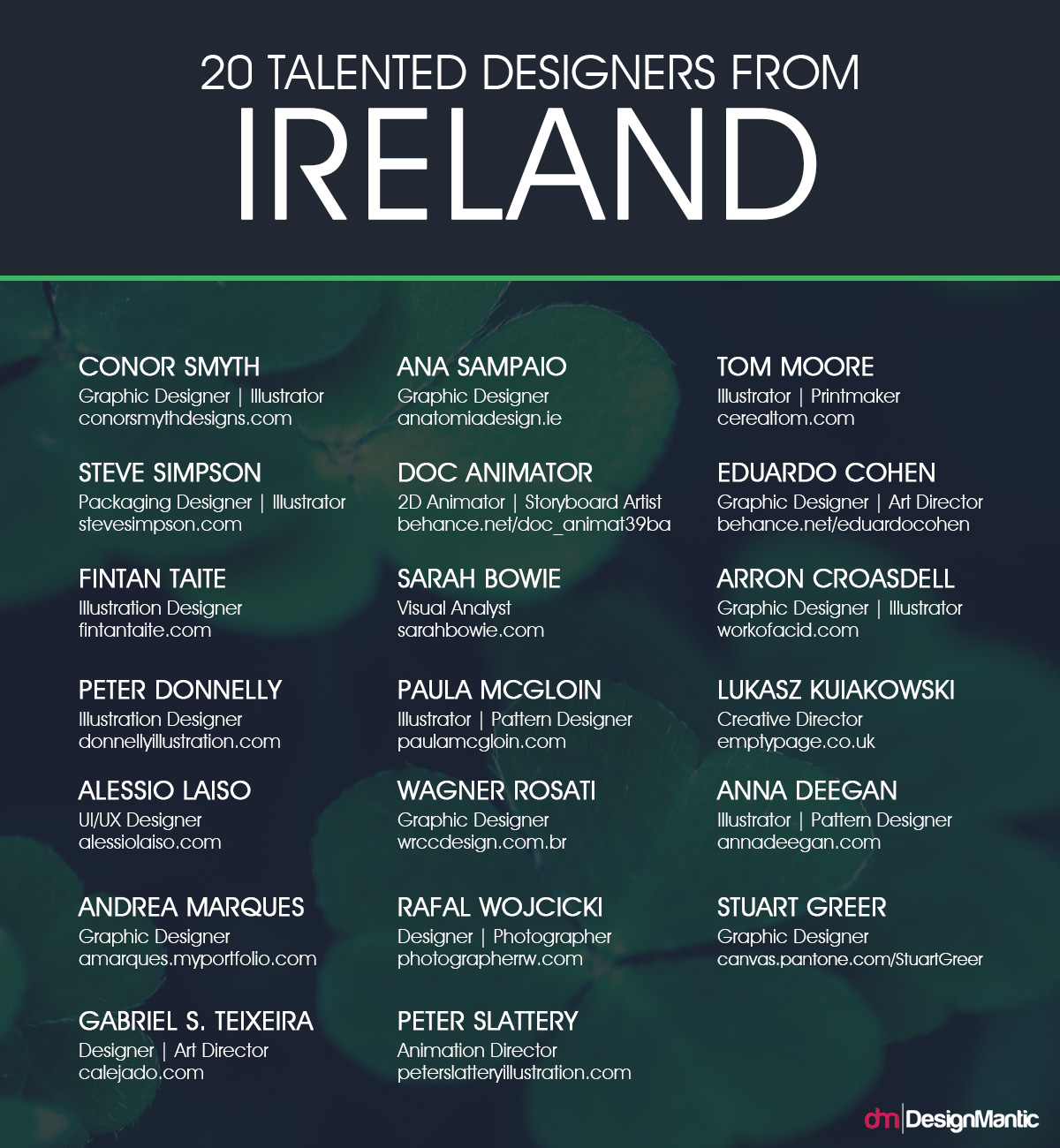 1. Conor Smyth
Conor Smyth has had a smooth running career so far. He won the 2017 San Francisco World Spirits Competition's gold medal for his Mór Irish Gin – a beverage brand logo branding & packaging design.
2. Steve Simpson
Steve Simpson is a world-renowned illustrator with over 30 years of illustrious designing experience. He has bagged over 50 awards in illustration and packaging since 2008, especially the gold awards from the Illustrators Guild of Ireland, the Association of Illustrator, ICAD and the IDI.
3. Fintan Taite
If you grew up watching classic cartoons from the 50s and 60s, then you'll get a nice throwback when you see Fintan Taite's work. Taite's elongated career is shown in his involvement with picture books, comics, fun art work logos packaging and advertising.
4. Peter Donnelly
Peter Donnelly has a good 2 and a half decades of working as a freelance image maker. Over the years he has developed a unique style of artwork that was inspired by his love for mid-century folk art, design and vintage print design.
5. Alessio Laiso
Alessio Laiso is multitalented for designing award-winning software that millions around the world enjoy and also typefaces that have been used by top brands like Amazon, IBM, and eBay.
6. Andrea Leite Marques
The Brazilian native Andrea Leite Marques is a freelance graphic artist who used to work mostly as a Business Analyst for business travel and airline agencies. Currently, she spends her time designing unique jewelry by up-cycling old glass necklaces and Murano beads. Andrea also does a variety of other forms of art including patterns, dog arts, and vintage designs.
7. Gabriel S. Teixeira
Gabriel believes design is essential for generating value, which is something that motivates his work. His specialties include design thinking, audio and video.
8. Ana Paula Sampaio
Ana Paula Sampaio along with Melise Flores operate the branding & design studio Anatomia Design. In over 4 years, they have worked with 90 local and foreign companies to create their brand identities with the use of graphic communication materials.
9. Doc Animator
Doc Animator is an artist who specializes in 2D animation and sheet timing direction. He has worked on a variety of films and TV series in Ireland, Denmark, Germany, France and USA.
10. Sarah Bowie
If visual storytelling is your passion, then Sarah Bowie's work can give you plenty of insights into it. She's one of the founding members of The Comics Lab, which is a monthly comic salon. Her hand-written logo gives a perfect fun vibe to her website.
11. Paula McGloin
Paula McGloin spent most of her professional life as a web and print illustrator and pattern designer. In 2013, she finally pursued her passion for textiles and fashion by becoming a home wares designer.
12. Wagner Rosati
Wagner is a graphic designing professional with 10-year career who is knee-deep in UX/UI, web development front-end and art creation.
13. Rafal Wojcicki
Four years of working as a professional photographer and graphic designer has allowed Rafal Wojcicki to innovate a unique art form that is continually earning considerable interest.
14. Peter Slattery
Did you spend your childhood watching shows like Foster's Home for Imaginary Friends, Ninth Grade Ninja or Wander over Yonder? Well here's your chance to meet one of the key folks who made those shows life; Peter Slattery. Peter is an illustrator, character designer, and kids book artist. He draws both real and fictional characters with precision and also contributes illustrations and logos for the kids resources.
15. Tom Moore
Tom Moore is an illustrator and printmaker who is one of the Black Church Print Studio members and is presently illustrating his first children's book called "The Bright Yellow Giraffe."
16. Eduardo Cohen
Eduardo is a web and print designer who specializes in various aspects of art direction, creativity and graphics proposals of prints, websites and logo designs.
17. Arron Croasdell
Arron Croasdell is a freelance illustrator and graphic designer who graduated from the Athlone Institute of Technology's Visual Communications and works for Catalysto.
18. Lukasz KuIakowski
Lukasz KuIakowski is a creative director who loves to tell stories through films, branding, photography and typography. His work on Behance also features abstract logos typography posters, and creative brand collateral.
19. Anna Deegan
Anna's love for nature, animals and regular objects in our everyday lives allows her to create vibrant, charming and playful patterns.
20. Stuart Greer
Stuart Greer is a multidisciplinary graphic designer who is an IADT Dun Laoghaire graduate and has a First Class Honors Degree in Visual Communications Design. Even though his favorite color is neutral Pantone Cool Gray, Stuart's work features a lot of colorful logo designs, posters, and more.
Conclusion
Now's the chance to make your St. Patrick's Day as fresh and green as the esteemed graphic designers and illustrators whom we are proud to have included in our list. If we've missed out some of your favorite Irish artists from the list, do list them in the comments below.
Try Our Personalized Logo Maker:
Create Green Logo Designs
Greenery Logo Design Ideas
Logo Maker For Greenhouse
Green Yellow Logo Generator
Design Lime Green Logo Templates
Olive Green Logo Creator
Festival Logo Design