They say that two heads are better than one, but what if I say that one great idea leads to the generation of many greater ideas? It's as if you've discovered a secret orogeny of ideas that keep on building up to greater heights.
You see, running one business is like climbing a steep mountain with potential hazards lurking around. But that doesn't mean that you should stop pursuing your dream of becoming a serial entrepreneur. A successful entrepreneur is the one who is always at the disposal of risks to make him bigger and better.
I'll explain it more clearly; an entrepreneur is like running water. No matter how you try to stop it, it's going to make its way and keep moving forward. If the water is held up from every direction, it ends up getting stagnant and murky. Same is the case with a general entrepreneur. Motivation, inspiration, and ideas come naturally when you've had the passion to fuel the being of your essence.
As he ventures on his way to greatness, an entrepreneur becomes a serial entrepreneur. He's a seasoned professional who chooses the tried-and-tested ways to move forward. And since we live in a modern world, there are a plethora of opportunities that lay at your disposal to make it easier to build creative brands, engage with potential customers and win more business.
Successful businesspeople enrich their entrepreneurship experience by working through various popular social media platforms and what do you know? They're risk-takers who aren't afraid to venture into different business domains. Sometimes they're successful and sometimes they learn.
Here we have gathered a list of seasoned serial entrepreneurs who are known to juggle so many businesses at a time. Of all the reasons for sharing these names, the best one is to inspire you to head start your startup journey.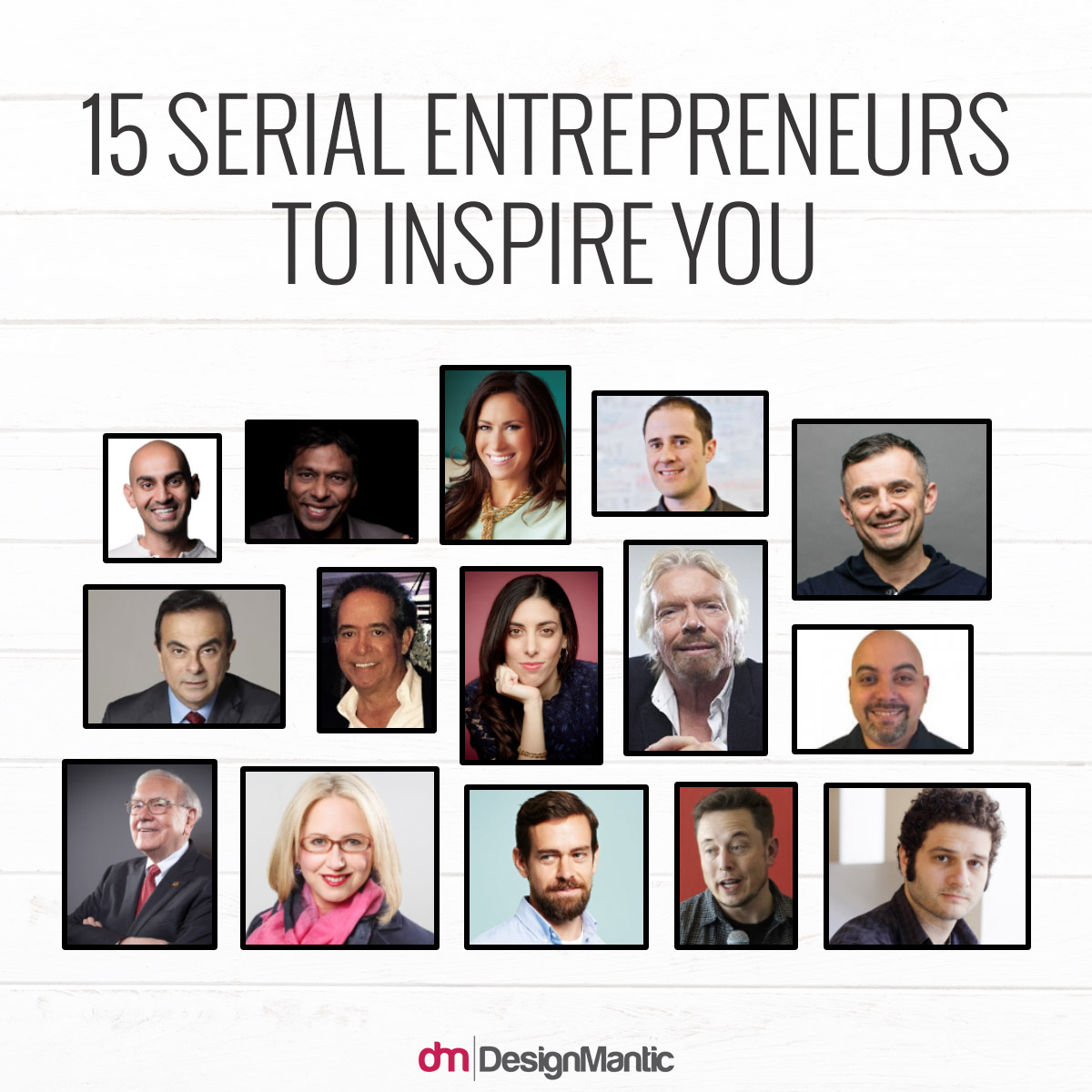 This is the man behind the Virgin brand, which has more than 400 businesses operating under its umbrella. Sir Richard Charles Nicholas Branson started his solopreneur journey at the age of 16 – by starting a magazine called Student. He then founded a mail-order record business and then a chain of record stores that bloomed during the 80s. Richard went on to set up his own airline and a music record label going under the brand name 'Virgin'.
Despite being bestowed with the knighthood, Richard still enjoys the values and adventures life has to offer him.
Serial entrepreneurs have something in their genes. Warren Buffett was no different than an ordinary 11-year-old except that he purchased his first stock at this very age. Also known as the 'Oracle of Omaha', he is one of the most successful investors as well as one of the richest in the world. Buffett has been managing more than 60 companies under his main organization Berkeley Hathaway, which includes Geico, Dairy Queen, and Duracell to name a few.
His main focus for every time he started a business: value investing and personal frugality.
He's no chip off the old block, why, he's 'The Elon Musk' – the founder of Tesla, Inc., SpaceX and SolarCity and the co-founder of Neuralink and PayPal. At a young age, Elon had that urge to pursue entrepreneurship career. He is mostly known for his serious-yet-not-so-serious risk-taking attitude, which has definitely made him a fortune.
While buying and selling his initial startups, Elon ventured into starting SpaceX and later Tesla motors. Both of these major business have been past some rough patches, but thanks to his untiring efforts and his undying entrepreneurship spirit, Elon continues to inspire young talent.
Remember we discussed entrepreneurs using social media? Gary Vaynerchuk is one of their leaders. He's the CEO of VaynerX, an innovative media and communications company, and VaynerMedia, a successful advertising agency. His other businesses include Gallery Media Group, VaynerSports, and Green Street.
More than being just an internet sensation for upcoming entrepreneurs, GaryVee keeps inspiring his followers with his 'purebred entrepreneur' skills. From selling baseball cards to bagging ice and then growing his father's wine business online, Gary has progressed by communicating his skills and abilities on the cyberspace and now is a celebrated author of his 'crushing it' series and an incredible enterpriser.
He gives you more than a dozen of ideas to project your sales and helps you generate more web traffic using his online entrepreneurship skills. Here comes the award-winning co-founder of KISSmetrics, Crazy Egg, and Hello Bar – Neil Patel. The sizzle in his entrepreneurship abilities began by selling CDs and black boxes in the high school. He did several initial jobs and later came up with his own version of Monster.com aka 'Advice Monkey'.
Advice Monkey didn't do too well but Neil learned that he had something better waiting for him in the silhouettes of time. However, merging his knowledge of the SEO and his sales experience, he stands where he is now.
Melanie Duncan is the real-life wonder woman. Realizing that her perfume sales job wasn't working for her, she took a leap of that entrepreneurial faith and focused on her education to understand consumer psychology. She and her husband started off by setting a Greek Apparel company in her garage and when the threads of debt got tight, they ventured into doing online business. Later, she turned to deliver luxury monograms – a home décor business. Then things went viral and skyrocketed to online meetings and conferences.
With time, Melanie learned that as she helped people build better businesses, she finally made a reach of 7-figure worth for her businesses.
Eddie Dovner has about 30 years of entrepreneurship experience under his belt, all of which has contributed to his growth from a sales agent to a multi-million dollar businessman. In 1993, he initiated his own company that he grew to about $100 million and sold it later in 2010. Apart from that, Dovner's interest gravitated towards real estate where he developed successful relationships and contacts.
In addition, he worked on his invention 'Bike in the Air' in 2011, and in the same year, he also inaugurated another business 'TriStar Armored Cars'. Plus, he keeps educating and coaching other businesses on how to thrive and survive the market pressure.
Though Facebook majorly revolves around Mark Zuckerberg, only a few are aware of Dustin Muskovitz as its co-founder. Being an economics major at Harvard, Zuckerberg and others came up with the idea of Facebook in the dorm room. As the company grew, Dustin served as the company's first chief technology officer and then the vice president of engineering.
In 2008, he and another colleague, Justin Rosenstein, left Facebook to form another company called Asana. It's a project management tool that fosters teamwork. Other than Asana, Moskovitz has also invested in a photo-sharing mobile site, called Path.
Yet another internet entrepreneur, this one's a computer program savvy. Meet Jack Dorsey, the co-founder and CEO of Twitter and the founder and CEO of Square, which is an online mobile payment company.
Dorsey started with a company that specialized in online dispatch services. The inspiration for Twitter came from LiVEJOURNAL – a Russian social media site – and AOL instant messaging. His concept captivated the interest of many investors, thus, the foundation for Twitter and other businesses were laid in the coming times.
Laurel Touby used to be a journalist, who came up with an online resource site for media professionals called the mediabistro.com. In 2007, she sold the company for $23 million to Jupitermedia. It could've been that she had made a career in media and journalism, but Laurel had other plans.
After the sale of Mediabistro, Laurel started a new career as an Advisor and Investor to help industries focused on media and emerging technology. She has also coached tech-advising companies, which led her to form her own consortium of investors, called Flatiron Investors, comprising of investors based in New York.
Everyone goes to places to manage their businesses, but Kevin Ocasio is one of those sleazy businessmen who operate their companies from home. He initially served in the US Marine Corps for 2 years and had two jobs that didn't last more than 3 months. Then the internet dawned on him and gravitated him towards learning HTML and making websites. It wasn't long enough that he started selling his websites and earned thousands.
Now he manages his business, Ocasio Marketing LLC., which deals in digital marketing and blogging coaching for startups and small businesses.
This multinational and international automotive tycoon is the chairman of Renault, Nissan, and Mitsubishi. And you know what Carlos did? His companies formed an alliance with a Russian-based automotive company AvtoVAZ, which eventually became the third largest automotive alliance in the world in 2017.
He is also known as the 'Le Cost Killer' and 'Mr. Fix It' for restructuring Renault and bringing the near-bankrupted Nissan back to life. It seems hard to believe, but the truth is that Ghosn spent 18 years in training and working at Michelin, from where his career catapulted to him making one of the celebrated businessmen of all time.
Being the founder of Moon Express, iNome, InfoSpace, Intelius, TalentWise, and World Innovation Institute, Naveen Jain believes he came to this planet to redefine innovation. And his actions align neatly with what he believes.
After earning his engineering degree, he went to the US and worked for several startups before joining Microsoft. With his colleagues, he co-founded InfoSpace in 1996, which was based mainly on communication technology. Jain's inclination towards reaching every possibility has made his abilities credible of success and an inspiration for upcoming entrepreneurs.
The founder of the Women Empowerment Expo and Hello Perfect as well as the CEO of 'BeAPublicSpeaker', Alexa Carlin wore the CEO crown at the age of 17. 10 years later, she has become one of the influential women speakers around the US.
She uses her own story and experiences to inspire other women (and men) to come with their own business plans. With her motivational call to action, she has been able to expand her women empowerment event to a 3rd city in 2019.
Just like Jack Dorsey, Evan Williams started off as a computer programmer and had his initial working experience at O'Riley Media – a company that publishes books and websites within the computer technology context. Shortly after gaining on-hand experience in writing computer codes, Evan started freelancing and fetched projects for Intel and Hewlett-Packard.
Then he went on to start his very own blogging site 'Blogger' along with co-founding Pyra Labs. He also enjoyed being the chairman and CEO of Twitter and is also the founder of Medium, one of the largest blog distribution websites.
Serial Entrepreneurship Begins With A Serious Attitude
I don't know about you but I just noticed that in all of our notable mentions, a few things are quite common. There are some who have a gift or genes of entrepreneurship and they exploited it. Then there are others who gave up their former jobs to pursue a new career and excelled at it. And there were also those who failed and learned from their startup experiences to help themselves and others grow their businesses.
All these examples lead us to one thing: you must have the passion to endure all the consequences that result from your entrepreneurship experiments. Each had a passion to grow and grow their skills to swing from one business to another without the fear of losing it. The point of it all is: Everyone can be a serial entrepreneur, you've just have to take it slow and steady!
What's your take on these serial entrepreneurs? Hit us up in the comments below!
Checkout Our Personalized Logo Maker Tools:
Smart eBusiness Logo Design
Management And Business Consultant Logo Maker
Business Logo Ideas For Women
Business Logo Design Templates
Enterprise Business Logo
Logo Designs For Coaching Business
Business Networking Logo Maker
Ideal Logo Tool For Business Opportunities